How we test products
Our mission is to take the guesswork out of finding the perfect sleep products.
We've dedicated hundreds of hours to testing mattresses and sleep accessories, and rely on a team of testers of differing weights, temperature preferences, and sleeping positions to evaluate each product.
Tested products are granted the Sleep Hero tested stamp of approval, a mark of our review's reliability.
If we haven't personally tested a product, please be assured that we invest significant time and energy into scouring the UK market and researching the best recommendations, and we work with a team of sleep experts who review our articles, ensuring that the insights we provide are not only relatable but also reliable.
How to choose the right cleaner - understanding your sofa material
Choosing the right sofa cleaner is the key to giving your sofa - or sofa bed, for that matter - that fresh-from-the-showroom look.
But it all starts with understanding your sofa material. 🛋️

Whether your sofa is made of leather, suede, microfibre or linen, each material has its own individual care requirements.
Let's look at some common sofa materials and understand the best cleaning techniques.
Fabric sofas
The exact material of fabric sofas can vary greatly, and each type of fabric - from cotton to linen to wool - has unique properties. 🧶
Fabric sofas are very comfortable and come in different colours and patterns to match your décor.
However, they need regular maintenance to keep them looking and feeling their best.
One thing to be aware of with fabric sofas is that they can get dirty and stained easily. 🦠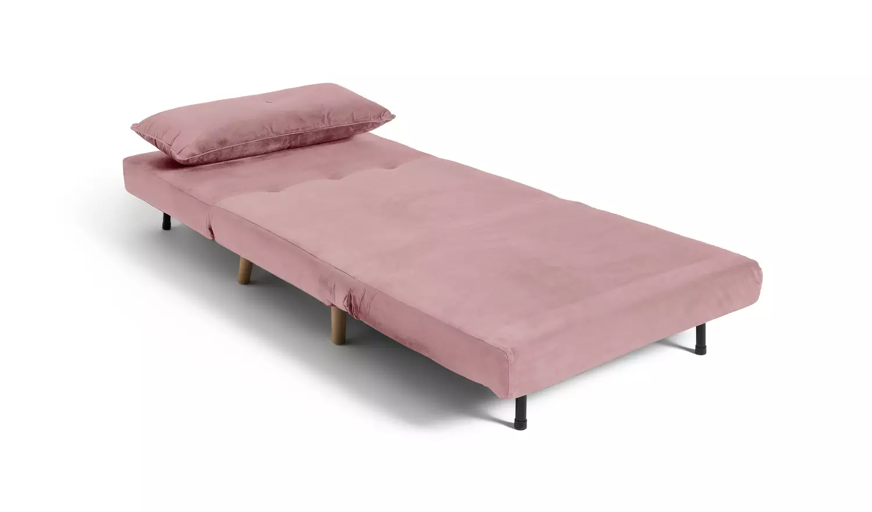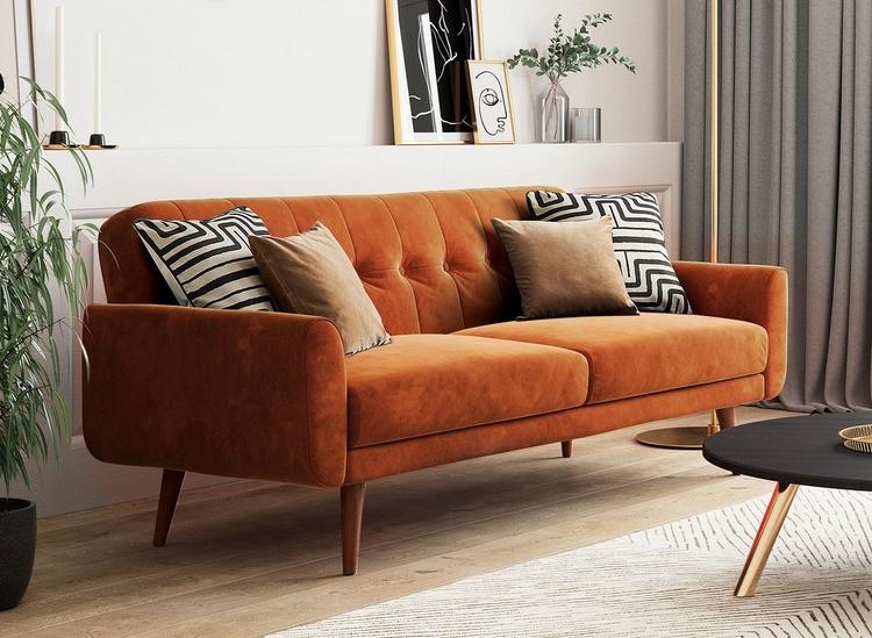 It's important to remove stains as soon as possible to prevent them from setting and becoming more difficult to remove.
Leather sofas
Leather is a luxurious and durable material often used for premium sofas.
Unfortunately, it's also a porous material that can easily absorb spills, oils, and dirt.
But if you care for your sofa properly, you can make it resistant to stains and spots.
Different types of leather require different cleaning methods. 🧼
Therefore, checking the manufacturer's instructions before using any cleaning products is essential.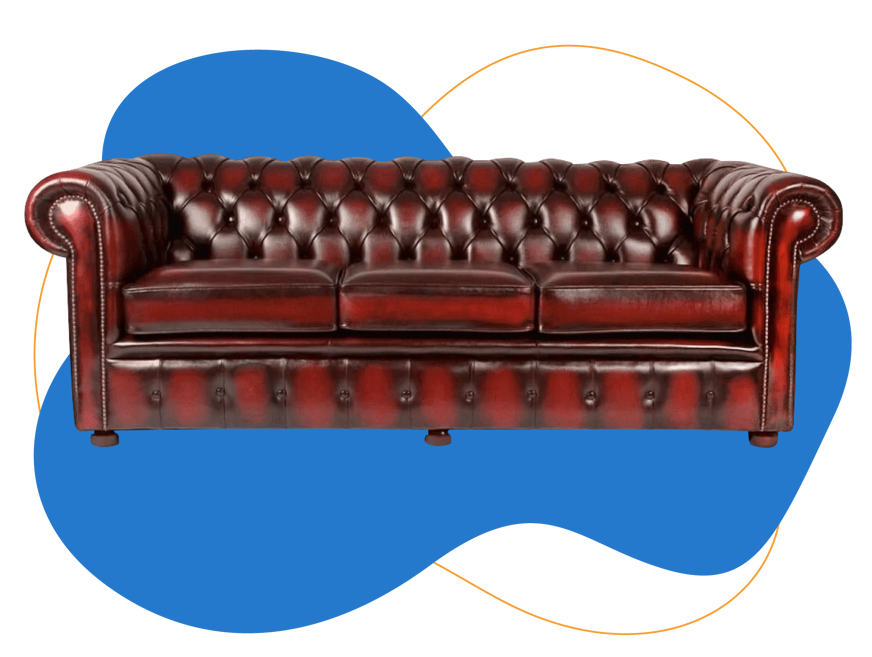 You should use a pH-balanced leather cleaner specifically formulated for the type of leather used on your sofa.
In addition to regular cleaning, the leather must also be maintained to preserve its natural oils.
The Leather Honey Sofa Cleaner can clean your sofa and helps the leather regain its natural shine.
BUY LEATHER HONEY CLEANER£ 14.99
Microfibre or velvet sofa
Microfibre and velvet are popular sofa materials because of their soft and plush texture. ☁️
These materials consist of synthetic fibres woven into durable, stain-resistant fabrics.
To maintain your sofa's appearance, vacuum it regularly using a soft brush attachment to eliminate dust and dirt.
If spills or stains occur, clean them up immediately to prevent them from settling.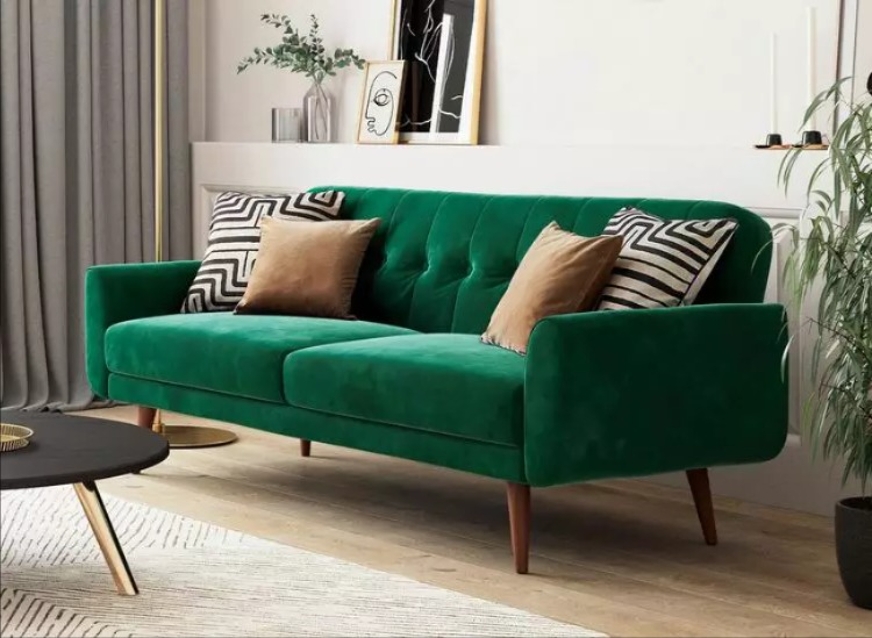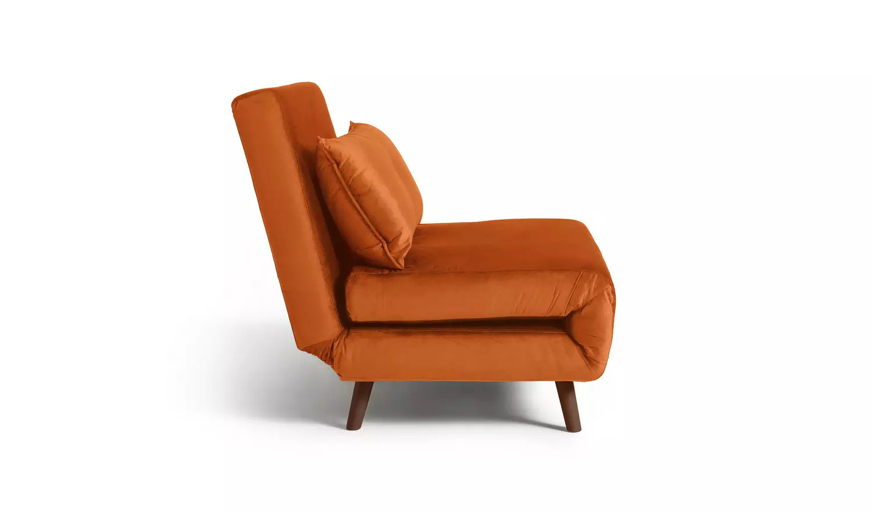 If a standard liquid cleaner isn't strong enough to remove the stains, opt for a deep cleaner like the Vax SpotWash Spot Cleaner. 💪
This powerful sofa cleaning machine features a multi-row brush bar and strong suction power to remove even the toughest stains.
BUY VAX SPOTWASH CLEANER£ 128.39
Top sofa cleaning solutions:
Rug Doctor

Oxy Power Fabric Cleaning Solution

Price from &nbsp

£ 15.18

£ (17.79 )

The Rug Doctor Oxy Power Fabric Cleaner is a cleaning solution designed to remove tough stains and odours from various sofa fabric surfaces.

The Rug Doctor Oxy Power Fabric Cleaner is a cleaning solution designed to remove tough stains and odours from various sofa fabric surfaces.

Price from

£ 15.18

(£ 17.79 )

Leather Honey

Leather Cleaning Solution

The Leather Honey cleaning solution has been designed to clean your leather sofas without damaging or discolouring them.

The Leather Honey cleaning solution has been designed to clean your leather sofas without damaging or discolouring them.

Price from

£ 14.99
How to deep clean your fabric sofa
If you have a fabric sofa that has accumulated dirt, grime and stains over time, you'll be wanting to give it a deep clean.
With the right tools and techniques, you can restore the look and freshness of your sofa so that it looks new again. 🧺
Let's dive into the steps of deep-cleaning your fabric sofa.
1. Check the manufacturer's label
The manufacturer's label provides important information about the type of fabric, cleaning codes, and the recommended cleaning method. 🧾
There are four cleaning codes:
W: Water-based cleaning agents are safe to use.
S: Only solvent-based cleaning agents are safe to use.
SW: Either water-based or solvent-based cleaning agents are safe to use.
X: Only vacuuming or light brushing is recommended. No water- or solvent-based cleaning agents should be used.
This will help you decide what cleaning methods to use for your fabric sofa.
2. Vacuum your sofa
Over time, dirt, dust and other debris can accumulate on your sofa, especially in frequently used areas. ⏳
Vacuuming helps to remove this dirt and prevent it from embedding into the fabric.
In addition to removing dirt and debris, vacuuming also helps to remove allergens, such as pet dander, that can get trapped in the fabric.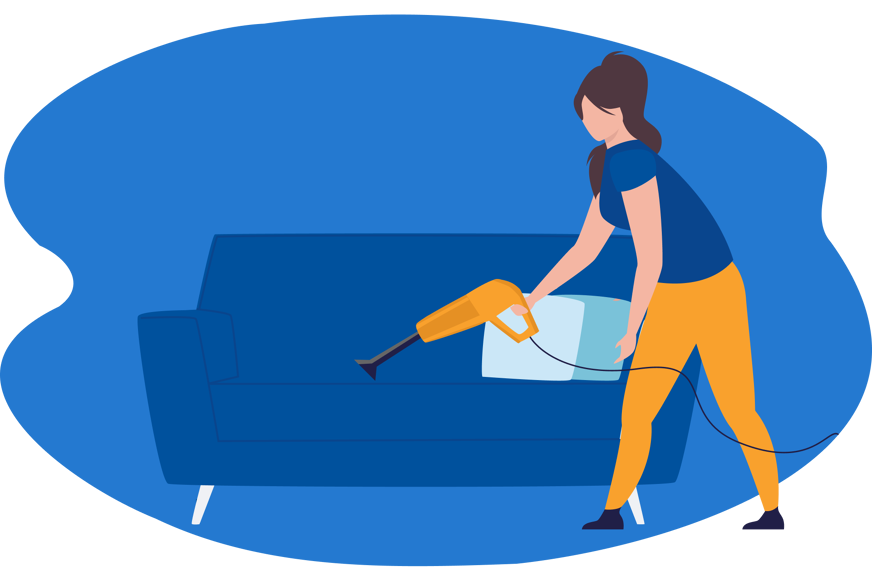 When vacuuming your sofa, use an upholstery attachment to avoid damaging the fabric.
Start vacuuming at the top of the sofa and work your way down.
This will prevent dirt and debris from falling onto areas that have already been cleaned.
3. Treat the stains
Before using a cleaning solution, test it on fabric that's hidden.
This way, you can ensure the solution doesn't damage or discolour the fabric. 🎨
When you treat the stain, gently blot it with a clean white cloth.
Then apply the cleaning solution to the stain according to the instructions on the bottle.
Leave the solution on for a few minutes before blotting the stain again with the white cloth to remove the cleaning solution and the stain.
4. Use a water-based cleaning machine
Cleaning machines are an effective way of removing dirt, bacteria and allergens from your fabric sofa. ♨️
First, fill the cleaner with water according to the manufacturer's instructions.
Some cleaners require a cleaning solution, and others don't.
Typically, water cleaners holding around 1 to 2 litres of water are sufficient.
The BISSELL SpotClean Pro, for example, has a 2.5-litre tank that can be easily removed at the touch of a button.
BUY BISSELL SPOTCLEAN PRO£ 171
Once you have filled the steam cleaner, you can clean the sofa with the appropriate attachment.
Work in sections, starting with the top of the sofa and then move down.
Move the attachment in a back-and-forth motion to ensure thorough cleaning. 🔄
When finished, use the cleaner's suction function to remove the dirty water and excess moisture from the sofa.
5. Air dry your sofa
To ensure proper air circulation, ensure the room is well-ventilated. 💨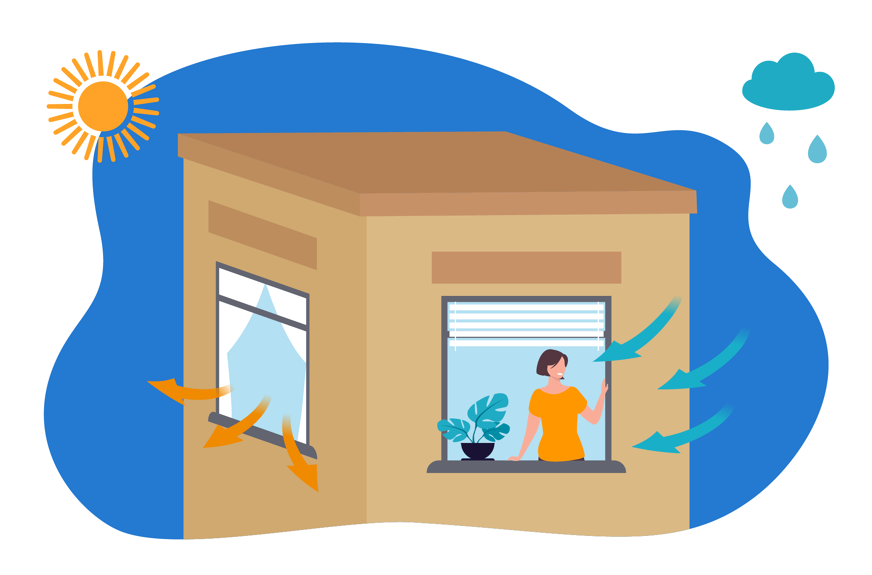 Open doors and windows, and turn on fans or air conditioning if necessary.
While putting your sofa in direct sunlight to dry faster may be tempting, it is best to avoid doing so.
Direct sunlight can cause the fabric to fade or change colour, which is not something you want to happen.
Be patient, as the drying process may take several hours or even overnight, depending on the moisture and humidity in the air. 🕰️
It's important to wait until the sofa is completely dry before using it again to avoid any moisture-related damage.
How to clean a leather sofa
Cleaning a leather sofa requires a different approach than cleaning a fabric sofa.
Before you start cleaning, it's important to check the manufacturer's label to see if there are any special cleaning instructions or restrictions. 📄
To begin cleaning your leather sofa, use a vacuum cleaner with a soft brush attachment to remove dust, debris and dirt from the surface. This will prevent scratches on the leather.
Next, apply a small amount of leather cleaner to a clean, soft cloth and gently rub it over the leather in a circular motion. 🧽 Avoid using too much solution, as this can soak in and damage the leather.
After you have applied the cleaning solution, remove the excess from the leather with a clean, damp cloth.
Leather sofas shouldn't be cleaned with water as this can cause the leather to shrink, warp or crack. 💦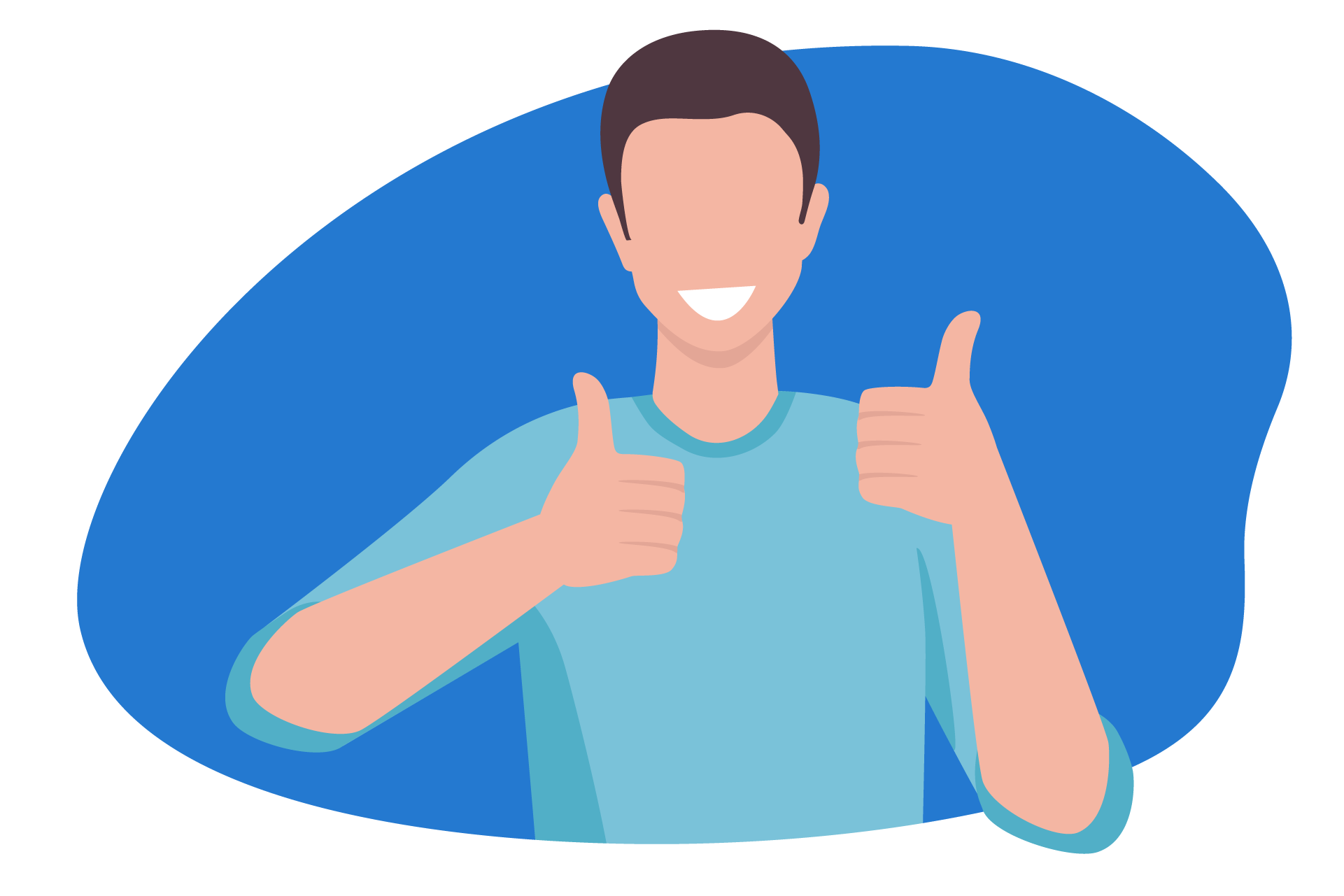 Once the leather is clean, treat it with a leather conditioner to restore its natural oils and prevent it from drying out and cracking.
This will also protect the surface from future damage.
It's important that you don't use abrasive cleaners or harsh chemicals on the leather, as these can damage the surface.
A cleaning solution like the Leather Honey one will clean your sofa and restore your leather's natural oils.
How often should you clean your sofa?
Keeping your sofa clean is essential to maintain its appearance and ensure it lasts as long as possible.
But how often should you clean it? 🤔
The answer depends on how often you use your sofa, whether you have pets or children, and whether anyone in your household has allergies.
As a general rule of thumb, you should clean your sofa thoroughly every 10 to 12 months.
Use a steam cleaner or hire a professional cleaning service to do this.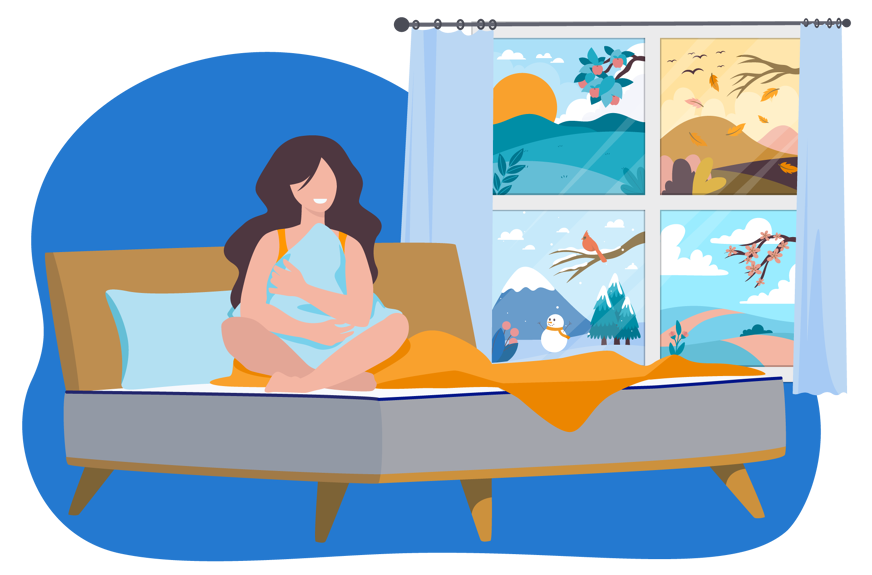 However, if you have pets, children or someone in your household with allergies, you may need to clean your sofa more often. 🐶
In these cases, it's advisable to vacuum the sofa weekly to remove dust, pet hair, and other dirt.
You should also clean stains or spills immediately to prevent them from setting in.
Should you get your sofa cleaned professionally?
Whether or not you should have your sofa professionally cleaned depends on various factors, such as the condition of the sofa and the amount of cleaning required. 🧑‍🔬
Professional sofa cleaning can be beneficial for heavily soiled or stained sofas.
Professional cleaning companies have access to specialised equipment and cleaning solutions that effectively remove dirt, stains, and allergens from your sofa without damaging it.
However, professional cleaning services can be expensive.
Cost of professional sofa cleaning services in the UK
The cost of professional sofa cleaning in the UK varies depending on the type of service you require.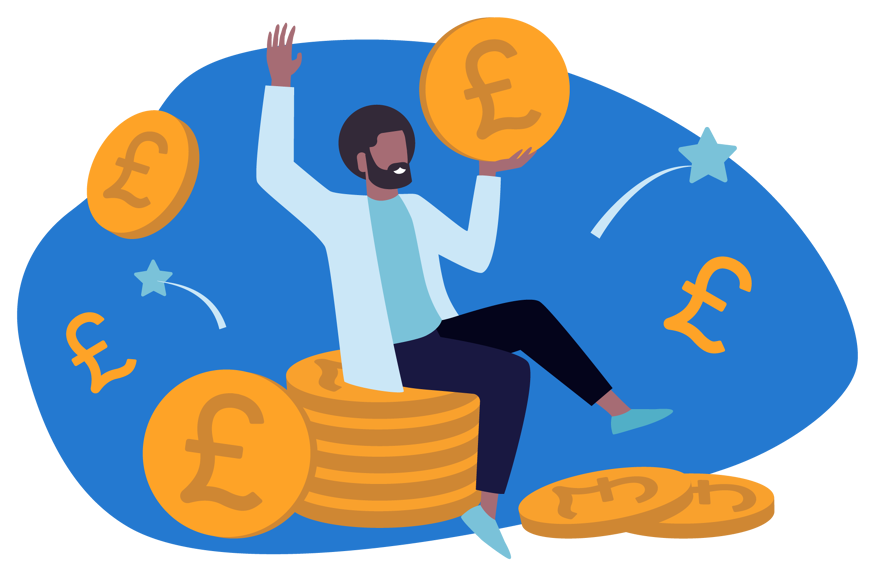 Professional sofa cleaning in the UK can cost anything from £40 to £300 per sofa. 💷
It's always best to ask for a detailed breakdown of the services and the related costs before hiring a professional cleaning service for your sofa.
Should you invest in a sofa cleaner?
Investing in a sofa cleaner can help extend the life of your furniture and keep your living area hygienic. 🛋️
There are many options for different budgets and cleaning needs.
If you need a quick solution, you can buy liquid upholstery cleaners.
However, it's worth investing in a cleaning machine for a thorough cleaning.
Let's take another look at some of our favourite sofa cleaners.👇🏻
Our favourite sofa cleaners for the UK:
Rug Doctor

Oxy Power Fabric Cleaning Solution

Price from &nbsp

£ 15.18

£ (17.79 )

The Rug Doctor Oxy Power Fabric Cleaner is a cleaning solution designed to remove tough stains and odours from various sofa fabric surfaces.

The Rug Doctor Oxy Power Fabric Cleaner is a cleaning solution designed to remove tough stains and odours from various sofa fabric surfaces.

Price from

£ 15.18

(£ 17.79 )

Rug Doctor

Price from &nbsp

£ 119

£ (159.99 )

The Rug Doctor Spot Cleaner is a portable machine that can be easily moved around to clean different areas of your home.

The Rug Doctor Spot Cleaner is a portable machine that can be easily moved around to clean different areas of your home.

Price from

£ 119

(£ 159.99 )

Bissell

With its portable design and two handy attachments, the BISSELL SpotClean Pro is a versatile cleaning machine for various surfaces.

With its portable design and two handy attachments, the BISSELL SpotClean Pro is a versatile cleaning machine for various surfaces.

Price from

£ 171

Vax

Price from &nbsp

£ 128.39

£ (129.99 )

The Vax SpotWash Spot Cleaner is a compact, lightweight cleaning machine for sofas and rugs.

The Vax SpotWash Spot Cleaner is a compact, lightweight cleaning machine for sofas and rugs.

Price from

£ 128.39

(£ 129.99 )

Leather Honey

Leather Cleaning Solution

The Leather Honey cleaning solution has been designed to clean your leather sofas without damaging or discolouring them.

The Leather Honey cleaning solution has been designed to clean your leather sofas without damaging or discolouring them.

Price from

£ 14.99