How we test products
Our mission is to take the guesswork out of finding the perfect sleep products.
We've dedicated hundreds of hours to testing mattresses and sleep accessories, and rely on a team of testers of differing weights, temperature preferences, and sleeping positions to evaluate each product.
Tested products are granted the Sleep Hero tested stamp of approval, a mark of our review's reliability.
If we haven't personally tested a product, please be assured that we invest significant time and energy into scouring the UK market and researching the best recommendations, and we work with a team of sleep experts who review our articles, ensuring that the insights we provide are not only relatable but also reliable.
Eve Premium Hybrid mattress composition and cover
The Eve Sleep Premium Hybrid is a non-reversible hybrid pocket sprung memory foam mattress that's 28 cm (11 inches) deep, a good 3 cm (1.1 inches) above the industry standard. 👌
It features a premium mattress cover, multiple layers of foam, and over 1400 pocket springs.
The different mattress layers are:
Quilted top cover
Graphite-infused Eve Floatfoam® with active cooling
Memory foam layer with active cooling
A firm open-celled support foam
Full-size pocket springs
Foam casing around and underneath the springs
Anti-slip base cover to keep your mattress firmly on your bed
Let's take a closer look at these different layers.
Eve Premium Hybrid mattress layers
First up, let's take a look at the layers that make up the actual mattress.
1. A top layer of Eve Floatfoam®
This top layer of foam just beneath the cover is designed to provide much of the comfort of the mattress.
It's soft and pleasant to lie on while allowing for good pressure relief so you can relax fully.
It is also infused with graphite, which has cooling properties.
2. Evecomfort memory foam layer
The Evecomfort memory foam hugs your body for optimal comfort and pressure relief, creating that "sleeping on a cloud" sensation. ⛅️
This layer of memory foam is also infused with graphite for active cooling.
3. Firm support layer
The 3 cm (1.1 inches) open-celled firm support layer is designed to provide optimal support and respect your spine's natural alignment.
It adds some firmness after the two upper comfort layers.
4. Pocket-sprung core
The mattress's core consists of over 1440 full-size pocket springs with a height of 12 cm (4.7 inches).
The springs enhance breathability, offer exceptional support, and allow for good pressure relief.
Each spring is housed in a fabric pocket to allow for independent movement, and the whole spring system is in a foam casing to enhance the stability of the mattress.
Seven contour zones run through this composition and optimally relieve pressure on the hips and shoulders while offering more support to the lighter parts of your body.
5. High-resilience foam base layer
The base of the mattress is made of high-resilience foam, reaffirming stability and durability.
It also keeps the pocket springs firmly in place and stabilises the mattress.
Eve Sleep Premium Hybrid mattress cover
The Premium Hybrid mattress has a white-grey-yellow mattress cover with a few unique features:
It is made of 97% polyester, 2% elastane and 1% silver.
The top cover is luxuriously quilted for optimal comfort.
The cover is woven with silver strands, which have natural antibacterial and antimicrobial properties.
The cover is also moisture-wicking and protects the mattress from heat and humidity.
The top cover can easily be unzipped and is machine-washable at 40°C, making the Eve Premium Hybrid a best-buy choice for people prone to allergies. 🤧
The cover also features 6 side carrying handles, which make rotating and moving the mattress easier.
The only drawback we found in our Eve Premium Hybrid mattress review is that the handles are quite small and located at the ends under the mattress.
Adding in the fact that the Eve Hybrid Premium is quite a heavy mattress, handling it can still be a bit difficult.
We'd recommend getting some assistance in rotating your mattress if you struggle with back pain or are elderly.
How firm is the Eve Premium Hybrid mattress?
Even though it is advertised as a medium-firm mattress, we found in our Eve Premium Hybrid mattress review that it definitely leans towards the firmer end of the scale.
We'd place it at 7 out of 10 on the Sleep Hero firmness scale, where 1 is the softest and 10 is the firmest.
That said, even though this is a firm mattress, it is very comfortable.
You won't feel like you sink into the foams too much, but the sleeping surface is comfortable and welcoming, with well-balanced support coming in from underneath.
How comfortable is the Eve Premium Hybrid mattress?
We were very impressed by the comfort this mattress provides while testing it for our Eve Sleep Premium Hybrid mattress review.
The one thing you'll notice is that it offers exceptional support, no matter which sleeping position you lie in.
It is particularly well-suited to back sleepers and stomach sleepers as it provides enough lift and support to prevent the formation of a hollow back.
This is crucial to prevent lower back pain. 😃
However, it is still a great choice for side sleepers, allowing the hips and shoulders to sink in a little more deeply and enabling optimal spinal alignment.
Regardless of your sleeping position, this mattress relieves pressure points and allows you to settle in for a good night's sleep.
Well-suited to average-weight sleepers
Even though the Premium Hybrid mattress is quite firm, the level of support you'll feel does largely depend on your body weight.
It is well-designed for average-weight sleepers.
If you're of a very petite build, you may find the mattress too firm, which could result in some aches and pains. 😩
On the opposite end of the scale, if you're of a very large build, you may feel that this mattress doesn't give you enough support.
This is because the Eve Sleep Premium Hybrid has been designed to support about 114 kg (250 lbs) per person.
If you weigh above this, and particularly if you weigh above 130 kg (286 lbs), the mattress may not be able to support you fully.
If this is the case, we'd recommend looking at a few pure pocket spring mattresses - these are generally much more supportive.
Does the Eve Premium Hybrid sleep hot?
The Eve Sleep Premium Hybrid has exceptional breathability for a hybrid mattress and fares much better than standard memory foam mattresses. 💨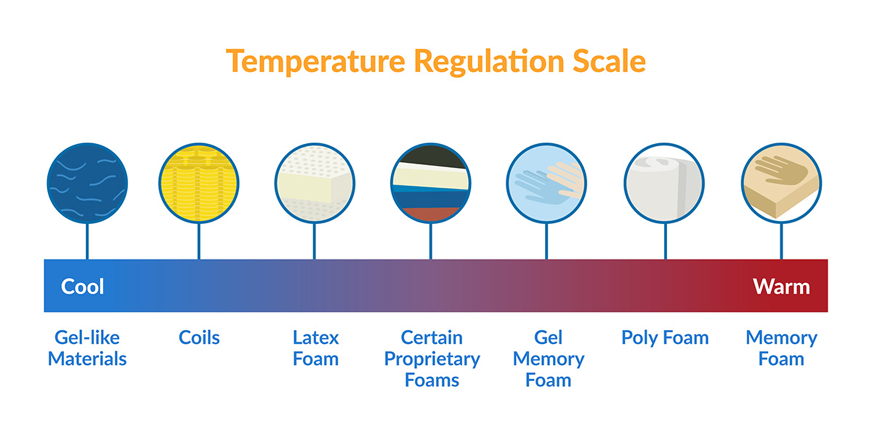 Memory foam tends to retain more heat than other types of foam, easily leading to a hot, clammy, and uncomfortable sleep.
Springs, in contrast, offer great breathability.
This is because the springs create natural ventilation channels, which allow for constant air circulation within the mattress, carrying away excess heat and keeping you cooler and more comfortable.
The combination of springs and memory foam works very well together to increase overall breathability.
The mattress may not be as breathable and cool as a pure pocket-sprung mattress, but even on a hot night, you shouldn't feel sweaty or uncomfortable.
Is the Eve Premium Hybrid suitable for couples?
Motion isolation refers to how well movements are absorbed at the point of impact.
If a mattress has good motion isolation - that is, low motion transfer - movements are effectively absorbed and won't be carried across the mattress.
This means that any movements at one end of the mattress - like your partner getting up or tossing and turning - won't affect you on the other end of the mattress.
The Eve Hybrid Premium mattress has exceptional motion isolation, making it a great mattress for couples. 👩‍❤️‍👨
Even if you're a light sleeper or your partner is much heavier than you, you're unlikely to be disturbed by your partner moving at night.
We'd recommend the king-size or larger to couples.
Eve Sleep Premium Hybrid mattress sizes
Given the luxurious feel of the Eve Hybrid Premium mattress, it makes sense that it's only available in larger sizes for optimal sleeping comfort.
The mattress is available in three standard UK sizes. 🇬🇧
These include:
Eve Premium Hybrid double mattresses: 135 x 190 cm (4'6" x 6'3")
Eve Premium Hybrid mattress king-size: 150 x 200 cm (5' x 6'6")
Eve Premium Hybrid mattress super king: 180 x 200 cm (6' x 6'6")
There are no Eve Premium Hybrid single or small double mattresses.

If you're looking for a greater selection of sizes, we'd recommend looking at the Eve Original mattress or Simba Hybrid instead.
That said, larger mattress sizes are great for both singles and couples, making sure that each partner has enough space to sleep comfortably.
How thick is the Eve Premium Hybrid mattress?
The Eve Sleep Hybrid Premium mattress is 28 cm (11 inches) deep and weighs approximately 50.5 kg (111 lbs) for a standard double mattress.
This is about 3 cm (1.2 inches) taller than the industry standard, but standard bedding will still fit. 👍
This thickness is ideal for a luxurious feel, looks particularly good on a box spring bed base, and is helpful for the elderly who may struggle to get in and out of bed.
The Eve Premium Hybrid has been designed to support about 114 kg (250 lbs) per person.
Eve Premium Hybrid mattress prices
The Eve Premium Hybrid is a luxurious mattress, making it a tad more expensive than standard bed-in-a-box hybrid mattresses like the Eve Original Hybrid, memory options like the Nectar mattress, or budget options like the Eve Lighter Hybrid.
But it is still noticeably cheaper than any of the Tempur mattresses and well worth the price.
(Note: prices listed below are standard prices, excluding any current coupons and discounts)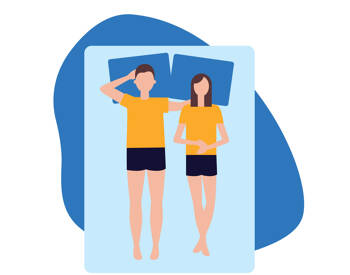 Double
£ 1,249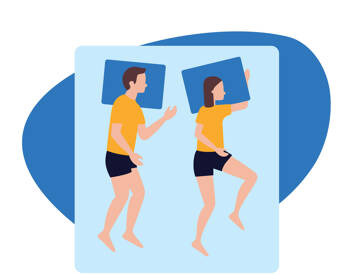 King
£ 1,449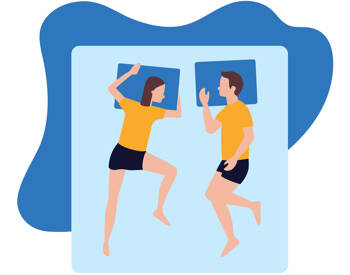 Super King
£ 1,549
Eve Premium Hybrid mattress discount codes
The Eve Premium Hybrid may be an expensive mattress, but it is well worth the investment.
Luckily, Eve Sleep also regularly offers Eve Premium Hybrid mattress sales and promotions, where you can get up to 55% off. 🥳
You don't have to browse the interwebs for good discount codes - we do all the work for you.
Any Eve Premium Hybrid discounts will be listed on this page, and you'll find all other promotions listed on our discounts page.
You can also sign up for our newsletter to get the latest deals straight in your inbox.
Eve Premium Hybrid mattress delivery
As with all Eve products, the Premium Hybrid mattress will be delivered to you free of charge within 3 business days anywhere in the UK mainland.
Some delivery costs may apply to remote locations. 🚚
The mattress is delivered rolled up and vacuum-packed in a compact box, measuring 44.5 x 44.5 x 185 cm (17.5 x 17.5 x 72 inches).
This is small enough to fit through narrow passageways and up staircases, but the mattresses in their respective boxes can be quite heavy. 📦
Box and mattress weights:
UK double: 55 kg (121 lbs)
UK king: 60 kg (132 lbs)
UK super king: 65 kg (143 lbs)
Luckily, Eve Sleep has thought of this and offers free room-of-choice delivery for any items weighing over 40 kg (88 lbs).
How long does it take for your Eve Premium Hybrid mattress to expand?
Unwrapping your Eve Premium Hybrid mattress is super simple, and the expansion process is almost automatic.
Here is a step-by-step guide:
Place your compact box sideways on top of your bed frame.
Open up the box at both ends and push the mattress through onto your bed.
Carefully cut open the outer plastic film.
Slowly unroll the mattress.
You'll notice that it'll start expanding as soon as you remove the vacuum seal.
Make sure the Eve label is on the side facing up (this is the side you should sleep on).
Your new mattress should begin expanding almost immediately, but it can take 4 - 6 hours for your Eve Premium Hybrid mattress to fully expand and reach its original size. ⏰
There's no need to keep the box, but it does come in handy if you're looking for a good place to store bedding, mattress toppers, etc.
Does the Eve Premium Hybrid mattress smell?
You may notice an unusual, almost chemical smell when you first unpack your new mattress.
This is called off-gassing, and it's completely normal.
The fumes are not toxic in any way, but they can be a little unpleasant.
We would recommend unpacking your new mattress in a well-ventilated room and letting it breathe until the smell disappears.
Eve Sleep used to offer an old mattress removal service, but this is currently not available.
Eve Premium Hybrid mattress trial
The Eve Premium Hybrid mattress comes with a risk-free 1-year trial period, an upgrade from the previous 100-night trial.
This begins as soon as your mattress has been delivered.
You can keep your Eve Premium Hybrid mattress in its box for up to 6 weeks, but remember that the trial period begins with delivery, regardless of whether or not you unpack the mattress.
Don't keep the mattress in its box for longer than 6 weeks, as this may negatively affect the comfort and size of your mattress and void your warranty.
The 1-year trial period gives you the chance to try the mattress under various conditions in the comfort of your own home.
This is great as it may take you up to 3 weeks to get used to a new mattress.
But if, after this, you're not fully satisfied, you can return your mattress for a full refund. 💰
Returns are free and organised by Eve Sleep.
Is the Eve Premium Hybrid mattress worth it?
Overall, we had a good experience with our Eve Premium Hybrid review.
The Eve Premium Hybrid is an expensive mattress, but it is undoubtedly high quality and ranks among the top mattresses in the UK.
The Eve Premium Hybrid is particularly well-suited to:
Lighter-weight or average-weight back & stomach sleepers
Average-weight side sleepers
Heavier sweaters, who need a mattress with good breathability
Couples who need good motion isolation
People with orthopaedic concerns who need exceptional support
The elderly, who need a mattress with a good height to accommodate getting in and out of bed more easily
That said, the Eve Premium Hybrid is a very heavy mattress, and it can be difficult to handle.
We would not recommend this mattress to the elderly or anyone with back problems who cannot get assistance with rotating or moving the mattress.
Contact Eve Sleep UK
Customer service: To contact Eve Sleep directly for complaints, support, or queries, please visit their live online chat. If you've bought an Eve mattress on or before 17.10.2022 and have any queries, you can contact es@kroll.com.
Registered office: Eve Sleep, 29A Kentish Road, London, NW1 8NL