How we test products
Our mission is to take the guesswork out of finding the perfect sleep products.
We've dedicated hundreds of hours to testing mattresses and sleep accessories, and rely on a team of testers of differing weights, temperature preferences, and sleeping positions to evaluate each product.
Tested products are granted the Sleep Hero tested stamp of approval, a mark of our review's reliability.
If we haven't personally tested a product, please be assured that we invest significant time and energy into scouring the UK market and researching the best recommendations, and we work with a team of sleep experts who review our articles, ensuring that the insights we provide are not only relatable but also reliable.
Eve mattress composition and cover
Before we look at the comfort of the Eve mattress, let's briefly consider its composition.
The Eve Original is a memory foam mattress with a depth of 24 cm (9.4 inches).
It comprises three different high-quality foams and a washable cover that work together to provide superior comfort, support, and breathability.
The layers of the Eve Original are:
A moisture-wicking top cover
A springy Evecomfort foam layer
A layer of new-generation memory foam
A high-density base foam with 7 contour zones
An anti-slip base coating
All foams used in the mattress are of high quality and have high densities, which is a testament to the mattress's durability.
Let's look at the layers of foam in the Eve Original mattress in more detail. 🧐
We'll first consider the three foam layers and then have a quick look at the top and bottom covers.
Eve Sleep mattress layers
There are three different foam layers in the Eve Original mattress.
1. A top layer of Evecomfort foam (2.5 cm / 0.9 inches)
The Eve mattress's top layer is an open-cell foam that's both porous and breathable.
This wicks heat and moisture away from the body, allowing for enhanced airflow and better temperature regulation. ❄️
2. A core of new-generation memory foam (3 cm / 1.1 inches)
The core layer of visco-elastic memory foam provides most of the Eve mattress's comfort and pressure relief capabilities.
The memory foam layer adapts perfectly to the contours of your body, reduces tension and pressure, and allows for a comfortable night's sleep with body-hugging support. 🤗
3. A base layer with contour zones (18 cm / 17 inches)
The thick base foam provides much of the mattress's support and stability.
It is designed with seven contour zones, which help relieve hip and shoulder pressure, allowing your body to sink in where needed and be supported where required.
Eve mattress cover
The Eve Original mattress can be identified by its characteristic white cover with yellow piping in a stylish honeycomb design.
The cover has a few unique features.
The white top panel can be zipped off and machine-washed at 40°, which is great for hygienic reasons.
The side cover features four practical handles that make rotating or carrying the mattress easier.
The base cover has a non-slip coating to keep your mattress firmly on your bed frame, which is particularly helpful if you're sleeping on an ottoman bed base.
Even though the Eve Sleep mattress cover is washable, we'd still recommend investing in a waterproof mattress protector to safeguard your mattress from any spills, stains, moisture, or bacteria. 💦
The Eve mattress protector is no longer available, but take a look at some of our other favourite options.
Some of our favourite mattress protectors UK:
Nectar

Price from &nbsp

£ 34.20

£ (60 )

The Nectar mattress protector has been designed with a discreet, waterproof barrier to protect your mattress from accidents and extend its lifespan.

The Nectar mattress protector has been designed with a discreet, waterproof barrier to protect your mattress from accidents and extend its lifespan.

Price from

£ 34.20

(£ 60 )

Panda London

Bamboo Mattress Protector

Price from &nbsp

£ 27

£ (30 )

The naturally hypoallergenic and antimicrobial Panda Bamboo mattress protector acts as a waterproof safeguard for your mattress.

The naturally hypoallergenic and antimicrobial Panda Bamboo mattress protector acts as a waterproof safeguard for your mattress.

Price from

£ 27

(£ 30 )
How firm is the Eve mattress?
The Eve Original is a medium-firm mattress.
After testing it for our Eve mattress review, we rated it as 6.5 out of 10 on the Sleep Hero firmness scale, where 1 is the softest and 10 is the firmest.
This is pretty standard for bed-in-a-box mattresses.
Many memory foam mattresses give you that "sinking-into-the-foam" feeling, but the Eve Sleep mattress UK definitely offers much more support.
It won't give you that "lying on the floor" feeling, of course, but it's not so soft that you'll feel like you're disappearing into the foams.
Turning around or switching sleeping positions is also quite easy, which isn't always the case with memory foam products.
It may still be too soft for heavier builds
Even though the Eve Original is a high-density, medium-firm mattress, you may still find it too soft if you're of a larger build.
This is because heavier-weight people often require much more support to keep their spines well-aligned and may experience too much sinkage on the Eve Original mattress. 😔
They may be better off choosing an even firmer foam mattress, like the Nectar memory foam mattress, or opting for pocket-sprung or hybrid mattresses, which generally give much more support.
The Panda Hybrid mattress, for example, combines foam and pocket springs for a firmer level of support.
That said, it's a good idea to test the mattress first.
Luckily, the Eve Mattress UK comes with a risk-free trial phase, giving you the chance to try it at home for one whole year.
If you sleep comfortably, it will be a good fit.
But if you notice any aches or pains, it's best to return the mattress and try a firmer model, like the ones listed above or the Origin Hybrid mattress.
Decent edge support
Many all-foam mattresses lack edge support and give you the feeling that you're falling off the sides.
This is especially true if you're making use of the full width of the mattress - or if you enjoy sitting on the edge of your bed before getting up in the morning. ☕️
We did not find this to be the case with the Eve Original.
While not as supportive as pocket sprung or edge-enforced mattresses, it offers really good edge support for a memory foam mattress.
This is great as it means you can really stretch out on your bed.
It's also particularly great for couples, as it means that two people can share a smaller mattress size problem-free. 👩‍❤️‍👨
That said, we'd still suggest that couples choose an Eve mattress king-size or larger for the most comfortable sleep (if space allows).
How comfortable is the Eve Original?
The Eve Original is a high-quality mattress that offers a good balance of comfort, stability, and support.
We found it very comfortable in all sleeping positions during our Eve Original mattress review. 😴
A comfortable orthopaedic choice
The Eve Sleep mattress largely features memory foam.
Memory foam is characterised by its memory imprint, which allows the foam to adapt well to the body's contours.
Look at the images below as a demonstration of the memory effect.👇
This contouring feel encourages muscle relaxation and reduces pressure points.
But, the seven-zoned base layer of the Eve also promotes stability and support. 👍
The two foams work together, allowing for more sinkage for the heavier parts of your body (your hips and shoulders) while offering enough support for the lighter parts of your body.
This keeps your spine in a healthy alignment, promotes overall spinal health, and dramatically reduces the risk of back and neck pain.
This makes the Eve Original foam mattress a good orthopaedic choice. 🦴
But, we didn't find that body-contouring feel to be too overwhelming during our Eve mattress review testing.
We could still move comfortably and never felt like we were sinking into the foams too much. 👌
Good support in all sleeping positions
The mattress offers good support for all sleeping positions.
We found it most comfortable when sleeping on the back and the stomach.
As a mattress on the firmer end of the scale, it provides great support and stability for lighter-weight back and front sleepers.
While still comfortable in the side position, it wasn't quite as comfortable as slightly softer mattresses, like the Simba Hybrid.
Of course, this can differ depending on your body weight. ⚖️
In our experience:
Average-weight sleepers will find the Eve memory foam mattress comfortable in any position.
Lighter-weight sleepers may find it too firm in the side position but will do well sleeping on the back and stomach.
Heavier-weight sleepers may find it a little too soft in the back and stomach position but will probably find it quite comfortable while sleeping on the side.
The best way to see if the mattress is right for you is to try it out during the risk-free trial period.
Does the Eve Original sleep hot?
Memory foam generally retains more heat than other types of foam, resulting in a warmer sleep. 🥵
But the new-generation memory foam used in the Eve Original is 30x more breathable than traditional memory foam.
The porous top layer and the breathable cover also increase airflow and allow for a cooler, more comfortable sleep.
The mattress still doesn't feel especially cool to lie on but it's not as warm as many other memory foam mattresses.
Even on a hot night, the mattress won't feel too clammy as it's breathable enough to wick away moisture. 💨
If you prefer a warmer sleep, you could add a weighted blanket or an electric blanket, which is perfectly safe to use with this foam mattress.
But if you're a very heavy sweater or are very sensitive to temperature, you may still wish to opt for a pocket sprung mattress or a hybrid mattress instead.
These generally offer much greater air circulation and promote a cooler sleep. 🧊
You can try the Eve Original Hybrid, which has the pocket spring advantage, or check out our article on the best cooling mattresses for more inspiration.
Is the Eve mattress good for couples?
The Eve Original mattress has exceptionally low motion transfer.
Low motion transfer means that movement isn't carried through the mattress.
Instead, it is effectively absorbed and dampened.
This means that you can share your bed with a partner and not be disturbed by movements. 💃
This makes the Eve Original an excellent mattress for couples.
The mattress also has decent edge support, so you can enjoy the full width of the mattress without the fear of falling off the sides.
The ideal mattress size for couples would be the king-size, but Eve mattresses double will also do if you're tight on space.
Couples with small bedrooms may do well with a divan bed or an ottoman bed base, which offer more convenient storage solutions.
Eve mattress UK sizes
Eve Original mattresses are available in all standard UK mattress sizes. 🇬🇧
These include:
Eve single mattress: 90 x 190 cm (3' x 6'3")
Eve mattress small double: 120 x 190 cm (4' x 6'3")
Eve mattress double: 135 x 190 cm (4'6" x 6'3")
Eve mattress king-size: 150 x 200 cm (5' x 6'6")
Eve mattress super-king-size: 180 x 200 cm (6' x 6'6")
We'd recommend larger mattress sizes for a more comfortable sleep, but it's worth measuring the space in your bedroom before opting to upgrade your bed.
How thick is the Eve mattress?
The Eve Sleep Original mattress has a height of 24 cm (9.4 inches).
This is 1 cm (0.39 inches) below the bed-in-a-box industry standard, but your standard bedding will still fit.
Eve mattress prices
The Eve mattress UK is competitively priced, on par with other high-quality memory foam mattresses like the Emma Mattress Original.
(Note: prices listed below are standard prices, excluding any current coupons and discounts)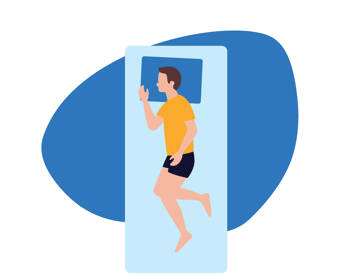 Single
£ 449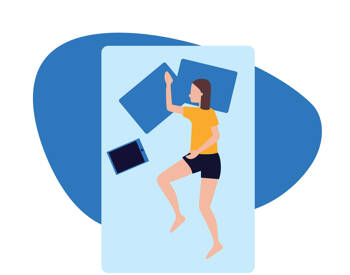 Small Double
£ 699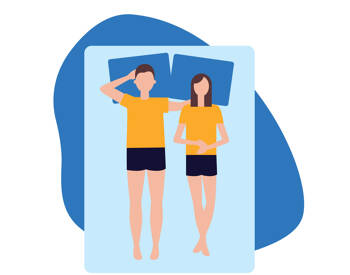 Double
£ 699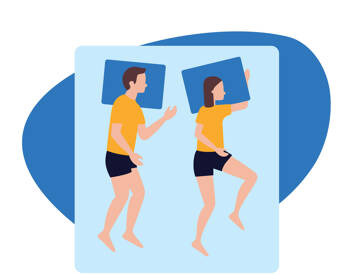 King
£ 799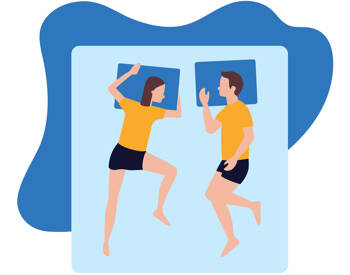 Super King
£ 899
Eve mattress discount codes
You'll regularly find Eve mattress sales, where you can get up to 50% off!
Don't worry: You don't have to browse the internet to find Eve mattress promo codes.
We collect all of the best discounts for you on our discounts page. 🥳
If there are any Eve Sleep promotions currently running, you'll also find them advertised throughout this article.
Always ensure your discount voucher is applied on checkout!
Alternatively, why not sign up to our newsletter and get the best deals straight in your inbox?
Eve Sleep mattress delivery conditions
The Eve Original memory foam mattress is delivered free of charge within mainland UK.
Like all bed-in-a-box mattresses, the Eve Original is vacuum-sealed and rolled in a compact box.
This makes it easy to carry the mattress and fit it through narrow passageways, but please be mindful that some larger mattresses are quite heavy, and you may need some assistance to carry the box.
Luckily, if your mattress weighs over 40 kg (88 lbs), a two-person delivery crew will carry it to a room of your choice.
If your mattress weighs less than that, it will just be delivered to the front door of your home or building.
Unpacking your mattress
To unpack your mattress, simply roll it onto your bed frame, cut open the plastic covering, and unfold.
Your mattress will expand automatically and return to its original full size.
This can take 30 minutes, but it can also take 4 - 5 hours for the mattress to expand fully. ⏰
The video below gives you a good idea of how to unbox your Eve:
Wait for the mattress to expand fully before you snooze away. 😴
Eve Sleep used to offer an old mattres removal service, but this service is currently not available.
Experiencing off-gassing
We highly recommend that you unpack your new mattress in a well-ventilated room.
Bed-in-a-box mattresses often emit a chemical smell when first unpacked, referred to as off-gassing.
While the fumes aren't toxic, they can be a little uncomfortable.
The smell generally dissipates quite quickly, but sometimes you need a day or two for it to disappear completely.
Eve trial period
All Eve mattresses come with a risk-free 1-year trial period.
This starts with mattress delivery and gives you the chance to try out the mattress for 365 days to see if it's right for you.
It can take up to 3 weeks to get used to a new mattress, so we'd suggest waiting at least a few weeks before making a final decision.
But if you're not happy with your purchase, no problem. 👌
Simply contact Eve via their refunds & returns page.
They will pick up the mattress again - free of charge - and offer you a full refund. 💷
All returned mattresses are either donated to charities or sold as Eve refurbished mattresses at a discounted price.
Should you buy the Eve mattress?
In our opinion - and as our Eve mattress review has hopefully shown - Eve is one of the best mattresses on the market, so you're in luck if you've been wondering if Eve mattresses are any good.
It's comfortable and supportive, and we like the elegant design.
The Eve Original is particularly well-suited to:
Back sleepers and stomach sleepers.
People of average build.
People who enjoy medium-firm mattresses.
People looking for a great value-for-money option.
Couples.
Even if you're not 100% sure, you can still try it out thanks to the risk-free trial and return the mattress for a full refund if you're not satisfied.
Contact Eve Sleep UK
Customer service: To contact Eve Sleep directly for complaints, support, or queries, please visit their live online chat. If you've bought an Eve mattress on or before 17.10.2022 and have any queries, you can contact es@kroll.com.
Registered office: Eve Sleep, 29A Kentish Road, London, NW1 8NL