How we test products
Our mission is to take the guesswork out of finding the perfect sleep products.
We've dedicated hundreds of hours to testing mattresses and sleep accessories, and rely on a team of testers of differing weights, temperature preferences, and sleeping positions to evaluate each product.
Tested products are granted the Sleep Hero tested stamp of approval, a mark of our review's reliability.
If we haven't personally tested a product, please be assured that we invest significant time and energy into scouring the UK market and researching the best recommendations, and we work with a team of sleep experts who review our articles, ensuring that the insights we provide are not only relatable but also reliable.
Why is finding a mattress for couples so difficult?
Finding the right mattress that's perfect for you is difficult enough. 🤯
Now imagine having to find the best mattress for two people!
That's the stuff nightmares are made of. 🧟‍♂️
So why is finding a mattress for couples so difficult?
Well, there are multiple reasons.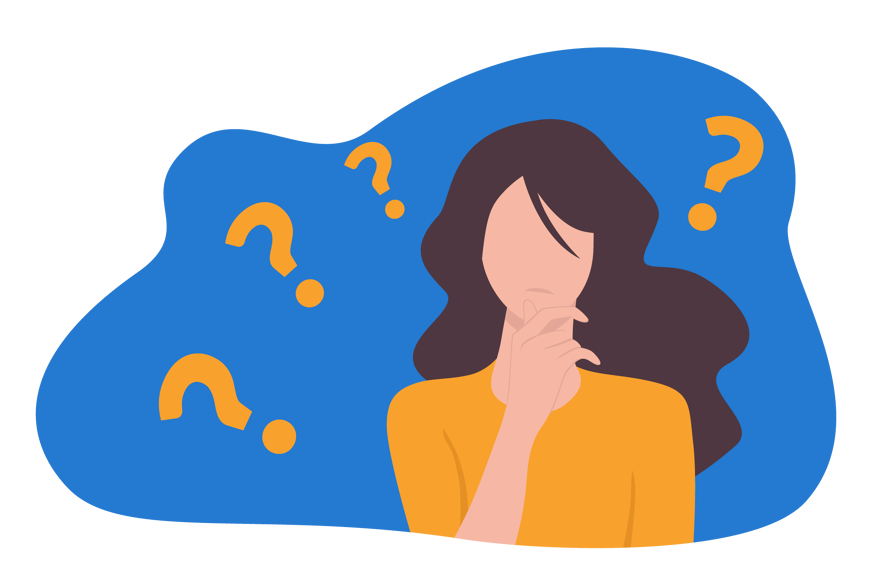 Let's explore. 👇
Finding the perfect mattress
If you want to buy the perfect mattress, you need to consider some things.
Is the mattress snug and comfortable?
Does the mattress support me well and allow for good spinal alignment, regardless of sleeping position?
Can I move around with ease?
Can I sleep comfortably, or do I feel too hot or cold in the bed?
Is the mattress wide/long enough, and can I use all the available space?
Many of these depend on your build, weight, metabolism rate, and whether or not you're a restless sleeper. 🏃‍♀️
But the problem is that different people will have different body types and different preferences, changing their mattress requirements.
We're all unique and have different needs.
Let's look at a standard heterosexual relationship:
Women tend to be smaller and lighter and are more likely to feel cold more easily. 🙍‍♀️
Men tend to be heavier, of larger build, and run at higher temperatures. 🙍‍♂️
If you're a 50 kg (110 lbs) woman who easily feels cold, your sleeping requirements will be very different to those of an 85 kg (187 lbs) man who sweats a lot.
You may prefer a soft memory foam mattress that hugs your body, while your partner would like a firmer mattress with pocketed coils that can better support his weight and temperature.
Enter mattress drama. 🤬
Of course, same-sex couples may encounter similar issues, as partners are likely to differ in size and may have different firmness preferences.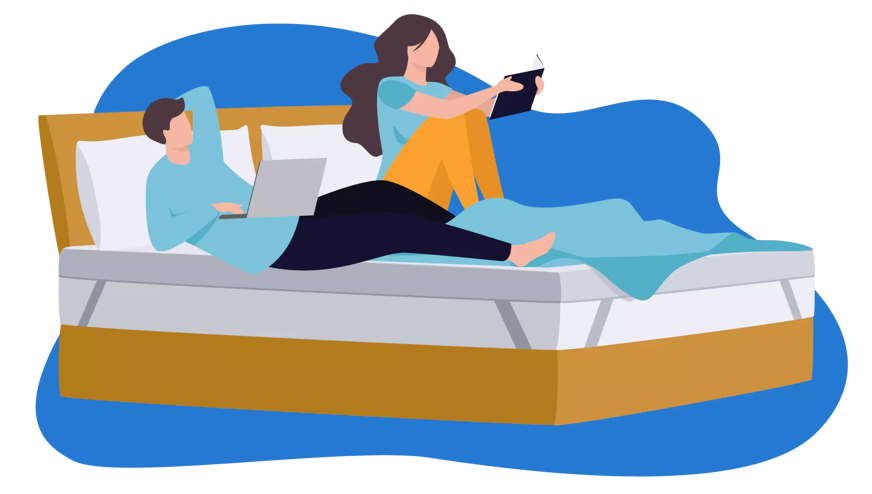 Unique problems of sharing a bed
But, there are even more factors to consider.
Let's continue the above example. 🤔
Say the man in the scenario is a very light sleeper - he wakes up at every sound, and even the slightest movements disturb him. 🕺
He generally falls into bed and sleeps in pretty much the same position all night long.
But the woman in our scenario is a very restless sleeper.
Perhaps she even struggles with Restless Legs Syndrome (RLS), which is more common in women than men, and she spends a good percentage of the night tossing and turning, trying to get comfortable.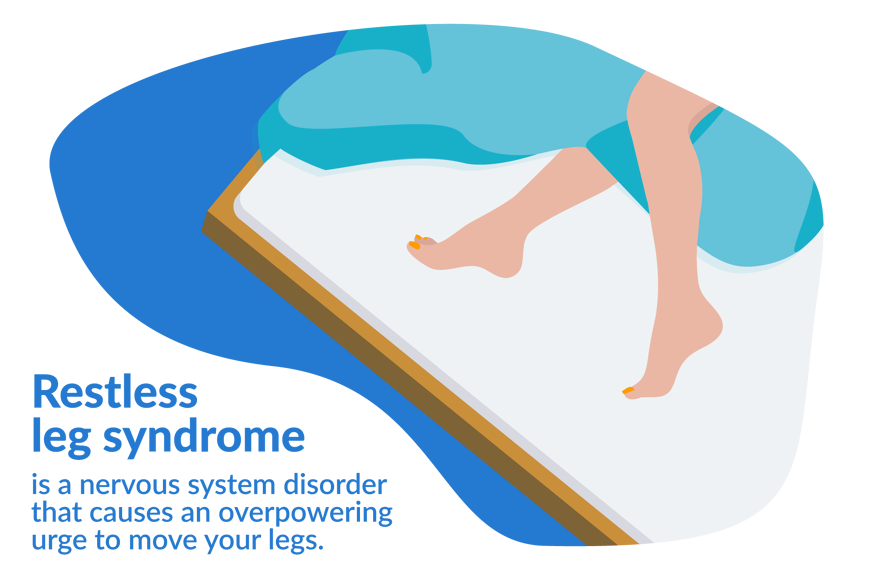 Now, let's say the couple has opted for an innerspring mattress that better supports her partner and keeps him cooler.
This is great as it meets his sleeping requirements.
But, innerspring mattresses tend to have higher motion transfer, so her constant tossing and turning keeps her partner awake all night long.
And since the innerspring mattress is firmer and less comfortable for her, she's likely to toss and turn even more!
Both partners have trouble getting a good night's sleep and wake up cranky in the morning. 😖
That's the perfect recipe for a doomed relationship.
Maybe two beds are better
Considering the above, it's no wonder that so many end up looking for the best mattress tips for couples.
Nearly one in six couples in the UK sleep in separate beds - or even in separate bedrooms!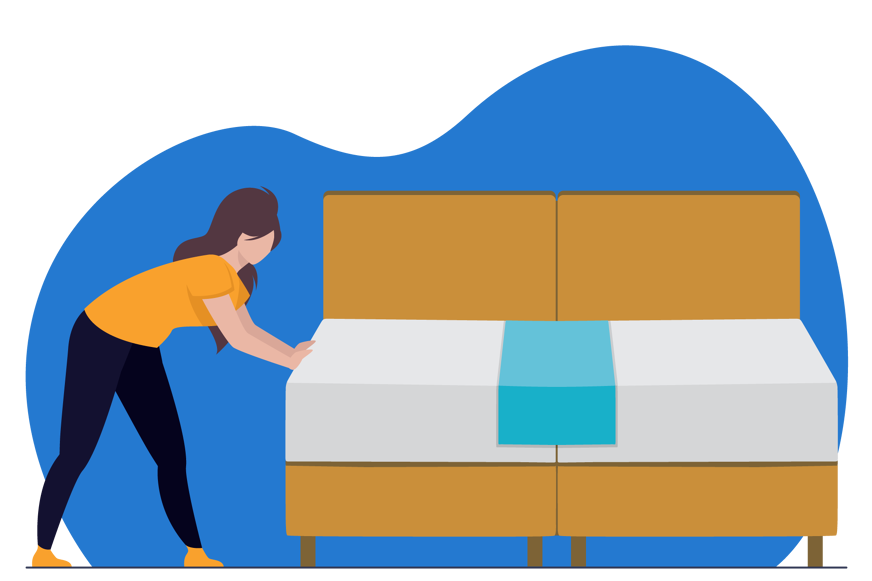 But couples also have unique needs.
What about movie marathons with pizza and the kids or dogs?
What about evening snuggles?
What about sex?
Having two separate beds isn't the perfect solution either. 🤷‍♂️
It may sound like all doom and gloom, but there are mattresses that can meet both partners' sleep and comfort requirements.
You may just need to spend a bit more time searching for them. 🕵️‍♀️
And that's precisely why we're here.
You could choose two single mattresses pushed together, perhaps even combined with a bed bridge or mattress topper to make it a tad more comfortable, or zip-and-link mattresses, where two mattresses are zipped together to create one large sleeping surface.
But let's look at some of the aspects you need to consider when searching for the best mattress for couples.
The right support: Finding a good degree of firmness
One of the most important things to consider when buying a new mattress is its firmness. ☁️🧸🧱
This is the way the mattress feels to lie on.
Mattress firmness is often a matter of personal preference.
Do you like beds that feel like sinking into a marshmallow cloud?
Do you prefer beds that feel harder and more stable?
The degree of firmness that's right for you will also be influenced by your weight, build, and preferred sleeping position.
In general, different types of sleepers will require different firmness options:
Medium-firm mattresses, like the Simba Hybrid, are likely to be the best for couples. 👩‍❤️‍👨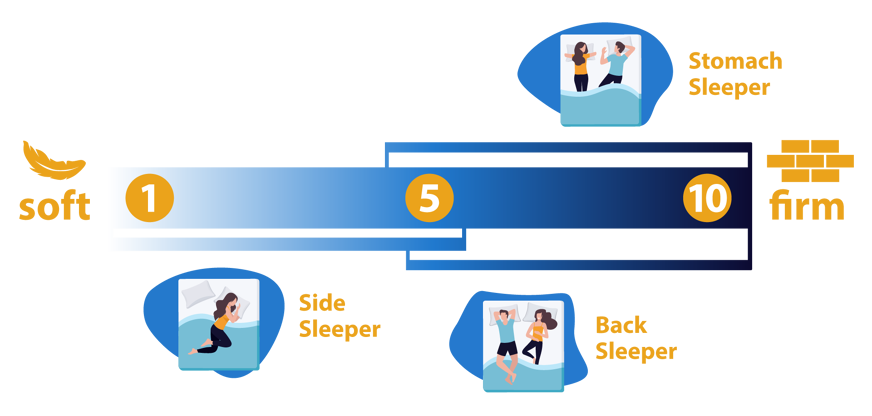 These offer the best in-between and suit the most sleep styles.
Most of the bed-in-a-box products we recommend offer a medium-firm feel.
But:
If you and your partner have vastly different body sizes - say, you're a 150 kg (330 lbs) man, and your wife is a 45 kg (99 lbs) woman, you're likely to encounter some problems.
When the difference in size and build is that great, you'd be better off investing in two single mattresses combined with a bed bridge.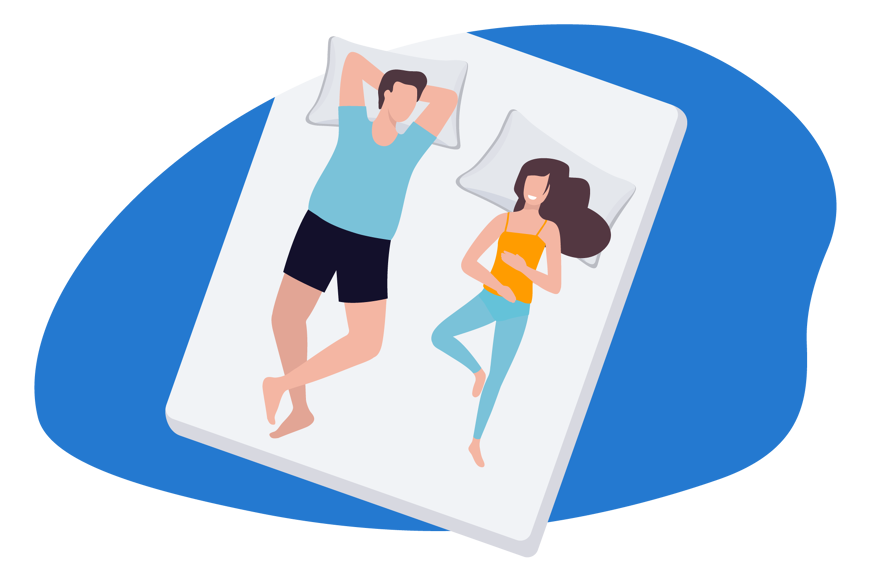 Alternatively, you could look for fully customisable mattresses that allow you to set different degrees of firmness for each half of the bed.
You'll find that split tension mattresses (also called dual tension mattresses or half-and-half mattresses) are the best mattresses for couples with different weights and preferences.
The Feather & Black Middleham Mohair is a bestselling mattress that's conveniently available in dual tension and zip-and-lock options.
Restless nights: Opt for good motion isolation
It's imperative that a couple's mattress has zero to low motion transfer.
But, what exactly does this mean?
Motion transfer refers to the amount of movement carried across a mattress.
So, it means how much movement you will feel on your side of the bed if your partner tosses and turns on the other side of the bed. 💃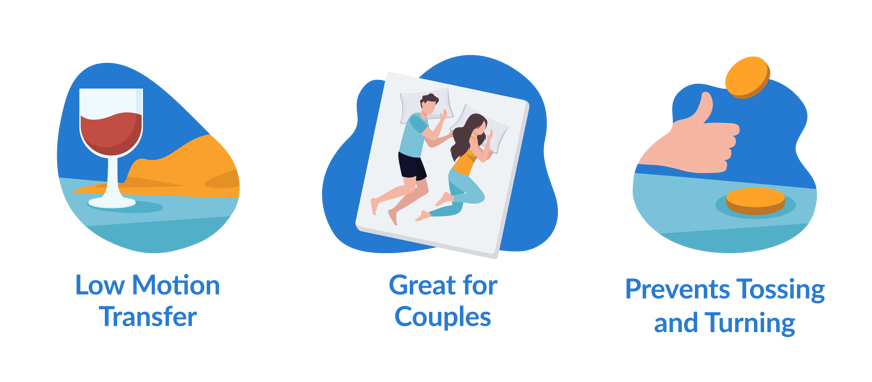 Motion transfer can depend on the mattress's quality, but it's generally determined by the material the mattress is made of.
But, this isn't always as straightforward. ➡️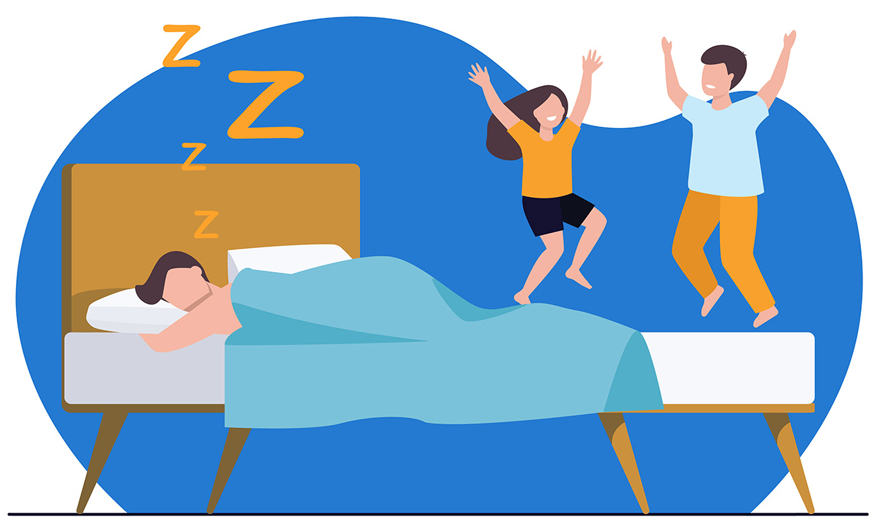 The GhostBed mattress, for example, may consist of latex foam and memory foam, but it has comparatively high motion transfer.
Similarly, many high-quality pocket-sprung mattresses have very low motion transfer.
Motion transfer can also be affected by the top layer.
So, for example, a sprung mattress with a cushioning latex or memory foam layer may offer enhanced motion isolation. 👌
The Hypnia Supreme Hybrid is an excellent example of this.
70% OFF HYPNIA SUPREME HYBRID + 2 FREE PILLOWS W/ PILLOWS2
A memory foam topper can also change the sleeping surface and affect motion transfer - but this will also affect the overall feel of the mattress.
Regardless of material or composition, always choose a mattress with good motion isolation for a peaceful sleep.
Temperature: No more sweaty nights
Men and women generally have different body temperatures. 🔥
Women tend to be a little cooler - and feel cold more quickly.
Men tend to have higher body temperatures, feel cold less quickly and are more likely to be heavier sweaters.
Of course, this isn't set in stone. 💎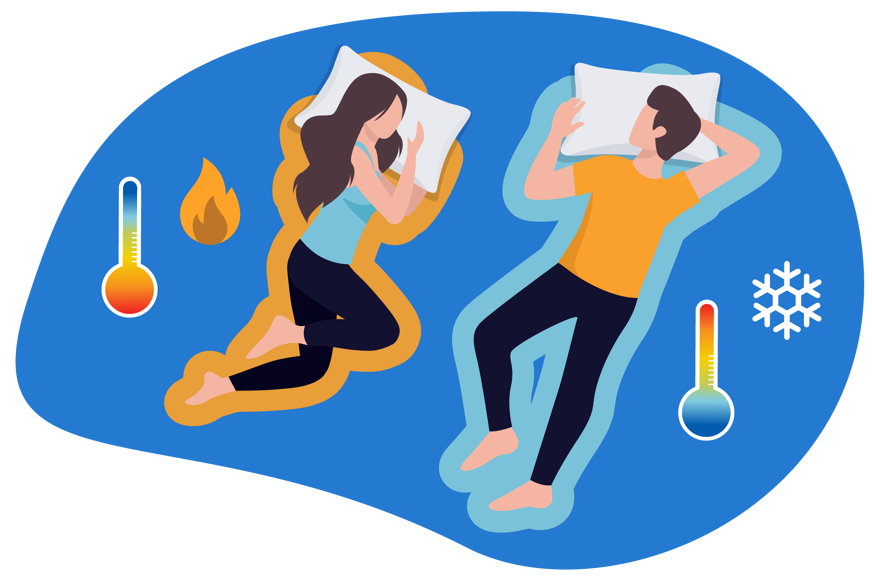 A woman going through menopause, for example, is more likely to experience frequent hot flushes and feel warmer than her partner.
Either way, it's important that the mattress a couple chooses accommodates both temperatures.
We'd always recommend going for a cooling mattress - especially if one of the partners is a hot sleeper or a heavier sweater.
The Simba Hybrid, for example, has been specifically designed for enhanced breathability.
Consider this scenario:
A couple shares a memory foam mattress, which generally stores more heat.
The woman in the relationship, who sleeps cooler, feels quite comfortable and welcomes the extra warmth.
But her partner, a man of larger build who sweats very heavily, frequently overheats.
This increases the overall temperature of the bed and makes him sweat even more, which affects the temperature and moisture levels of the mattress further.
The woman would have slept comfortably on her own, but now the mattress is both hotter and moister than it would be if she slept alone.
Both partners feel uncomfortable.
It's easier to add an extra duvet or blanket if you feel cold.
It's a lot more challenging to decrease temperature. 🤷‍♂️
Of course, if you and your partner run at similar temperatures and neither partner is a heavy sweater, you wouldn't have the above problem.
This is why it's important to consider your base body temperature, your proneness to sweating, and the mattress material you'll end up choosing.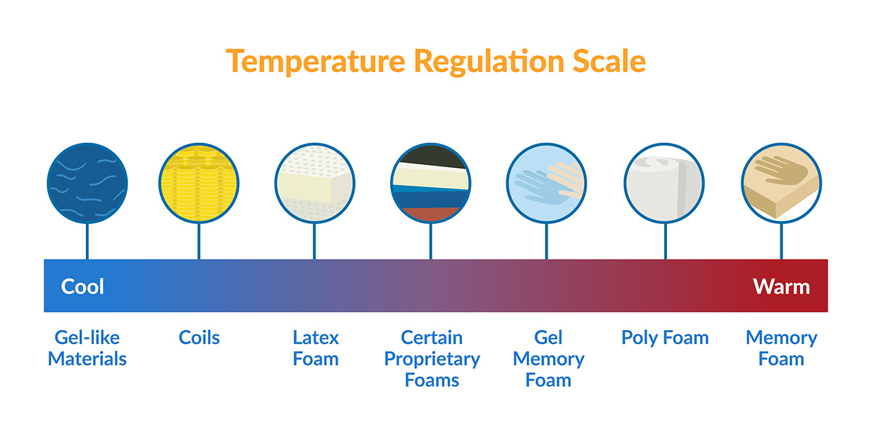 In general, memory foam mattresses store the most body heat, while spring mattresses or latex mattresses will be on the cooler end of the scale.
We'd recommend trying the Dunlopillo Royal Sovereign latex mattress if you want a breathable all-foam option.
Stability & durability: Choose a high-quality mattress
You should always buy a high-quality, durable mattress.
But this is even more important when you're sharing your bed with a partner! 🛌
Why?
It's quite simple, really:
A mattress is likely to wear out more quickly with the weight of two people than it would with the weight of one person.
Different mattresses are also made to suit different weights - some mattresses are able to support heavier weights while others aren't, and couples should definitely always choose the more durable option.
If you're buying a cheaper, lower-quality mattress, you'll start experiencing decreasing support much quicker. 😔
And that's definitely not something you want!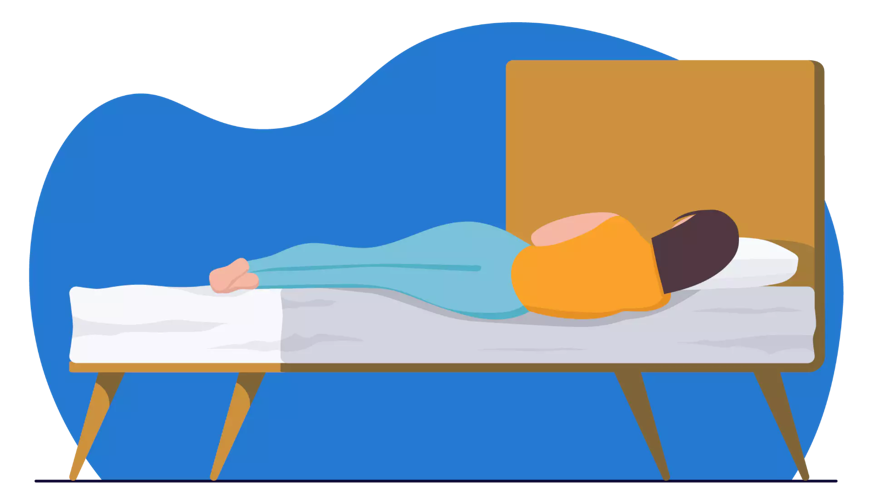 Most of our top picks come with a 10-year warranty, and you can expect them to last for that long!
The Nectar mattress even comes with a lifetime guarantee, though we recommend replacing your mattress every 8 - 10 years.
What about stability?
If you're investing in a quality mattress made of high-density materials, you probably don't need to worry about stability.
This simply refers to how well a mattress can support you.
If, however, the mattress you've chosen isn't great, you could have some problems. 😳
Stability issues could result in:
The heavier partner sinking into the mattress too much, causing the lighter partner to roll in that direction.
Spinal misalignment.
Increased backaches and pains.
Uncomfortable sleep.
This is why choosing a mattress made of quality materials is so important. 👌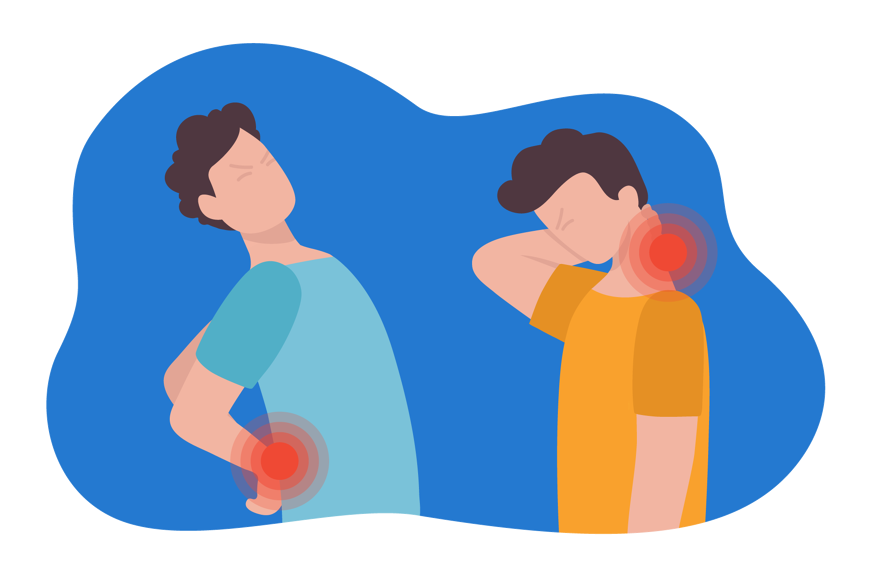 The actual material is less important than the quality of the material used:
For all-foam mattresses, make sure the foams have a density of at least 35 kg/m³.
For spring mattresses, make sure the smallest-size mattress has at least 350 springs.
Also, look for mattresses with a good support or base layer. 👍
Cold foam and PUR foam are both excellent support materials.
It's worth pointing out that all mattresses should be rotated head-to-toe regularly, but this is especially important for couples.
If mattresses aren't rotated, and one person is significantly heavier, then, over time, you'll find that one side of the bed starts dipping, and the other person will feel like they are rolling into them.
Sex: Because it matters
Having a healthy sex life does matter - and you want to make sure your mattress helps you achieve this!
There are multiple factors to consider when deciding whether or not a mattress is great for sex. 🤔
Responsiveness and bounce
These two factors refer to how quickly your mattress adapts to movement. 🕺
You'd want a mattress with good responsiveness and bounce so you can switch positions easily.
But, you also want a mattress with good motion isolation.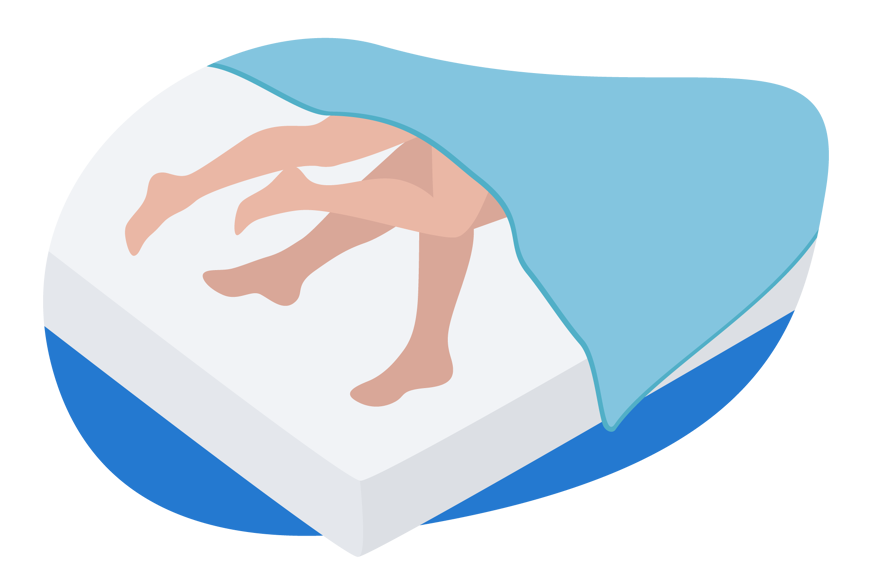 This can sometimes present a conflict, as the most bouncy mattresses generally also have a greater transfer of motion.
And mattresses that have the best motion isolation - like the Emma Original memory foam mattress - have almost zero bounce. 🤦‍♀️
The trick is to find the perfect in-between.
We think quality pocket sprung or hybrid mattresses are the way to go.
Both of these generally respond well to movement, offer a good amount of bounce, and limit motion transfer.
The DreamCloud Luxury Hybrid is an excellent choice. 👌
£540 OFF DREAMCLOUD + FREE BEDDING SET£ 408.07
Firmness and edge support
We've chatted about firmness and edge support above, but it also matters when it comes to sex.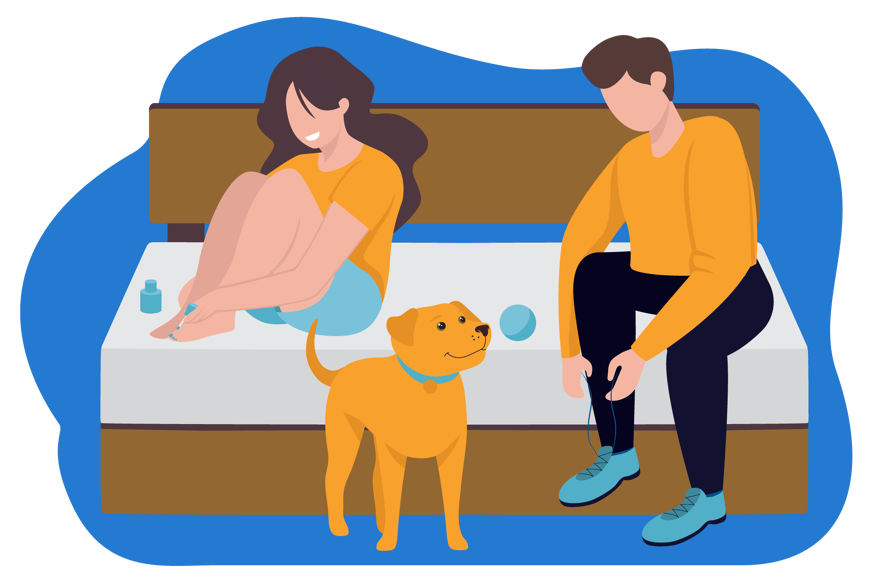 If a mattress isn't firm or supportive enough while you're sleeping, it definitely won't be supportive enough to hold you during physical activity. 🧱
You always want to look for a mattress that matches comfort with good support/firmness and great edge support.
Bed-in-a-box mattresses generally don't have the best edge support, so it's particularly important to double-check on this if you're buying online. 📦
The Emma Luxe Cooling, for example, may be a bed-in-a-box mattress, but it offers excellent edge support!
55% OFF EMMA NEXTGEN LUXE + 5% OFF W/ "SLEEPHEROUK5"
We give you our opinion on a mattress's edge support in all our mattress reviews!
Temperature
If you're engaging in sexual activity, you don't want a mattress that will leave you and your partner feeling hot and clammy. 🥵
Certain mattress materials store body heat better than others.
Memory foam, for example, retains a lot of body heat, while gel foam, latex foam, spring, and hybrid mattresses are more breathable.
The latter few would be more suitable for sweaty nights in the sack.
Size: What is big enough?
There are dozens of UK mattress sizes, but couples should stick to the larger beds. 🛏
We'd highly recommend that couples don't go any smaller than a double size.
Good mattress sizes for couples include:
Double mattresses: 135 x 190 cm (4'6" x 6'3")
King size mattresses: 150 x 200 cm (5' x 6'6")
Super-king-size mattresses: 180 x 200 cm (6' x 6'6")
Emperor beds: 200 x 200 cm (6'6" x 6'6")
If you or your partner are of larger build, we'd suggest going for a super king-size bed - but make sure to measure your bedroom first to make sure it'll fit. 👑
Unless you're getting a bed-in-a-box mattress, you'll also need to measure your entryway and stairwell.
If you're both smaller, you can get away with a double mattress.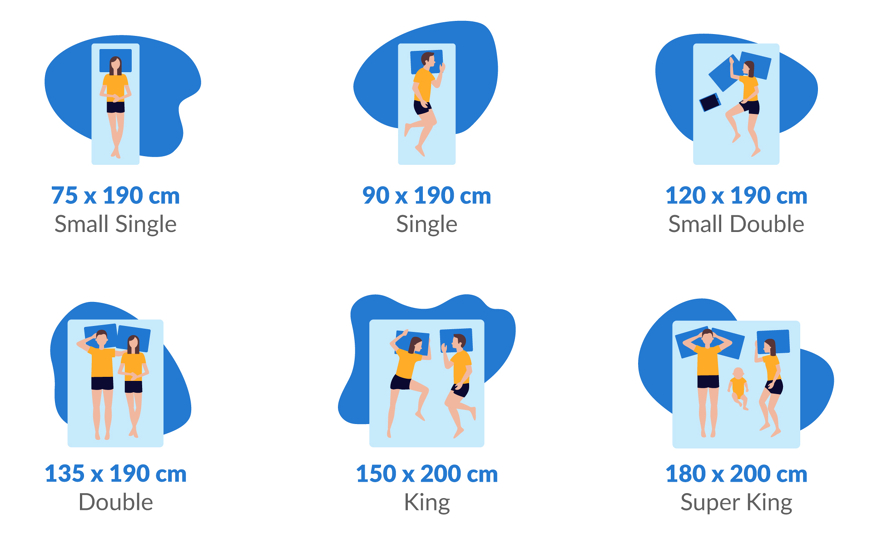 Even if you have an excellent mattress with low motion transfer and good edge support, you still want to have enough space to sleep comfortably without ever feeling restricted.
Interestingly, emperor beds are quite rare as bed-in-a-box mattresses in the UK.
If you're looking for an emperor-size mattress, the best option we've found is the Otty Hybrid.
What's the best mattress for couples?
As you've seen, there are multiple factors to consider when choosing the best mattress for couples. 👩‍❤️‍👨
Key decision-makers include:
The right degree of firmness
Motion isolation
Breathability and temperature regulation
Stability and durability
Responsiveness and bounce
All the mattresses we've recommended offer a good balance, but some may be better suited to you than others.
If all else fails, it's best to find a mattress where the two halves of the bed can be customised.
Alternatively, you could also combine two single mattresses on one bed frame with a bed bridge in the centre for individualised sleeping comfort.
Some of the best mattresses for couples to consider:
DreamCloud

Price from &nbsp

£ 408.07

£ (949 )

The DreamCloud Luxury Hybrid mattress is a 5-layered premium mattress that combines memory foam with pocket springs.

The DreamCloud Luxury Hybrid mattress is a 5-layered premium mattress that combines memory foam with pocket springs.

Price from

£ 408.07

(£ 949 )

Simba

Price from &nbsp

£ 479.40

£ (799 )

The Simba Hybrid mattress is a high-quality pocket sprung mattress with multiple layers of foam.

The Simba Hybrid mattress is a high-quality pocket sprung mattress with multiple layers of foam.

Price from

£ 479.40

(£ 799 )

Feather & Black

Middleham Mohair Mattress

The Feather & Black Middleham Mohair Mattress is available in single tension, dual tension, and zip-and-link options.

The Feather & Black Middleham Mohair Mattress is available in single tension, dual tension, and zip-and-link options.

Price from

£ 1,499

Emma

Price from &nbsp

£ 418.05

£ (929 )

The Emma Luxe Cooling Mattress is Emma Sleep UK's most advanced mattress with temperature regulation technology.

"Get 5% off with our exclusive 'SLEEPHEROUK5' discount code."

The Emma Luxe Cooling Mattress is Emma Sleep UK's most advanced mattress with temperature regulation technology.

"Get 5% off with our exclusive 'SLEEPHEROUK5' discount code."

Price from

£ 418.05

(£ 929 )

Nectar

Price from &nbsp

£ 379.60

£ (949 )

The Nectar is a luxurious memory foam mattress suitable for most people and sleeping positions.

The Nectar is a luxurious memory foam mattress suitable for most people and sleeping positions.

Price from

£ 379.60

(£ 949 )