How we test products
Our mission is to take the guesswork out of finding the perfect sleep products.
We've dedicated hundreds of hours to testing mattresses and sleep accessories, and rely on a team of testers of differing weights, temperature preferences, and sleeping positions to evaluate each product.
Tested products are granted the Sleep Hero tested stamp of approval, a mark of our review's reliability.
If we haven't personally tested a product, please be assured that we invest significant time and energy into scouring the UK market and researching the best recommendations, and we work with a team of sleep experts who review our articles, ensuring that the insights we provide are not only relatable but also reliable.
What type of sleeper is a firm mattress suitable for?
If you sleep on your back or your stomach or have a larger build, then we would strongly recommend considering a firm mattress.
In all of these cases, a firm mattress will offer the best night's sleep. This is because it will keep the spine aligned, prevent your shoulder and pelvic areas from sinking in too deeply, and support the lighter parts of your body. All of this enables the spine to remain in its optimal position and prevents the body from sagging.
Sagging into a mattress can quickly lead to back or neck pains.
Choosing the desired firmness of a mattress depends largely on the individual person and body type. Weight, height, preferred sleeping position, and individual needs and preferences are all factors that determine the level of firmness you need. For example, a person sleeping on their stomach and weighing 60 kg will not need the same type of firmness as someone who weighs 90 kg.
If you're taller or heavier, then a firm mattress would be better for you.
You can also revert back to our guide on choosing the right degree of firmness to help you choose.
Advantages of a firm mattress
Firm mattresses are mostly composed of latex or spring. These materials allow for good breathability and protect your mattress against humidity and the build-up of dust mites.
Firm mattresses also provide for better blood circulation and superior relief of pressure points. This enables them to relieve associated pains, such as those experienced when suffering from a herniated disc.
Firm mattresses are also more durable and have a longer lifespan.
Level of support on a firm mattress
Sleepers that suffer from back, neck, or hip problems would generally benefit from a firmer mattress. This is because, over time, inadequate support in these areas can result in discomfort, pain, or even more serious long-term issues.
Receiving an adequate amount of support in these areas, then, is essential to prevent any problems.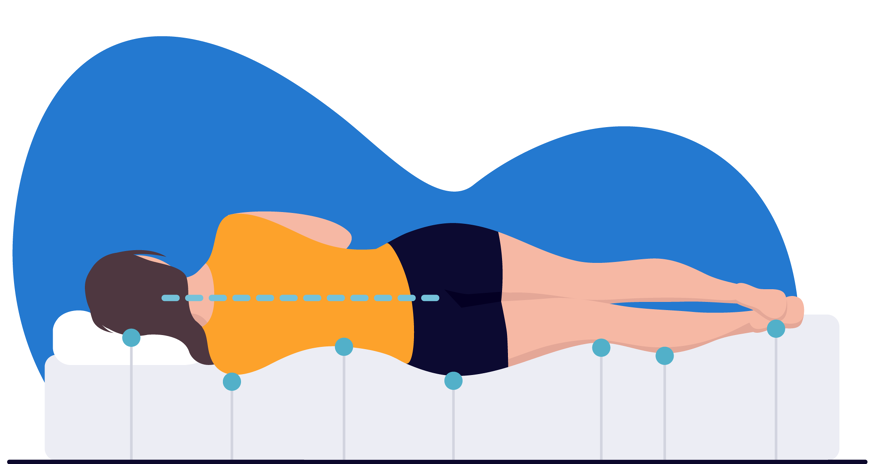 Choose a firm foam, latex, or spring mattress
Air circulation or breathability is particularly important in firm mattresses as they are generally much denser than soft or medium-firm mattress. This density is great in providing necessary support but it's not great in terms of temperature regulation.
Generally, cheap foam mattresses will not have the necessary breathability to keep you cool at night. We, therefore, recommend that you choose more high-end mattresses that offer better value for money.
Spring mattresses and hybrid mattresses naturally have better air circulation and retain less heat. Latex mattresses are also cooler and they're naturally firm, due to the high density of latex.
The problem with sagging mattresses
A sagging firm mattress can be a big problem. A sagging mattress generally refers to a mattress with dents or sunk-in areas, which is a result of wear and prolonged overload. Sagging can occur with any mattress but is most common with poor quality mattresses. Sometimes, however, sagging may result simply because of the passing of time.
Mattresses that are very old no longer have the structure or materials necessary to provide sufficient support. An average lifespan of a good mattress is 8-10 years. However, your body weight and use of a mattress can increase or decrease the total lifespan of your mattress.
Conclusion
Our recommended mattresses may all have different actual levels of firmness but they do have a number of key factors in common. For one, quality firm mattresses have minimal foam degradation over time. Then, all of our recommended mattresses are also very comfortable despite their high degree of firmness.
It is important to find a mattress of adequate firmness, especially if you're suffering from back pain. Soft mattresses often don't provide the necessary support and may result in the so-called hammock effect, where your spine is bent. Firm mattresses can definitely be recommended, especially to people of a larger build, as they help to keep the spine in a healthy alignment and allow the body to relax.
That said, firm mattresses are generally not recommended for side sleepers. They need a little more softness to allow their body to sink in sufficiently, and we'd recommend they choose a soft or medium-firm mattress.