How we test products
Our mission is to take the guesswork out of finding the perfect sleep products.
We've dedicated hundreds of hours to testing mattresses and sleep accessories, and rely on a team of testers of differing weights, temperature preferences, and sleeping positions to evaluate each product.
Tested products are granted the Sleep Hero tested stamp of approval, a mark of our review's reliability.
If we haven't personally tested a product, please be assured that we invest significant time and energy into scouring the UK market and researching the best recommendations, and we work with a team of sleep experts who review our articles, ensuring that the insights we provide are not only relatable but also reliable.
Is sleeping on your back the healthiest position?
It is often said that sleeping on the back is the ideal position for good body health. Studies show that this sleeping position ensures peaceful sleep with little movement - you'll often wake up in the same position!
41% of people fall asleep in the foetal position. While it is the most popular, this position is known to cause pain in the joints.
When you sleep on your back, your weight is naturally distributed in the right way, your joints are relaxed, and you avoid any pain. It is the ideal position to prevent neck and back pain. In addition, sleeping on your back also reduces gastric reflux.
One disadvantage is that sleeping on the back promotes snoring.
A quick tip: For ideal spinal alignment, place a pillow under your head or neck and another one under your knees. But avoid this position if you're pregnant - it decreases blood flow to the heart and the baby.
Stability is important
A mattress with excellent stability is crucial for people who like to sleep on their back. This ensures that your spine remains optimally aligned. A mattress with insufficient stability prevents ideal alignment, which can lead to back pain.
Stability does not necessarily equate to firmness. A firm mattress can have excellent stability, but so can a soft mattress. Stability is achieved through optimal body adaptation.
This is particularly important for people who sleep on their backs. Your perfect mattress should adapt well to your body and prevent your spine from being misaligned.
In order to achieve this, the mattress also requires high point elasticity. It should relieve and distribute the pressure that you exert on the sleeping surface. This means that no pressure points are created and that you do not sink into the mattress too much at any one point.
Ultimately, your ideal mattress needs to be two things. On the one hand, it needs to be stable enough so that your body is well-supported. On the other hand, it must be comfortable enough so you can enjoy a pleasant sleeping experience.
Mattresses in which firmer foams have been inserted as a base layer or a transition layer are particularly suitable for this.
However, you should also make sure that the mattress is made of high-quality foams in order to achieve a high degree of adaptability and allow for a comfortable night's sleep.
Choosing the right degree of firmness
It is often difficult to choose the right degree of firmness. The ideal mattress must be neither too firm nor too soft. A medium-firm mattress is often the best choice.
If you sleep on your back, then it is very important that you don't sink into the mattress too deeply. If you sink in too deeply, then this will result in a hollow back, leading to back pain. But if the mattress is too firm and you don't sink at all, then you're also likely to suffer from back pain.
Optimally, the perfect mattress allows for a little bit of sinkage. We would recommend a mattress between 5 and 8 out of 10 on the Sleep Hero firmness scale. This medium degree of firmness guarantees that your spine will remain in an optimal position.
In addition to the firmness of the mattress, you also need to pay attention to your body weight and height. Heavier-weight sleepers, for example, would benefit from a slightly firmer mattress (6-8 on the firmness scale). Lighter-weight sleepers, in contrast, would benefit from a slightly softer mattress (5-6 on the firmness scale).
The ideal mattresses consist of a combination of a firmer foam and a softer, more adaptable foam in the upper layers. Latex or similar materials combined with memory foam or gel foam are ideal for this purpose. This offers you a stable but comfortable upper layer.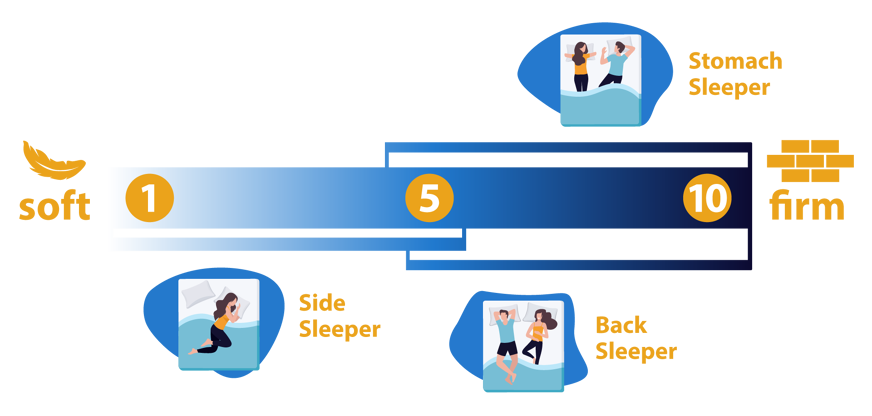 Conclusion
The top points to pay attention to when purchasing a mattress for back sleepers include:
Good stability
High point elasticity
Very good adaptability
Mattress must be neither too firm nor too soft (5-8 out of 10 on the Sleep Hero firmness scale)