A good orthopaedic mattress can relieve or even completely eliminate back pain.
Ideally, a quality orthopaedic mattress is made of pressure-reducing materials and offers sufficient bounce, sinkage, and support to keep your spine in a healthy alignment and relieve tension.
The right degree of firmness to relieve pressure
The right degree of firmness will depend on your body type and preferred sleeping position.
In general, though, people sleeping on their side need more sinkage than those sleeping on their backs or stomachs and thus need a softer mattress.
Heavier-weight people or those sleeping solely on their backs or stomachs need more support, especially in the pelvic area, and should thus choose a firmer model.
A high-quality orthopaedic mattress not only has the right degree of firmness but it also incorporates pressure-reducing materials.
Ideally, it should be very point-elastic. That way, the spine will remain in a healthy, straight alignment, which will aid tension release.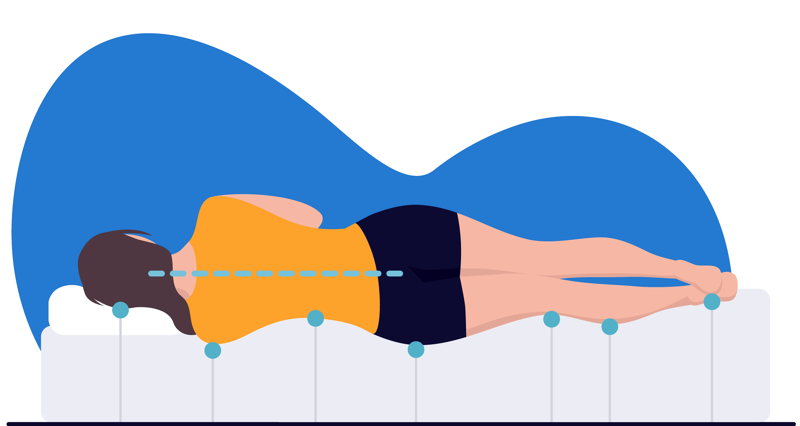 Comfort
A good orthopaedic mattress needs to be very comfortable.
Yet, it must support the body sufficiently, especially on pressure points such as the shoulder and pelvic regions.
When purchasing, pay attention to the density of the mattress (weight per m³).
The higher the density, the better.
The right size
Choosing the right mattress size is essential for superior comfort.
The right size depends on your needs and preferences.
Do you sleep alone or with your partner? Are you tall or short? What is the size of your bedroom?
The most common mattress sizes for couples are 135 x 190 cm, 150 x 200 cm, 180 x 200cm, and 200 x 200cm.
The most common mattress sizes for singles are 90 x 190cm, 135 x 190 cm, and 150 x 200cm.
The choice and quality of the material
A good orthopaedic mattress relieves pressure points.
Anti-pressure material, such as memory foam, latex, gel foam, or cold foam, is particularly suitable.
All of these materials have a high elasticity to relieve tension.
Look for point elasticity in your mattress. This means that the mattress only gives way where the body exerts direct pressure on the mattress.
This helps relieve tension.
Springs offer great support, memory foam promotes relaxation, and latex is number one in terms of elasticity.
A popular variant of an orthopaedic mattress is the 7-zone cold foam mattress.
Its integrated comfort zones ensure that you sink deeper into the mattress in heavier body areas, such as the loins and pelvis.
You are simultaneously supported in lighter areas, such as the head and neck.
But even mattresses without zoning often have excellent ergonomic properties.