How we test products
Our mission is to take the guesswork out of finding the perfect sleep products.
We've dedicated hundreds of hours to testing mattresses and sleep accessories, and rely on a team of testers of differing weights, temperature preferences, and sleeping positions to evaluate each product.
Tested products are granted the Sleep Hero tested stamp of approval, a mark of our review's reliability.
If we haven't personally tested a product, please be assured that we invest significant time and energy into scouring the UK market and researching the best recommendations, and we work with a team of sleep experts who review our articles, ensuring that the insights we provide are not only relatable but also reliable.
Why should you choose an orthopaedic mattress?
There are numerous reasons people suffer from back and neck pain.
It can as easily affect the elderly as it does a student hard at work, studying for tests bent over at his desk, or a middle-aged employee working a 9-5 office job.
It is safe to assume that each age group has its own reasons for suffering from back pain - but we can all do something about the reasons that are actually in our control, like a bad mattress or an old slatted frame.
To ensure pain-free sleep, it is important that you are well supported by a mattress that takes the pressure off your back and keeps your spine straight.
This is definitely something a good orthopaedic mattress can help with.
It may not be the only solution to the problem, but it is already a first step in the right direction.
Specifically designed to offer excellent support and superior comfort, an orthopaedic mattress has many advantages.
These include:
Optimal support and comfort
Firm surface to help reduce rotational movements
Uniform body weight distribution to prevent the build-up of pressure points, particularly in the neck, back, and hip areas
Correct spinal alignment to help relieve stress on the spine and reduce back pain
Helps you adopt a good posture during your sleep, promoting healthier blood circulation throughout the night
Can an orthopaedic mattress eliminate the causes of back pain?
The way you sleep is not the only reason you may suffer from back pain.
Therefore, mattresses alone won't solve the problem entirely.
Let's discuss some of the main reasons for back pain.
You'll see that, for many of these, a good mattress will offer little help.
Stress: This often triggers neck and back pain. The best way to relieve this pain is to relax, pay attention to a healthy diet, play a sport, or get a massage.
Muscle problems: Back pain is often due to strains, slipped discs, and other muscular problems. In this case, it is best to seek out medical advice.
The curvature of the spine: Many people have bad posture by nature, and many more adopt it in their everyday office life. Uneven posture can, in worst-case scenarios, lead to permanent back pain. In such cases, you should discuss the right orthopaedic mattress with a doctor.
A mattress or slatted frame that has been worn out: This is a very common cause of neck and back pain. Many people go years without changing their mattress, which is a huge mistake. Sometimes, they buy products of inferior quality. A bad mattress or a bent slatted frame can both lead to back pain as the spine will be brought into an uneven alignment. This creates pressure points and leads to tension.
The wrong mattress: Even if you invest in a decent mattress, it is possible to get one that's not right for you. The mattress may be too firm or doesn't offer enough sinkage. Or, it may be too soft and allow for too much sinkage, which creates a hollow back. An area-elastic mattress, which cannot reduce pressure points, may also lead to tension.
Criteria for choosing an orthopaedic mattress
A good orthopaedic mattress can relieve or even completely eliminate back pain.
Ideally, a quality orthopaedic mattress is made of pressure-reducing materials and offers sufficient bounce, sinkage, and support to keep your spine in a healthy alignment and relieve tension.
The right degree of firmness to relieve pressure
The right degree of firmness will depend on your body type and preferred sleeping position.
In general, though, people sleeping on their side need more sinkage than those sleeping on their backs or stomachs and thus need a softer mattress.
Heavier-weight people or those sleeping solely on their backs or stomachs need more support, especially in the pelvic area, and should thus choose a firmer model.
A high-quality orthopaedic mattress not only has the right degree of firmness but it also incorporates pressure-reducing materials.
Ideally, it should be very point-elastic. That way, the spine will remain in a healthy, straight alignment, which will aid tension release.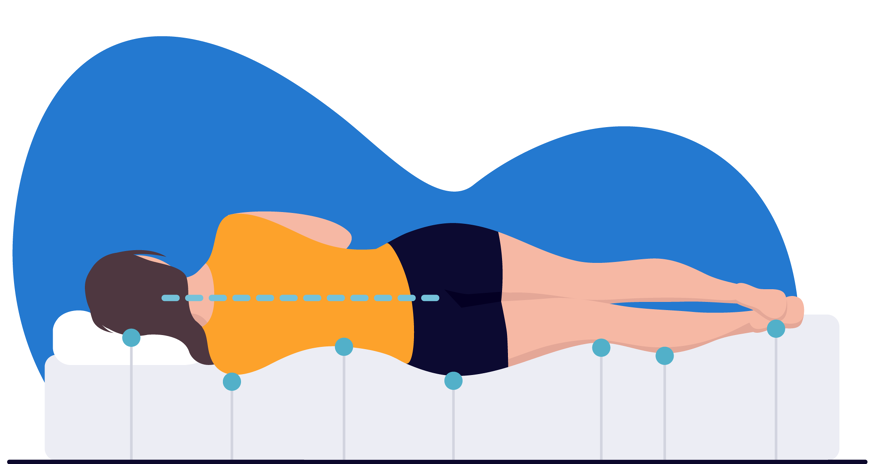 Comfort
A good orthopaedic mattress needs to be very comfortable.
Yet, it must support the body sufficiently, especially on pressure points such as the shoulder and pelvic regions.
When purchasing, pay attention to the density of the mattress (weight per m³).
The higher the density, the better.
The right size
Choosing the right mattress size is essential for superior comfort.
The right size depends on your needs and preferences.
Do you sleep alone or with your partner? Are you tall or short? What is the size of your bedroom?
The most common mattress sizes for couples are 135 x 190 cm, 150 x 200 cm, 180 x 200cm, and 200 x 200cm.
The most common mattress sizes for singles are 90 x 190cm, 135 x 190 cm, and 150 x 200cm.
The choice and quality of the material
A good orthopaedic mattress relieves pressure points.
Anti-pressure material, such as memory foam, latex, gel foam, or cold foam, is particularly suitable.
All of these materials have a high elasticity to relieve tension.
Look for point elasticity in your mattress. This means that the mattress only gives way where the body exerts direct pressure on the mattress.
This helps relieve tension.
Springs offer great support, memory foam promotes relaxation, and latex is number one in terms of elasticity.
A popular variant of an orthopaedic mattress is the 7-zone cold foam mattress.
Its integrated comfort zones ensure that you sink deeper into the mattress in heavier body areas, such as the loins and pelvis.
You are simultaneously supported in lighter areas, such as the head and neck.
But even mattresses without zoning often have excellent ergonomic properties.
Is an orthpaedic mattress suitable for me?
An orthopaedic mattress would be suitable for most sleepers as it provides great support and pressure relief to help reduce aches and pains.
It will be especially suitable for you if:
You suffer from back and joint pain
The firm surface of an orthopaedic mattress promotes healthy posture, spinal alignment, and pressure relief.
You like a firm sleeping surface
If you simply prefer the feel and support of a firm mattress, then an orthopaedic mattress will be a good choice.
Note, though, that firm mattresses aren't for everyone.
It is important to choose the right degree of firmness and support for you.
What density should I choose for my orthopaedic mattress?
It is important to consider the density of a mattress.
This is important for the mattress to properly maintain your body weight and prevent back pain.
24 kg / m³ mattresses are for children under 10 years of age.
35 kg / m³ mattresses are for medium-weight sleepers.
Mattresses over 40 kg / m³ are for ideal heavier-weight people to properly maintain healthy spinal alignment.
Mattresses over 80 kg / m³ are for couples with a large build and chronic back pain.
When choosing your mattress, you should also look at the contour or support zones.
In general, mattresses sold in specialised stores have only 3 support zones: head, back, and legs.
It is easier to find online mattresses with five support zones - head, shoulders, back, thighs, and feet.
The latest technology mattresses offer two additional support zones, the calves and the kidneys, bringing the total to 7 contour zones.
How long should I keep a mattress for?
A good mattress can help eliminate back pain.
Choosing the right mattress is important but you also need to pay attention to its lifespan and gradual deterioration.
A synthetic mattress should be changed every 6 or 7 years. A natural latex mattress can be kept for 10 - 12 years.
A new mattress offers innovative materials with good support, which will help to reduce back pain.
However, over the years, your mattress will age and its contour zones will sag.
No matter the quality or material of your mattress, it is important to change your mattress at least every 10 years.
Not sure what to do with your old mattress? We have detailed ways to dispose of your old mattress.
Conclusion
In our opinion, the Emma Original mattress is a wonderful orthopaedic model.
It offers excellent value for money, adapts well to the body, and reduces overall tension in the body.
That said, it a little on the soft side.
Choose an orthopaedic mattress that's right for you, depending on your budget and sleeping preferences.
If you do suffer from chronic back pain, you may want to seek the advice and guidance of a medical professional.
And remember that it is always worth investing - this does affect your health and wellbeing, after all.