How we test products
Our mission is to take the guesswork out of finding the perfect sleep products.
We've dedicated hundreds of hours to testing mattresses and sleep accessories, and rely on a team of testers of differing weights, temperature preferences, and sleeping positions to evaluate each product.
Tested products are granted the Sleep Hero tested stamp of approval, a mark of our review's reliability.
If we haven't personally tested a product, please be assured that we invest significant time and energy into scouring the UK market and researching the best recommendations, and we work with a team of sleep experts who review our articles, ensuring that the insights we provide are not only relatable but also reliable.
Who can sleep on a double mattress?
135 x 190 cm mattresses are very popular. In principle, they're suitable for everyone and are likely to fit most bed frames and bedrooms.
They're great for one single person who likes a little more space to sleep, larger individuals, or even couples.
| | |
| --- | --- |
| | |
| Size | 135 x 190 cm |
| For whom? | Singles, couples, guests |
| Materials? | High-quality materials such as latex, memory foam, cold foam, and pocket springs |
135 x 190 cm - the right size for couples?
A 135 x 190 cm mattress is definitely suitable for couples.
Each person will have enough space to sleep comfortably - but you can also snuggle up quite nicely.
The mattress also isn't overly large, so it's likely to fit on most bed frames, and certainly into most bedrooms.
This is a good standard size for couples.
Of course, a slightly wider bed would be more comfortable. If your budget and the space in your bedroom allows for it, then we'd recommend going up one size and choosing the 150 x 200 cm king size mattress.
This is great for more room and even allows your pet or child to hop into your bed from time to time.
You could also opt for two 90 x 190 cm single mattresses and place these next to each other on one bed frame.
Bridge the gap between the two mattresses with a bed bridge or a mattress topper and you'll have a beautiful large bed where each mattress can be individualised for each person.
That said, if you're on a lower budget or have a smaller bedroom, as is so common in the UK, then the 135 x 190 cm double mattress will be sufficiently large for two people.
135 x 190 cm - a good mattress for singles too
Who says you need to share your bed with a partner to opt for a larger mattress size?
Singles who treasure their space and their sleep will also do well on a 135 x 190 cm double mattress.
It gives you the space to spread out, roll around, and do crazy somersaults if you want. On a mattress of this size, you'll have the freedom to lie in any which you please.
It's also a great choice if you have a pet or if you're a single parent. This size mattress will allow for sufficient space for your dog or kitty to cuddle up or your child to come snuggle whenever he or she wishes.
If you frequently have overnight visitors, the 135 x 190 cm double mattress will also be great. There will be no need to set up a guest bed.
If you're of a larger build or body size, then you'll also be more comfortable on a 135 x 190 cm mattress.
The 135 x 190 cm double mattress is really suitable for anyone - singles who like more space, couples with a small bedroom, or pet lovers who love to snuggle.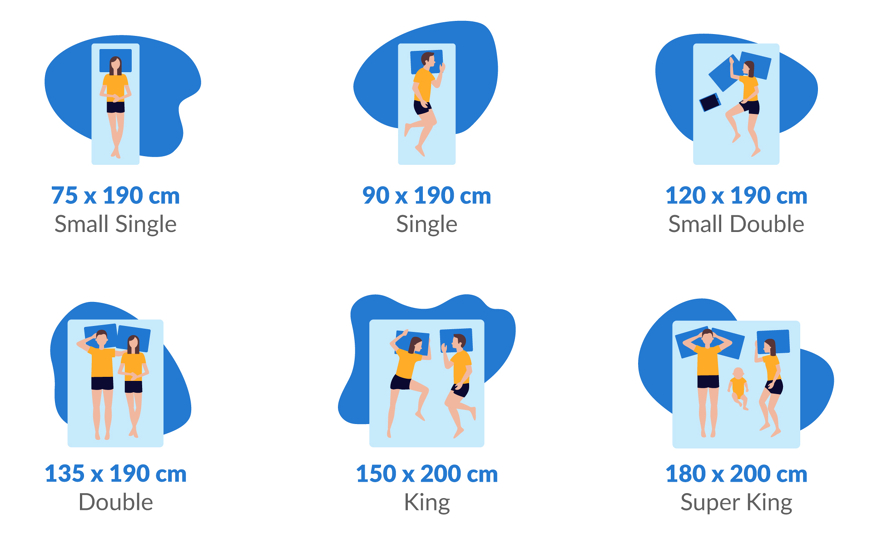 Different types of materials for 135 x 190 cm mattresses
There are many different types of mattress materials available. Some will be better suited to you than others.
Below are the different types of mattress materials that you could choose for your 135 x 190 cm double mattress.
Memory foam
Memory foam mattresses adapt well to the contours of the body and relieve pressure adequately.
This makes them very suitable as orthopaedic mattresses.
Memory foam has very low motion transfer, making it a great choice for couples.
Motion transfer refers to the travel of movement through the mattress.
Low motion transfer means that vibrations won't travel well and you won't be disturbed by your partner moving around at night.
Even though memory foam is enormously comfortable, it does retain more body heat than other types of foam. This increases the overall sleeping climate.
If you or your partner sweat heavily or feel hot easily, then this may not be the best choice.
Since memory foam is very sensitive to movement, it also makes moving around on the mattress a little more difficult. This isn't ideal for restless sleepers or for sex.
But, some mattresses, known as hybrid mattresses, combine memory foam with other materials to increase comfort and movement ability and decrease the overall sleeping climate.
Latex foam
Latex foam mattresses offer high point elasticity and are very comfortable to sleep on.
The sleeping climate on a latex mattress is cooler than that on a memory foam or cold foam mattress.
Moving on the mattress and changing sleeping positions is also a little easier on a latex mattress. This makes it more suitable for restless sleepers and for couples.
Latex also has natural anti-allergenic properties, making it suitable for people prone to allergies. Of course, people with a latex allergy should avoid latex mattresses.
On the downside, high-quality latex mattresses in the 135 x 190 cm size are more expensive than other models. They are also quite heavy and need to be rotated and cleaned regularly.
Cold foam
Cold foam mattresses are among the most common and cheapest options in the mattress world.
This type of mattress is characterised by its high point elasticity and slight springy feeling.
They also have low motion transfer, making them suitable for couples.
In many respects, cold foam is similar to memory foam but it lacks the adaptability of the latter.
Cold foam is rarely used on its own in high-quality mattresses.
Instead, you're likely to find it as a supporting base layer, ensuring the basic stability of a mattress.
It's important to pay attention to the density of cold foam. Inferior cold foam mattresses are quite common, so make sure you choose a mattress with a density of 40 kg/m³ and up.
Gel foam
Gel foam mattresses are becoming more and more common.
Gel foam is very adaptable, has a high point elasticity, offers a much cooler sleeping climate, and is suitable for restless sleepers.
But, gel foam is quite expensive and it is much softer.
This is why it's most commonly used as the upper comfort layer of a mattress and combined with firmer and more stable base foams.
Heavier-weight people should avoid gel foam mattresses. Innerspring mattresses are a much better choice.
Innerspring mattresses
Innerspring mattresses are characterised by their firmness and great ventilation.
There are many different types of spring mattresses available, some of lesser quality than others.
We'd recommend going for pocket spring mattresses.
Here, individual springs are sewn into a fabric pocket.
This allows the mattress to adapt better to the contours of the body and also reduces any noise.
Since spring mattresses are firmer and more stable, they're well suited to heavier-weight people and can be recommended for back sleepers and stomach sleepers.
Which degree of firmness should you choose?
The degree of firmness of a mattress is a very important factor to consider.
The necessary firmness will depend largely on your body weight - the higher your body weight, the firmer your mattress ought to be.
Age is also an important factor to consider. For example, a soft or medium mattress would be more suitable for seniors, regardless of body size, than a very firm mattress would be.
Your preferred sleeping position and other personal preferences should also be considered when selecting a new mattress.
Choosing firmness for a two-person mattress can be more difficult as it will need to suit both you and your partner.
Firmness largely depends on the specific composition of a mattress and can be difficult to make sense of, which is why we've developed a Sleep Hero firmness scale to guide our readers.
Criteria to consider before purchasing a 135 x 190 cm double mattress
There are a few key criteria you should pay attention to before you purchase a 90 x 190 cm single mattress:
Type of material
We've spoken about this at length above but it's worth mentioning again.
The material a mattress is made of will influence its characteristics, feeling, sleeping climate, and so much more.
It really is worth spending a bit of time familiarising yourself with mattress materials before you make your choice.
Degree of firmness
Do you want a soft, medium-firm, or very firm mattress?
As we've explained, factors such as body weight, age, and preferred sleeping position effect which degree of firmness is right for you.
Ultimately, though, it comes down to personal preference and how you feel on the mattress.
That's why we always recommend choosing to purchase a mattress online that offers a risk-free trial period. This will give you the chance to try out the mattress in the comfort of your own home and really see if it's right for you.
It can take the body up to 30 days to get used to a new mattress.
Density
We've mentioned density a couple of times before.
This is really something you want to be paying attention to.
The density of the foam will be indicative of the quality of the foam. The higher the density, the higher the quality.
Foams with higher densities are also much more durable and have a longer lifespan.
You can use the below table as a general guideline:
| | |
| --- | --- |
| Density (in kg/m³) | The expected lifespan of the mattress |
| Up to 25 | Up to 2 years |
| 30 | Up to 3 years |
| 35 | 5 - 6 years |
| 40 | 6 - 8 years |
| 50 - 60 | 10 years or longer |
Delivery and return conditions
Most mattresses purchased online come with free delivery and a risk-free trial period, though there are some that make this more complicated.
We'd recommend always choosing a brand that focuses on you, the customer, and makes life easier for you.
Risk-free trial periods give you the chance to try out the mattress for a period of 30 - 100 days. Some manufacturers, like Emma or Nectar, offer even longer trial periods.
If you're still not happy with the mattress after you've given it a fair chance, then you can simply return it for a full refund.
No fuss. No hassle.
Can I buy a cheap 135 x 190 cm mattress?
You'll find that larger mattresses are necessarily more expensive.
Not everyone can - or wants to - spend a lot of money on a mattress. And that's completely okay.
But, you should never compromise on quality.
You'll undoubtedly want to keep your mattress for a long time, so it's worth making sure that you're buying a high-quality product.
Pay attention to stability, firmness, and density.
If you have a limited budget available and are looking for a cheap mattress, then we'd advise checking out our discounts page to get the best value-for-money mattresses.
Conclusion
The 135 x 190 cm double mattress is a great size for singles and for couples.
In our experience, though, the 150 x 200 cm king-size mattress is slightly better for couples, giving you and your partner more space and a better night's sleep.
But if you're a single who enjoys space or a couple starting out with a limited budget or small bedroom, then the 135 x 190 cm mattress is a great choice.