How we test products
Our mission is to take the guesswork out of finding the perfect sleep products.
We've dedicated hundreds of hours to testing mattresses and sleep accessories, and rely on a team of testers of differing weights, temperature preferences, and sleeping positions to evaluate each product.
Tested products are granted the Sleep Hero tested stamp of approval, a mark of our review's reliability.
If we haven't personally tested a product, please be assured that we invest significant time and energy into scouring the UK market and researching the best recommendations, and we work with a team of sleep experts who review our articles, ensuring that the insights we provide are not only relatable but also reliable.
Panda Cloud duvet composition
The Panda Cloud duvet is a silky-soft 10.5 tog duvet with a 100% bamboo cover.
The filling is made from 50% bamboo and 50% nano microfibre.
Even though Panda London focuses on sustainable & eco-friendly products, the Panda duvet is not a 100% natural product.

But, the unique composition gives it the best balance between comfort and temperature regulation. 🤗
It also makes it really malleable and comfortable to snuggle with.
Let's explore the look and feel of the duvet in more detail. 👇
What does sleeping with the Panda duvet feel like?
The mix of materials in the Panda duvet gives it that down feather feeling that can really be best described by the term "cloud". ⛅️
It's light and fluffy, silky soft, and very comfortable to snuggle with.
If you are looking for something even fluffier, though, we could recommend trying the DreamCloud duvet.
The silky exterior is due to the bamboo cover, but the overall softness is due to the microfibre filling.
Microfibre is one of the best alternatives for feather or down because it minimises the risks of allergies without compromising softness.
The duvet also has a good weight.
It's not too heavy, as down duvets can sometimes be, but just heavy enough to make you feel snug and comfy.

Does the Panda Cloud duvet sleep hot?
The Panda Cloud duvet was specifically designed to prevent overheating. 🥵
Microfibre can retain body heat, but the Panda duvet design perfectly matches microfibre with bamboo fibres.
Bamboo has great thermo-regulating properties, is highly breathable, and doesn't retain moisture.
It perfectly balances out any stored heat from the microfibre.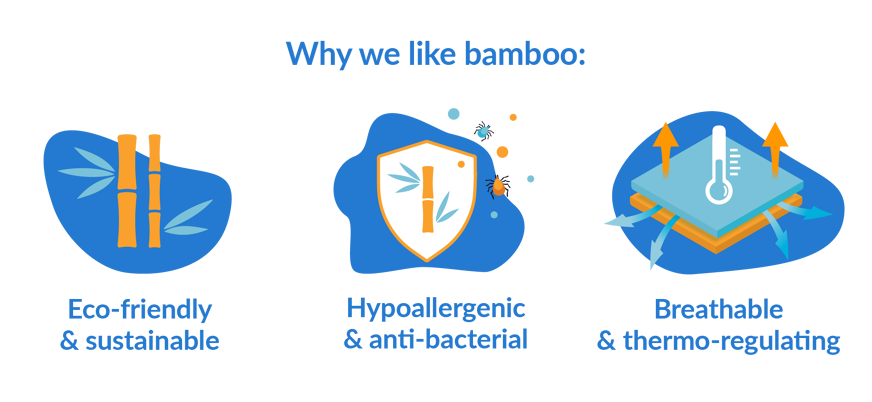 Overall, the Panda duvet keeps you snug and comfortable.
But even with a 10.5 tog, it's breathable enough to not make you feel too warm. ❄️
This is particularly great for couples as it keeps the chillier sleepers warmer while keeping warmer sleepers at a comfortable temperature.
That said, if your bedroom is freezing and you quickly feel cold at night, you may wish to add another blanket for extra warmth.
Conveniently, bamboo is also hypoallergenic, antibacterial, anti-microbial and resistant to dust mites.
This makes it the perfect choice for people with sensitive skin or those struggling with allergies and hay fever. 🤧
Panda duvet cover & design
The Panda Cloud bamboo duvet is particularly well-made.
The duvet cover is made of 100% rayon bamboo.
It's a crystal clear white but has black piping around the edges and the unique (and very cute) Panda logo in one corner. 🐼
There's double stitching all around the edges.
The duvet is also vertically and horizontally stitched through both layers of fabric to create squares of filling known as Bavarian pockets.
These ensure an even distribution of filling.
The filling also stays in place and doesn't bunch up during the night. 💤
Do you need a duvet cover?
The duvet is so soft, it almost feels sinful to put it into a duvet cover.
This is quite the opposite with the Simba Duvet, which feels stiff and plasticky without a cover!
We actually asked Panda London if it would be okay to use it without a cover (it is fully machine-washable, after all).
Apparently, this question is more common than you'd think and some people do choose to use the duvet without a duvet cover.
But, just as you'd protect your mattress by using a mattress protector, we'd recommend using a cover to protect your duvet.
You can consider investing in some bamboo bedding to keep the same silky-soft feel.
Luckily, Panda London sells bamboo bedding sets (with fitted sheets, pillowcases, and duvet covers) and stand-alone duvet cover sets.
Panda bedding has a 320 thread count, which is described as the equivalent of a 1,200 cotton thread count.
The Panda duvet has four loops located on each corner, which fit perfectly into straps inside the Panda duvet cover and ensure that your duvet sits snugly.
But the duvet also sits comfortably in any other duvet cover.
Panda London

Price from &nbsp

£ 99

£ (110 )

Silky soft and temperature-regulating 100% bamboo bedding from Panda London.

Silky soft and temperature-regulating 100% bamboo bedding from Panda London.

Price from

£ 99

(£ 110 )
Panda duvet washing instructions
Conveniently, the Panda Cloud duvet is an easy care item that's fully machine-washable at 40℃.
You can also wash the duvet by hand if you don't want to machine-wash it. 🛀
Line-drying is best, both for the fabric and the environment, but you can tumble dry at low heat if necessary.
The duvet air-dries in half the time of standard duvets.
Panda duvet sizes
The Panda Cloud duvet is available in all standard UK duvet sizes. 🇬🇧
These include:
Panda Cloud single duvet: 135 x 200 cm
Panda Cloud duvet double size: 200 x 200 cm
Panda Cloud duvet king-size: 225 x 220 cm
Panda Cloud duvet super king-size: 260 x 220 cm
All duvets have a tog rating of 10.5.

Panda duvet prices
The Panda duvet is not the cheapest on the market, but it still comes cheaper than others from online brands like Simba Sleep.
Given its premium quality, the Cloud duvet is definitely worth its price. 💰
It can also be used year-round, so you don't have to buy multiple duvets for different seasons.
(Note: prices listed below are standard prices excluding any current coupons & discounts)
Panda duvet discount codes
Panda products are generally quite well-priced, though the Cloud duvet is a little more expensive.
You'll be pleased to hear, then, that Panda London occasionally runs great promotions, particularly around bank holidays, seasonal changes, and for Black Friday and Christmas. 🛍
You don't have to spend hours searching for discount codes.
We find all the best ones and display them on our discounts page.
Panda London NHS discounts
Panda London also offers a special discount to NHS staff and Blue Light Card members. 🩺
We'd recommend turning directly to Panda customer support to assist you with this.
Panda certifications
Panda, as a brand, focuses on creating sustainable, eco-friendly products that are as good for you as they are for the world.
The Cloud bamboo duvet is a proudly vegan, cruelty-free duvet. 🌿
Health & safety
All Panda products carry the OEKO-Tex Standard 100 certification.
This means that they're free from any harmful chemicals or toxic substances. 🧪
Sustainable materials
Even though Panda products aren't entirely natural, the brand uses as much bamboo as possible.
Bamboo is the fastest growing plant on the planet.
It also uses 70% less water than cotton.
This makes bamboo an environmentally friendly and very sustainable product.
The company also uses sustainable packaging with a free-from-plastic approach:
Boxes are fully recycled and recyclable.
Products, where possible, are placed in re-usable bamboo bags.
Buttons are made of 100% bamboo instead of plastic.
Some products, like the Panda memory foam bamboo pillow and the Panda mattress topper, have plastic coverings for protection or vacuum packaging.
There is no plastic at all with the Cloud duvet.
Instead, it comes in a re-usable bamboo bag. 🥳
We've found it quite handy to store sheets and bedding, but it can also be used as a laundry bag.
Responsible recycling
Panda products are well-made and built to last.
But if you do need to get rid of your Panda product at some point, you'll be pleased to know that most materials are recyclable. ♻️
For those that aren't (like memory foam), Panda has set up the Panda Circle Of Life Programme.
If your product has reached the end of its life, Panda will collect it (free of charge) and repurpose it.
Protecting panda bears
Of course, the beloved panda bear is integral to the Panda brand.
Panda Life, the parent company, is committed to being vegan & bird-friendly, protecting animal habits, keeping them chemical-free, and safeguarding rainforests through OneTribe.
A portion of all profits goes to animal charities to help preserve the habitat of wild panda bears. 🐼
Panda duvet delivery conditions
Panda delivers all of its products in recycled & recyclable cardboard boxes. 📦
Delivery within the United Kingdom is free for all orders over £30.
Panda does ship worldwide too, though delivery fees would apply here. 🌍
Delivery usually takes place within 2 -3 working days, but next-day delivery options are also available.
We got our care package a day after having placed our order.
If the proposed delivery date doesn't work for you, you can easily reschedule (free of charge).
The delivery company (we got our box delivered through DPD) even sent a text message on the day of delivery to the give exact hour in which the package would arrive.
They were right on time.
The Panda packaging
There's nothing boring about the Panda packaging.
We've already mentioned that all Panda boxes are made from recycled materials that are also fully recyclable.
There is no plastic used in the Panda duvet delivery at all.
The actual duvet is protected in a re-usable bamboo bag.
It's silky soft, like the duvet, and great to store a bunch of tidbits - or use as a laundry bag!
Panda's delivery boxes aren't only eco-friendly, but they're also cute.
In case you were having a bad day, Panda is there to cheer you up.
You're guaranteed to find cute little messages while unpacking. 🥰
The Panda pillow box, for example, had "Sweet Dreams" messages, and the Panda topper box greeted us with a fuzzy "Hello Beautiful."
The Panda Cloud duvet box had little stars and a "Come on … Let's Snuggle!" message.
We'd snuggle with the Panda duvet any day, thank you.
Panda duvet trial & returns policy
A duvet trial period is rare, but Panda is not one to disappoint.
The Panda Cloud duvet comes with a 30-night trial period.
This gives you 30 nights to try out the product and, if you're not happy, you can simply send it back for a full refund. 💷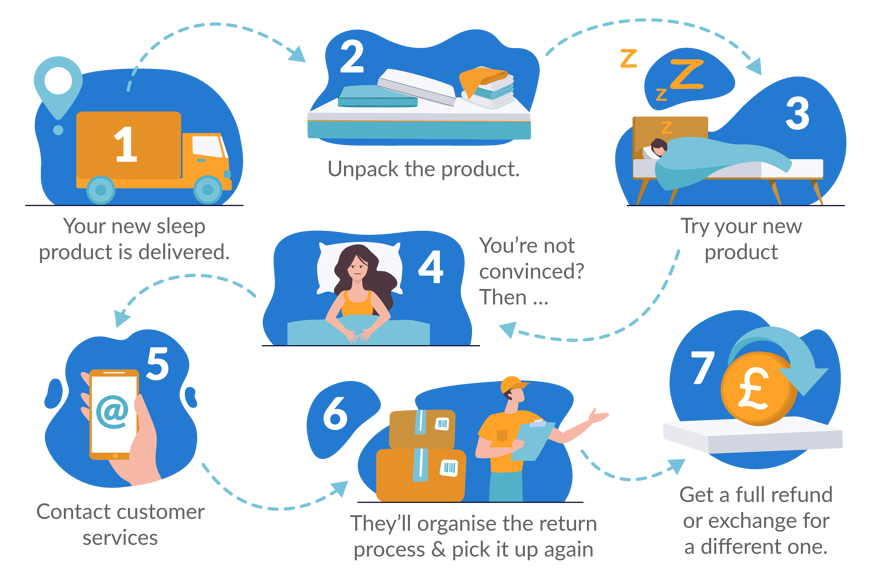 Chances are that you'll be super happy.
97% of Panda customers keep their products.
Trial periods only apply if you purchase directly from Panda London. They may not be available if you purchase through a third-party retailer.
Panda duvet guarantee
The Panda Cloud duvet comes with a 5-year guarantee.
This is considerably longer than other duvet guarantees. 🥳
The Simba duvet, for example, only comes with a 2-year guarantee.
Panda products, after all, are designed to last, and the company has no problem putting a guarantee stamp on this.
Should you buy the Panda duvet?
There's no reason you wouldn't want to buy the Panda Cloud duvet - it's one of the best duvets available in the UK!
We can quite comfortably recommend this duvet to anyone looking for a high-quality option that's silky soft, comfortable, and eco-friendly.
The only reason you may want to look elsewhere is if you're looking for a duvet with a higher or lower tog rating or if you'd prefer a duvet with all-natural materials.
Contact Panda London
Customer service: To contact Panda Life directly for complaints, support, or queries, please e-mail them at info@mypandalife.com, call them on +44 208 935 5380, or visit their live online chat.
Registered office: Panda Life Ltd, 447 High Road, N12 0AF, London, UK