How we test products
Our mission is to take the guesswork out of finding the perfect sleep products.
We've dedicated hundreds of hours to testing mattresses and sleep accessories, and rely on a team of testers of differing weights, temperature preferences, and sleeping positions to evaluate each product.
Tested products are granted the Sleep Hero tested stamp of approval, a mark of our review's reliability.
If we haven't personally tested a product, please be assured that we invest significant time and energy into scouring the UK market and researching the best recommendations, and we work with a team of sleep experts who review our articles, ensuring that the insights we provide are not only relatable but also reliable.
Who is Cocoon?
Cocoon is the brand behind the UK's most-reviewed sofa bed.
The founders behind Cocoon were frustrated by the thin mattresses commonly found in sofa beds, so they redesigned them. 🎉
Each Cocoon Sofa Bed combines a luxurious, deep pocket sprung mattress with a stylish sofa design.
The founders also developed a one-touch easy opening mechanism for their range of comfortable and convenient sofa beds.
Cocoon offers a great selection of sofa beds, including two- to five-seater designs and corner modular options.
Their dedication to customer satisfaction is evident.
In fact, 97% of customers on the Cocoon site recommend their products and 98% report on-time deliveries.
The Cocoon Sofa Bed range
The Cocoon Sofa Bed range is divided into sizes to make it easy to find the right sofa bed for your space.
Each sofa bed has customisable options, including different fabrics, colours and orientations.
Let's take a closer look at some of the standout features in each collection.
Cocoon 1-seater chair beds
The 1-seater chair beds from Cocoon offer compact and versatile seating options.
Take the Alice Chair Bed Settee, for example.
It features compact 10 cm (4 inches) wide arms, hidden cushion storage, and a comfortable adult sleeping area of 70 x 212 cm (28 x 83 inches).
The deep pocket sprung mattress integrated into each Cocoon Sofa Bed is just as comfortable as your mattress at home.

We get into the ins and outs of pocket-sprung mattresses further down in the article.
Cocoon Chair Beds can fit through any front door, even going up windy staircases if needed.
So, you don't need to worry about recreating that scene from Friends… pivot!
Cocoon Chair Beds come in a range of stylish designs and fabrics. 🙌
We also really like the Habitat Roma Chairbed, which comes in luxurious plush velvet.
BUY HABITAT ROMA CHAIR BED£ 255
Cocoon 2-seater sofa beds
The two-seater sofa chairs from Cocoon, such as the Alice Sofa Bed, balance comfort and functionality.
They are designed to offer a wider bed within a slimmer sofa width.
These compact sofa beds maximise space utilisation without compromising luxury in your guest room.
The Cocoon Alice Sofa Bed is slightly narrower than a standard UK double bed but much longer at 120 x 212 cm (47 x 83 inches).
It arrives in a single package, and the lift-off backrest can be effortlessly detached if needed. 📦
The Cocoon Alice Sofa Bed uses a pull-out mechanism to transform from sofa to bed.
If you prefer a fold-out sofa bed where the backrest folds down, we recommend the Happy Beds Aurora Sofa Bed.
Cocoon 3-seater sofa beds
Cocoon offers many excellent three-seater sofa bed options.
However, the Ashley range is the customer favourite, with 450 Cocoon Sofa Bed reviews on the Cocoon site and a five-star rating.
As the most compact corner sofa-bed in the Cocoon collection, the Ashley range is designed to make the most of your living space without compromising comfort.
With a simple press, you can pull the Cocoon 3-seater sofa into a total sleeping area of 150 x 180 cm (59 x 71 inches).
Unfortunately, these dimensions do not match UK mattress sizes, which makes finding suitable bedding difficult.
A UK king-size bed is 150 x 200 cm (59 x 79 inches), so the Cocoon 3-seater sofa is quite a bit shorter in length.
If you prefer a sofa bed that fits UK bedding sets, the Emma Sofa Bed can be made into a UK queen size.
30% OFF EMMA SOFA BED + 5% OFF W/ "SLEEPHEROUK5"
Cocoon 4- and 5-seater sofa beds
The Harry Sofa Bed is the perfect choice for families looking for a spacious and versatile seating option.
You could use it to fill a large living room or to break up an open-plan layout.
With its unique integrated pocket-sprung mattress, the Harry range helps your guests get a good night's sleep.
There are three ottoman-style storage compartments at the bottom of the sofa, with enough space to store guest bedding or blankets for a cinema room.
This sofa bed arrives in five pieces, so it's easy to deliver and assemble.
The Harry range measures 150 x 287 cm (59 x 113 inches) as a bed and 94 x 317 x 110 cm (37 x 125 x 43 inches) as a sofa.
These generous dimensions make it perfect for larger families or taller loved ones.
Features of Cocoon Sofa Beds
Cocoon Sofa Beds are praised for their comfort and customisability.
Let's take a closer look at the standout features of these sofa beds.
Modular structure
Each Cocoon sofa is made with individual modules that can be fitted together in different ways.
This gives you the flexibility to decide how you want to arrange your sofa for your home.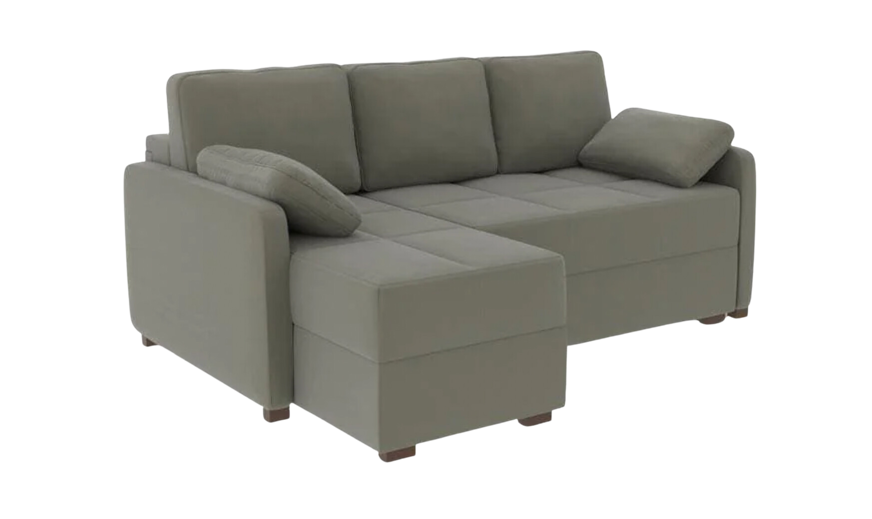 You can determine whether it's left- or right-facing depending on the shape of your room.
The modular design also makes it easy to move between different rooms.
You can break the sofa into different modules and move them individually before reattaching them together in another room.
You can also replace individual modules if they get damaged or worn over time.
Although, Cocoon only offers a one-year guarantee, so that doesn't give you much time to ask for replacement parts.
Pocket-sprung mattress
The best sofa beds prioritise both comfort and durability.
Cocoon includes a deep pocket sprung mattress in each sofa bed to make them comfy and supportive. 👏
Pocket spring mattresses have individual springs sewn into their own pocket of fabric.
Each spring works independently to support your body weight and provide a pressure-relieving effect.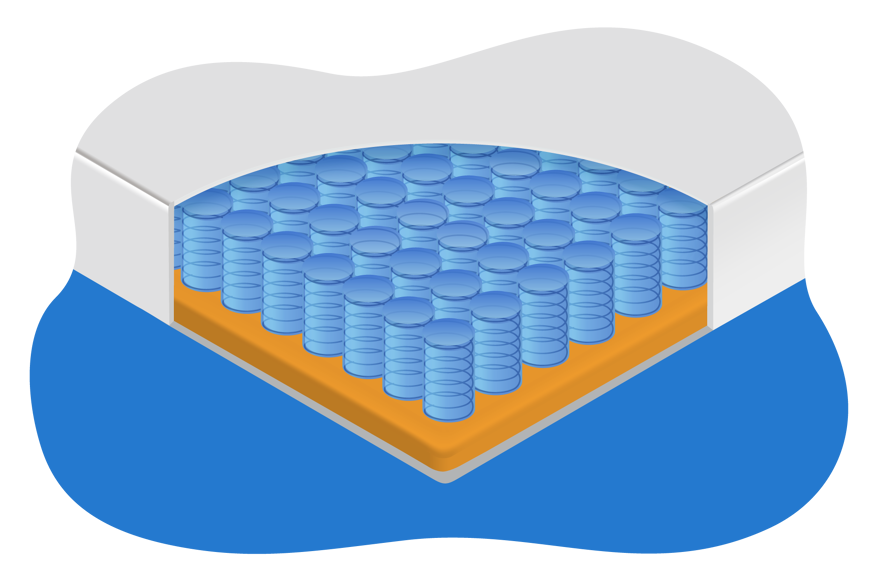 Pocket spring mattresses tend to be firmer, offering more stability while you sleep.
They have a high point elasticity, providing excellent pressure relief if you struggle with back, neck and shoulder pain.
And they have a long lifespan making them durable and ideal for an investment sofa bed.
If you're also looking for a pocket spring mattress for your bed, we recommend the Simba Hybrid.
Storage space
Cocoon recognises the demands of modern living and our limited storage options.
Every Cocoon Corner Sofa Bed includes twin or triple ottoman-style storage underneath the sofa.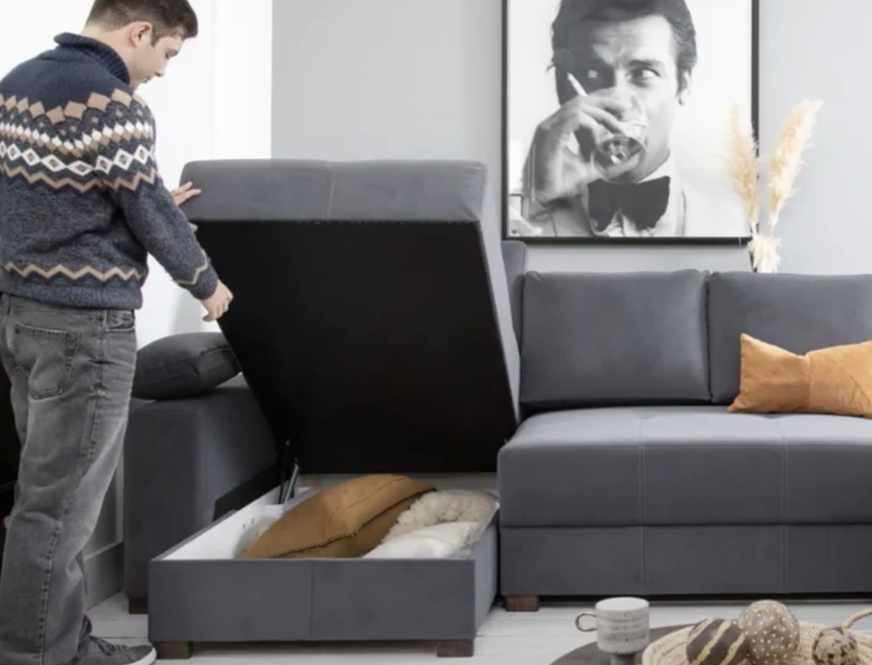 These storage compartments provide enough space to keep your belongings organised and maximise the space in your living area.
You could use this storage for the bedding, pillows and duvets that will go on the sofa bed.
Eco-friendly materials
Cocoon is all about sustainability. ♻️
They use recycled yarn for all their fabrics to reduce the amount of waste produced.
This yarn is tested for up to 350 toxic chemicals and substances under their OEKO-TEX certificate.
Finish your Cocoon Sofa Bed with an eco-friendly mattress topper, like the Panda London Mattress Topper, made from memory foam and bamboo.
Handcrafted by experts
Each Cocoon Sofa Bed is meticulously hand-crafted by fully-trained upholsters.
They select only the best materials to ensure durability and longevity, including micro-weave and micro-cloth.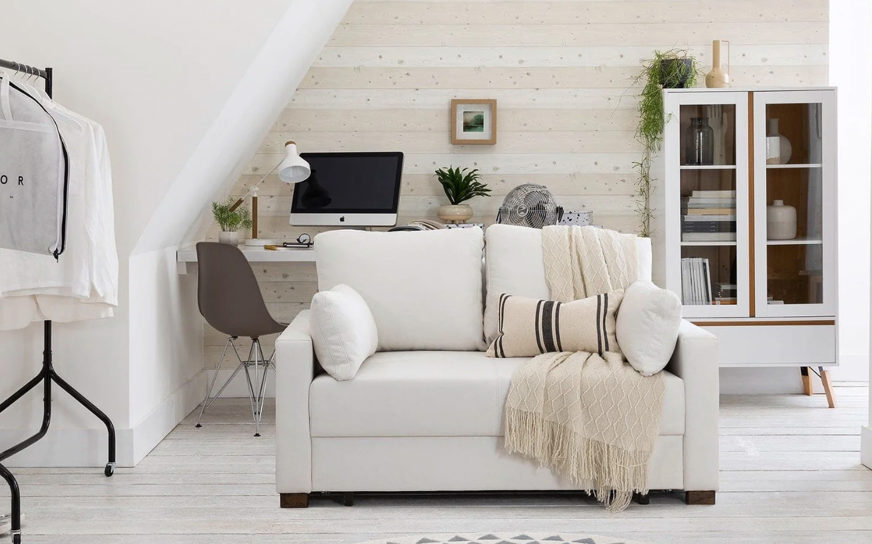 From the stitching to the finishing touches, Cocoon's attention to detail provides a high-quality product that will enhance your living space for years to come.
Water-blocking technology
All of Cocoon's fabrics use water-blocking technology that stops water from entering the fabric.
So, if someone spills water on the sofa, the liquid will stay on the surface in droplets that can be easily wiped away.
Cocoon calls this their H20 easy-wipe fabric, and it's every parent's dream!
Cocoon Sofa Bed fabrics
The Cocoon Sofa Bed comes in four different fabrics: micro-weave, micro-cloth, micro-suede and micro-velvet.
There is also an option to use a custom fabric if you have a specific vision in mind.
Here is an in-depth overview of each Cocoon fabric choice.
Micro-weave
Cocoon's micro-weave fabric is crafted using a unique weaving process where two sets of yarns or threads are interwoven at right angles.
This technique creates a simulated weave look that adds a touch of sophistication to their products.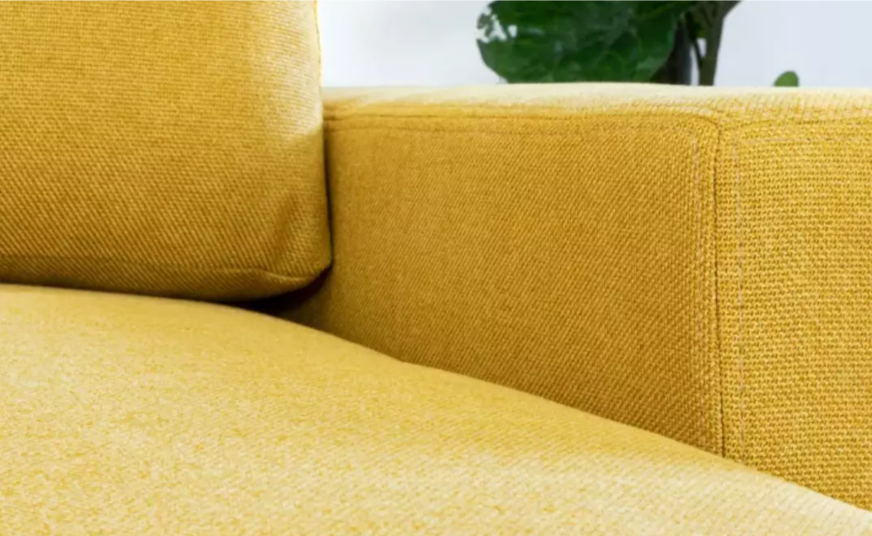 The micro-weave fabric is durable, waterproof and breathable.
But that's not all, it's also pet-friendly, abrasion-resistant, and offers natural UV protection. ☀️
With its OEKO-TEX certification, the micro-weave fabric meets strict standards for harmful substances, ensuring peace of mind for Cocoon's customers.
Micro-weave is available in the following colours: linen, otter, frost, pebble, stone, sunflower, candy, cherry, pacific, sky and royal.
Micro-cloth
Micro-cloth is soft and silky for the ultra-modern sofa bed.
This fabric has gained popularity as an upholstery choice since its introduction in the 1970s.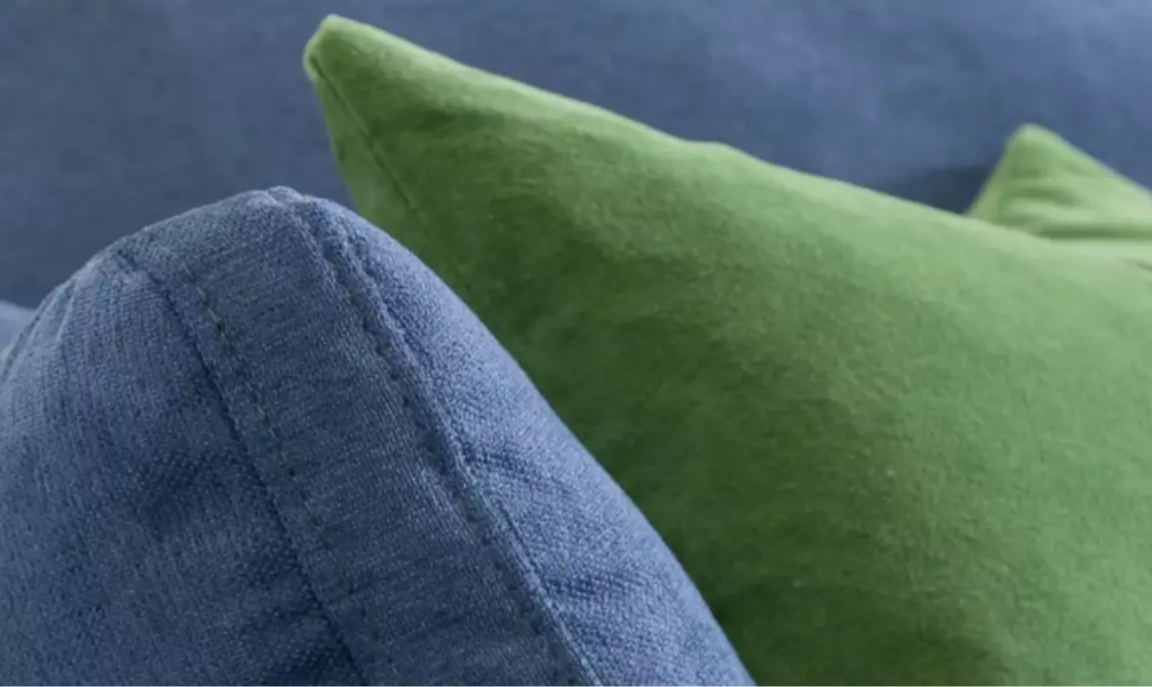 Renowned for its durability, microfibre cloth is an excellent option for regularly used sofas.
Not only is it baby-safe and eco-friendly, but it is also pet-friendly and resistant to abrasions. 🙌
The fabric's water-blocking properties provide additional protection, and its natural UV resistance helps maintain its quality over time.
Cocoon's micro-cloth fabric holds an OEKO-TEX certificate, ensuring it meets stringent harmful substances standards.
Customers can choose from a wide range of colour patterns to suit their preferences.
Micro-cloth is available in the following colours: beige, mushroom, fudge, popcorn, foxy, scream, calm, summertime, cobolt, home, safe and eclipse.
Micro-suede
Cocoon's micro-suede fabric offers a luxurious suede-like feel and is crafted from polyester yarn.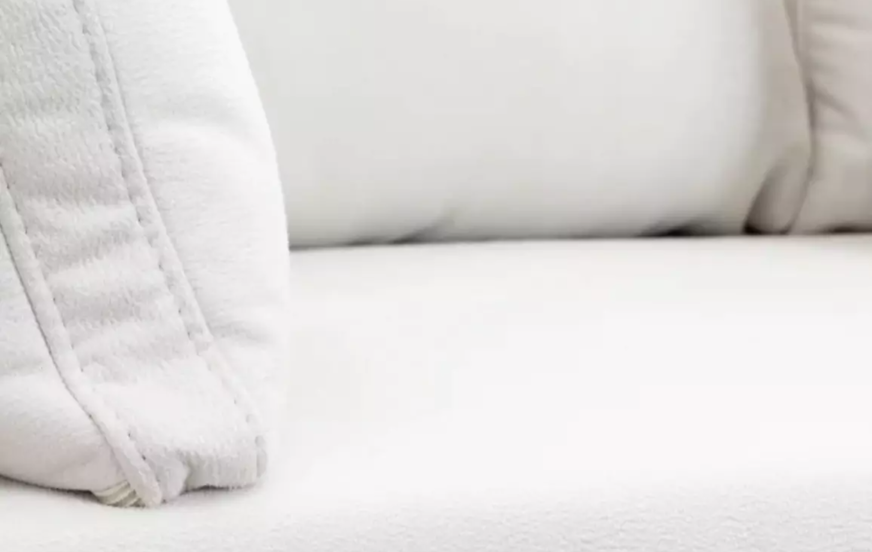 Micro-suede is a commonly used type of faux suede known for its softness, lightweight nature, and water-resistant properties.
It is also stain-proof and easy to clean, making it an ideal choice for furniture upholstery.
Micro-suede is available in the following colours: polar white, buttermilk, caramel cream, coconut shell, bison, Prussian blue, warm grey, storm grey and midnight grey.
Micro-velvet
Velvet, known for its plush texture and gentle touch, is one of the options available in Cocoon's micro-cloth fabric collection.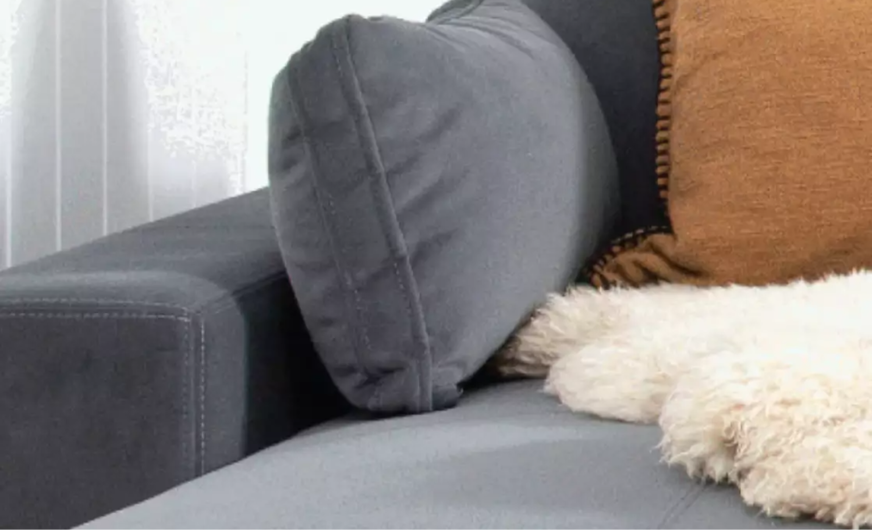 With its short pile threads, velvet drapes beautifully and provides a unique soft, silky feel.
This makes it an excellent choice for creating upholstered furniture that exudes elegance.
The micro-cloth fabric provides a breathable and comfortable sleep on the Cocoon Sofa Bed.
Micro-velvet is available in the following colours: taupe, mink, raisin, maroon, coral, Spanish teal, oxford blue, pastel blue, silver grey, ash grey and cosy grey.
You can select your fabric and colour choice when you make your Cocoon order online.
How do you convert the Cocoon Sofa Bed from a sofa to a bed?
Cocoon uses eMotionTM technology, so you can open your sofa bed with one easy touch.
You just pull out the bottom of the sofa, and the bed pops into place with the cushions in place.
You don't need to navigate scary snap closures that bite your fingers. 🥳
Turn your living room or spare bedroom sofa in to a large bed in just one action.
It's quick, easy, and your guests will get a fantastic night's sleep.
Making the Cocoon Sofa Bed feel like a bed
You can always go one step further to make your guests feel at home with a mattress protector, cosy duvet and comfortable pillow.
Finish with some nice sheets and cosy blankets in case your guests get cold at night.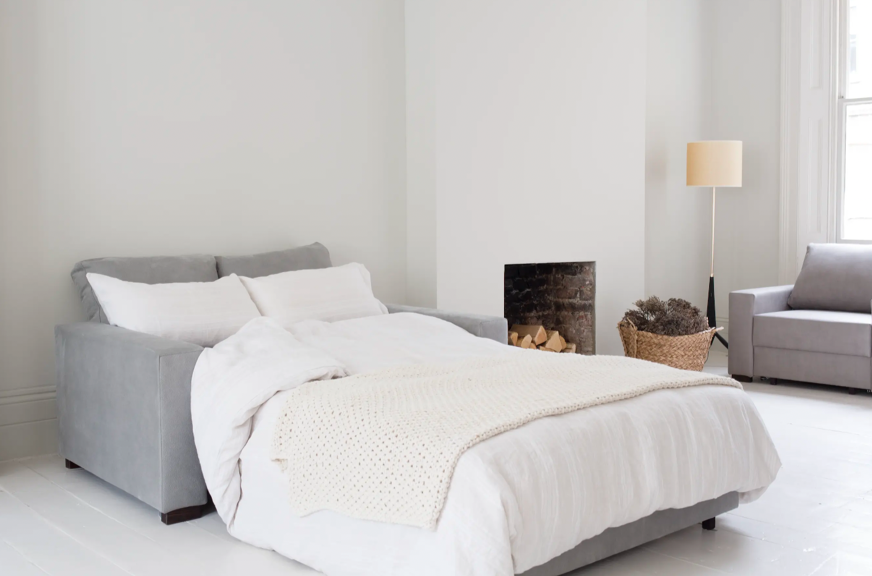 While we have yet to find a memory foam mattress in a sofa bed, you can always add a memory foam topper to make it extra comfy.
We recommend the Panda Memory Foam Mattress Topper.
Maintaining your Cocoon Sofa Bed
Maintaining and keeping your Cocoon Sofa Bed in the best condition possible will help you you maximise your investment.
Here are a few tips and tricks.
Lifting and moving your Cocoon Sofa Bed
Decided to move your Cocoon Sofa Bed?
Disconnect the bed section from the chaise and move your sofa bed smoothly.
If you want to lift the bed to move a rug or retrieve something, lift the bed from the centre so you don't damage the opening mechanism.
Maintaining the Cocoon opening mechanism
The opening mechanism is pretty essential to the function of your sofa bed.
If it starts squeaking when you open it, try lubricating the mechanism, and the noise should go away.
Your overnight guests will thank you for a comfy and silent sofa bed.
Sitting on your Cocoon Sofa Bed
Believe it or not, the way you sit on your sofa can make a big difference to its durability.
Try to sit on the spring-centred section instead of the foam frame edging to stop dipping on the sofa's edge.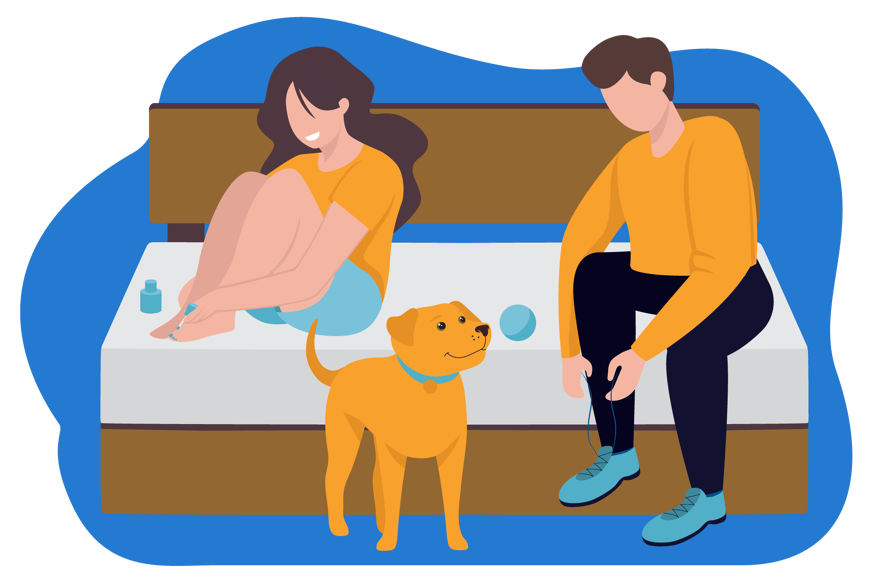 Sitting in the same spot on your main sofa daily will result in premature dipping over time.
This is fairly standard with any piece of furniture in your home - whether it's your spare room sofa, chaise lounge or bed.
So, stay in the middle of your Cocoon Sofa Bed and mix up your seating arrangements.
Cleaning your Cocoon Sofa Bed
Cocoon yarn uses water-blocking technology to prevent water from sinking into the yarn.
This stops stains from settling into the fabric and makes cleaning super easy.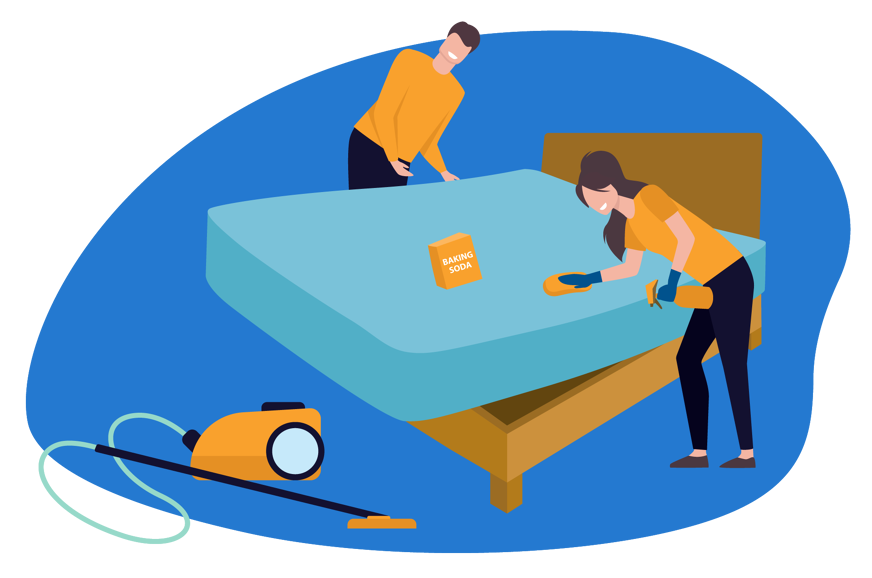 Just spray water onto your sofa bed and wipe clean.
The water will settle on top of the fabric, allowing you to clean up any spills without the need for chemical cleaners.
How much does the Cocoon Sofa Bed cost?
Cocoon Sofa Beds are on the more expensive side of the market.
They feature premium recycled fabrics, a one-touch opening mechanism and deep pocket spring mattresses.
Before you invest in a Cocoon Sofa Bed, here are a few things to consider to make sure it's the right choice for you.
Visit the Cocoon Sofa Bed showroom
A trip to the Cocoon Sofa Bed showroom can help you decide whether the high price is worth it.
Feel the different fabrics, evaluate the different sizes, and sit down on a few sofas to see if they're comfortable.
Many Cocoon Sofa Bed TrustPilot reviews praise the showrooms for their wide selection of products and helpful teams.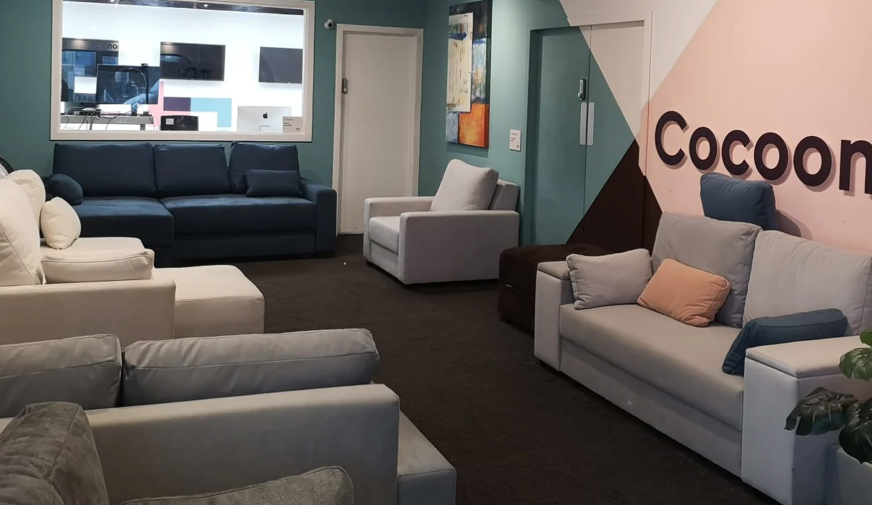 Make sure to book an appointment on their website so they know you're coming.
The Cocoon showrooms are based in:
South Coast, Emsworth
Guildford
London Tower Bridge
Cocoon offers a 1-year guarantee
Unfortunately, Cocoon only offers a 1-year guarantee period which seems very short for a product with a higher price point.
The per-year cost is high compared to other sofa bed brands, like Bruno, who offer a 10-year guarantee.
5% OFF BRUNO SOFA BED W/ "DECEMBER5"
It's always better to look for a brand with a longer guarantee period, especially if you're going to spend a lot of money.

That way, if anything goes wrong with the sofa bed, you can get a replacement or repair free of charge.
Cocoon Sofa Bed delivery and trial period
Before you purchase a Cocoon Sofa Bed, make sure you know the ins and outs of delivery, trial periods and guarantees.
Here is a quick guide to get you started.
Delivery
Many Cocoon customer reviews praise their delivery team for being helpful, professional and punctual.
The two- to three-seater Cocoon Sofa Beds arrive fully assembled.
If you're worried about tight spaces, Cocoon recommends removing the sofa feet to reduce the sofa width from 50 to 45 cm (20 to 18 inches).
The Charlie, George and Harry sofa beds arrive in three packages.
One of the detachable arms, one for the chaise section and another for the bed section.
There is also the option for a full disassembly service at the checkout, where the Cocoon team will break the sofa bed into smaller sections.
They charge an extra fee for more remote areas in the UK.
Unfortunately, there are no other Cocoon Sofa Bed stockists UK.
You have to order directly from the Cocoon website.
14-day sleep trial
Struggling to get a great night's sleep on your new sofa bed?
Cocoon offers a 14-day sleep trial, so you can return your sofa bed if you're not 100% happy with it.
This also helps if you can't get to a showroom to see the Cocoon Sofa Beds in person and need some time to take it for a test drive.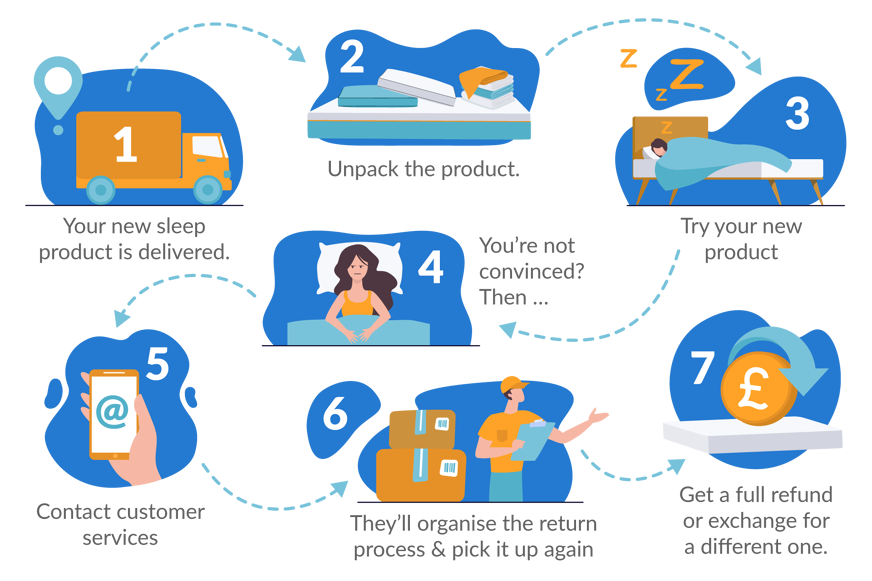 If, for any reason, the product falls short of expectations, you can return it within 14 days and receive a full refund.
However, the item must be returned in the same condition it was delivered, and there will be a return fee to cover delivery, packaging, and removal expenses.
Remember that clearance items, including 'Good to Go' and 'Odd Bump,' are excluded from the 14-day sleep trial.
Head to our FAQs to learn more about Cocoon's Clearance items.
Is a Cocoon Sofa Bed worth it?
Customers say Cocoon offers the best sofa beds.
They are good quality and supposedly comfortable as both a sofa and a bed.
If you have ever dabbled in sofa beds for your guest bedroom or home office, you know this is basically unheard of. 🥲
With a range of sizes, fabrics and colour options, you can make your Cocoon Sofa Bed exactly how you want it.
You could even buy a king-size new sofa bed to make sure your guests have plenty of space at night.
All in all, Cocoon Sofa Beds have some fantastic products and a stellar reputation to back them up.