How we test products
Our mission is to take the guesswork out of finding the perfect sleep products.
We've dedicated hundreds of hours to testing mattresses and sleep accessories, and rely on a team of testers of differing weights, temperature preferences, and sleeping positions to evaluate each product.
Tested products are granted the Sleep Hero tested stamp of approval, a mark of our review's reliability.
If we haven't personally tested a product, please be assured that we invest significant time and energy into scouring the UK market and researching the best recommendations, and we work with a team of sleep experts who review our articles, ensuring that the insights we provide are not only relatable but also reliable.
Simba Hybrid duvet composition
Like all Simba products, the Simba duvet features a hybrid design.
Usually, this refers to Simba's combination of pocket springs with different types of foam, like in the Simba Hybrid mattress. 🌀
But, the construction is slightly different in the duvet.
The Simba Hybrid duvet features three primary materials:
The top cover, made from 100% BCI cotton with Stratos technology.
The core with a Simba-Renew fibre filling.
The bottom cover, made from 100% BCI cotton.
We'll look at the top and bottom covers of the Simba duvet in more detail further down. 👇
For now, let's take a closer look at the Simba duvet filling.
35% OFF SIMBA HYBRID DUVET W/ MATTRESS

Simba-Renew fibre filling
Simba proudly claims that their Simba-Renew filling is better than down and feathers.
It certainly feels similar to a down & feather duvet. 👍
It's also much loftier than other synthetic duvets we've tried, but it's still thinner and squishier than an actual down duvet.
Simba-Renew fibres are made from recycled PET bottles. ♻️
Simba layers together tiny siliconised fibres to create a super-soft and incredibly lightweight duvet.
You'll definitely notice how lightweight the Simba duvet is, especially when considering how much warmth it provides.
Synthetic duvets often need much more bulk to create as much warmth as natural duvets do.
But the Simba-Renew fibres offer a superior warmth to weight ratio and demonstrate excellent thermal properties. 🔥
The Simba duvet is actually renowned for its thermal properties, which we'll look at in more detail further down.
35% OFF SIMBA HYBRID DUVET W/ MATTRESS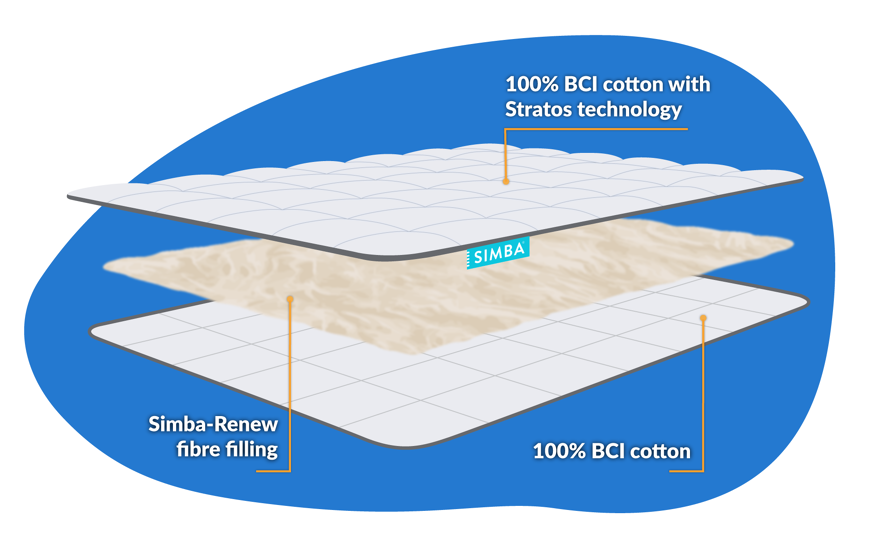 What does sleeping with the Simba duvet feel like?
Our first impression of the Simba duvet wasn't favourable. 😕
It feels stiff and plasticky to the touch, reminding us much more of a waterproof mattress protector than a soft and cuddly duvet.
Luckily, that sensation largely disappears once you put the duvet into a protective cover. 😅
Some crunch remains, but it'll feel more similar to the audible crinkling of a high-quality down duvet than a plastic sheet.
It's also very likely that this will disappear with use and washing, but we haven't been able to put that to the test for this Simba duvet review.
Crunch aside, what does the Simba duvet feel like?
Sleeping under the duvet is quite comfortable.
The duvet envelops your body nicely while still keeping some of that airiness you may be familiar with from down & feather duvets.💨
We never felt weighed down by the duvet but were kept snug and comfortable all night long without overheating.
Does the Simba duvet sleep hot?
In our best duvet guide, we recommend that one of the first things you should look at when purchasing a new duvet is the tog rating.
Tog rating refers to the overall warmth a duvet can give. ♨️
It is measured on a scale of 1 to 15, where 1 is the coolest and 15 is the warmest.
You'll be searching for a long time if you're trying to find a tog rating for the Simba duvet.
35% OFF SIMBA HYBRID DUVET W/ MATTRESS
Since the duvet has been designed to adjust to your body temperature and warm you up or cool you down as needed, Simba Sleep doesn't specify a set tog rating.
General estimates place the Simba duvet at a comfortable 10.5 togs, but this will depend on many factors.
Some of these include the material of your duvet cover, how hot or cold you sleep, and which side of the duvet is closest to your body.
We'll elaborate on this in the next section. 👇
Ultimately, the Simba Hybrid duvet can best be described as an all-seasons duvet suitable for all-year-round comfort.
We tested the duvet during the London autumn, with some warmer and some colder nights. 🍁
At some moments, the duvet felt a bit too hot, especially when we just got into bed.
But this feeling usually disappeared within a few minutes, and the duvet became the perfect temperature again.
Overall, it stayed comfortable without excessive heat. 👍
Simba duvet cover & design
The cover of the Simba duvet is one of its most iconic features.
There are two very different sides to the cover, which we'll loosely refer to as the top and bottom sides.
The description isn't entirely accurate, though, as you can choose which side is closest to your body.
Both sides are made from 100% BCI-sourced cotton.
The Better Cotton Initiative (BCI) is a programme that encourages sustainability within the cotton industry, supporting cotton producers and reducing the impact the industry has on the environment.
Cotton, of course, is a highly breathable material that encourages airflow for a cool night experience. ❄️
35% OFF SIMBA HYBRID DUVET W/ MATTRESS
Space-inspired fabric
While one side of the cover is pure cotton, the other side features additional space-age Stratos technology.
Simba looked to NASA for inspiration when designing the duvet. 🚀
Of course, NASA is no stranger to mattress aficionados.
Tempur first adapted NASA's revolutionary memory foam to create the world's first memory foam mattresses in the early 1990s.
Today, memory foam is one of the most popular mattress materials used in some of the world's best mattresses!
What is Stratos technology?
Stratos is a phase change technology featuring microcapsules that absorb heat when it's hot and release heat when it's cold.
This allows anything with Stratos technology to be uniquely temperature regulating. 🍂🍃
It adjusts to your body temperature and gives you exactly what you need to feel comfortable.
You'll find the same Stratos technology in the Simba Hybrid pillow.
Design details
The edge of the Simba duvet cover features very elegant stitching in two colours.
These are more than just aesthetically pleasing.
The blue trim tells you which is the cool Stratos-infused side.
The grey trim tells you which is the standard cotton side.
The actual pattern on the cover also gives you an indication.
The standard cotton side is plain white, but the Stratos side features a faint light blue hexagonal pattern. 💙
Conveniently, the duvet also has box stitching, and you'll see large square "pockets" throughout.
These keep the core filling evenly spread throughout the duvet, preventing the filling from bunching up and eliminating any cold spots.
35% OFF SIMBA HYBRID DUVET W/ MATTRESS
Which way up does the Simba duvet go?
If you've just unpacked your Simba duvet, you're likely to ask which way should be up. 🤯
Simba is a little vague in their instructions, so we asked ourselves just that.
Fortunately, there's no right or wrong here.
But, if you want to get the benefits of temperature-regulating Stratos, you should keep that side nearest to your body.
Stiff and plasticky feel
At first, we didn't like the way the duvet felt.
When first unpacking it, the Simba duvet felt stiff and plasticky, almost too space-age to be comfortable. 👽
Of course, we were also switching over from the Panda Cloud Duvet, which is one of the softest duvets we've ever tested.
Luckily, that plasticky feel disappears once you put your duvet cover on. 😅
But, the Simba duvet still feels a lot crunchier and more plasticky than many of the other duvets on the market - especially in this price range.
On that note, Simba also uses a rather large and stiff label, which you can feel quite prominently even through a thicker duvet cover.
Depending on how you sleep, you may find this a tad uncomfortable. 😫
It would be great to see Simba switching to something a little softer, but we'd recommend just cutting the label out.
Just remember to keep it safe or make a note of the washing instructions. 📝
Simba duvet washing instructions
Conveniently, the Simba duvet is fully machine-washable at 40℃. 🛀
This is great news for people prone to allergies.
Even though the duvet is hypoallergenic, washing at high temperatures effectively kills dust mites.
This makes the duvet less likely to cause allergies. 🤧
35% OFF SIMBA HYBRID DUVET W/ MATTRESS
You can also tumble dry the duvet at a low temperature.
Simba Sleep recommends that you tumble dry the duvet until the filling is completely dry.
This prevents mould from forming.
You only need to wash your duvet once every 6 - 12 months. 🗓
While cleaning and drying at home sound convenient, the ability to do so depends on the size of your washing machine.
For instance, if you have a super-king size duvet, it might not fit into your machine, and you'd have to bring it in to be professionally cleaned.
This is why we always recommend using a high-quality duvet cover to protect your duvet from any stains. 👌
Luckily, Simba offers a good range of bedding.
You can get a duvet cover and pillowcases in one convenient set, made of either 200-thread count cotton or 400-thread count Egyptian cotton.
Try Simba bedding:
Simba

Price from &nbsp

£ 29.25

£ (65 )

This 400-thread-count Egyptian cotton Simba Performance Bed Linen promises a comfortable sleep.

This 400-thread-count Egyptian cotton Simba Performance Bed Linen promises a comfortable sleep.

Price from

£ 29.25

(£ 65 )
Simba Hybrid duvet sizes
The Simba Hybrid duvet is available in a range of UK duvet sizes. 🇬🇧
These include:
Simba duvet single: 135 x 200 cm (4'6" x 6'6")
Simba double duvet: 200 x 200 cm (6'6" x 6'6")
Simba duvet king: 230 x 220 cm (7'5" x 7'2")
Simba duvet super-king: 260 x 220 cm (8'5" x 7'2")
35% OFF SIMBA HYBRID DUVET W/ MATTRESS

Generally, you should choose a duvet that matches your bed size. 🛏
But, you may wish to select a larger duvet if you quickly feel cold, share your bed with a duvet-hogging partner, or for aesthetic appeal to have the duvet drape down the sides of your bed frame.
Simba duvet prices
The Simba duvet is not the most affordable on the market, especially considering it contains synthetic filling. 💷
It's also quite a bit more expensive than the Panda Cloud Duvet, one of Sleep Hero's favourites, or the more comparable DreamCloud duvet.
But, given the space-inspired technology and cooling properties of the duvet, the cost is well-warranted.
Luckily, Simba Sleep also offers regular discounts and promotions, which we'll explore in more detail in the next section. 👇
(Note: prices listed below are standard prices, excluding any current coupons & discounts)
Simba duvet discount codes
Simba Sleep often offers discounts on its mattresses.
Stand-alone promotions on the Simba duvet are rare. 😕
But, the company regularly offers "percentage off" discounts for purchases over a certain amount.
This is usually set at £300 or £350.
This is excellent news if you're looking to buy more than one duvet or need a few products from the Simba store. 🥳
Don't worry; you don't have to hunt for the best Simba deals.
We collect all the best promotions on our discounts page.
If any Simba duvet promotions are currently running, they'll also be displayed throughout this article.
Simba duvet delivery conditions
The Simba Hybrid duvet is delivered rolled up in a sturdy cardboard box within 2 - 5 working days. 📦
Delivery within the UK is free of charge.
Our Simba order was delivered via Expert Logistics, and we received an e-mail the night before to notify us of the delivery date and times. 📧
35% OFF SIMBA HYBRID DUVET W/ MATTRESS
Unpacking the Simba duvet
The first thing we noticed when receiving the Simba duvet was how nice the cardboard box was.
Adulting 101, but having a sturdy cardboard box around can be quite convenient. 📦
The Simba box is definitely reusable.
Inside the box, the duvet is wrapped in quite a thick plastic bag.
Luckily, the plastic is recyclable - though more eco-friendly options are available, as Panda London has proven with their reusable bamboo bags. 🌱
You may notice some off-gassing when you first take the duvet out of the plastic.
This is pretty normal, and the fumes aren't toxic or harmful. 🧪
They can be a little unpleasant, though, so we'd recommend unboxing your Simba duvet in a well-ventilated room.
We only experienced slight off-gassing, and it disappeared within a few minutes. ⏰
That said, we'd still recommend airing out the duvet a bit before pulling on a duvet cover.
35% OFF SIMBA HYBRID DUVET W/ MATTRESS
Does the Simba duvet come with a trial period?
Simba mattresses come with a fantastic 200-day risk-free trial period.
Unfortunately, the Simba duvet doesn't come with a trial period. 🙁
This is a pity, as the Simba duvet is quite expensive.
It requires a considerable financial investment without the chance of returning the product for a full refund if you're not happy.
35% OFF SIMBA HYBRID DUVET W/ MATTRESS
That said, trial periods on duvets are pretty rare.
Of our favourite duvets, only the Panda Cloud comes with a 30-night sleep trial. 😴
You're more likely to find trial periods on other products like mattresses or mattress toppers.
Simba duvet guarantee
The Simba Hybrid duvet comes with a 1-year guarantee.
This is considerably shorter than other brands like Panda or Silentnight, which offer a 5-year guarantee on their duvets.
Nectar and DreamCloud offer 2-year guarantees on their duvets. 📝
But, one year is still better than none, and it'll protect you in the event of any manufacturing defects.
Is the Simba duvet worth it?
The Simba duvet is a high-quality duvet that's definitely worth the financial investment if you have trouble finding the perfect temperature.
We've read a few Simba duvet reviews focusing on people struggling with hot flushes or night sweats and women undergoing menopause, and they all swear by the Simba duvet.
It will also be an excellent choice for people with higher body temperatures or those with a higher metabolic rate, who'll benefit from the thermo-regulating technology. 🚴‍♀️
It's also a great option if you're looking for a convenient all-seasons solution.
We think the Simba duvet is particularly suitable for:
People who struggle with hot flushes or night sweats.
Women undergoing menopause.
People with higher body temperatures or those with a higher metabolic rate.
Hot sleepers.
People looking for a convenient all-seasons solution.
So if you're looking for active temperature regulation, the Simba duvet is worth it.
35% OFF SIMBA HYBRID DUVET W/ MATTRESS
But if you're just looking for a standard duvet that will keep you warm and snug, there are better value-for-money options.
You can look at our best duvets guide for some suggestions.
Contact Simba Sleep UK
Customer service: To contact Simba Sleep directly for complaints, support, or queries, please e-mail them at hello@simbalseep.com or visit their live online chat. Their customer services team is available Monday to Friday, from 9 am - 5 pm, and Saturdays from 9 am to 1 pm.
Registered office: Simba Sleep, The Stable Yard, 60 Petty France, Westminster, London SW1H 9EU