How we test products
Our mission is to take the guesswork out of finding the perfect sleep products.
We've dedicated hundreds of hours to testing mattresses and sleep accessories, and rely on a team of testers of differing weights, temperature preferences, and sleeping positions to evaluate each product.
Tested products are granted the Sleep Hero tested stamp of approval, a mark of our review's reliability.
If we haven't personally tested a product, please be assured that we invest significant time and energy into scouring the UK market and researching the best recommendations, and we work with a team of sleep experts who review our articles, ensuring that the insights we provide are not only relatable but also reliable.
What is a spring mattress?
As you may have guessed, innerspring mattresses have a core composed of springs or coils, and are often simply referred to as spring mattresses or coil mattresses. 🌀
Despite the name, spring mattresses are never composed just of springs.
The coils are usually combined with some or other foam to enhance comfort.
Sometimes, as in the case of cheaper spring mattresses, this may just be a thin layer of foam at the top and bottom of the mattress.
More luxurious spring mattresses, though, include deeper layers of more high-quality foams for superior comfort. 🌟
There are many different types of innerspring mattresses available, which we'll look at in the next section.
Different types of spring mattresses
While the foam comfort layers do play a part in determining the quality of the mattress, the primary determining factor is the type of spring or coil used.
There are numerous different types of innerspring mattresses available: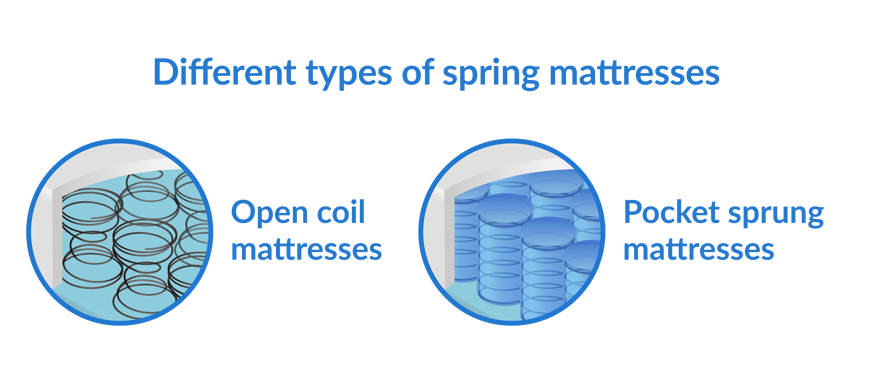 ​
Here is a short overview of the most common ones.
Open coil mattresses
Open coil spring mattresses have been in existence since 1871, and they still remain one of the most common types of mattresses used worldwide.
These are often simply referred to as traditional spring mattresses - the ones you'll undoubtedly remember from your childhood.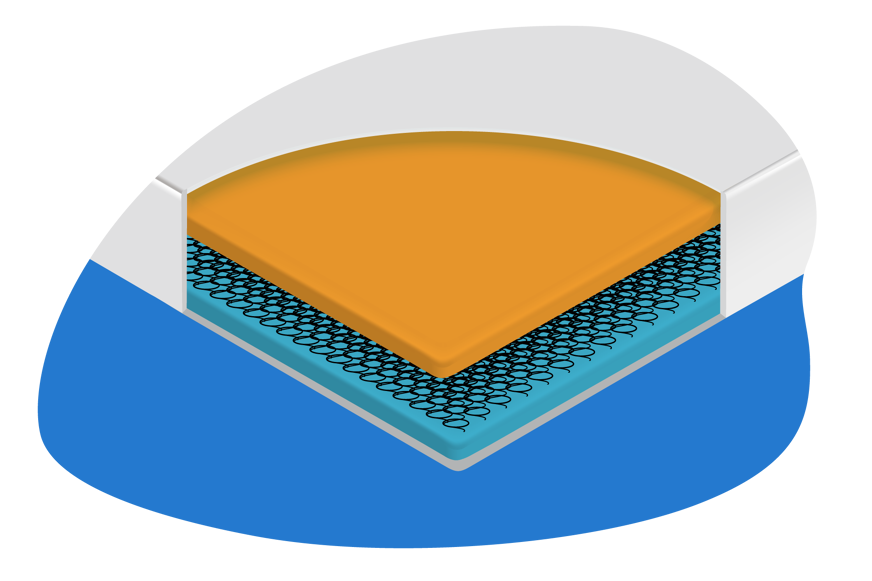 Open coil mattresses consist of an interconnected spring system, connected vertically (like Silentnight's Miracoil mattresses) or horizontally (as in traditional continuous coil mattresses).
The most traditional open coil structure is the Bonnell spring.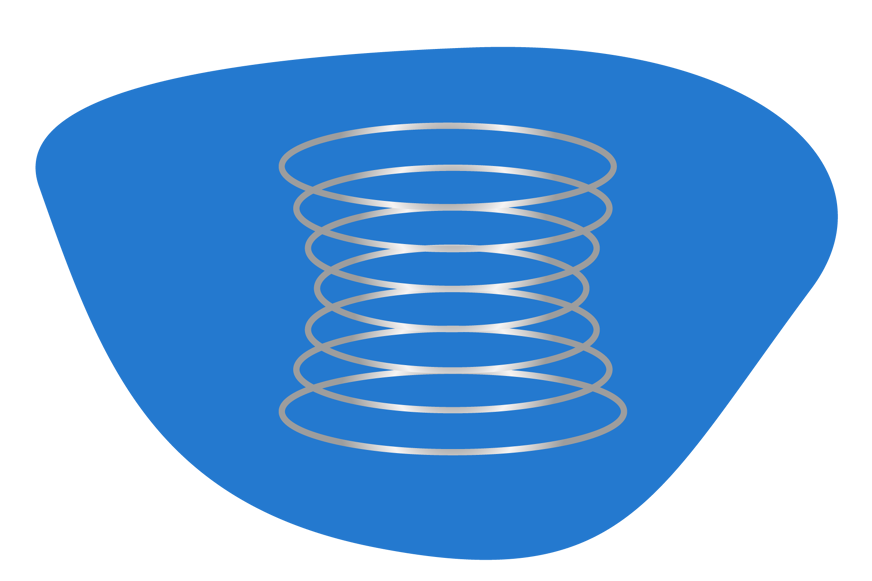 Bonnell spring systems consist of a stable open spring core with hundreds of individual steel springs connected to each other.
These springs have an hourglass shape and are wider at the bottom and the top than in the middle.
Usually, Bonnell spring mattresses contain a layer of foam on top of the spring core so you don't feel the springs - though we probably all have memories of sleeping on worn spring mattresses and being poked in the back all night long!
Bonnell spring mattresses have a few unique features:
These coil mattresses are very durable and supportive.
They generally have quite a bit of bounce and transfer motion.
They are often quite firm.
They are also often the cheapest mattress option available.
Traditional spring mattresses are a great choice if you're on a budget, and excellent choices for children and teens.
They also make fantastic replacement trampolines for kids who like to jump on their beds. 😉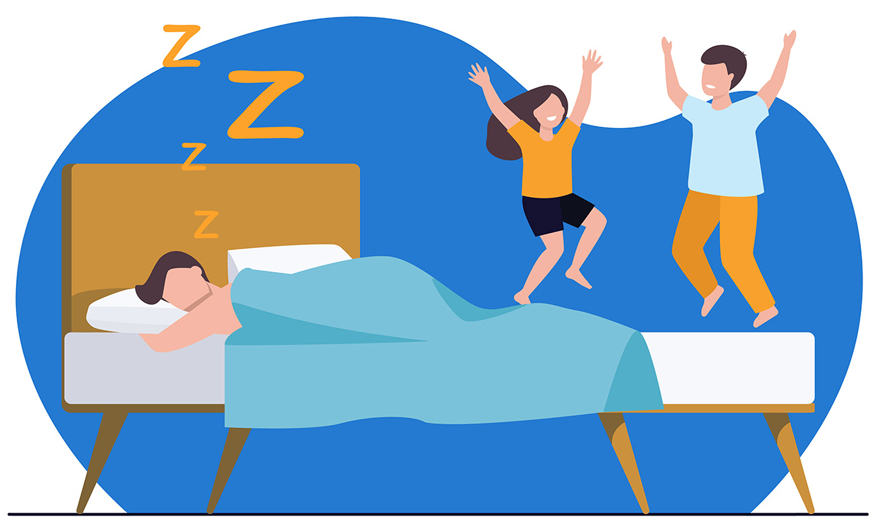 You'll find some good quality open coil mattresses, but cheaper versions often don't give your body the comfort and pressure relief it needs, leading to aches, pains, and discomfort.
Coil mattresses with a high degree of motion transfer are also unsuitable for couples or restless sleepers since you'll be plagued by excessive bounce all night.
A mattress like Silentnight's Miracoil Pillow Top, with a coil system crafted for less partner disturbance, may be a more suitable option.
BUY SILENTNIGHT MIRACOIL PILLOW TOP£ 429
Pocket sprung mattresses
In contrast to open coil mattresses, pocketed coil mattresses feature springs wrapped in individual fabric pockets.
These individual pocket springs (or Marshall coils) are not connected and can move independently.
This allows for greater point elasticity (relieving pressure points) and minimises motion transfer (allowing for a more restful sleep, particularly if you share your bed with a partner). 🥰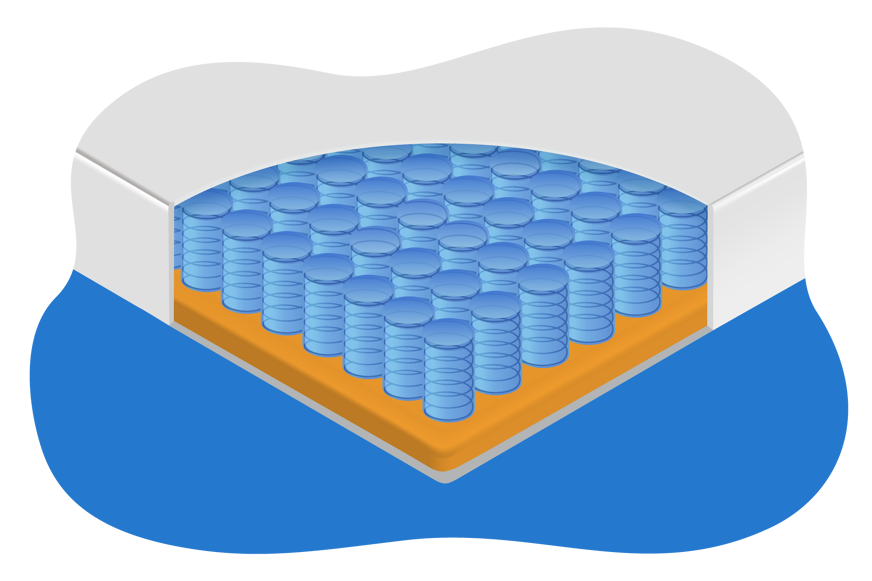 Since pocket-sprung mattresses are in a league of their own, we won't look at them in detail in this article on more traditional spring mattresses.
Instead, please refer to our guide on pocket-sprung mattresses for more information and our top recommendations.
Is a spring mattress the right mattress for you?
While we would certainly steer away from inferior models, you may want to choose a high-quality spring mattress for many reasons.
Let's look at some of the benefits of traditional spring mattresses in more detail.
Breathable
Spring mattresses are known for their enhanced breathability. ❄️
The space between the springs creates natural ventilation channels, which allows for greater airflow within the mattress.
This allows the mattress to remain cool and more comfortable.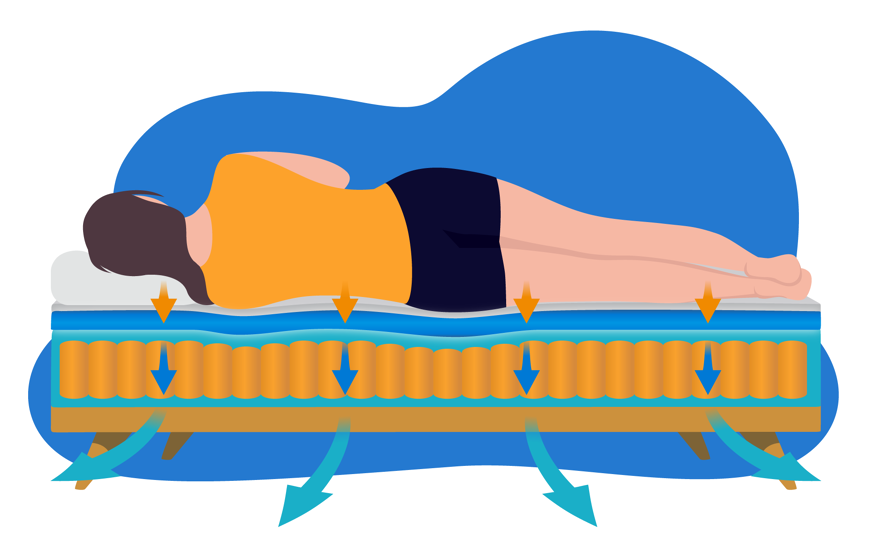 Spring mattresses are thus a good choice for hot sleepers and heavy sweaters.
Most modern-day memory foam and hybrid mattresses offer a more temperature-neutral sleep, but very hot sleepers are generally more comfortable on a quality spring mattress. 🔥
If you're not sold on open coil mattresses but require something cooling, look at our article on the best cooling mattresses in the UK.
Supportive
The best innerspring mattresses are often firmer than foam mattresses and offer better overall support and stability.
While firmness is often a matter of preference, mattress support is crucial.
All sleepers need good support, but it's more difficult to find supportive mattresses for people of larger size, particularly if they weigh over 130 kg (286 lbs).
Firmer spring mattresses, like the Sealy Mellbreak Ortho Plus Mattress, are an excellent choice here.
BUY SEALY MELLBREAK ORTHO PLUS£ 286.23
Budget-friendly
Traditional spring mattresses are among the cheapest on the market, and many are of decent quality.
This makes coil spring mattresses a no-brainer if you're looking for a budget-friendly mattress.
Great for children and teens
One of the downsides of open spring mattresses is that they usually have higher motion transfer, making them less ideal for couples.
You will likely get a more bouncy feel because movement can travel relatively well through springs, especially if interconnected.
While not great for couples, this is fine for people who don't share their bed with a partner.
Add in the budget-friendly nature of open coil mattresses, and traditional spring mattresses become the ideal choice for children and teens.
How much does a spring mattress cost?
Innerspring mattresses are generally quite affordable. 💷
Of course, the exact price does depend on the type of spring used, the mattress size, and the overall quality of the materials.
High-quality pocket-sprung mattresses will be more expensive than cheap open-coil mattresses.
You can get budget mattresses for under £200, mid-value mattresses for anything under £1000, and very high-quality luxury mattresses for well over a couple of thousand pounds.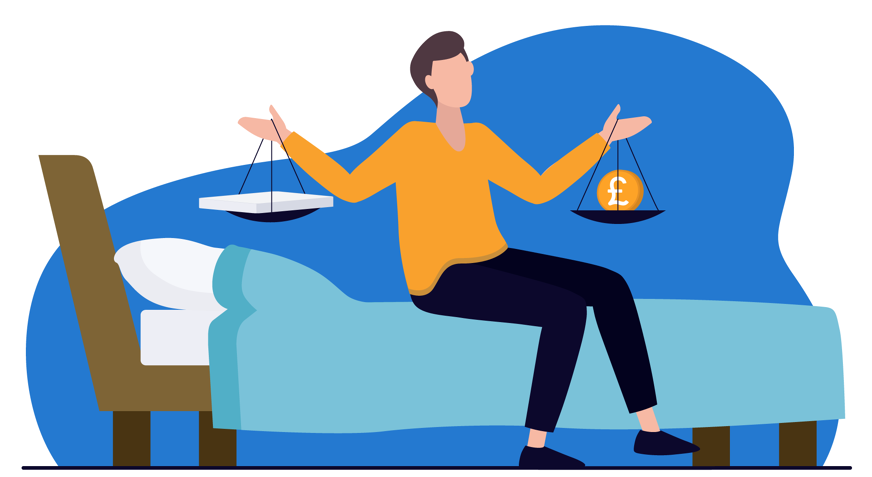 But it is worth remembering that you generally get what you pay for.
While you don't have to splurge on the most expensive mattress available, cheaper open coil mattresses can be terrible quality, so we'd highly recommend taking a closer look at quality before you purchase.
We'll guide you through all of that below.
What should you consider before buying a spring mattress?
Since so many inferior coil mattress models are available, it's important to pay attention to the type of mattress you're buying.
Here are a few key criteria to help you make the right choice. 👇
Is it an open coil or a pocket-sprung mattress?
Most brands and retailers will advertise pocket springs quite clearly, but it is worth checking if the mattress you're about to purchase has an interconnected spring system or an independent pocketed coil system.
Pocket spring mattresses are generally more expensive and of higher value, but you can also find really great traditional open coil spring mattresses, like the ones we recommend in this article.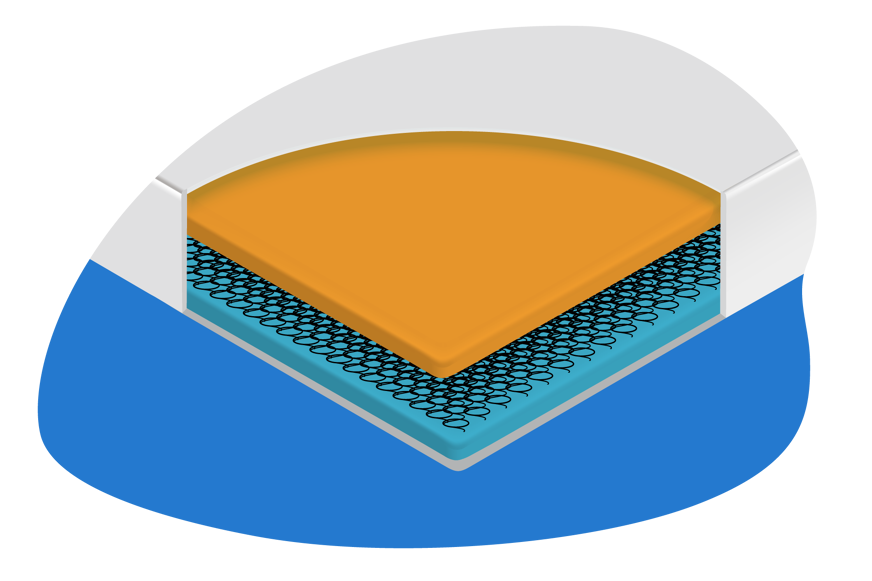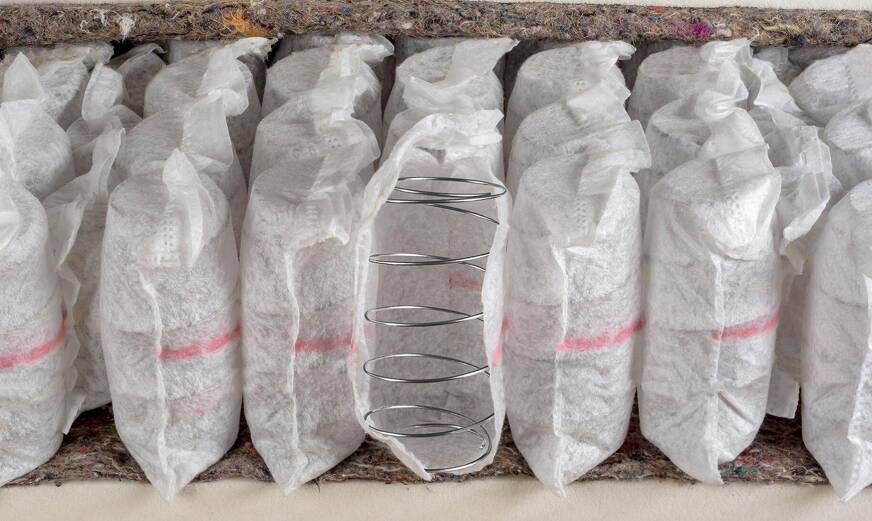 If you're choosing a pocket sprung mattress, you also need to consider how many springs the mattress has - stick to 1000 to 2000 springs for the smallest size, as this will denote higher quality.
What is the spring tension?
Spring tension refers to how thick the spring wire is and how tightly the wire is coiled.
Thicker springs are usually firmer, while thinner springs offer more gentle support.
The more tightly the wire is coiled, the firmer the spring will be.
If you're looking at a pocket-sprung option, you'll also need to consider the height of the mattress springs.
Full-size pocket springs (around 16 cm / 6.2 inches) are usually reserved for the core of a mattress, while micro springs are often used as additional support layers.
Does the mattress have additional zoning?
A zoned spring mattress will offer better body adaptability and pressure relief, making this ideal for people struggling with back and neck pain.
Zoned mattresses will be firmer in some areas than others, and you can get anything from 3 to 9 or more zones.
A mattress with five to seven comfort zones is ideal.
Pay attention to your sleeping position and mattress firmness
Innerspring mattresses are firmer and offer more stability and support than foam mattresses.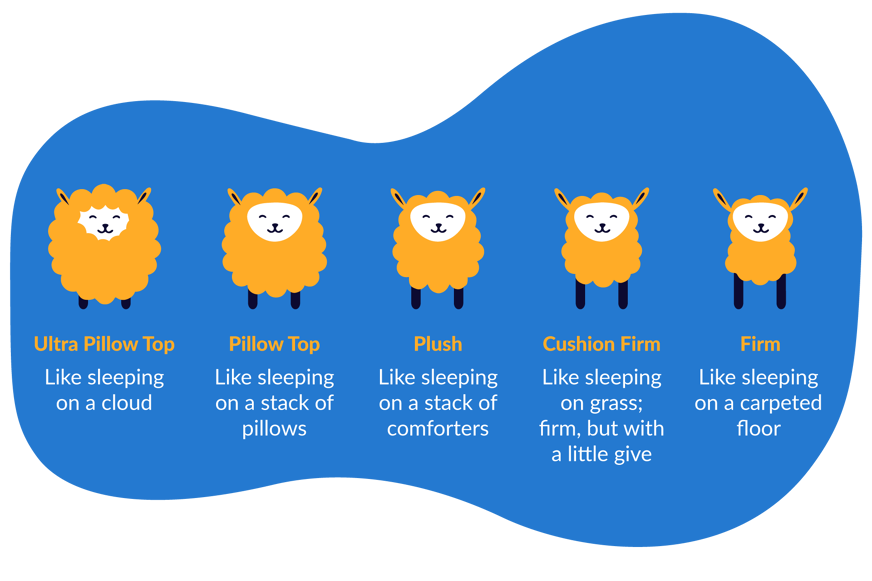 But, even here, you'll find varying degrees of firmness.
Some spring mattresses are extra firm, and others are a little on the softer side. 🧸
A firm spring mattress may seem optimal but may not be your best choice.
Extra firm spring mattresses are great for heavier-weight people or those of larger builds.
Smaller or lighter people will probably do better on slightly softer spring mattresses.
Even though mattress firmness is often a matter of personal preference, you do need to make sure you choose a degree of firmness that works for your body.
If you want the stability and support of a spring mattress but prefer the softness and comfort of a foam mattress, you could try a pillow top mattress, cushioning mattress topper, or a thick quilted cover.
These all add a layer of cushioning to a supportive spring base.
We recommend a few of our favourite softer mattress toppers below.
Our recommended soft mattress toppers:
Panda London

Price from &nbsp

£ 89.96

£ (99.95 )

The Panda Mattress Topper is a gel-infused orthopaedic memory foam topper with a breathable bamboo cover.

The Panda Mattress Topper is a gel-infused orthopaedic memory foam topper with a breathable bamboo cover.

Price from

£ 89.96

(£ 99.95 )

Hypnia

Price from &nbsp

£ 179.99

£ (239.99 )

The Hypnia Ultimate mattress topper comes with a 200-night trial period.

The Hypnia Ultimate mattress topper comes with a 200-night trial period.

Price from

£ 179.99

(£ 239.99 )

The Fine Bedding Company

Dual Layer Mattress Topper

Price from &nbsp

£ 85

£ (100 )

This Dual Layer Mattress Topper is made of soft microfibre and features an easy-to-use zip construction.

"Get 15% off with our exclusive 'SLEEP15' discount code."

This Dual Layer Mattress Topper is made of soft microfibre and features an easy-to-use zip construction.

"Get 15% off with our exclusive 'SLEEP15' discount code."

Price from

£ 85

(£ 100 )
Should you buy a coil spring mattress?
While there are many inferior models and paying attention to quality is vital, you can definitely find fantastic spring mattresses.
These are an excellent choice for hot sleepers and anyone looking for more stability and support.
They're also fantastic budget-friendly mattresses, ideal for children and teens.
The best innerspring mattresses UK:
Sealy

Blackwood Elevate Posturepedic Mattress

Price from &nbsp

£ 774.95

£ (1,299 )

The Sealy Blackwood Elevate Posturepedic Mattress offers enhanced body support and pressure relief.

The Sealy Blackwood Elevate Posturepedic Mattress offers enhanced body support and pressure relief.

Price from

£ 774.95

(£ 1,299 )

Silentnight

Miracoil Pillow Top Mattress

The Silentnight Miracoil Pillow Top Mattress combines a miracoil zoned spring system with plush pillow top for added comfort.

The Silentnight Miracoil Pillow Top Mattress combines a miracoil zoned spring system with plush pillow top for added comfort.

Price from

£ 429

Happy Beds

Super Ortho Spring Reflex Foam Orthopaedic Mattress

Price from &nbsp

£ 159.99

£ (214.99 )

The Happy Beds Super Ortho Spring Reflex Foam Orthopaedic Mattress is an open coil mattress exclusively designed for Happy Beds.

The Happy Beds Super Ortho Spring Reflex Foam Orthopaedic Mattress is an open coil mattress exclusively designed for Happy Beds.

Price from

£ 159.99

(£ 214.99 )

Sealy

Mellbreak Ortho Plus Mattress

Price from &nbsp

£ 286.23

£ (519 )

The Sealy Mellbreak Ortho Plus Mattress has a firm feel and a unique open coil core, ideal for back sleepers.

The Sealy Mellbreak Ortho Plus Mattress has a firm feel and a unique open coil core, ideal for back sleepers.

Price from

£ 286.23

(£ 519 )