Sleep Hero Favourite
The Nectar is a luxurious memory foam mattress suitable for most people and sleeping positions.
This bestselling mattress comes with a revolutionary 365-day trial period and a lifetime warranty.
The Nectar memory foam mattress is one of our favourite mattresses.
It features 3 layers of high-quality, high-density memory foam for optimal spinal alignment, pressure relief, and comfort.
The base layer also has 7 contour zones to enhance its ergonomic design and keep your body in a healthy sleeping position. 📏
This prevents a build-up of tension and allows for orthopaedic support.
The Nectar mattress comes with a breathable cover that enhances airflow to allow for a cool and comfortable sleep. 💨
Unfortunately, the cover is not machine-washable.
We'd suggest using a mattress protector to safeguard your mattress against stains, spills, and bacteria.
The Nectar mattress comes with free delivery & returns, a revolutionary 365-day trial period, and a "forever warranty". 
| | |
| --- | --- |
|   | Nectar mattress |
| Composition: | Memory foam with a 7-zone cold foam base |
| Firmness level: | Medium-firm |
| Height: | 25 cm (10 inches) |
| Trial period: | 365 days |
| Guarantee: | Lifetime warranty |
| What makes this mattress special? | Exceptionally comfortable for average-weight & lighter sleepers; lifetime warranty & revolutionary one-year sleep trial. |
Best For Side Sleepers
The Emma Original is an award-winning memory foam mattress and one of the UK's most popular choices.
This bestselling mattress by Emma Sleep offers 3 layers of premium foam and soft comfort with sufficient support and stability.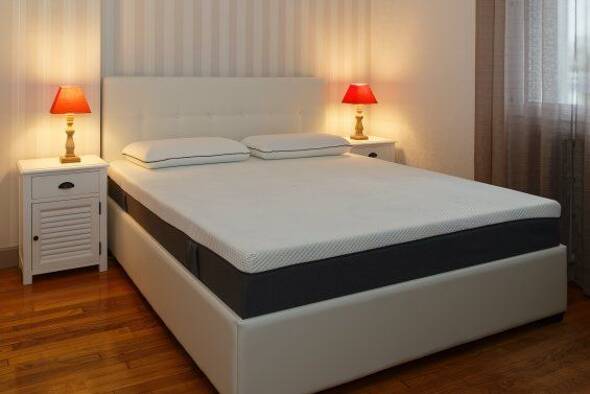 The Emma Original is a best-selling memory foam mattress and one of the UK's number-one mattresses. 🏆
It is made up of three different layers of foam, including pressure-relieving memory foam.
Memory foam offers great orthopaedic support, making it a good choice for people prone to back pain.
The Emma Original is rated as a medium-firm mattress, though we think it falls on the softer end of the scale.
This makes it an excellent choice for lighter-weight people and side sleepers, but we wouldn't necessarily recommend it to people looking for a firmer feel. 🧱
Conveniently, the mattress comes with a removable mattress cover that can be machine-washed at up to 60℃.
You can upgrade the Emma Original to the Emma Original Plus, which includes an advanced temperature-regulating Diamond Hybrid cover. 
The Emma Original is delivered free of charge and comes with a risk-free 200-night trial period. 
20% OFF EMMA ORIGINAL PLUS + 5% OFF W/ "SLEEPHEROUK5"
| | |
| --- | --- |
|   | Emma Original |
| Composition: | Memory foam with a base layer of HRX cold foam |
| Firmness level: | Soft |
| Height: | 25 cm (9.8 inches) |
| Trial period: | 200 nights |
| Guarantee: | 10 years |
| What makes this mattress special? | One of the UK's bestselling mattresses with excellent body contouring and a soft feel. |
The Bruno mattress combines micro pocket springs with high-quality cold foam for supportive sleep.
This one-of-a-kind mattress features softer and firmer cold foam for a super-supportive, durable feel.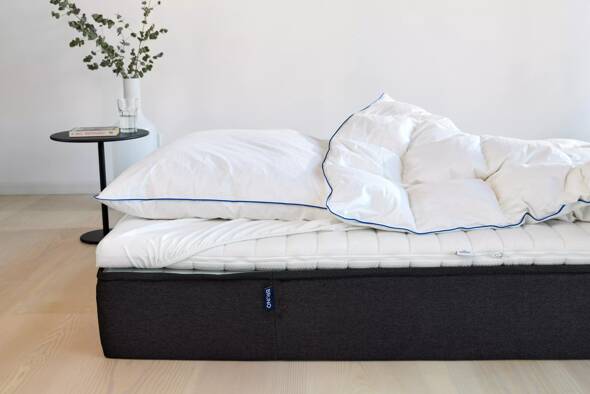 The Bruno mattress is a one-of-a-kind mattress made in Germany but available online in the UK. 🇩🇪
It features a softer and firmer layer of cold foam and a layer of up to 1,750 micro pocket springs.
This combination allows for excellent pressure relief, body adaptability, stability, and support.
The high-density foams also make the mattress very durable. 🧱
The Bruno mattress comes with a removable polyester-cotton blend cover that's machine-washable at 60℃. 🧼
It is delivered free of charge within the UK, with a delivery period of up to 6 weeks from the order date.
Conveniently, the mattress comes with a risk-free 30-day trial period and free returns.
| | |
| --- | --- |
|   | Bruno Mattress |
| Composition: | Cold foam with micro pocket springs |
| Firmness level: | Medium-firm |
| Height: | 24 cm (9.2 inches) |
| Trial period: | 30 nights |
| Guarantee: | 10 years |
| What makes this mattress special? | One of the only mattresses with two layers of durable cold foam. |
How we test products
Our mission is to take the guesswork out of finding the perfect sleep products.
We've dedicated hundreds of hours to testing mattresses and sleep accessories, and rely on a team of testers of differing weights, temperature preferences, and sleeping positions to evaluate each product.
Tested products are granted the Sleep Hero tested stamp of approval, a mark of our review's reliability.
If we haven't personally tested a product, please be assured that we invest significant time and energy into scouring the UK market and researching the best recommendations, and we work with a team of sleep experts who review our articles, ensuring that the insights we provide are not only relatable but also reliable.
Composition of cold foam mattresses
There are many different types of cold foam mattresses available.
Some are made entirely of cold foam and do not include any other foam layers.
Others, in contrast, have one or two additional foam layers. Often, you'll find cold foam mattresses that have memory foam, latex foam, or gel foam layers.
You'll also find some models that offer two different degrees of firmness depending on which side of the mattress you choose.
These types of mattresses use different foam layers for the top and bottom sides.
The mattress can then be turned to the side that provides the ideal firmness for your needs.
Cold foam mattresses with contour zones
Some cold foam mattresses have been divided into comfort or contour zones.
Zones help stabilise the body and relieve pressure on the spine.
The individual zones correlate to the different pressure points of the human body.
The position you sleep in will affect the specifics but, in general, you would need to sink into the mattress a little deeper at some points and a little less at others in order to keep your spine optimally aligned at all times.
Zones will usually fall into the pelvic, shoulder, lumbar, head, and foot zones.
Most zoned mattresses are divided into 3, 5, 7, or 9 comfort zones.
It will always be an odd number - this is due to the mirror image structure of the mattress.
The middle area is always for the pelvis, then it expands outwards into the lumbar zone, shoulder zone, and, finally, the head and foot zone.
The mirror image ensures that no matter which way you lie on the mattress, you will always be using it correctly and your body will be optimally supported.
Is a cold foam mattress the right mattress for you?
In principle, cold foam mattresses are relatively universal mattresses.
They are suitable for a wide range of people, regardless of body size and preferred sleeping position.
They are also available in various degrees of firmness so you can choose one that's most suitable for you.
As long as you pay attention to the quality of the cold foam, then investing in a cold foam mattress is generally a good choice.
People with back pain often tend to choose cold foam mattresses due to the commonly integrated comfort zones. We'd also recommend memory foam mattresses as they adapt to the contours of the body so well.
Cold foam mattresses are also great for couples. The foam cushions movements quite well, which keeps the mattress still - this ensures that you won't be disturbed by your partner's movements.
Note, though, that cold foam isn't particularly elastic and doesn't have the same high rebound as spring mattresses do. If that's important to you, you'd be well off choosing a spring or latex mattress instead.
Criteria to consider when purchasing a cold foam mattress
Not all cold foam mattresses are created equal and there definitely are some sub-standard models on the market.
In order to ensure that the cold foam mattress you're purchasing is of the highest quality possible, pay attention to the following key criteria.
1. High density
The most important feature of quality on a cold foam mattress is a high density.
This indicates how much polyurethane has been foamed to make one cubic metre of cold foam.
The rule of thumb is that the higher the density, the higher the quality of the cold foam mattress.
Higher densities also result in higher durability, meaning that your mattress will have a longer lifespan.
You can use the below table as a guideline:
| | |
| --- | --- |
| Density in kg/m³ | Expected lifespan |
| Up to 25 | Up to 2 years |
| 30 | Up to 3 years |
| 35 | 5 - 6 years |
| 40 | 6 - 8 years |
| 50 - 60 | 10 years and more |
2. Trial periods and delivery conditions
To keep the purchase of a mattress as uncomplicated and risk-free as possible, make sure that the manufacturer offers the following:
Free delivery
Risk-free trial period
Free returns
Trial periods usually last 30 to 100 days, though there are some manufacturers, like Emma, Nectar, and DreamCloud, that offer longer trial periods.
This gives you the time to ensure that the mattress you've purchased really is right for you.
After all, it takes the body a few weeks to get used to a new mattress, so you have to give it enough time.
If, after the trial period, you are not completely satisfied with the mattress, it can simply be returned - free of charge - for a full refund.
3. Mattress rebound rates
The mattress rebound indicates how quickly the mattress can return to its original shape after being subjected to stress or compressed.
The higher the rebound rate, the more quickly the mattress returns to its original shape.
This also indicates whether dents can occur and if the mattress is suitable for heavier-weight people or restless sleepers.
Always make sure that you're comfortable moving around on your mattress and that it gives you adequate support and stability.
Choosing the right cold foam mattress size
Choosing the right mattress size is important.
This depends largely on how much space you have at home, how big your bed frame is, and whether or not you share your bed with a partner.
Cold foam mattresses are available in every possible size, though custom sizes will only be available from select manufacturers.
The standard UK sizes include:
The 90 x 190 cm mattress is the most popular single-size mattress, though you can choose a wider mattress if you have the space available.
Couples should not choose a mattress smaller than 135 x 190 cm. Larger sizes are better to ensure that each person has enough space.
Our mattress size guide can help you choose the right size for you.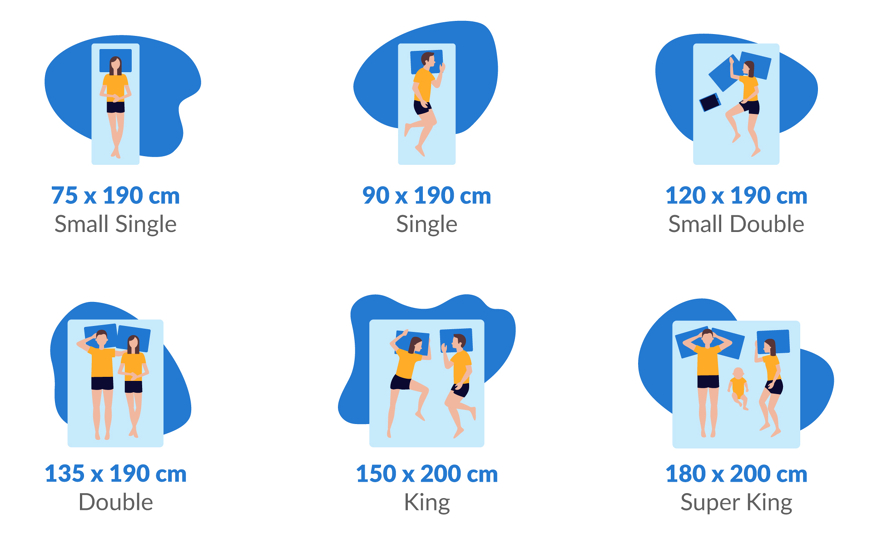 Choosing the right slatted frame for your cold foam mattress
To maximise the features of your cold foam mattress, it makes sense to invest in the right slatted frame.
Pay attention to zoning
In order to support the division of comfort zones in a cold foam mattress, you should choose a slatted frame that has the same divisions.
For example, if you've purchased a 7-zone cold foam mattress, we would advise also investing in a 7-zone slatted frame.
This will allow your pelvis and shoulders to sink in more deeply, stabilising the rest of your body.
Height-adjustable slatted frames
Cold foam mattresses are very adaptable, so we'd recommend choosing a height-adjustable slatted frame.
Adjustable head and foot sections not only increase flexibility and comfort but can also improve blood circulation and make breathing easier, particularly for elderly people.
Of course, you can also use a rigid slatted frame.
Small slat distance
Ensure that the slats aren't too far apart.
A maximum distance of 5 cm between slats is optimal.
What is off-gassing?
If you've recently purchased a cold foam mattress, then you're likely to have experienced off-gassing.
This is an initial chemical smell that you may experience when you first unpack your cold foam mattress.
There is no need to worry, though. Off-gassing is completely normal and it's a side effect of the production process.
The gasses are also completely harmless and non-toxic.
The smell can be a little uncomfortable, though, so we'd always advise unpacking your new mattress in a well-ventilated room and letting it breathe until the smell has disappeared.
Alternatives to cold foam mattresses
Layers of cold foam are common in many mattresses but you may feel that a pure cold foam mattress isn't right for you.
Try one of these alternatives instead.
Memory foam mattresses
Memory foam mattresses have similar properties to cold foam mattresses.
They are best characterised by their memory imprint.
When pressure is applied, the foam becomes softer and allows the body to form an imprint. This ensures that the foam adapts perfectly to the contours of the body, allowing for maximum comfort.
Due to its extremely high adaptability and pressure relief properties, memory foam is often used for orthopaedic purposes.
The biggest difference between cold foam mattresses and memory foam mattresses is in the feeling of lying down.
Memory foam is much more adaptable and really nestles up to the body.
This does make moving around on the mattress a little more cumbersome, making memory foam mattresses less suitable for very restless sleepers.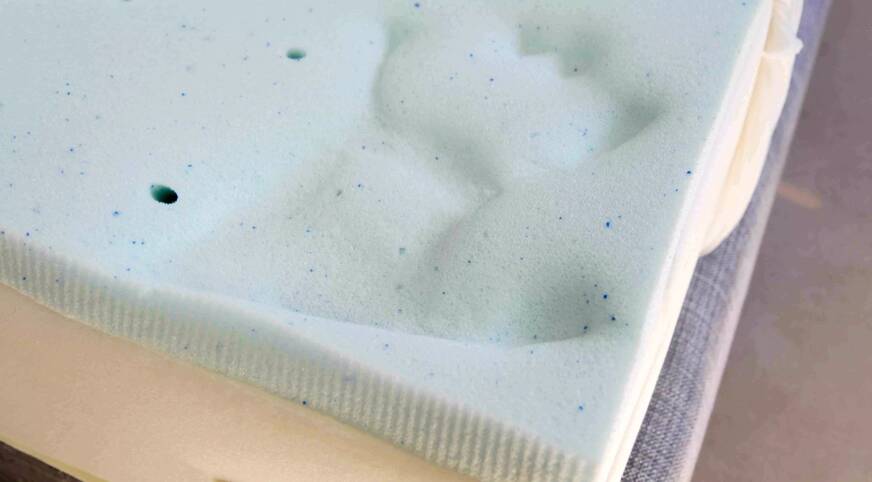 Innerspring mattresses
If you are looking for a firmer model that offers more stability and elasticity, then you should consider innerspring mattresses.
The core of a spring mattress is made of coils or springs, which can carry individual loads.
This means it adapts well to the body and is very point-elastic.
The gaps between the springs also provide for natural ventilation channels, enhancing the breathability of the mattress. This provides for a cooler sleeping climate.
If you choose a spring mattress, make sure you look for quality.
Inferior spring mattresses wear out quickly and form dents, resulting in the so-called hammock effect. This can create and worsen back pain.
High-quality innerspring mattress models are pocket spring mattresses and barrel pocket spring mattresses.
Also consider hybrid mattresses, which combine springs with high-quality foam.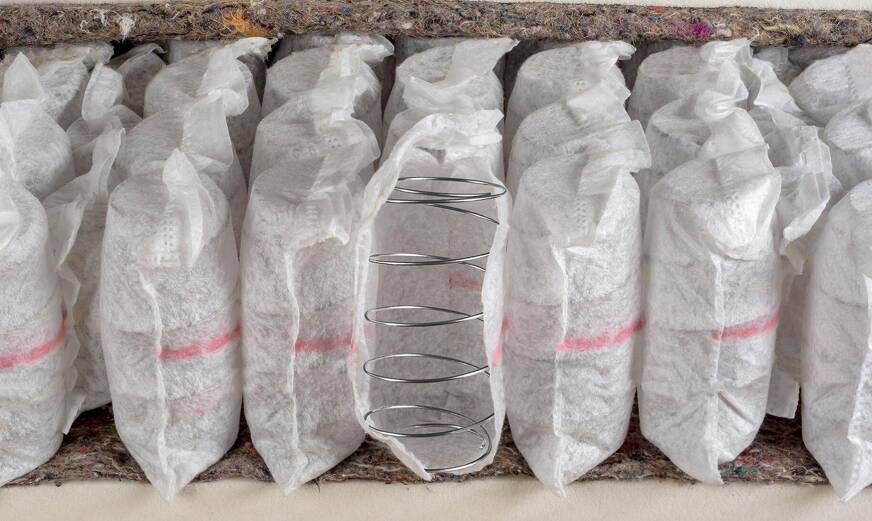 Latex mattresses
Latex mattresses have a high point elasticity, are very comfortable, and have good ventilation.
They are more suitable for people who prefer a cooler sleeping climate and restless sleepers.
Natural latex mattresses are also great for people who value organic and environmentally-friendly products.
But, latex mattresses are quite heavy, need to be cleaned regularly, and they can also be quite a bit more expensive.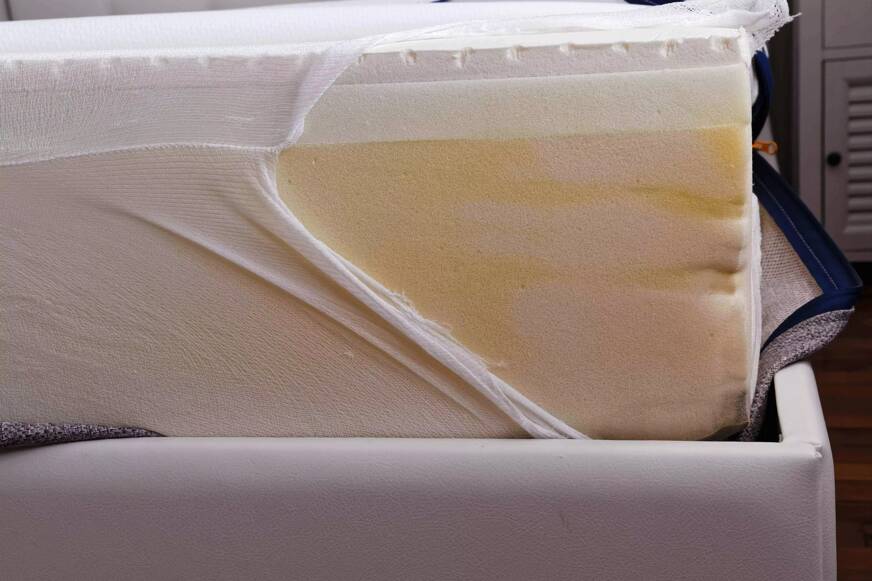 Gel foam mattresses
Gel foam mattresses also have high point elasticity, are very comfortable, and have very good ventilation.
They provide a very cuddly feel and are particularly suited to restless sleepers.
Gel foam is most commonly found as an upper comfort layer in a combination foam mattress, used together with more adaptable and/or stable and firmer base foams.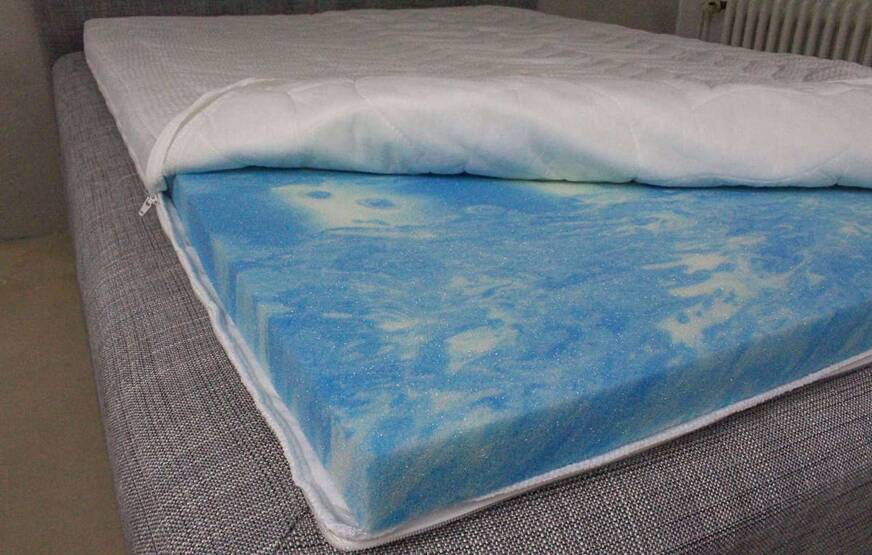 Conclusion
While some mattresses are made purely of cold foam, it is most commonly combined with other materials.
Cold foam offers firmness and stability. It is also often zoned, enabling it to help keep your spine in an optimal alignment and thereby reducing pressure and relieving back pain.
Cold foam is often used as the base foam in mattresses to provide overall stability and support.
If you struggle with back pain, then choosing a zoned cold foam mattress is a good choice.