The Panda Hybrid Bamboo mattress is the world's most advanced bamboo mattress with 6 comfort layers and 7-zone support.
The Panda mattress boasts a breathable, temperature-regulating bamboo cover for ultimate sleeping comfort.
Panda Hybrid Bamboo mattress is an excellent choice for those seeking a comfortable and environmentally conscious option. 🌱
This mattress is made in the UK and features six layers of comfort with orthopaedic-grade support and pressure point relief. 
The plush bamboo cover is soft, temperature-regulating, hypoallergenic, and antibacterial. 
The Panda mattress uses open-cell technology infused with bamboo making the mattress odour-resistant and highly breathable, ensuring a perfect temperature for deep, restful sleep. 🌡️
We found the Panda Hybrid Bamboo Mattress exceptionally comfortable in the back-sleeping position. 
It also provides excellent edge support for those who like to sleep right up to the edge of the mattress. 
The OrthoAlign foam optimises spinal alignment and works with a multi-zonal spring base for superior support.
Additionally, the mattress has 1,500 premium pocket springs that isolate motion and provide a smooth and disturbance-free sleep experience. 😴
The bamboo cover is fully washable at 30 degrees. 
The mattress has a 10-year guarantee and a 100-night trial for peace of mind.
25% OFF PANDA HYBRID BAMBOO MATTRESS
| | |
| --- | --- |
|   | Panda Hybrid Bamboo Mattress |
| Composition: | Bamboo, memory foam, pocket springs |
| Firmness level: | Medium-firm to firm |
| Height: | 27 cm |
| Trial Period | 100-night trial |
| Guarantee: | 10-year guarantee |
| What makes this mattress special? | Breathable, temperature-regulating bamboo cover, eco-friendly materials, and orthopaedic grade support |
The Otty Hybrid is a four-layer hybrid mattress that combines the unique qualities of a pure spring mattress with a top layer of memory foam.
Designed in Yorkshire and made in the UK, this is a proudly British mattress.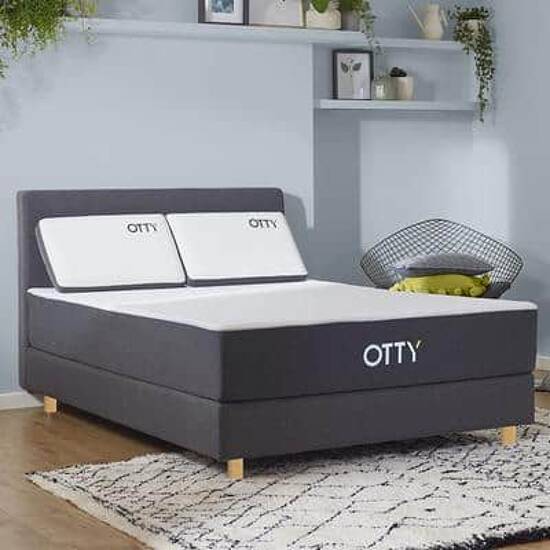 The Otty Hybrid is a four-layer hybrid mattress and one of the most affordable hybrids in the UK.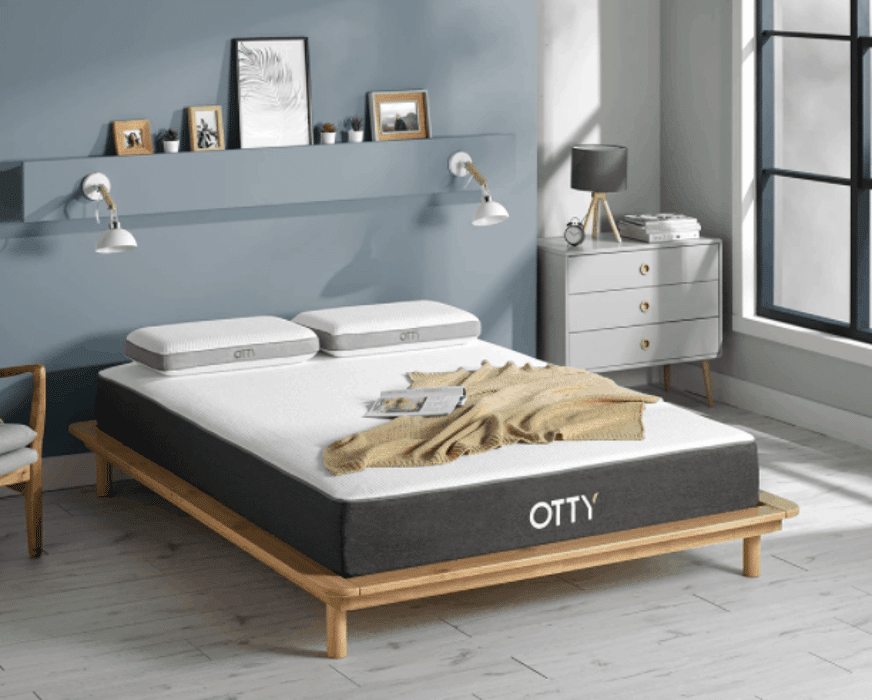 It combines 16 cm pocket springs with Cool Blue Gel memory foam, a unique combination to allow for superior comfort, body-hugging support, and stability. 
It's classified as a medium-firm mattress, but rates much firmer than many other hybrid models.
This is great for anyone looking for extra support and back pain relief. 
The mattress's unique airflow system also allows for excellent breathability to keep you cool and comfortable all night long. ❄️
The Otty Hybrid features firm side support panels for superior edge support, making this a great choice for couples or anyone who enjoys sitting on the side of the bed. 
This mattress is available in a wide range of European and British mattress sizes and is one of the very few bed-in-a-box mattresses available in the emperor bed size. 👑
Otty mattresses come with free delivery & returns, a 100-night trial period, and a 10-year guarantee.
| | |
| --- | --- |
|   | Otty Hybrid |
| Composition: | Temperature-regulating memory foam & pocket springs |
| Firmness level: | Medium-firm |
| Height: | 25 cm (10 inches) |
| Trial period: | 100 days |
| Guarantee: | 10 years |
| What makes this mattress special? | Best budget hybrid, excellent back support; only bed-in-a-box available in the emperor size. |
The Bruno mattress combines micro pocket springs with high-quality cold foam for supportive sleep.
This one-of-a-kind mattress features softer and firmer cold foam for a super-supportive, durable feel.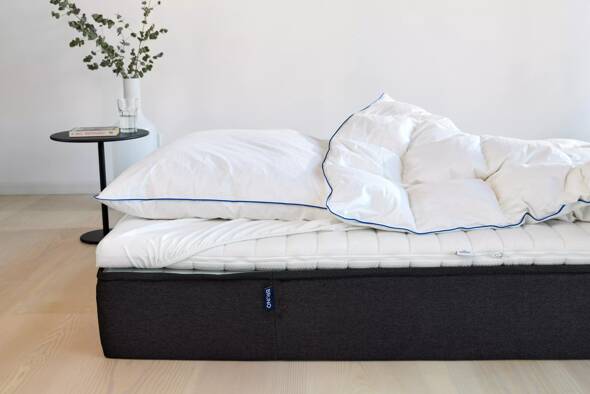 The Bruno mattress is a one-of-a-kind mattress made in Germany but available online in the UK. 🇩🇪
It features a softer and firmer layer of cold foam and a layer of up to 1,750 micro pocket springs.
This combination allows for excellent pressure relief, body adaptability, stability, and support.
The high-density foams also make the mattress very durable. 🧱
The Bruno mattress comes with a removable polyester-cotton blend cover that's machine-washable at 60℃. 🧼
It is delivered free of charge within the UK, with a delivery period of up to 6 weeks from the order date.
Conveniently, the mattress comes with a risk-free 30-day trial period and free returns.
| | |
| --- | --- |
|   | Bruno Mattress |
| Composition: | Cold foam with micro pocket springs |
| Firmness level: | Medium-firm |
| Height: | 24 cm (9.2 inches) |
| Trial period: | 30 nights |
| Guarantee: | 10 years |
| What makes this mattress special? | One of the only mattresses with two layers of durable cold foam. |
How we test products
Our mission is to take the guesswork out of finding the perfect sleep products.
We've dedicated hundreds of hours to testing mattresses and sleep accessories, and rely on a team of testers of differing weights, temperature preferences, and sleeping positions to evaluate each product.
Tested products are granted the Sleep Hero tested stamp of approval, a mark of our review's reliability.
If we haven't personally tested a product, please be assured that we invest significant time and energy into scouring the UK market and researching the best recommendations, and we work with a team of sleep experts who review our articles, ensuring that the insights we provide are not only relatable but also reliable.
Why choose an emperor bed?
Wider mattresses are becoming increasingly common.
Why?
Perhaps it's because we've become more familiar with how important sleep really is. Or perhaps it is because so many of us have turned our beds into more than just "sleeping places".
There are tons of other activities people use their beds for, including reading, watching TV, meditating, doing bed yoga, and even working on their laptops!
Understandably, then, wider and more luxurious mattresses are a popular choice.
Surely, if your bedroom has the necessary space and you have the budget available to invest in a larger mattress, then the 200 x 200 cm emperor mattress is a luxurious choice.
| | |
| --- | --- |
| | |
| Size: | 200 x 200 cm |
| For whom? | Singles, couples, couples with a child or pet |
| Materials used? | High-quality materials such as latex, memory foam, cold foam, and springs |
The premium choice for couples
The 200 x 200 cm emperor mattress is the premium choice for couples.
Currently, this is the largest available mattress size but there are only limited mattresses available in this size.
It guarantees a spacious night's sleep for both partners, with ample room to spread out and toss and turn.
You certainly won't be disturbed by any of your partner's movements on a mattress of this size.
An option for individuals of larger body size
Many people are slightly larger and require more space.
A 200 x 200 cm emperor mattress is particularly suitable for anyone of a larger build - especially couples with both partners of a larger size.
A mattress of this size guarantees that both partners will have more than enough room for a comfortable night's sleep.
A family-size bed
One great thing about the 200 x 200 cm emperor mattress is that it's large enough to fit the whole family.
Do you have pets or children that like to cuddle with you?
That's no problem with a mattress of this size.
Anyone can come to cuddle and still lie comfortably.
Can singles choose this size?
This mattress isn't only ideal for couples.
It is also suitable for singles who like a large and comfortable space to sleep in.
If you can afford it and have the space available, why not spoil yourself?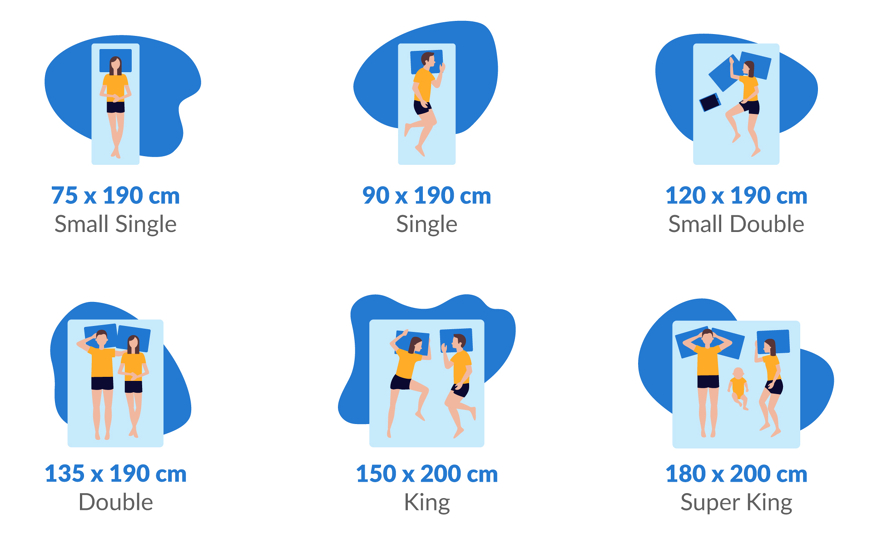 Different types of materials
If you're investing in a mattress of this size, then it's definitely worth paying attention to the materials used.
Always use high-quality materials that will last for a long time and offer you the best comfort and support.
Foam mattresses
There are dozens of different foam mattresses available.
Avoid cheaper foams like polyurethane and go for more quality foams like memory foam, cold foam, and gel foam.
Most high-quality mattresses are made of a combination of these different types of foam.
For example, a memory foam mattress may have a cold foam base layer, which is more firm and offers greater stability, and a gel foam upper comfort layer, which is slightly cooler than the heat-retaining memory foam.
In this way, a mattress can combine all the best features of the individual foams used.
Advantages
Disadvantages

For people of all ages.
For all sleeping positions.
Can be good for people with back and neck pain.
Good for people who easily feel cold at night.
Suitable for adjustable slatted bases.

Not suitable for people who sweat a lot at night or those who prefer a cooler sleep.
Not suitable for restless sleepers.
May release a chemical odour when first unpacking.
Latex mattresses
While technically a latex mattress is also a foam mattress, its properties are a little different.
It offers a slightly cooler sleep and is much easier to move around on, making it a great choice for couples and restless sleepers.
Natural latex mattresses are also a good environmentally-friendly choice.
On the downside, they are quite a bit more expensive than other foam mattresses and require regular maintenance, which can be quite cumbersome.
Advantages
Disadvantages

Ideal for people who like to sleep on their side.
Good for people who easily feel cold at night.
Suitable for adjustable bed bases.
Reduce back and neck pain.
Ideal for restless sleepers.
Can be an environmentally responsible choice if opting for natural latex.

Not suitable for people who sweat a lot at night.
The mattress must be regularly cleaned and rotated.
More expensive than other mattresses but also lasts longer.
Innerspring mattresses
Innerspring mattresses are firmer than foam mattresses.
This makes them particularly suitable for heavier-weight sleepers, back sleepers, and stomach sleepers.
The springs also create natural ventilation channels, which allows for more breathability and overall cooler sleep.
This airflow makes spring mattresses more suitable for people who easily feel hot at night or heavy sweaters.
While there are some great spring mattresses available, there are also some inferior models.
We recommend choosing pocket spring mattresses. With these, the springs are individually wrapped, which allows for greater comfort.
You'll also commonly find springs in hybrid mattresses.
Hybrid mattresses combine high-quality foam and springs to offer the best of both - great comfort, stability, support, and breathability.
Advantages
Disadvantages

Ideal for people who like a firmer mattress or heavier-weight people.
Great for people who sleep on their stomach or back.
Good for people who prefer a cooler sleep or those who sweat heavily at night.
Ideal for restless sleepers.
Great for bargain hunters.

Not suitable for those who feel cold easily, prefer a softer mattress, or pure side sleepers.
Not good for adjustable slatted frames.
Older and inferior models tend to form dents.
Criteria to consider before purchasing a 200 x 200 cm emperor mattress
Choosing a new mattress is never easy - especially when you're investing in a luxurious choice like a 200 x 200 cm emperor mattress.
Here are some key criteria to consider that will help guide your purchasing decision.
High density
While choosing high-quality materials is important, you also need to pay attention to the density - i.e the density of the foams used or the number of springs used.
A mattress with high-density foams signifies a more high-quality mattress.
High density also equates to the durability of the mattress. The higher the density, the longer its lifespan.
You can use this table as a rough guideline:
| | |
| --- | --- |
| Density (in kg/m³) | The expected lifespan of the mattress |
| Up to 25 | Up to 2 years |
| 30 | Up to 3 years |
| 35 | 5 - 6 years |
| 40 | 6 - 8 years |
| 50 - 60 | 10 years or longer |
Firmness and stability
These two are not necessarily the same.
While firmer mattresses can offer more stability and may, for example, be better suited to heavier-weight sleepers, a soft mattress can also offer sufficient support and stability if it is constructed of the right materials.
A memory foam core with a cold foam base, for example, can result in a soft but supportive mattress, like the Emma Original.
Stability is non-negotiable.
Any mattress you choose must offer you sufficient support and stability to keep your body - and spine - in a healthy alignment. This prevents back, neck, and shoulder pains and ensures that you get the most comfortable night's sleep.
Firmness is largely a matter of preference.
While factors such as build, age, body weight, and preferred sleeping positions do play a part, you ultimately need to choose a firmness level that you're comfortable with.
This can be difficult to navigate, which is why we've developed the Sleep Hero firmness scale to guide you.
Delivery and return conditions
We recommend that you always choose a mattress manufacturer that offers free delivery and a risk-free trial period with free returns for a full refund.
A risk-free trial period gives you the chance to try out the mattress in the comfort of your own home for a period of 30 - 100 days.
Some manufacturers, like Emma or Nectar, offer even longer trial periods.
If you're not 100% satisfied, then you can return these mattresses - free of charge - and get a full refund.
This makes your purchase risk-free and you don't have to worry too much about whether or not the mattress is a perfect choice.
After all, it takes the body a little while to get used to a new mattress, so you may only have your answer after three weeks or longer.
What are the advantages of the emperor mattress?
Of course, the main advantage of the 200 x 200 cm emperor mattress is its size.
It may sound imposing - or look it in a smaller bedroom - but the 200 x 200 cm emperor mattress offers the utmost comfort to anyone, no matter how big or small you are.
It gives you the freedom to move around without getting in the way of your partner or worrying about falling off the edge!
Great for restless sleepers
This also makes it great for very restless sleepers who toss and turn frequently at night.
The average person will move around about 40 times a night, and even minimal movements are enough to disturb light sleepers.
Light sleepers who share their bed with restless partners will appreciate this size even more as it will give them the required peace and quiet they need to get a good night's rest.
They'll undoubtedly sleep much better than they would on a king-size or even a super-king-size mattress.
Relaxation and quality
Even though the mattress is perfect for a comfortable night's sleep, it's also great for enabling beautiful moments of relaxation for the whole family during the day.
Larger mattresses are usually also of much better quality than smaller mattresses, which are commonly available in 'low cost' versions with low-quality materials.
If you choose a high-quality mattress, you will undoubtedly be able to enjoy it for a long time.
Summary of main advantages
Here are the main advantages of the 200 x 200 cm emperor mattress:
Great for people of larger body size.
Suitable for very restless sleepers.
Allows you to enjoy a perfect night's sleep without disturbance from your partner.
Gives you a large sleeping area.
Possibility of accommodating children and pets without difficulty.
Perfect place for daytime relaxation.
Undoubtedly of the highest quality and with a long lifespan.
Customisable mattresses
You undoubtedly love your partner and you probably have lots in common.
But this doesn't mean you necessarily have the same sleeping style or requirements.
If you sleep on your side and easily feel cold at night but your partner is a heavy-sweater, stomach sleeper, and generally restless, then you probably have very different mattress requirements.
This can definitely create tension in a relationship - but there are solutions to this problem.
Customise each mattress half
Customisable mattresses are becoming more and more common - and for good reason!
Each half of the mattress can be designed according to your unique preferences and requirements, meaning that your half of the mattress will suit you perfectly. Your partner's half will also be perfect.
In this way, both partners can be 100% satisfied.
While customisable mattresses are a little more expensive, the long-term investment is definitely worth it.
Customisable mattresses may not necessarily be available in the 200 x 200 cm size. You may need to opt for the 180 x 200 cm super king mattress and sacrifice on size for greater comfort.
Choose two single mattresses
You can also choose to combine two single mattresses.
The standard UK single mattress size is 90 x 190 cm but there are custom sizes available at a variety of different retailers so you could construct a 200 x 200 cm sleeping surface.
By choosing two separate mattresses, you can choose whatever is best for you.
Simply place them next to each other on one emperor bed frame and you'll have an extra-large double bed.
You can also invest in a Caesar divan base, which is basically two single or double divan bases that are placed together to form one larger base.
You can get rid of the annoying gap between the two mattresses by investing in a bed bridge or a suitable mattress topper.
Affordable emperor mattresses
Often, the very first thing we look at before making a purchase is the price of the item we're looking to buy.
You may have noticed that larger-size mattresses are invariably more expensive than smaller mattresses.
So you may find yourself wanting to buy a 200 x 200 cm emperor mattress - but run for the hills when you see the price.
Here is our advice
When it comes to mattresses, always choose the highest quality you can afford.
If you buy a high-quality mattress that's made of good materials, then it will have a long lifespan. Good mattresses with a high density can last for ten years or longer!
So any investment you make today will be an investment for your future.
If you're buying a 200 x 200 cm emperor mattress, then you also won't need to upgrade at any point.
Sometimes, people may buy a smaller bed but then end up having to buy a bigger one as their family grows. If you buy a 200 x 200 mattress from the get-go, then you know you already have the best.
Also, remember that the quality of your sleep directly affects the quality of your life. If you sleep well, you'll be better-rested, more optimistic, and more productive.
Grab the best promotions
That said, it's also possible to purchase an affordable 200 x 200 cm emperor mattress - not by skimping on quality but by looking out for amazing promotions.
The best online mattress manufacturers, like Emma, Eve, and Nectar, frequently offer amazing deals and promotions that can get you up to 50% off.
Brands that sell exclusively online also generally offer lower prices, largely due to lower operating costs.
Plus, most online mattress purchases are risk-free as they come with great trial periods that allow you to try out the mattress for a period of 30 - 100 days.
If you're not satisfied, then you can simply return the mattress and get a full refund.
This ensures that your investment is totally risk-free.
As always, make sure to check all delivery, return, and warranty conditions before you hit "checkout".
Check out all the best promotions.
Emperor bed frames
Of course, if you're investing in an emperor mattress, you'll also have to invest in an emperor-size bed frame - which could be costly!
Emperor beds are as rare as emperor mattresses, but they're not impossible to find. You may have to step away from online shopping though and look at brick-and-mortar retailers.
As emperor beds are quite luxurious, you may wish to invest in a luxurious bed frame as well.
We could recommend:
Divan beds: These are classically-designed beds that combine a divan base with a mattress. The divan base is usually made from a sturdy wooden frame with fabric upholstery.
Ottoman storage bed frames: Ottoman beds offer storage space underneath the base.
Chesterfield beds: Chesterfield beds are particularly luxurious and recognisable due to their deep button tufting on the headboard and footboard, made of soft-touch velvet or other fabric.
Sleigh beds: Sleigh beds come with curved headboards and footboards, giving them a "sleigh" appearance.
You can browse The English Bed Company, Feather & Black, Wayfair, Headboard Workshop, Revival Beds, and French Bedroom Company for emperor beds.
Conclusion
The 200 x 200 cm emperor mattress is the largest of all the standard available mattresses.
It is suitable for any adult, offering maximum space and allowing you to sleep comfortably without being disturbed by your partner's movement.
It's also ideal for sleepers of slightly larger body size.
In addition, the emperor mattress is also great for daytime relaxation, such as reading a good book or snuggling up to watch a movie.
If you have space and budget available, then investing in a 200 x 200 cm emperor mattress is a good idea.
Note, though, that not all mattresses are available in the 200 x 200 cm size.
If you've found your perfect mattress but it's only available in the 180 x 200 cm size, then rather choose the smaller size.