Why is a quality pillow important?
A pillow may seem like lots of unnecessary fluff.
Some even suggest you should be sleeping without a pillow. 😳
But, the right pillow is actually very important in helping you get a good night's sleep.
Why?
Let's explore this in a bit more detail. 🧐
A pillow should offer proper support
Of course, comfort matters.
But, ultimately, your pillow serves a vital role in properly supporting your head.
The perfect pillow will adequately fill the space between neck and mattress and support your shoulders, head, and neck.
This will help your muscles relax, ensuring you'll wake up pain- and tension-free.
A good pillow will also keep your upper spine in alignment. 🦴
This will guarantee long-lasting support free from aches and pains.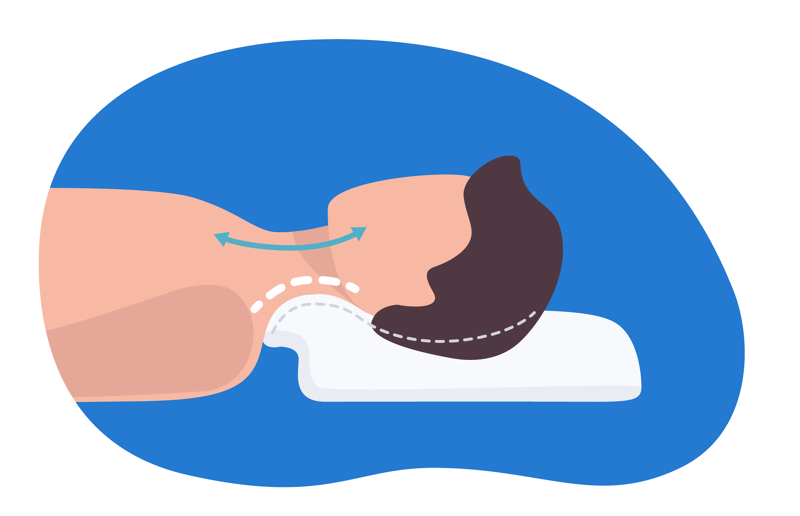 The right pillow is also very comfortable
But, of course, the right pillow also has to be very comfortable. 😴
This is probably the part you'll pay the most attention to.
After all, you wouldn't choose to sleep on a sandbag, even if it offers the proper support. ⌛️
Support and comfort have to be well-balanced.
You want a pillow that's soft and squishy - but still firm enough to support you.
But what's firm enough?
And how squishy should a soft pillow be?
Well, that depends.
Let's consider some factors that can help you choose the right pillow. 👇
Different pillow shapes & sizes
You wouldn't be alone in thinking that pillows only come in standard shapes and sizes.
But, there are actually a number of different shapes and sizes!
Pillow shapes
The two most popular pillow shapes are:
Rectangular pillows: These are the ones you sleep on.
Square pillows: These are the ones that look great on your couch.
But there are also tons of other interesting shapes that serve various purposes and are made to assist with specific issues, such as relieving neck pain, helping sleepers stay on their side, or travelling. 🧳
Full-body pillows, like the Kally Body Pillow, are great during pregnancy - and snuggle parties.
And V-pillows, shaped in the form of a "V", are great for nursing mothers or people who like to sit up in bed. 🍼
Generally, though, you should stick to rectangular pillows for sleeping.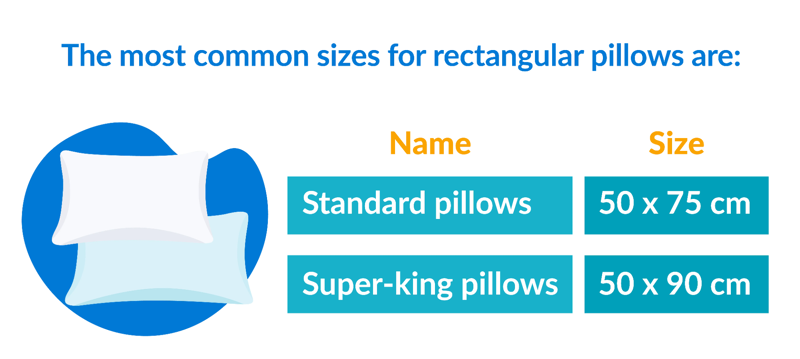 Pillow sizes
Pillows are available in a wide range of sizes, though we'd recommend sticking to the commonly-available ones.
The most common sizes for rectangular pillows are:
Standard: 50 x 75 cm (19.6 inches x 29.5 inches)
Super-king: 50 x 90 cm (19.6 inches x 35.4 inches)
Standard pillows are suitable for most situations, but you may choose a super king pillow with an extra-large bed.
Some pillows, like the Panda pillow, are slightly smaller.
Generally, though, most pillows fall within the 50 x 75 cm dimension range, with minor differences here and there.
What pillow material is best for you?
Pillows will always consist of an outer fabric envelope filled with materials of either natural or synthetic origin.
There are many materials a pillow could be made from. 🌎
There is no right or wrong choice, but you'll need to find the one that works best for you.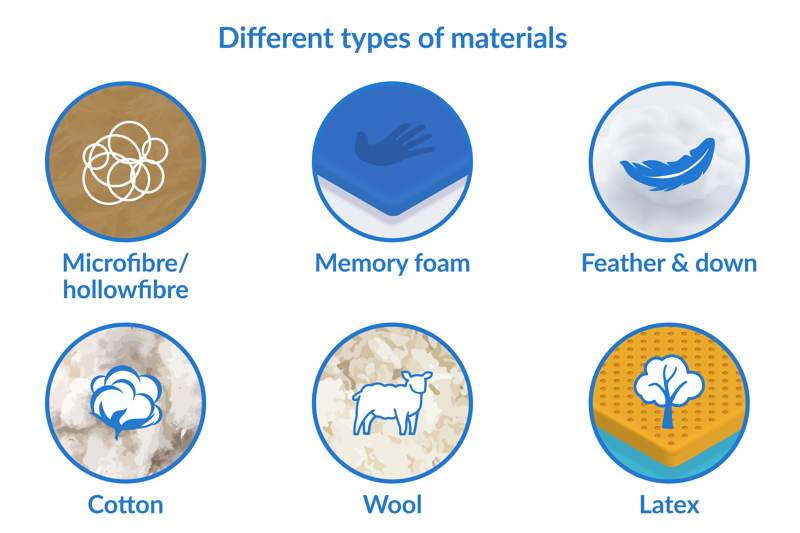 Below, we'll look at some of the most common pillow filling materials. 👇
Cotton pillows
Cotton pillows are very traditional.
They're cheap and readily available, but not always the best choice.
Cotton pillows tend to absorb heat and flatten out quite quickly. 😕

Microfibre / hollowfibre pillows
Microfibre and hollowfibre are both synthetic materials. 🧪
Both are made of polyester, though microfibre is more finely woven.
Polyester pillows are among the cheapest pillows on the market.
They're very lightweight and come in a range of heights and firmness levels. 🤩
This is very convenient, as you're likely to find a microfibre pillow that's perfect for you.
These synthetic pillows are usually also hypoallergenic, making them suitable for people prone to allergies. 🤧

On the downside, they tend to retain moisture and heat, and they aren't very breathable. ♨️
This can be uncomfortable for very hot sleepers.
They also tend to flatten out quickly and have the shortest life span of all.
Some cheap synthetic pillows may last less than a year!
If you're going for a polyester pillow, we'd suggest you stick to a very high-quality down-alternative microfibre pillow.
A good option is the very high-quality Eve Microfibre Shaper Pillow.
It even has a tapered shape for unique head and neck support!
Feather & down pillows
Down and feather pillows are naturally soft and very comfortable.
They're also mouldable, breathable, and long-lasting. 💨
Down pillows are the premium choice - they're much softer and more luxurious.
They are made from the feathers from the softer, fluffier layers underneath the bird's outer feathers.

Down pillows have to consist of at least 70% down feathers.
The rest can be made up of regular feathers.
Duck feathers and goose feathers are very popular choices.
Hungarian goose down, in particular, is a luxurious option.
Even though down & feather pillows are comfortable and long-lasting, they flatten out over time and need frequent refluffing. ☁️
This isn't the best choice for side sleepers, who require a slightly higher, firmer pillow.
Feather pillows may be made of natural materials, but they are not suitable for vegans or people prone to allergies. 🌱
You can occasionally find anti-allergy options where the pillow has been chemically treated to reduce the risk of allergies.
The Littens 100% Pure Hungarian Goose Down Pillow Set is an excellent anti-allergenic option that combines pure luxury with optimal comfort and support.
Memory foam pillows
Memory foam is a synthetic material that softens with temperature and moulds to the shape of the sleeper's body.
Memory foam pillows offer good pressure relief, making them a great choice for anyone struggling with neck pain.
They're also very durable and likely to last a long time. 🗓
Memory foam is also hypoallergenic, making memory foam pillows great for allergy sufferers.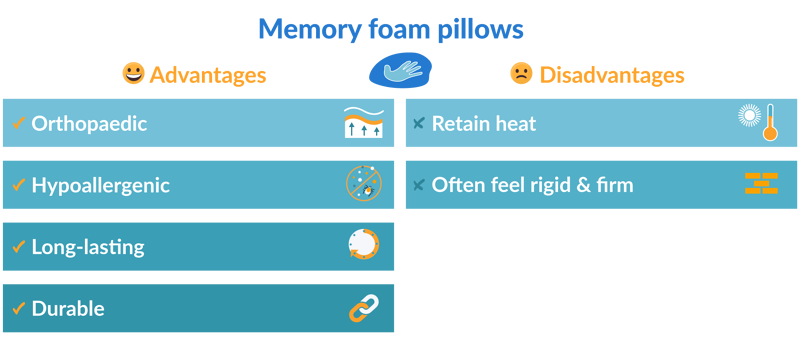 On the downside, memory foam pillows retain heat and limit airflow. 🥵
They can get very hot and uncomfortable, especially if you're sensitive to temperature.
They can also feel quite firm and rigid and often don't squash sufficiently to adjust height.
This makes them better suited for back and side sleepers.
Of course, there are a few customisable height-adjustable memory foam pillows and shredded memory foam pillows on the market.
The Nectar adjustable pillow is a great option!
50% OFF WHOLE NIGHT'S SLEEP PILLOW£ 51.48
Wool pillows
Wool pillows are an excellent choice for anyone looking for an eco-friendly and naturally hypoallergenic pillow. 🌎
They're also dust-mite-resistant.
Wool helps regulate temperature, keeping you cooler in summer and warmer in winter.
Wool pillows are usually firm, supportive, and have a lower loft, making them suitable for front sleepers.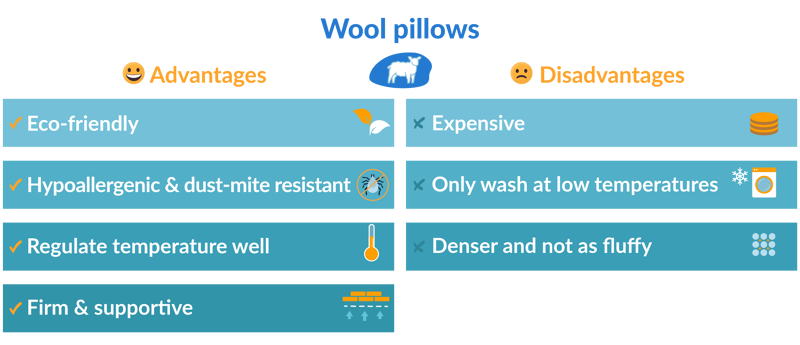 On the downside, they flatten out quickly and can be very heavy.
The Woolroom Deluxe Natural Wool Pillow is a great all-natural option that acts as a down and feather alternative. 🐑
You can even adjust the filling to suit your preferences!
Latex pillows
Latex is a costly natural material with properties similar to memory foam. 💰
Latex pillows are also firm, durable, supportive, and hypoallergenic, making them a great choice for people with neck pains or those prone to allergies.
They're also much more breathable than memory foam pillows.
On the downside, latex pillows are very expensive and exceedingly difficult to find.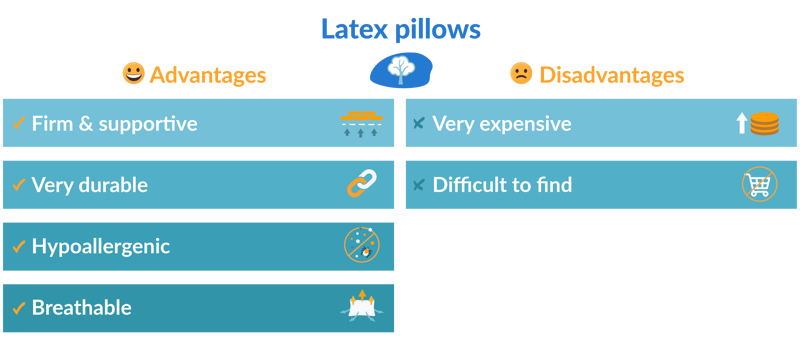 Does pillow firmness matter?
The right degree of firmness matters.
As with mattresses, there is no one ideal degree of firmness, but there will be a degree of firmness that's right for you.
With pillows, this does depend a bit on personal preference, but it also has a lot to do with the position you like to sleep in.
We'll go into the right pillows for your sleeping position next. 👇
Choosing the right pillow according to sleeping position
If you're waking up with neck or back pain, you may have a pillow that's not quite right for your sleeping position.
While firmness matters, the right pillow also has to have the right loft. 🗻
A pillow that's too high or too low for your sleep style will likely leave you in pain.
Best pillows for side sleepers
Side sleepers will do well on a slightly firmer pillow that can give them proper support, or a softer pillow that can be squished up and moulded to fit the space between neck and mattress perfectly.
What's important, though, is that the space between the head, neck, shoulder and the mattress is adequately filled to keep your spine in a neutral position.
This will help your muscles relax and prevent a build-up of pressure points.
High loft pillows are often a good idea for side sleeping. 🏔
But, the pillow shouldn't be too high.
You never want to feel as if your neck is bending upwards (or downwards).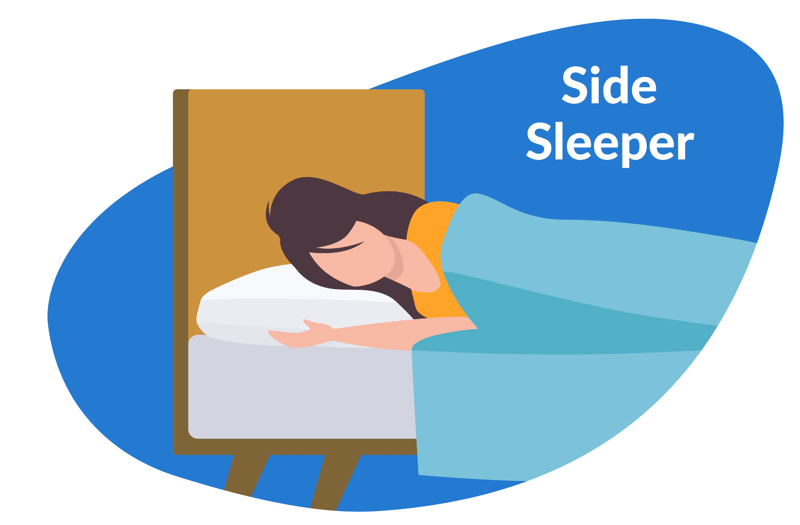 The right height will depend on the distance between your neck and shoulders, which is influenced by your overall build and body size.
More petite builds will require a lower loft pillow, but larger builds will do best on a very high loft pillow.
The Kally Sleep adjustable pillow has one of the highest lofts of all pillows, measuring 22 cm (8.6 inches).
Best pillows for back sleepers
Back sleepers do best on medium-firm pillows of a medium-high loft.
The pillow should be low enough to align your upper spine.
If you feel like your neck is bending up, you need a lower or softer pillow.
In contrast, if you feel like your neck is bending down or your head is falling back, you need a slightly higher and firmer pillow.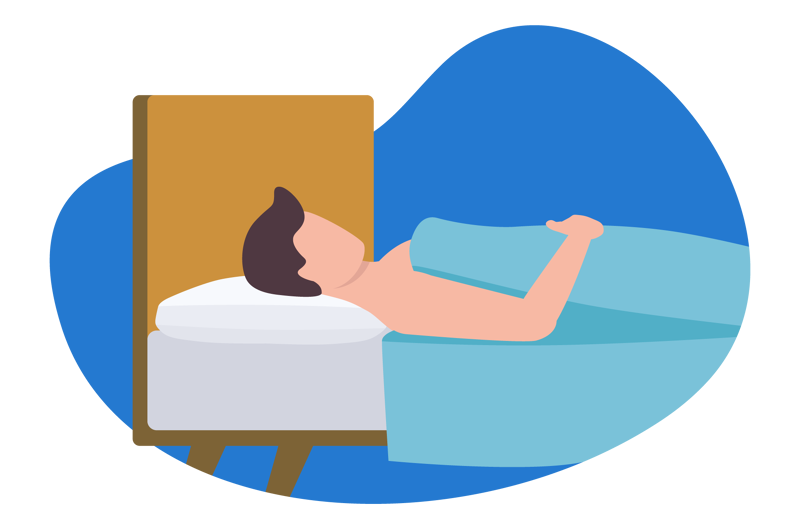 The Panda pillow is a good medium-firm, medium loft pillow that should suit back sleepers and even most side sleepers really well!
Best pillows for stomach sleepers
We wouldn't recommend sleeping on your stomach as it's likely to cause increased neck and shoulder tension.
This is because your head will always have to be turned to one side so that you can breathe properly. 👃
Naturally, this will result in a build-up of tension, leading to agony over a period of time.
If you do sleep on your stomach, though, you should be sleeping on a soft, low loft pillow.
You can also opt for an adjustable pillow, like the Nectar Whole Night's Sleep pillow, and only keep one of the memory foam layers.
50% OFF WHOLE NIGHT'S SLEEP PILLOW£ 51.48
Alternatively, you can also try sleeping without a pillow.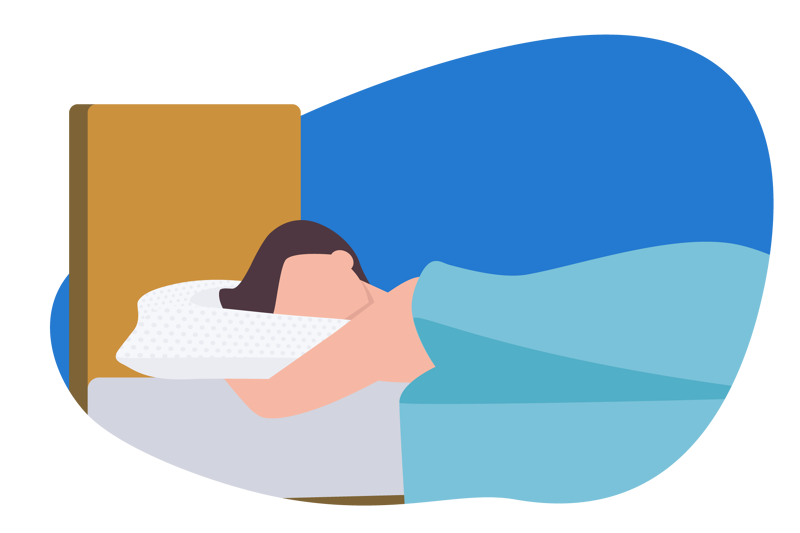 Combination sleepers
Most people are combination sleepers, changing sleep positions quite regularly throughout the night. 🕺
A medium-firm pillow of medium height would be the best choice.
It's also a good idea to invest in two different pillows so that you can move between them if necessary.
What pillow should you choose if you have allergies?
Synthetic materials are best if you struggle with severe allergies.
People usually react to feathers or dust mites living within the pillow.
Of course, if you have a latex allergy, latex pillows will also be a problem.
Just because you have an allergy, though, doesn't mean you have to stay away from pillows made from natural materials.
You will be able to find anti-allergy pillows made from natural materials.
There is a distinction between anti-allergy pillows and hypoallergenic pillows:
Hypoallergenic: The actual material and filling of the pillow aren't made of a known potential allergen, like feathers, wool, or latex. But other allergens, like dust mites, can still develop.
Anti-allergy: The pillow is treated with a chemical to combat the development of dust mites. Anti-allergy pillows are great if you have asthma, eczema or rhinitis.
Dust mites can be killed by washing at temperatures of 60℃ or higher.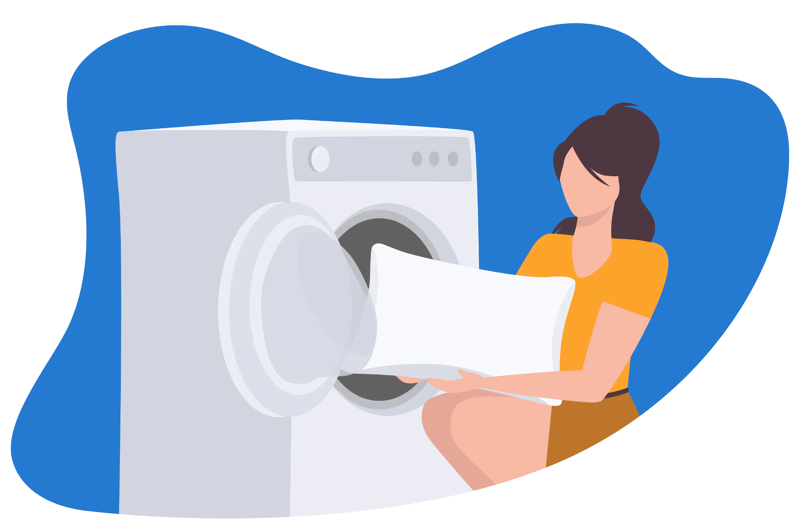 We would also recommend investing in a pillow protector to better protect you from your pillow and vice versa.
Our recommended pillow protector:
The Eve pillow protector is a removable & washable cotton cover to safeguard your pillow.

The Eve pillow protector is a removable & washable cotton cover to safeguard your pillow.

Price from

£ 15
Other factors to consider when choosing your perfect pillow
In addition to the above, you can also consider a few more things when choosing your perfect pillow.
Is the pillow adjustable?
Synthetic pillows or down pillows are easy to fluff up and flatten out, but memory foam and latex pillows can sometimes be a bit more rigid.
Here, it is helpful to consider a height-adjustable pillow with different layers or removable parts.
This will enable you to customise it to meet your needs.
Two of our favourite adjustable pillows include the Emma Pillow and the Nectar Pillow.
50% OFF WHOLE NIGHT'S SLEEP PILLOW£ 51.48
Do you want an eco-friendly pillow?
Natural & organic pillows will be the most eco-friendly. 🌱
Wool pillows, down & feather pillows, and even latex pillows are a good choice.
But, you can also find synthetic pillows with eco-friendly properties.
The Panda pillow, for example, features an eco-friendly bamboo cover around a core of memory foam. 🐼
Do you need a cooling pillow?
If you struggle with overheating, it's best to look for a pillow with cooling qualities.
Natural materials are often the best choice.
Microfibre and memory foam pillows retain more heat, but you can also look for synthetic pillows with a cooling gel.
One of the best cooling pillows we've tried is the luxurious Simba Hybrid pillow.
SIMBA PILLOW: -35% / MATTRESS£ 70.85
Do you or your partner snore?
If you or your partner snores, it may be worth investing in an anti-snore pillow.
Many anti-snore pillows are hypoallergenic memory foam pillows that offer good support.
But, sometimes you'll also find anti-snore pillows in a variety of shapes to help keep airways open.
You can read our article on the best anti-snoring pillows in the UK for more info.
What is the best pillow to buy?
Pillows haven't changed much in shape and dimensions — but they have certainly benefited from technological innovations in their fillings.
You can choose anything from traditional wool, feather, or down pillows or opt for a newer model filled with memory foam or microfibres, nanotubes, etc.
Down pillows are generally regarded as the top choice, but memory foam pillows can also be a great option if you're looking for firmer support.
Regardless of whether you prefer natural or synthetic models, you're guaranteed to find a pillow that's perfect for you.
While, ultimately, the choice of pillows is a personal one, we still believe that some pillows do a better job than others.
Our favourite pillows in the UK:
Panda London

Memory Foam Bamboo Pillow

Price from &nbsp

£ 35.96

£ (44.95 )

The Panda bamboo memory foam pillow combines supportive memory foam with a soft and sustainably sourced bamboo cover.

Memory Foam Bamboo Pillow

The Panda bamboo memory foam pillow combines supportive memory foam with a soft and sustainably sourced bamboo cover.

Price from

£ 35.96

(£ 44.95 )

Simba

Price from &nbsp

£ 70.85

£ (109 )

The Simba Hybrid Pillow is an excellent choice for those in need of adjustable support.

The Simba Hybrid Pillow is an excellent choice for those in need of adjustable support.

Price from

£ 70.85

(£ 109 )

Nectar

Price from &nbsp

£ 51.48

£ (99 )

The Nectar Whole Night's Sleep Pillow features three adjustable gel-infused memory foam layers for superior comfort & support.

The Nectar Whole Night's Sleep Pillow features three adjustable gel-infused memory foam layers for superior comfort & support.

Price from

£ 51.48

(£ 99 )