How we test products
Our mission is to take the guesswork out of finding the perfect sleep products.
We've dedicated hundreds of hours to testing mattresses and sleep accessories, and rely on a team of testers of differing weights, temperature preferences, and sleeping positions to evaluate each product.
Tested products are granted the Sleep Hero tested stamp of approval, a mark of our review's reliability.
If we haven't personally tested a product, please be assured that we invest significant time and energy into scouring the UK market and researching the best recommendations, and we work with a team of sleep experts who review our articles, ensuring that the insights we provide are not only relatable but also reliable.
What is a bamboo pillow?
A bamboo pillow, simply put, is a type of pillow made partially or wholly from bamboo. 🌱
And what exactly is bamboo?
Bamboo is a natural grass, native to Asia, that's often used in eco-friendly products.
It's a sustainable material that grows quickly, doesn't require much water, and doesn't need pesticides or other chemicals to thrive. 💦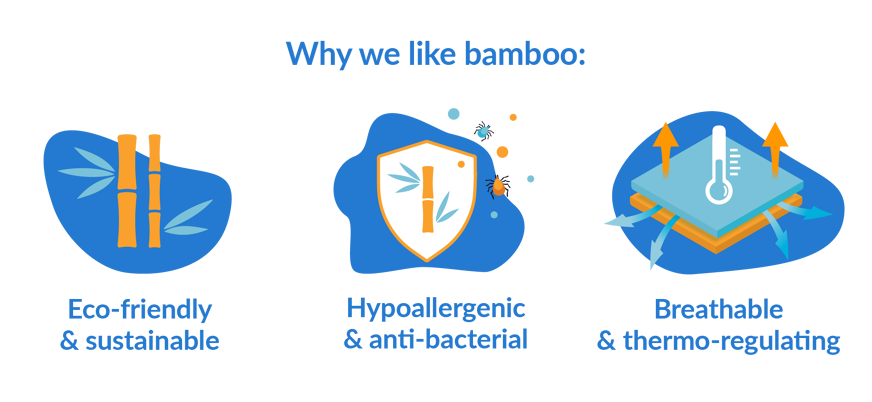 Bamboo pillows are becoming increasingly popular because of their low price point and their hypoallergenic and temperature-regulating qualities. ❄️
It's exceedingly rare, though, to find a 100% bamboo pillow.
Most pillows marked as bamboo combine multiple materials - and many of them only feature a bamboo fibre cover, with a fill of a different material.
For more info on how bamboo fibre is made, head on down to the FAQ section of this article.
We'll look at the different types of bamboo pillows in more detail further down. 👇
What are the benefits of a bamboo pillow?
Bamboo is a fantastic material with a great number of benefits. 🙌
We've given a quick overview of the advantages of bamboo at the top of this article, but let's look at some of these in more detail.
Hypoallergenic & anti-bacterial
If you suffer from allergies, a bamboo pillow may be a good option. 🤧
Bamboo is naturally hypoallergenic, which means it's less likely to trigger an allergic reaction.
It's also resistant to dust mites, bacteria, mould, and mildew. 🦟
This makes bamboo pillow covers a great choice for people with sensitive skin or those prone to breakouts.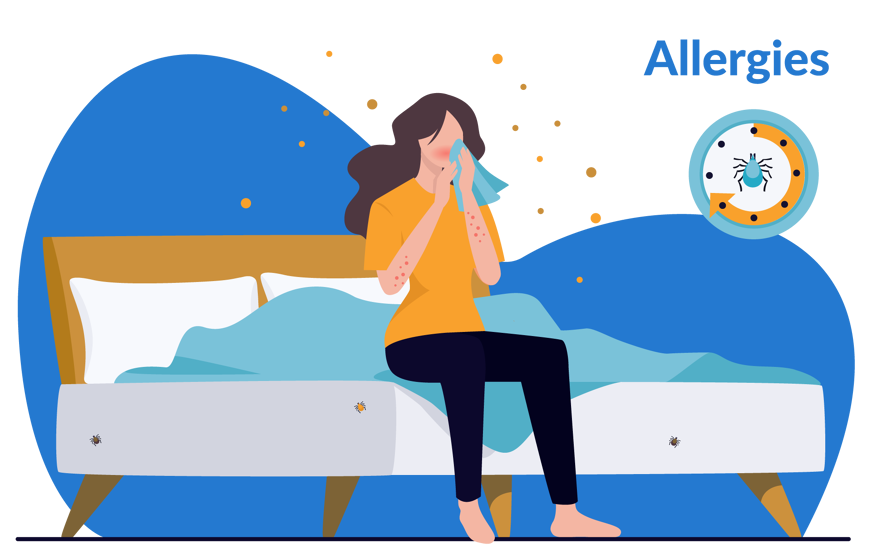 Keep in mind, though, that the hypoallergenic and antimicrobial properties of natural bamboo are affected by the manufacturing process.
Bamboo fibres like rayon that rely on very heavy processing tend to be less hypoallergenic than less-processed bamboo linen fibres.
Cotton and silk are good alternatives as they rely on minimal processing. 🐛
Why not consider the luxurious Aeyla silk bedding?
Breathable & temperature-regulating
Bamboo is a very breathable material.
This means it's less likely to trap heat and moisture and allow for good airflow, making it a good choice for people who tend to sleep hot. 💨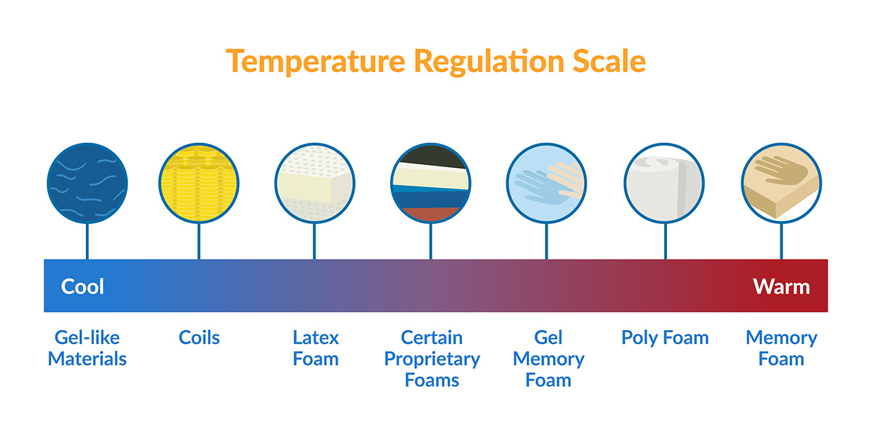 Interestingly, bamboo absorbs 40% more water than cotton, allowing it to whisk away moisture from your body and aid evaporation more efficiently than cotton.
This is why bamboo products often feel cool to the touch. 🧊
Silky-soft comfort
Bamboo is a soft, silky material that's very gentle on the skin.
This gives bamboo products an instant touch of luxury that's very comfortable to sleep on. 😴
Eco-friendly and sustainable
Bamboo is a sustainable resource that doesn't require any pesticides or fertilisers to grow.
It is also the fastest growing plant on the planet and requires 70% less water than cotton!
When bamboo is harvested, the roots are left intact, meaning the plant can regrow quickly. 🎋
This makes bamboo a very eco-friendly material.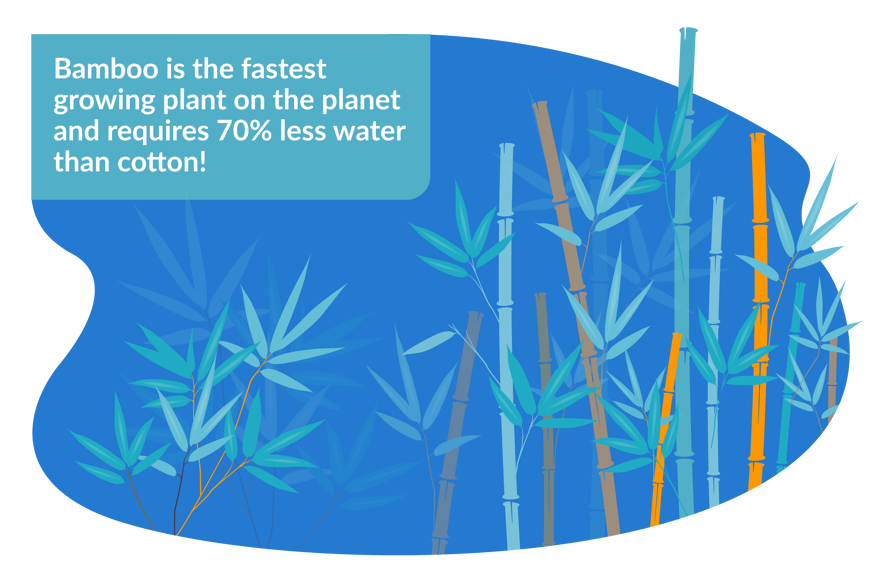 That said, while the material itself is eco-friendly, the manufacturing process may not be.
This is why it's important to pay attention to the quality of the bamboo material.
We'll look at this in more detail in the next section. 👇
The different types of bamboo fibre
Bamboo fibre is distinguished according to the manufacturing process used to create it.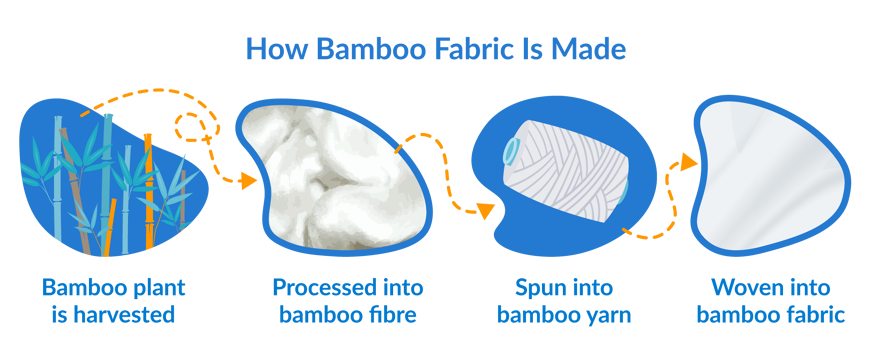 There are three common types of bamboo fibre.
Rayon
Rayon bamboo fibre (also called bamboo viscose) is one of the most common forms of bamboo fibre.
Rayon is a semi-synthetic fibre made by dissolving the cellulose in the bamboo plant with chemicals.
The material is very affordable and soft, making it a great fabric for pillows. 💷
But, rayon is usually considered lower-quality as it's not as durable as linen bamboo fibre.
Rayon also has a stronger environmental impact, as the chemicals used in the manufacturing process can harm both humans and the environment. ☹️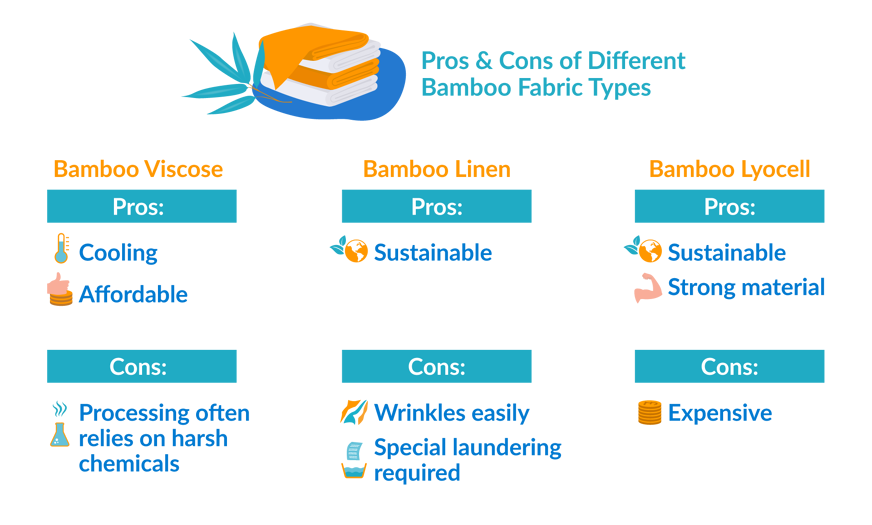 But, there are nuances to this.
Some manufacturing plants, like the ones used by Panda London, focus on Oeko-Tex Standard 100 solutions that follow global organic textile standards.
Lyocell
Lyocell bamboo fibre is similar to rayon bamboo but relies on a more environmentally-friendly manufacturing process. 🌏
If you're looking for a bamboo product that best matches quality, price, and environmental impact, lyocell would be your best bet.
Linen
Linen bamboo fibre is made by crushing and breaking down the bamboo pulp without using any chemicals.
This type of fabric is more expensive but it's also more durable and has a higher quality feel if used in high-thread-count fabrics.
Bamboo linen is also the most environmentally-friendly option. 💚
Different bamboo pillow fills
Bamboo pillows rarely consist of 100% bamboo.
Most of the time, a bamboo pillow simply features a removable bamboo pillow case with a different fill material, though some pillows do actually contain bamboo.
There may be many fill types, including down, cotton, wool, or latex, but bamboo, memory foam, and microfibre are the most common.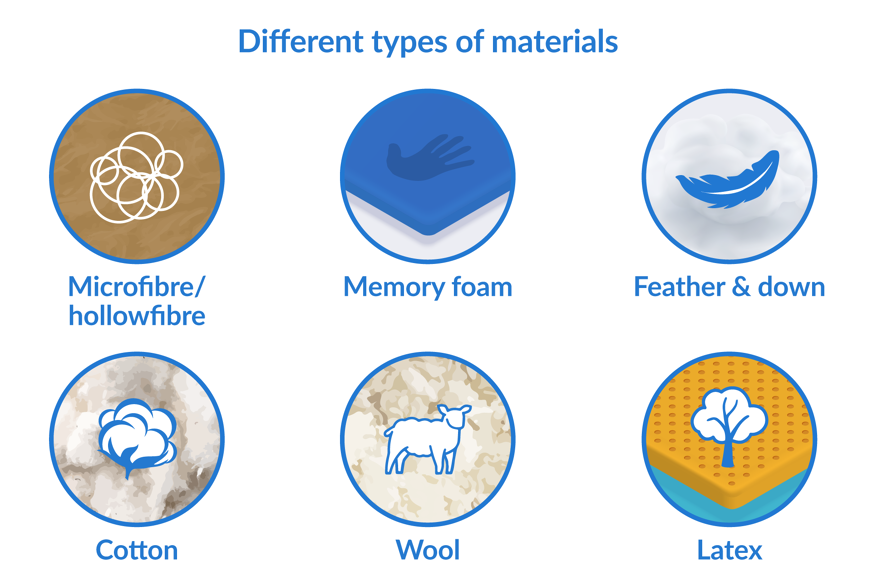 Let's take a closer look at these. 👀
Bamboo pillows with bamboo fill
Bamboo pillows with bamboo fill are usually made with shredded bamboo or small pellets of bamboo.
This makes them very soft and comfortable, but they may not be as supportive as other types of pillows. 😴
They're also usually more expensive than other types of bamboo pillows.
Memory foam bamboo pillows
Bamboo memory foam pillows are popular as they combine both materials' benefits.
Both memory foam layers and shredded memory foam are popular bamboo pillow fillings.
Memory foam is supportive and conforms to your head and neck, providing good neck support, pressure relief, and upper spinal alignment. 🤗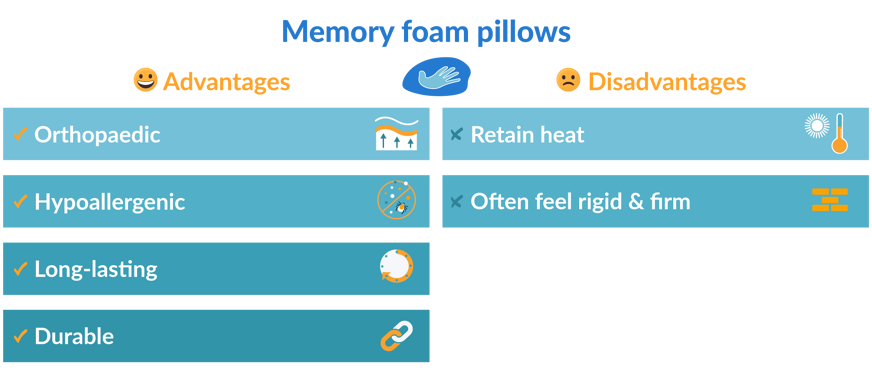 Bamboo memory foam pillows tend to have an ergonomic design to help combat neck pain or back pain.
Pillows with memory foam layers are generally firmer and offer more support.
But some, like the Panda pillow, offer the perfect combination of comfort and support.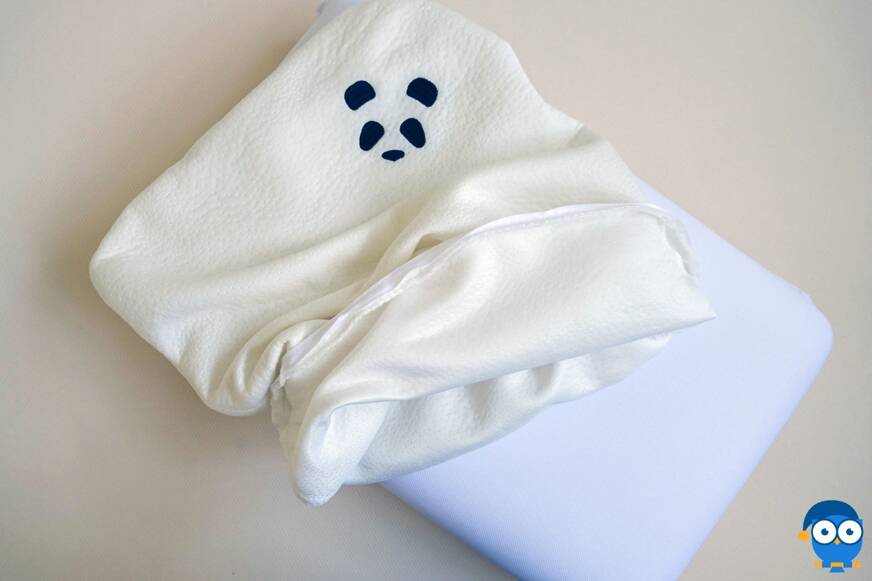 Shredded memory foam pillows are a little softer - though less supportive.
The Aeyla FOAMO pillow is a good shredded memory foam bamboo option.
The bamboo cover is soft and silky, making it gentle on your skin.
Many bamboo memory foam pillows are infused with other materials, like gel or charcoal, to aid breathability and help regulate temperature.
On the downside, memory foam bamboo pillows are a tad more expensive and they're often prone to off-gassing.
This is normal with memory foam products.
Off-gassing only occurs with new products once unpacked and usually disappears within 12 - 48 hours. ⏰
Microfibre or hollow fibre bamboo pillows
Bamboo pillows with a microfibre or hollow fibre fill are a cheaper option that's still quite soft and comfortable.

Like bamboo, these polyester-based materials are also hypoallergenic and resistant to dust mites, making them a great choice for people prone to allergies. 🤧
Microfibre pillows are often marketed as down-alternative pillows as they're fluffy and can be squashed up.
On the downside, microfibre and hollow fibre aren't as breathable as other materials and tend not to last as long.
Of the two, microfibre would be the better-quality option.
In what sizes are bamboo pillows available?
Bamboo pillows are usually available in most standard sizes. 🇬🇧
The most common UK pillow sizes are:
Standard size: 50 x 75 cm (19.6 inches x 29.5 inches)
Super king-size: 50 x 90 cm (19.6 inches x 35.4 inches)
These standard-size pillows should generally suffice.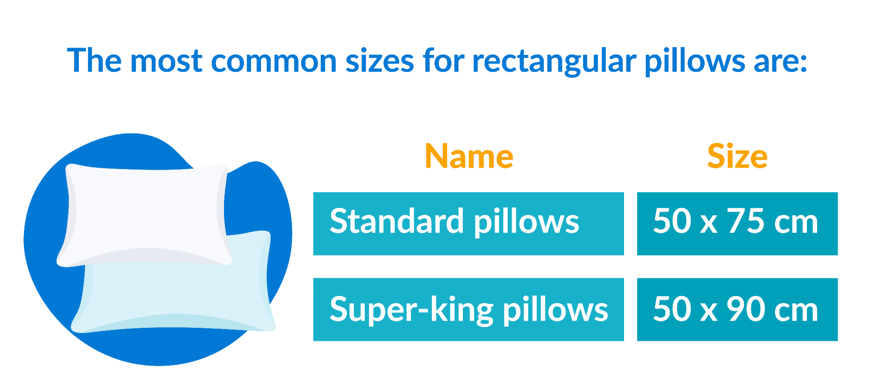 But, if you have a unique body type, sleep on an unusually-sized bed, or need something specific like a neck pillow or wedge pillow, you may need to look for a custom pillow.
What do bamboo pillows cost?
Bamboo pillows are often very affordable but generally range in price from about £20 - £100.
Remember that you get what you pay for!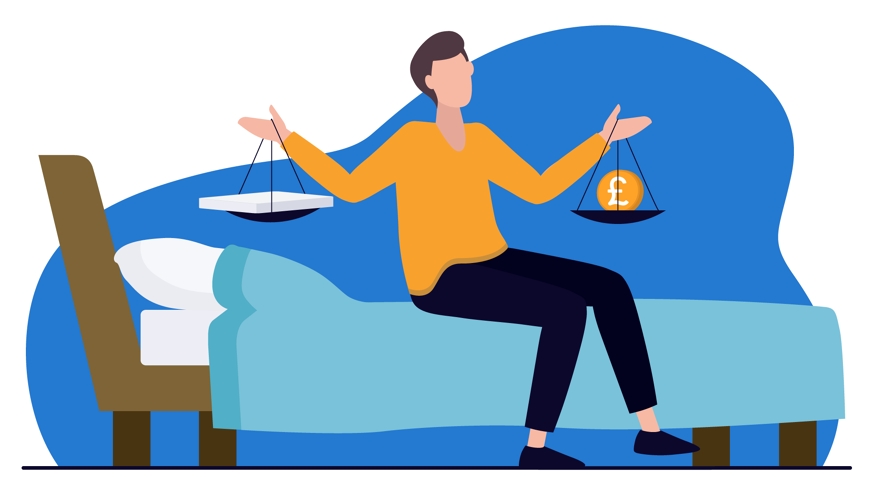 Cheaper pillows may not last as long or be as comfortable as more expensive ones.
When it comes to pillows, it's worth to invest in a good one that will last you for years.
That said, just because a pillow is expensive doesn't mean it's high quality. 🤷‍♀️
It's always important to consider the materials used and opt for the highest quality that fits within your budget.
Bamboo pillow discount codes
Occasionally, you'll find great promotions on a bamboo pillow. 🤑
Brands like Panda London tend to offer sales for big bank holidays!
If you're looking to invest, waiting for a good sale or coupon code can make sense.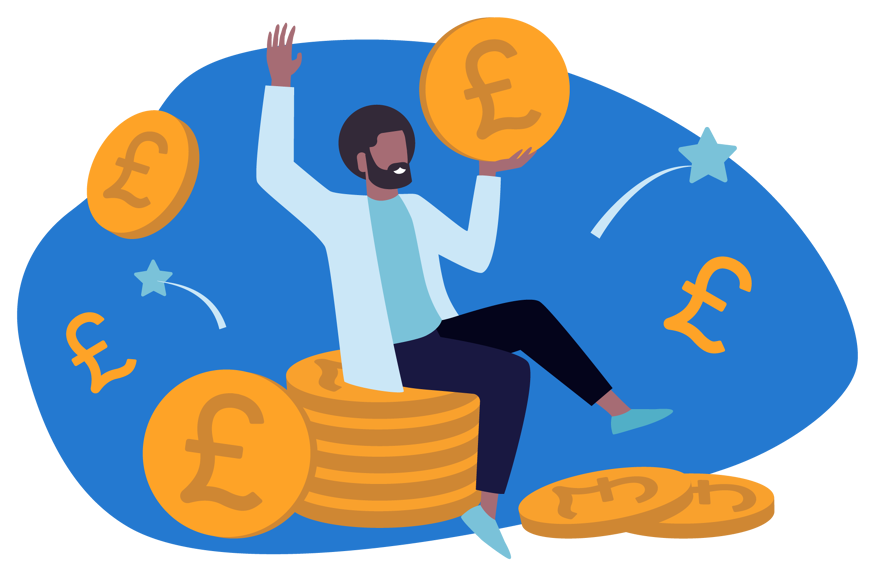 Remember to apply your coupon code upon checkout to get the discount you deserve! 🛒
Also, check out our discounts page for an overview of all the best mattress and bedding discounts in the UK.
How to choose a bamboo pillow
Now that you know a bit more about bamboo pillows, let's talk about how to choose the best bamboo pillow for your needs.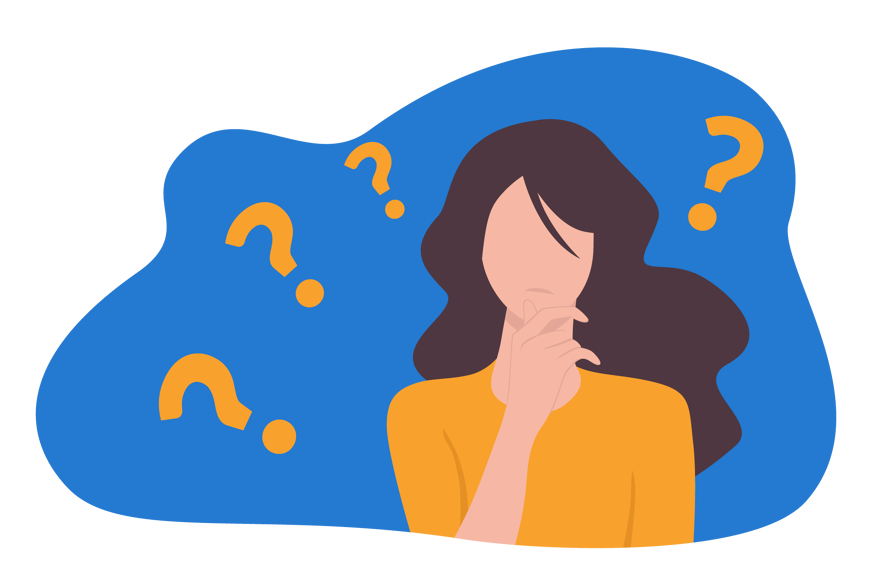 Here are a few things to keep in mind. 🧠
Choosing your preferred pillow fill
As we mentioned above, bamboo pillows often contain various pillow fills.
These could include:
Shredded bamboo fabric
Small pellets of bamboo fabric
Memory foam
Down or feathers
Hollowfibre or microfibre
The pillow fill greatly affects the comfort and support your bamboo pillow can offer.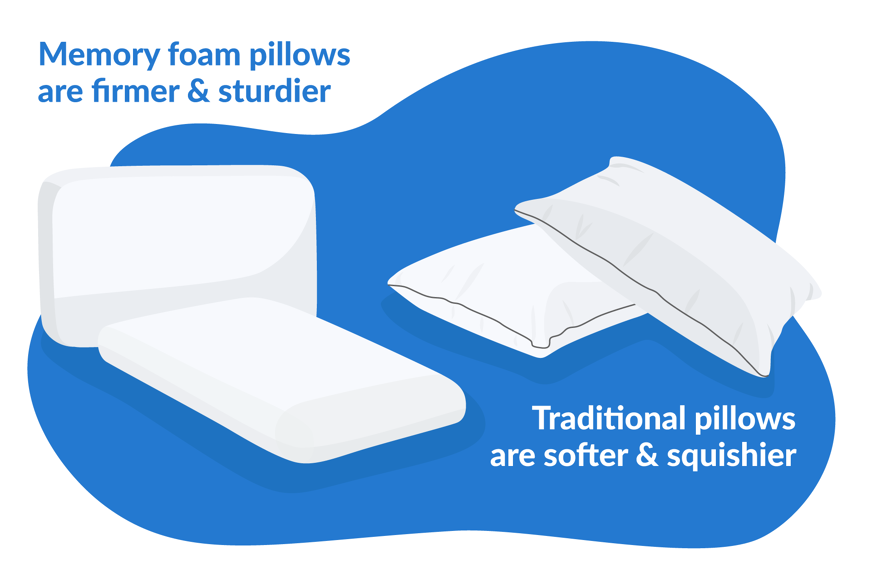 If you're looking for an eco-friendly pillow, it's also essential to consider the environmental impact of the other pillow materials. 🌿
Consider your sleeping position
While bamboo pillows are well-suited to a range of sleeping positions, the shape and size of your pillow will depend on your preferred position.
You need to consider:
Loft (how high or low a pillow is)
Support
Firmness (how firm or soft & squishy the pillow is)
Mouldability or adjustability
These factors will affect how well-suited the people will be for you and your sleeping position.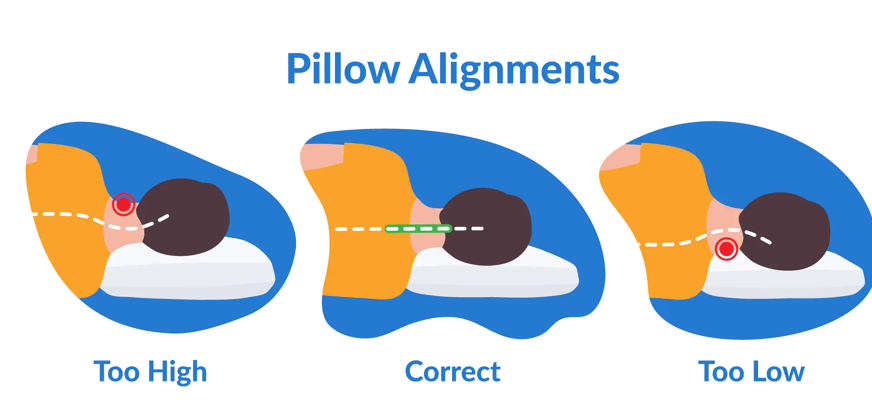 As a general guideline:
Side sleepers generally need a higher-loft, firmer pillow with more support to keep their head and spine in alignment.
Back sleepers do well on a medium-firm, medium-loft pillow that supports the spine's natural curve.
Stomach sleepers need a thinner, softer pillow that won't put too much pressure on the neck.
People of larger build generally also need thicker and firmer pillows. 🏋️‍♀️
Adjustable loft pillows are a great option for people who aren't sure what type of pillow is best.
Adjustable pillows generally contain layers of foam or shredded foam, allowing the sleeper to add or remove content to best suit the preferred sleeping position.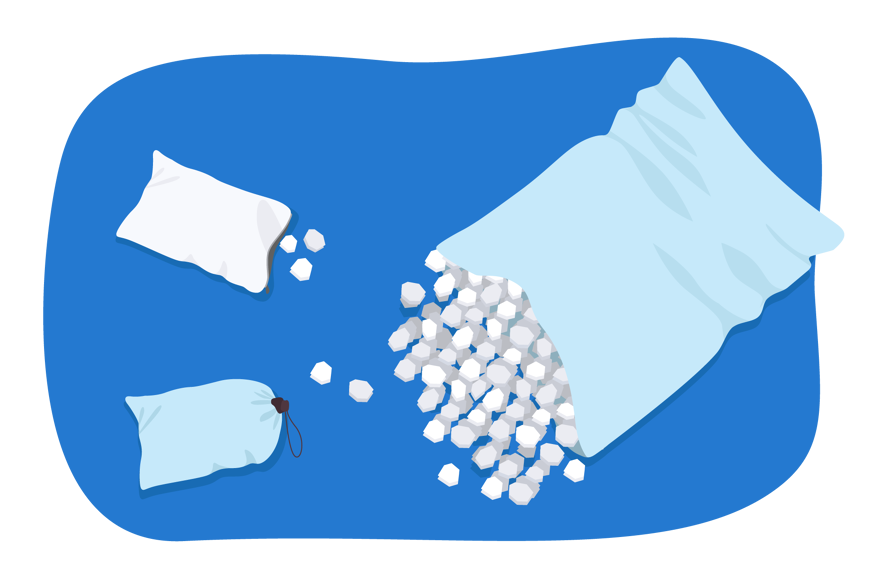 The Martian Dreams is a bamboo pillow with adjustable memory foam fill.
BUY MARTIAN DREAMS BAMBOO PILLOW£ 31.99
Bamboo fibre quality
As we've seen above, not all bamboo fibre is created equal.
While all bamboo fabrics should be soft and silky, the environmental impact of the different manufacturing processes does differ remarkably. 🌎
If eco-friendliness is a decisive factor, it's worth looking at this in more detail.
Bamboo linen is the top choice for quality, durability, and eco-friendliness.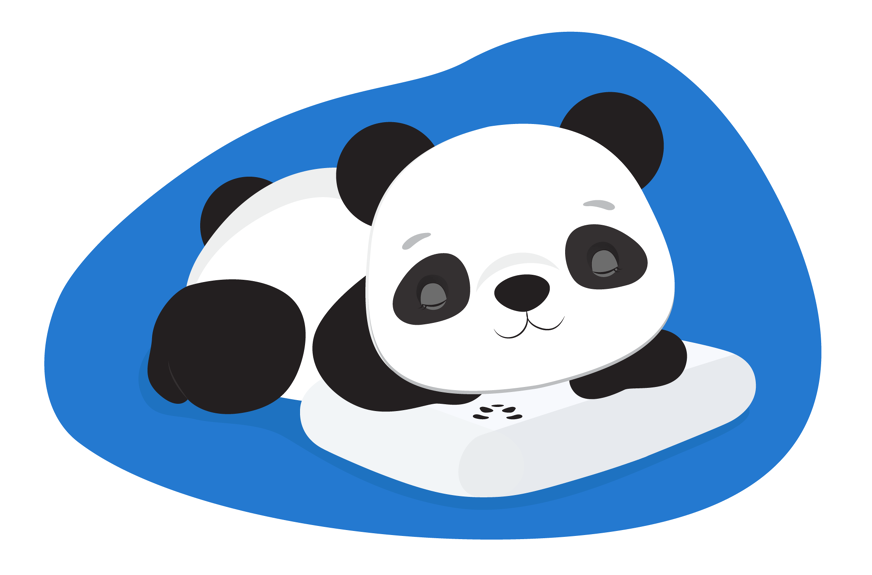 How to care for a bamboo pillow
Caring for a bamboo pillow is similar to caring for any other type of pillow. 🧽
How to wash a bamboo pillow
Whether or not you can wash your actual pillow depends on the fill material.
Most bamboo covers are machine-washable, but you can also spot clean the cover with a mild detergent if it gets dirty.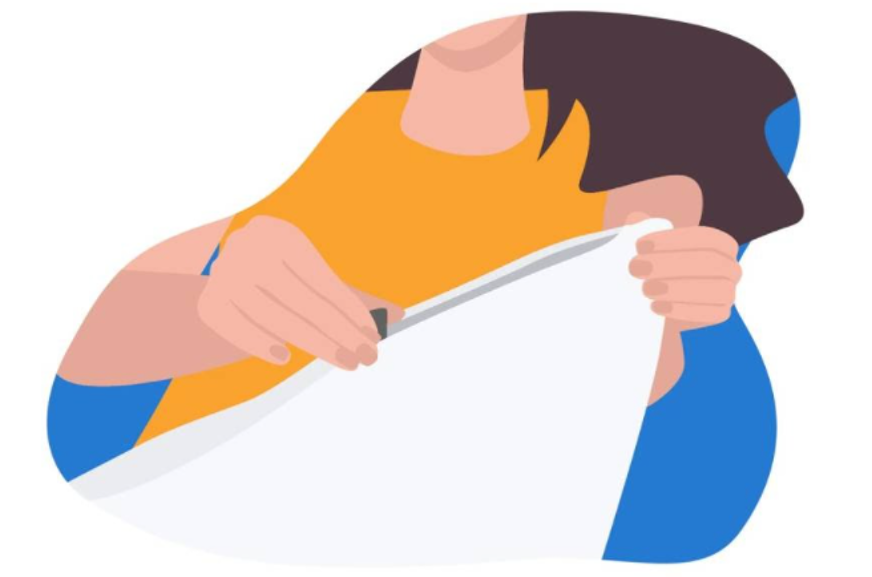 We'd always recommend using your pillow with a washable cover that you can pop into the washing machine at least once a week or every two weeks. 🛀
Also, always check your product-specific care guidelines.
This will tell you if you can wash the actual pillow.
How to fluff a bamboo pillow
If you have a bamboo fill pillow, you may need to fluff or shake the pillow to keep it from going flat.
You can also put it in the dryer on low heat to fluff it up again. 🌵
You should store your bamboo pillow in a cool, dry place if you're not using it.
Bamboo versus other types of pillows
So you're considering a bamboo pillow, but you've never slept on one?
Going through a few pillow comparisons may help!
Let's consider some popular options. 🔎
Bamboo pillows vs memory foam pillows
Memory foam pillows are popular for people who want a comfortable pillow.
The memory foam conforms to your head and neck, providing optimal pressure relief and support.
However, memory foam can often feel quite firm and rigid.
It can also trap heat, making it a bad choice for people who sleep hot. 🥵
Gel memory foam pillows are a popular alternative, where the standard memory foam is infused with gel beads for enhanced cooling.
The Simba Hybrid memory foam pillow is also a great option for a softer, more comfy feel.
25% OFF 2 SIMBA HYBRID PILLOWS
Bamboo pillows versus down pillows
Down pillows are a good choice for people who want a soft and fluffy pillow.
However, down often leads to allergies, so it's not a great choice for people who frequently struggle with dust mite allergies. 😷

Down pillows can also be quite expensive.
One of our favourite down pillows is the Hypnos Feather and Down pillow. 🦆
Bamboo pillows versus latex pillows
Latex pillows are a good choice for people who want a firm pillow. 🧱
The latex filling is also hypoallergenic and breathable, making it an excellent choice for hot sleepers and people prone to allergies. 💨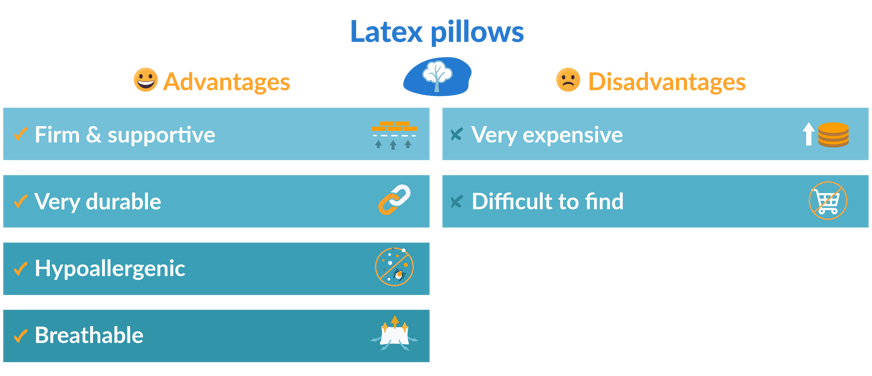 That said, latex pillows are costly and not as common as other types of pillows.
The Relyon Latex Pillow is a good option. 👌
Bamboo pillows versus polyester pillows
Polyester pillows are a cheaper option but still quite soft and comfortable. 💸
The polyester filling is also hypoallergenic and dust-mite-resistant, making this a great choice for people prone to allergies.
On the downside, polyester is not as breathable as other materials, so it's not the best choice for hot sleepers.
These pillows also generally don't last as long. 🗓
Kally Sleep makes some great budget-friendly pillows with polyester fill.
The Kally Adjustable Pillow is one of our favourites.
Should you buy a bamboo pillow?
We're big fans of bamboo pillows - the silky-soft feel is hard to beat and guarantees a good night's sleep. 💤
But, we also think it's important to consider the real environmental impact of your pillow choice.
Don't fall for a product marketed as 'bamboo' if it hardly contains bamboo, and make sure you consider the manufacturing process as well.