How we test products
Our mission is to take the guesswork out of finding the perfect sleep products.
We've dedicated hundreds of hours to testing mattresses and sleep accessories, and rely on a team of testers of differing weights, temperature preferences, and sleeping positions to evaluate each product.
Tested products are granted the Sleep Hero tested stamp of approval, a mark of our review's reliability.
If we haven't personally tested a product, please be assured that we invest significant time and energy into scouring the UK market and researching the best recommendations, and we work with a team of sleep experts who review our articles, ensuring that the insights we provide are not only relatable but also reliable.
Why is sleeping on your stomach so bad for you?
Sleeping on your stomach is not the ideal position for your body. This is the position where you'll develop the most back problems, largely caused by a hollowing of the back, which strains your spine. In the long germ, this results in lower back pain. This problem is exacerbated if your mattress is too soft or your pillow too thick and fluffy.
You may also develop breathing problems as your rib cage as less space to open.
If you want to continue sleeping in this position, then we can help you choose the ideal mattress.
But if you want to break the habit of sleeping on your stomach, here are some tips that can help you:
Try to fall asleep on your back or your side. If you wake up on your stomach, turn to your back and side again before going back to sleep.
If you try to fall asleep on your side, hug a pillow. This will make it more difficult for you to roll over onto your stomach.
If you sleep with a partner, ask him/her to move you back on to your side or back during the night (if your partner happens to wake up during the night).
The importance of stability
Sleeping on your stomach increases the pressure on your upper body. This can not only lead to restless sleep but also to severe back pain if the mattress cannot properly reduce and relieve pressure points. This is why stomach sleepers need to choose a mattress with high stability and good support.
Another difficulty with stomach sleepers is that they necessarily have to turn their head to the side while sleeping. The neck area is thus heavily overloaded and no longer forms a uniform line with the spine.
To rectify this, it is very important that people who sleep on their stomachs also choose the right pillow (see below). It also suggests that a mattress must offer particularly good stability in the neck area.
Some mattresses offer contour zones, which will be able to offer that necessary stability. Contour zones support your body as you'll sink in more in some areas than in others. This keeps your spine straight and stable.
New generation foam mattresses are recommended for stomach sleepers. The combination of memory foam with other foam layers ensures optimal body adaptation and good pressure relief in all the necessary areas.
Mattresses that consist of latex in the top layer are also very suitable, as this provides good pressure relief and cushioning, resulting in a very stable body position.
Choosing the right pillow
Many stomach sleepers choose the wrong pillow. They may spend a lot of time trying to choose the right mattress but completely forget that the right pillow is equally important, especially for stomach sleepers.
Since stomach sleepers sleep with their head to the side, which adds strain to the neck area, the right pillow is of the utmost importance.
You need a pillow that is quite flat and not heavily filled. As your body lies flat on the mattress, you need a pillow that supports the neck, while still allowing you to lie as flat as possible.
If the pillow is too high, then you will strain your cervical spine and promote further pressure points. This will increase neck pain.
Of course, other factors such as adaptability to your head shape, cooling, and comfort are also important when choosing your pillow. But if you sleep on your stomach and want to prevent tension and pain, then making sure the pillow is low enough to keep your body as flat as possible is the most important thing to consider.
You may also consider sleeping without a pillow, which will help rebalance your spinal position.
A quick tip: A small flat pillow placed under your stomach can also help avoid a hollow back.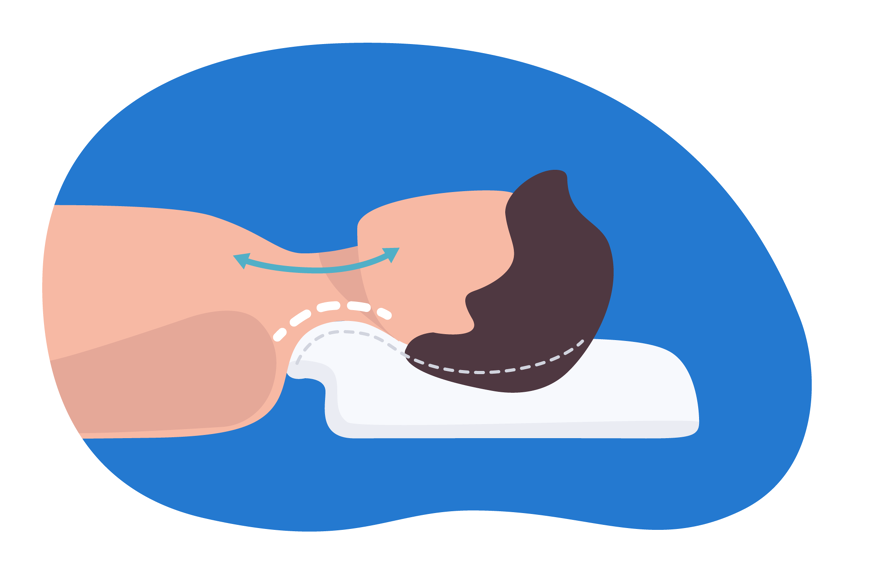 The right degree of firmness
The right degree of firmness plays an important role in every mattress purchase. If you choose a mattress that is too soft or too firm, you'll feel this in the first few weeks through back and neck pain.
A mattress that's too soft will allow your body to sink in more profoundly in the abdominal region, creating a hollow back and causing your spine to sag. This results in back pain. To prevent this, it is advisable to choose a firmer mattress. But if you choose a mattress that's too firm, then your spine won't be optimally aligned either, again leading to back pain.
If you sleep on your stomach, then the ideal degree of firmness would lie between 5 and 7 on our Sleep Hero firmness scale. Your body characteristics (body weight, height) are also important factors to consider. Light-weight sleepers can choose a slightly softer model (5 - 6.5), while heavier-weight sleepers can choose a slightly firmer model (6-7).
It is important that the right mattress offers the right degree of firmness as well as the required stability. It should also be made of high-quality materials.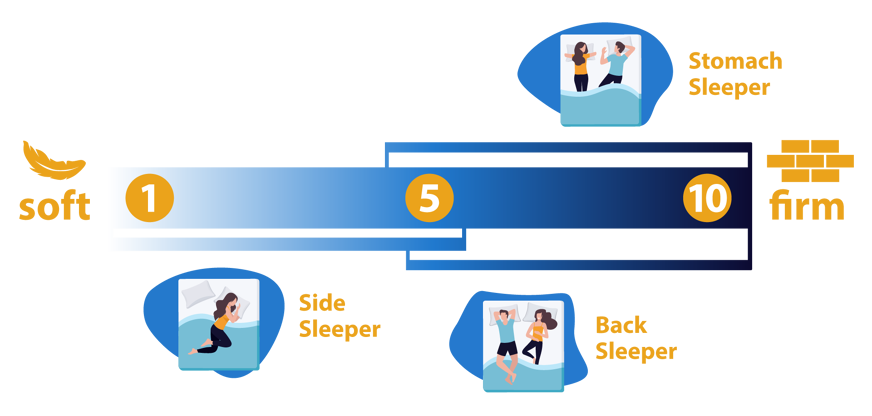 Conclusion
We would recommend a mattress that is both stable and that adapts well to your body.
The combination of firmer and softer foams is also ideal. Make sure your mattress has a stable, springy top layer and a soft and comfortable foam layer second layer. Adaptable foams such as memory or gel foam and stable base foams such as cold foam or PUR foam are recommendable.
With this combination, you'll be able to enjoy your sleep and prevent back and neck pains.