Our Simba Hybrid video review
Only have a minute? Check out our video review of the Simba Hybrid. 👇
How we test products
Our mission is to take the guesswork out of finding the perfect sleep products.
We've dedicated hundreds of hours to testing mattresses and sleep accessories, and rely on a team of testers of differing weights, temperature preferences, and sleeping positions to evaluate each product.
Tested products are granted the Sleep Hero tested stamp of approval, a mark of our review's reliability.
If we haven't personally tested a product, please be assured that we invest significant time and energy into scouring the UK market and researching the best recommendations, and we work with a team of sleep experts who review our articles, ensuring that the insights we provide are not only relatable but also reliable.
Simba mattress composition
The Simba mattress is a hybrid pocket-sprung foam mattress that combines high-quality pocket springs with multiple layers of foam.
The layers of the Simba Hybrid (excluding covers) are:
Open-cell, graphite-infused Simbatex foam
2000 Aerocoil conical pocket springs across 13 zones
CertiPur stability layer
No roll-off SupportCore base with up to 1000 barrel springs
Simba advertises the Hybrid as a 5-layer mattress, which includes the mattress's breathable top cover.
We look at the mattress cover in more detail further down. 👇
For now, let's look at the actual mattress layers in a bit more detail.
Simba Hybrid mattress layers
We'll look at the cover in more detail further down.
For now, here are the actual mattress foam and spring layers/
1. Top comfort layer of graphite-infused Simbatex open-cell polyfoam
The top layer of the mattress is made from a soft, open-cell polyfoam called Simbatex.
This layer, with its open-cell structure, is much more breathable than closed-cell memory foam and allows for greater airflow. 💨
It also includes graphite, which further enhances the foam's cooling properties.
2. A layer of Aerocoil pocket springs
Up to 2000 mini pocket springs (2.5 cm in height) are positioned right under the comfort layer, providing bounce, high body adaptability, and even pressure distribution.
Mini pocket springs tend to offer better body adaptability than full-size springs do.
These springs are conical, allowing them to compress a fair bit. 🌀
The individual coils are enclosed in polyester fabric pockets, which increases motion isolation and protects the surrounding foams.
The pocket springs are hidden within the mattress so that you won't feel any discomfort.
3. A stability layer
A CertiPur foam layer acts as a transitional and extra stability layer between the Aerocoil spring layer and the SupportCore base layer.
In a previous version, this was made from high-density Simba-Pure foam with Edge Lift Technology and, before that, this layer combined memory foam with latex foam.
This is why Simba used to be called a pocket sprung memory foam mattress.
Since memory foam retains more heat than other types of foam, Simba changed the composition of their mattress to be more breathable overall.
4. SupportCore base layer
The base layer of the Simba Hybrid is made of up to 1000 durable barrel springs.
These provide firm edge support, meaning you can enjoy the full width of the mattress at all times.
The additional springs also allow for better airflow, again enhancing the overall breathability of the mattress.
Who is the Simba Hybrid most suitable for?
We really enjoyed sleeping on the Simba Hybrid & would highly recommend it.
But, no mattress will be suitable for everyone.
You'll love the Simba mattress if you:
Are of light or average weight.
Enjoy sleeping on your back or side.
Are looking for orthopaedic support.
Are a heavier sweater.
Are a restless sleeper.
But, there are a few drawbacks:
The mattress is quite heavy, so it might not suit those with physical difficulties (the mattress has to be turned regularly).
The mattress is quite expensive, so it might not be suitable for those on a low budget. We'd suggest looking at the cheaper - but still high quality - Silentnight mattresses instead.
Need a recap?
Here is a quick overview of who the mattress is most suitable for - and who it isn't:
Different types of sleepers
The Simba mattress is most suitable for:

Light or average-weight sleepers

Side or back sleepers

People looking for orthopaedic support

Heavier sweaters

Restless sleepers

The Simba mattress is less suitable for:

The elderly or people with physical difficulties

People on a budget
Simba mattress firmness
The Simba Hybrid has been designed as a mattress with medium firmness - and we'd agree. 👌
We've placed it at 6 out of 10 on the Sleep Hero firmness scale, where 1 is the softest and 10 is the firmest.
Some of our test sleepers perceived the mattress as slightly firmer, but this will depend on your body size and weight. ⚖️
We'll go into more detail on this further down.
Measuring sinkage depths
To do an in-depth Simba mattress review, we've measured how deeply we sank into the foams in different sleeping positions.
This allows us to gauge how the mattress responds to body weight and how much support it gives.
When doing our measurements, we always make sure to take readings at the same place:
For example, if sleeping on the stomach, we measure at the stomach.
If sleeping on the back and sides, we measure at the shoulders and hips.
This ensures fair and accurate readings.
The values below are based on the body measurements of one of our test sleepers - 182 cm (5 feet and 9 inches) and 72 kg (158 lbs).
| | |
| --- | --- |
| Position | Depth of sinkage |
| Lying on the back | 6 cm (2.3") |
| Lying on the side | 7 cm (2.7") |
| Sitting on the edge | 9 cm (3.5") |
| Standing in the middle | 16 cm (6.2") |
We had multiple other test sleepers who gave similar reports.
As you can see, there is a good amount of sinkage. 👍
This means that the mattress is definitely soft enough to accommodate lighter weight sleepers and adjust to different sleep positions.
In the side position, for example, there is more sinkage than in the back position.
This will ensure that the hips and shoulders sink in a little deeper than the rest of the body, providing optimal spinal alignment.
But, the mattress still allows for even weight distribution.
When standing on the mattress, a lot of weight is placed in one position and the foams sink in very deeply.
You can see this quite clearly in the image below. 👇
Of course, you're unlikely to ever stand on your mattress, but measuring this helps assess the bed.
When lying on the back, though, the weight is distributed over a larger area.
In turn, the foams only sink in a little to allow for a more comfortable sleep.
If the foams would sink in as deeply when lying on the back as they would when standing or kneeling on the mattress, the mattress would be too soft and would likely cause severe back pain.
Measuring the sinkage depths of the Simba has proven that this is a medium-firm mattress that allows for optimal spinal alignment no matter your sleeping position or body weight.
Firmness-wise, this mattress would be suitable for a wide variety of sleepers.
What does sleeping on the Simba Hybrid mattress feel like?
The combination of mini pocket springs and different foam layers allows the Simba Hybrid mattress to highlight the advantages of each of the materials used. ⭐️
Let's illustrate this:
The top layer provides a pleasantly soft lying feeling.
The conical pocket springs allow for even pressure distribution, eliminating pressure points and easing tension.
The SupportCore base enables edge-to-edge support, so you'll feel well-supported no matter where you lie.
This combination makes the Simba Hybrid an overall comfortable yet very supportive mattress that can help relieve orthopaedic concerns.
Optimal support for light and average-weight sleepers
You'll find the Simba Hybrid exceptionally comfortable and supportive if you're lighter or of average build.
All of our test sleepers - regardless of height, weight, or sleeping position - reported that they found the mattress comfortable to sleep on and that it supported their body well throughout.
The mattress was most comfortable when sleeping on the side and sleeping on the back.
In both positions, the mattress manages to offer the perfect mix of support and sinkage.
For example, look at the image of one of our back sleepers below:
You can see that the heavier parts of the body sink in a little more deeply, but the rest of the body remains well-supported.
This ensures that the spine remains straight.
Compare that with the image below of our side sleeper:
You can clearly see that the shoulders sink in a little more deeply.
This, again, allows the spine to remain straight. 🦴
As an aside, notice how the sleeper's position is affected by the pillow in the above images.
The pillow is too high for the back sleeper as the neck bends up. In contrast, the side sleeper should have a high loft pillow.
Pillows help with creating upper spinal alignment. Read our best pillows article for more information.
Optimal spinal alignment eliminates the risk of lower back pain or a build-up of tension.
Not firm enough for larger builds
Even though the Simba Hybrid is a medium-firm mattress that offers sensational support, it may not be firm enough if you're heavier or of a larger build.
This is because people of a heavier weight often require a firm mattress that can provide enhanced stability and support.
Pure pocket spring mattresses are a good alternative.
You can also consider firmer all-foam or hybrid mattresses, like the Nectar mattress or the Simba Hybrid Luxe.
Excellent edge support
You'll experience excellent edge support on the Simba Mattress Hybrid. 🏅
For our Simba mattress review, we had various people sit and lie near the edges of the mattress.
Everyone remained well-supported.
Often, mattresses (like the Emma Original) are stable and supportive at the core, but this firmness decreases towards the sides of the bed. 🤨
This is not the case with the Simba mattress.
The core layer of high definition Simba-Pure foam features additional Edge Life technology for enhanced edge support to keep the mattress firm no matter where you lie.
This means that you can sit or lie at the end of the mattress quite comfortably without feeling like you're falling off the sides. 🏔
This is excellent news if you like to make use of the entire width of your mattress or if you're sharing your bed with a partner.
Good for restless sleepers
Many bed-in-a-box mattresses rely on memory foam, which can be challenging to move around on. 💃
This is because memory foam has that distinctive memory imprint.
The foam moulds to the shape of your body and needs some time to "jump back into position" when you have moved.
Look at the images below that demonstrate the memory effect:
You can see that an imprint of the hand remains.
We did a similar pressure test with the Simba mattress.
Look at the images below:
You can see how beautifully the foams jump back into position.
The Simba Hybrid mattress will support you very well and give you that body-contouring support, but it won't give you that "sinking into the mattress" feeling.
This means you can toss and turn as you wish. 🥳
This also makes the mattress particularly good for restless sleepers.
Orthopaedic support
The above images demonstrate how well the foams bounce back, but they also indicate how supportive the mattress is.
The first image shows how deeply the stick is pushed in, but only one part of the mattress is affected. 🥊
This demonstrates that the Simba mattress has very high point elasticity.
It will mould to your body perfectly where needed, but the rest of the mattress will remain unaffected.
This means that you will receive soft cushioning & contouring exactly where required, while the rest of the mattress will remain supportive.
Excellent temperature regulation
The Simba mattress was designed with cooling in mind. 🆒
It has these cooling properties:
A knitted cover that enhances breathability.
Open-celled Simbatex foam with cooling graphite.
Pocket springs with natural ventilation channels, which increases airflow.
These features allow for improved breathability and enable air to flow freely through the mattress. 💨
This keeps you cool and comfortable all night long.
You won't feel hot and clammy on the Simba Hybrid, even on a hot summer's night. 🍉
Our temperature tests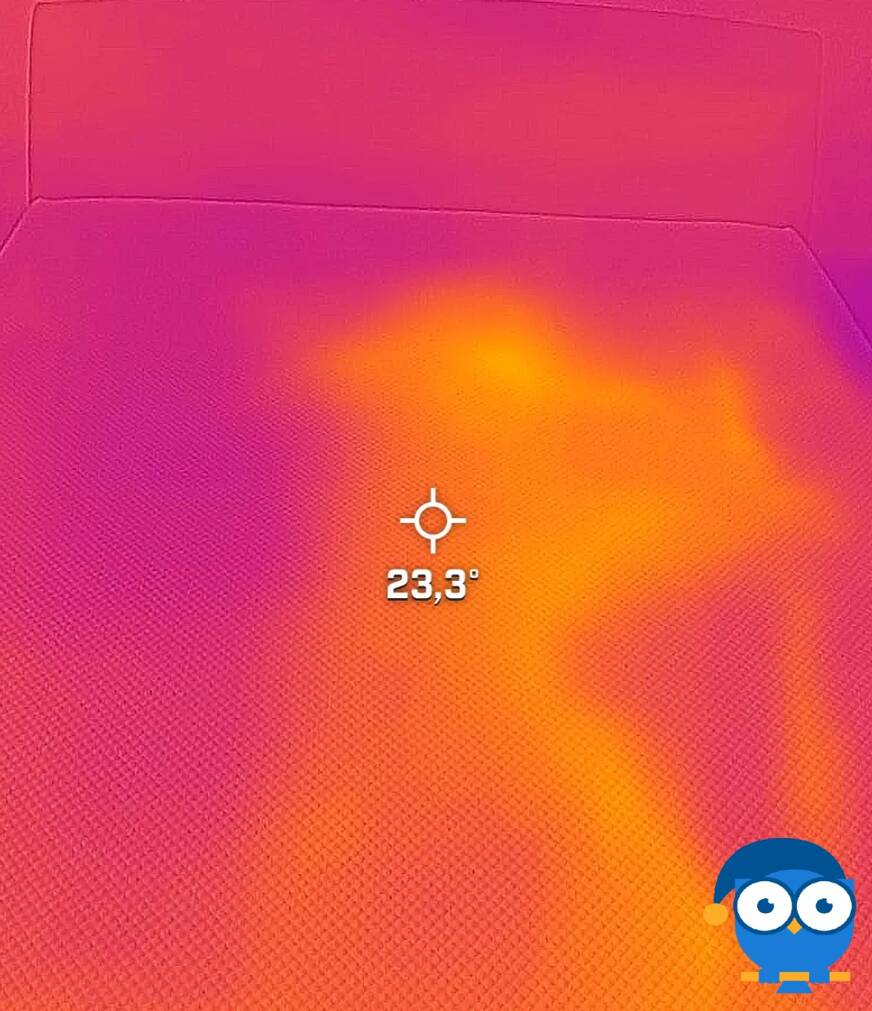 To better demonstrate the temperature regulation of the mattress for our Simba Hybrid review, we took some measurements.
Here, you'll see the results.
The image demonstrates that heat is stored exactly where the test sleeper lies.
But the rest of the mattress remains completely temperature neutral. 👍
As soon as our test sleeper moved to a different position, the previously heated area cooled down.
This proves that the mattress doesn't store excessive heat - and that you can remain cool and comfortable all night long.
Is the Simba Hybrid mattress good for couples?
Whether or not a mattress is good for couples depends mainly on its degree of motion transfer.
Motion transfer refers to the movement that is carried through the mattress.
If a mattress has low motion transfer, it means that movements are absorbed and dampened - and you won't be disturbed by your partner's movements at night.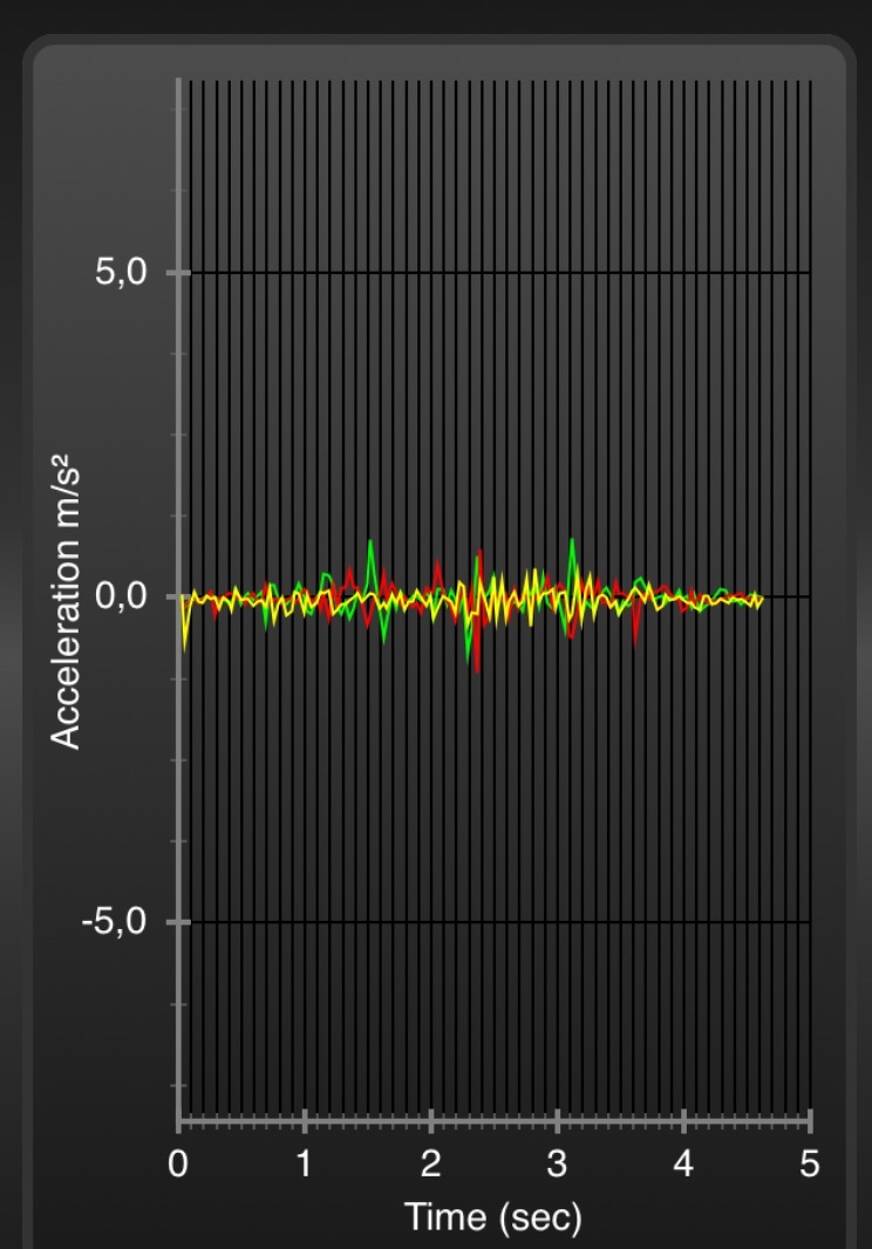 The previous version of the Simba mattress had exceptionally low motion transfer.
But the newer version - which focuses much more on enhanced breathability - does allow some motion to flow.
It won't be as noticeable as with a mattress like the GhostBed - but also not as still as pure memory foam mattresses.
You shouldn't be disturbed by your partner too much, but you may feel some movement now and then.
For this reason, we'd recommend opting for larger mattresses sizes, like the Simba Hybrid king-size or the Simba Hybrid super-king-size mattress. 👑
These larger sizes ensure that there's enough space between you and your partner, should you wish to have it.
Snuggling is always allowed, of course.
Simba mattress cover
The Simba mattress cover has been designed to be hypoallergenic and allow for greater airflow.
It is made of 100% polyester and includes grey sides and a white hand-knitted top cover. 🧶
We really liked how soft and cuddly the cover was!
The Simba cover also has four side carrying handles, which makes moving and transporting the mattress easier.
Only the single-size and small double mattresses don't have the handles.
Removable and washable top cover
You can remove and wash the top cover of the Simba Hybrid mattress cover at 40℃.
Tumble-drying is not recommended.
We love mattresses with removable and machine-washable covers as this is great for hygienic purposes. 🧼
The grey base fabric of the cover can be cleaned with a soft, damp cloth. 🧽
But to further safeguard your mattress, we highly recommend using a waterproof mattress protector.
Mattress protectors create an additional layer between your bedding and your mattress to protect against stains, spills, moisture, dirt, and bacteria.
The Simba mattress protector is great.
Check out the Simba mattress protector below:
Simba

Price from &nbsp

£ 64.35

£ (99 )

The Simba Mattress Protector is a thick and luxurious quilted mattress protector made of 200-thread-count cotton.

The Simba Mattress Protector is a thick and luxurious quilted mattress protector made of 200-thread-count cotton.

Price from

£ 64.35

(£ 99 )
Simba mattress sizes
Simba mattresses are available in the standard UK sizes, as well as select European mattress sizes. 🇬🇧 🇪🇺
The available Simba Hybrid mattress dimensions include:
Simba mattress for kids: 90 x 190 cm with a depth of 16 cm (6.2")
Simba mattress single: 90 x 190 cm (3' x 6'3")
Simba mattress European single size: 90 x 200 cm (3' x 6'6")
Simba mattress small double: 120 x 190 cm (4' x 6'3")
Simba mattress double: 135 x 190 cm (4'4" x 6'3")
Simba mattress European double size: 140 x 200 cm (4'6" x 6'6")
Simba mattress king-size: 150 x 200 cm (5' x 6'6")
Simba mattress European queen size: 160 x 200 cm (5'2" x 6'6")
Simba mattress super king-size: 180 x 200 cm (6' x 6'6")
The European sizes are great if you've moved from Europe or have bed frames or bedding in those sizes, but, usually, we'd always recommend sticking to standard UK mattress sizes.
Sticking to standard sizes makes finding suitable accessories much easier - and cheaper!
Simba mattress depth
The Simba mattress has a height of 25 cm (9.8 inches).
This is on par with other bed-in-a-box mattresses and most bedding dimensions.
The mattress was designed to carry a weight of up to 114 kg (250 lbs) per person. 🏋️‍♀️
Simba mattress prices
The Simba Hybrid mattress is more expensive than comparable bed-in-a-box mattresses, but it is on par with other luxury mattresses.
You can also look out for some Simba mattress deals to get a discounted price - more on this below. 👇
(Note: prices listed below are standard prices excluding any current coupons & discounts)
Simba mattress discount codes
Even though the Simba Hybrid is more expensive than other bed-in-a-box mattresses, you'll often find a Simba mattress sale. 🎉
If you're a new customer, you'll usually be able to get a "26% off all mattresses" discount.
But the brand also has other offers quite regularly.
Coupon codes are easy to use.
Simply apply the code upon checkout, and the discount will automatically be deducted from the total amount. 🤩
Don't worry; you don't have to browse the internet to find discount codes.
We collect all of the best discounts for you on our discounts page.
If there is a Simba discount currently running, we'll also display it throughout this article.
Simba mattress NHS discount
Simba Sleep offers a discount to NHS staff and Blue Light Card members.
You will need to provide some form of identification, but the Simba customer support team can assist with this process.
They're easy to contact via the online chat function.
Simba mattress UK delivery
The Simba Hybrid is a bed-in-a-box mattress. 📦
It is delivered rolled up, vacuum packed, and tightly sealed in a compact box that measures 107 x 50 x 50 cm (42" x 19" x 19").
Delivery is free within mainland UK and usually takes place within 1 - 3 working days.
Simba offers a next-day delivery service at an additional cost.
They also deliver to the Highlands, Northern Ireland, islands and other remote areas, but a delivery fee will apply here.
Your mattress will be delivered directly to your doorstep. 🚛
You can store your Simba mattress in its box for up to three months.
But:
Your 200-day trial starts with delivery, regardless of whether you unpack the mattress or not.
Can Simba remove my old mattress?
Simba offers a removal service, where they collect your old mattress when they deliver the new one.
Simply select the mattress removal option at checkout. 👩‍💻
How do I unpack my Simba mattress?
Your new mattress is super easy to unpack:
Open the box and take out your mattress.
Unroll the flattened mattress on your bed base.
Cut the plastic and break the vacuum seal.
Remove any other packaging.
Your mattress will begin inflating as soon as you've removed the vacuum seal. 🥳
Your mattress will have reached its full size within 3 - 6 hours, but sometimes it can take up to 72 hours for the mattress to expand completely.
Our Simba mattress took several hours to expand fully. ⏰
You can sleep on your mattress as soon as it's expanded.
Does the Simba mattress smell?
Our mattress didn't smell when we unpacked it, but you may notice a slight smell when you first unpack it.
This is called off-gassing, and it's totally normal with bed-in-a-box mattresses.
We'd recommend unpacking your mattress in a well-ventilated room and letting it air out until the smell dissipates. 🏡
Which bed base can I use for my Simba mattress?
The Simba mattress can be placed on top of any bed base, including adjustable bases, slatted frames, divan bases, or box springs.
If you're using a slatted bed frame, ensure that the slats are no greater than 7.5 cm (3 inches) apart so that your mattress is supported correctly.
Simba mattress trial period
Simba mattresses come with a risk-free 200-day trial period.
This is a significant trial period. 🎉
The industry standard is a 100-night trial period.
The trial period gives you the chance the test the mattress in the comfort of your own home to see if it's a perfect fit for you.
Generally, it will take your body a few weeks to get used to a new mattress. 🗓
This can be three weeks but can also take up to 6 weeks or longer, especially if your new mattress is vastly different to your old one.
How to return a Simba mattress
If you decide that the Simba mattress isn't right for you at any point during the trial period, you can return it for a full refund. 💷
To return the mattress, all you need to do is contact Simba customer service.
Collection and return will be organised by the company and is free of charge within the UK.
You don't have to keep any of the original packaging to return the mattress.
Once returned, you will receive a full refund within a few days.
Returned mattresses are recycled or donated to charities. ♻️
Should you buy the Simba Hybrid mattress?
The Simba Hybrid mattress is a high-quality, supportive, and comfortable mattress that offers the perfect night's sleep.
We thought it was one of the best mattresses we've ever slept on and would buy it again in a heartbeat. 💙
We would recommend the Simba mattress for:
Light- and average-weight sleepers.
People who sleep on their side or back.
People who like a medium-firm feel.
Heavy sweaters.
Restless sleepers.
Heavier-weight people, those of larger builds, or stomach sleepers are advised to make use of the risk-free trial period to see if the mattress can support them well enough.
Contact Simba Sleep UK
Customer service: To contact Simba Sleep directly for complaints, support, or queries, please e-mail them at hello@simbasleep.com or visit their live online chat. The customer services team is available Monday to Friday, from 9 am - 5 pm., and Saturdays from 9 am to 1 pm.
Registered office: Simba Sleep, The Stable Yard, 60 Petty France, Westminster, London SW1H 9EU