What is sleep meditation?
When we think of meditation, it is often in the context of sitting quietly, cross-legged, with eyes closed and deep in a trance. 🙏
Or, perhaps, you may think of movement meditation practices, like walks through the forest, yoga, or tai chi.
But there is another type of meditation that's become increasingly more important - sleep meditation.
At its core, sleep meditation is the practice of focusing our thoughts on peace and restfulness as we drift off to sleep at night.
There are different types of sleep meditation to explore, including mantra meditations, following a guided practice, or taking deep breaths while focusing on relaxation.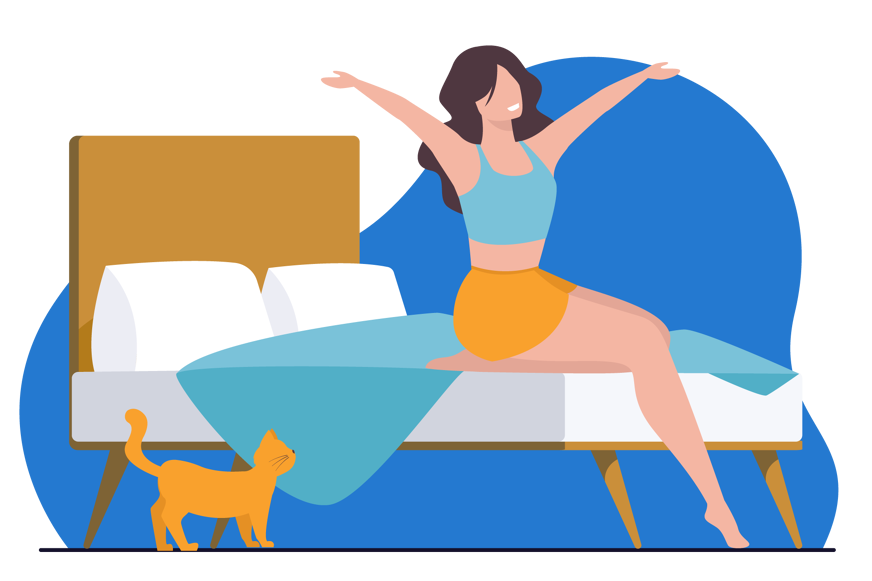 We explore all the different types of sleep meditation further down in this article. 👇
But, whatever technique you choose, the goal is always to achieve restful sleep and an escape from the daily stresses and pressures that keep us up at night.
Different types of sleep meditation
There isn't one single way to practice sleep meditation.
Instead, a handful of mindfulness practices can be used to help focus and relax the body, easing away the stresses of the day and helping the meditator achieve a more restful state for perfect sleep. 💤
Some of the most common types of sleep meditation include:
Affirmations and visualisations
Guided meditations
Bedtime stories
Binaural beats
Body scans
Breathwork
Delta waves
Hypnosis
Journalling
Mantra meditations
Music and soundtracks
All of these aim to switch off our monkey brains, focus on the present moment, deepen our breathing, and allow the body to relax for better sleep. 🐒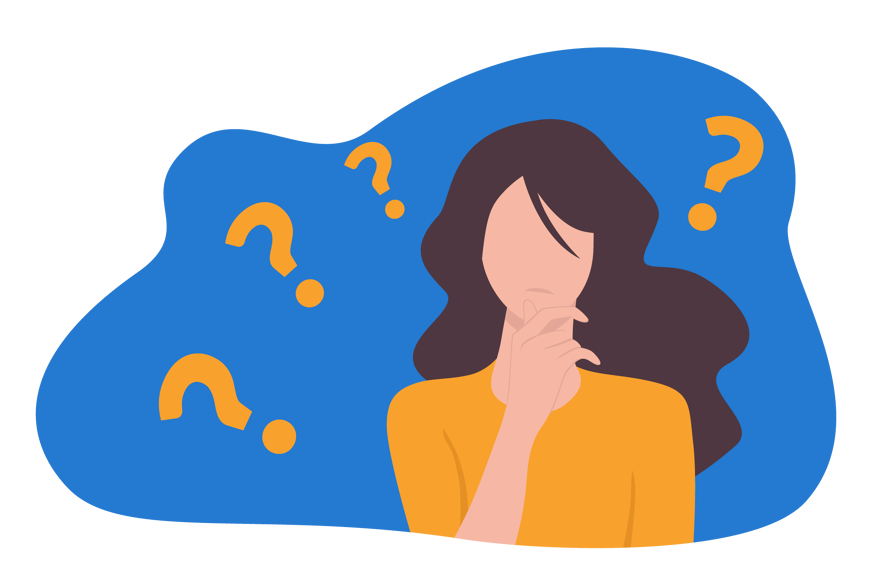 But do you need to meditate to sleep?
Why should you meditate for sleep?
Of course, sleep meditation is not mandatory.
Many people sleep just fine and can switch off from the day without trouble.
But even those individuals often have pre-bedtime rituals that help them relax and unwind, such as enjoying a warm bath, limiting screen time, or reading a good book.
Make your bathtime more relaxing with a convenient bath pillow.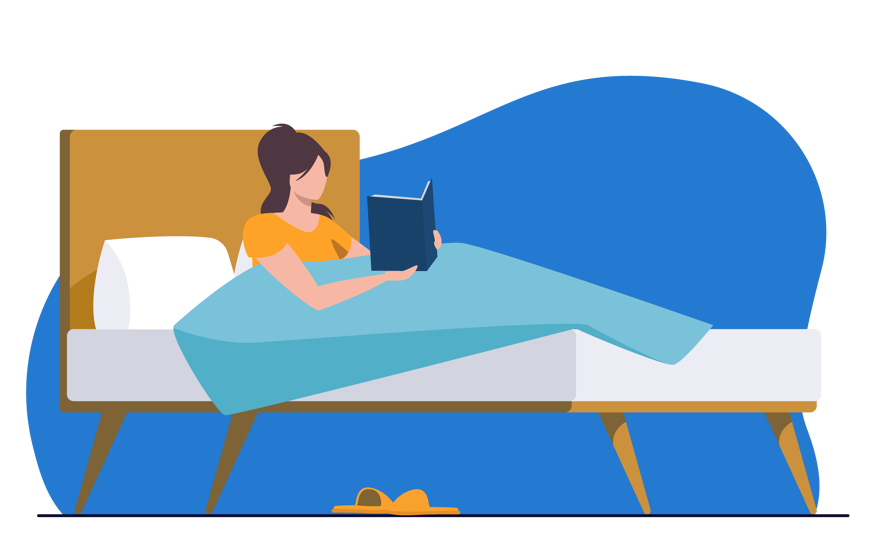 Sleep meditation is just one of the ways in which one can switch off from the day.
Benefits of regular meditation
That said, meditation and mindfulness practices have scientifically proven effects on mental health that demonstrate an increase in happiness and better sleep quality. 🧠
Regular meditation can help regulate our sleep-wake cycles, increase the amount of deep, restorative sleep we get at night, and decrease feelings of daytime fatigue.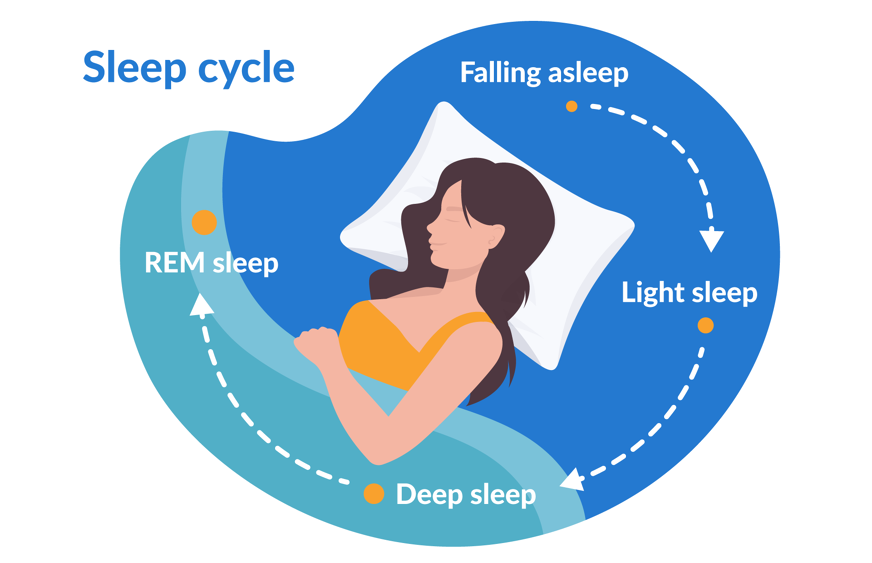 This likely happens because practising mindfulness and relaxation techniques help calm the nervous system, lessening stress and anxiety levels both during the day and while we are trying to fall asleep at night.
There are some theories behind this:
Some research suggests that meditation increases melatonin, which triggers sleep.
Further research suggests that meditation boosts the activity of theta waves in the brain, enhancing deep relaxation.
Meditation also activates the parasympathetic nervous system, slowing down breathing, heart rate, and blood pressure.
Furthermore, meditation can help decrease rumination and calm the monkey mind, helping to relieve stress and allowing for better sleep.
With all these benefits, it's no wonder that many experts now recommend adding a few minutes of meditation each day as part of a holistic approach to better sleep. ⏰
Meditating before bed not only helps to reduce stress and anxiety levels but also may improve the quality of your sleep, allowing you to fall asleep and reach the stage of deep sleep faster. This practice helps to relax the body and mind, giving you much-needed inner peace. Various studies also found a link between meditation and chronic pain relief.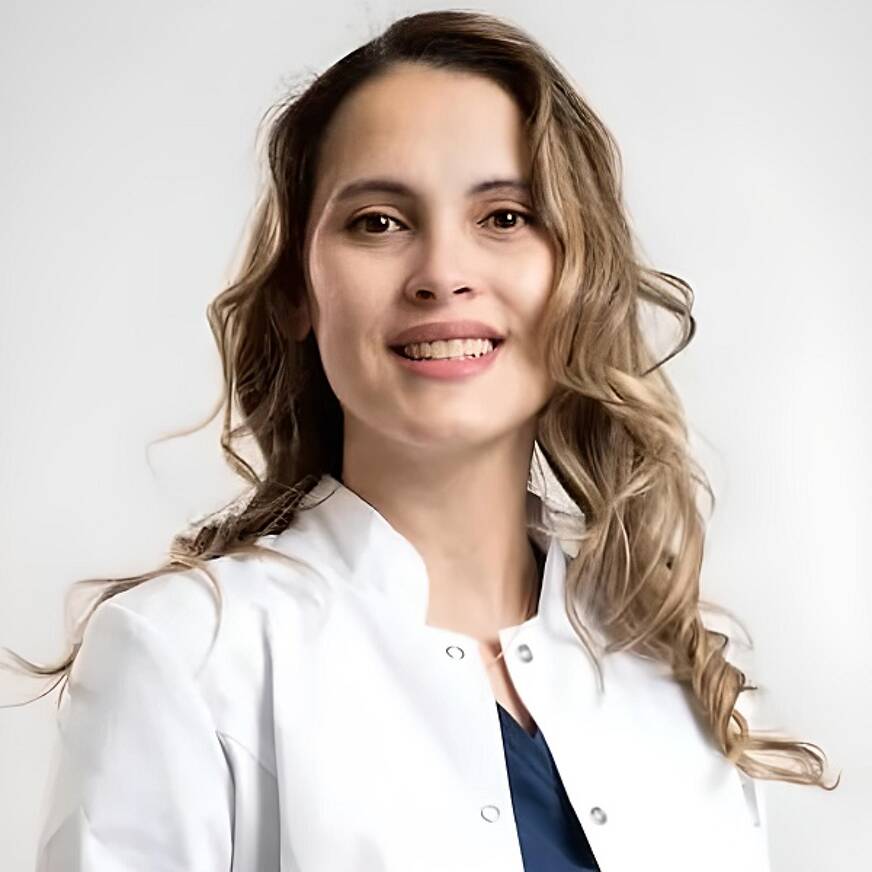 Benefits of sleep-specific meditation
While all of the above benefits can be seen with sleep-specific meditations, some sleep meditation practices - like bedtime stories, ASMR videos, or soundscapes - work specifically on calming an overactive mind.
By allowing users to focus on a story or particular sounds, the ever-active monkey brain is switched off, promoting relaxation and good sleep.
But how exactly should you practise sleep meditation?
Let's look at this next.
The best sleep meditation apps
We're not all master meditators, and many of us need some guidance when it comes to accessing the right techniques.
This is one of the many reasons meditation apps have become such popular sleep aids. 📱
They offer guided relief to help ease stress, anxiety, and insomnia.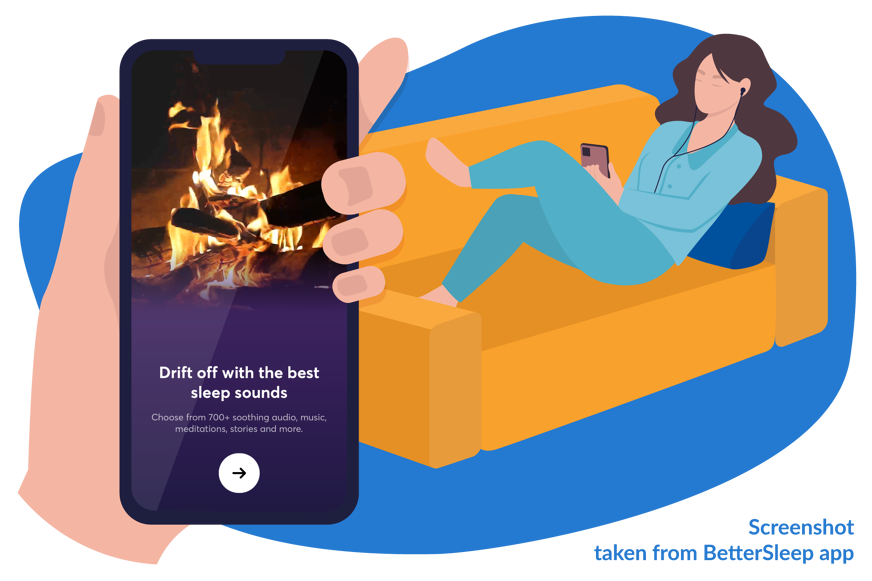 While there may be some downsides to using an app, which we'll discuss further down, meditation apps are perfect for beginners and people who benefit from pre-recorded and curated content.
Pre-recorded and curated content is much more approachable than, for example, silent meditation or transcendental meditation, where you're fully reliant on yourself and the practices you've learnt.
Having a meditation teacher or recorded sounds by your side via an app makes meditation much easier to get into.
Below, we'll consider some of the best meditation apps that have a specific focus on sleep.
Aura
Why choose Aura: Wide range of content with customisable options
Trial: 7-day free trial
Membership costs: Choose a monthly (roughly £5) or annual (roughly £60) membership
Aura is an award-winning all-in-one app for sleep and well-being that personalises a user's experience with a custom quiz on sign-up.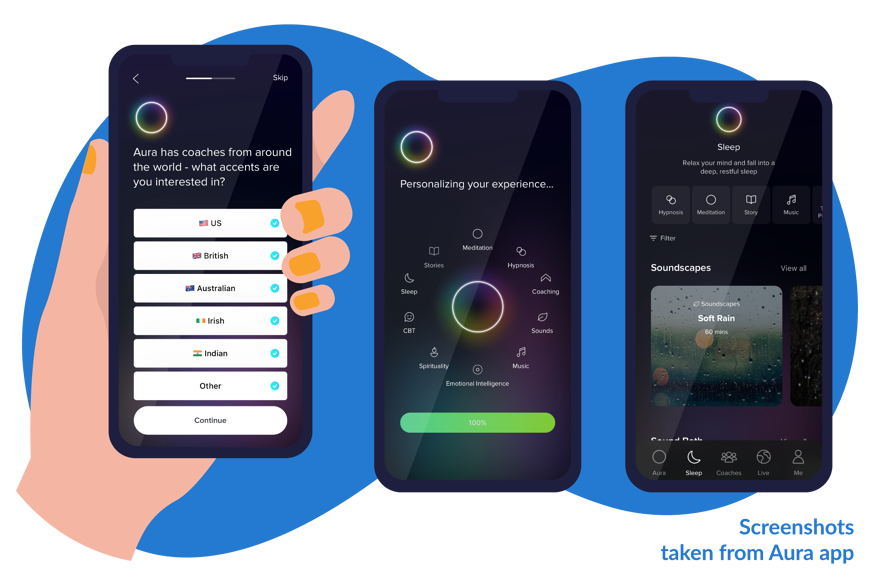 The quiz allows users to define:
Their primary purpose for using the app (reducing stress, sleeping better, healing, mindfulness, etc.)
Why these goals are important (to feel more rested, to have a healthier response to stress, to improve emotional health, etc.)
What type of content the user is interested in (prayer, cognitive behaviour therapy, hypnosis, ASMR, breathwork, etc.)
What accent the user prefers (American, British, Australian, Irish, Indian, or more)
What length of tracks the user prefers (short, medium, long, or all)
Users can still access a full range of content and filter from within the app, but Aura will customise the experience according to preferences.
App content is not free to access, but users can make use of a 7-day free trial before signing up for an annual subscription. 🗓
BetterSleep (formerly Relax Melodies)
Why choose BetterSleep: Specifically designed for sleep
Trial: 7-day free trial (not available on monthly subscription)
Membership costs: Choose a monthly (roughly £10), annual (roughly £60), or lifetime (roughly £250) membership
Unlike many of the other meditation apps that offer a range of content, BetterSleep has been specifically designed to enhance sleep.
It features a library of sleep sounds, white noise tracks, relaxing music, guided meditations for sleep, hypnosis, bedtime stories, and breathing exercises.
Users even have the option of recording their sleep to pick up sounds that may disrupt the quality of their sleep.
This may pick up irregular sleep patterns or sleep disorders that need medical intervention.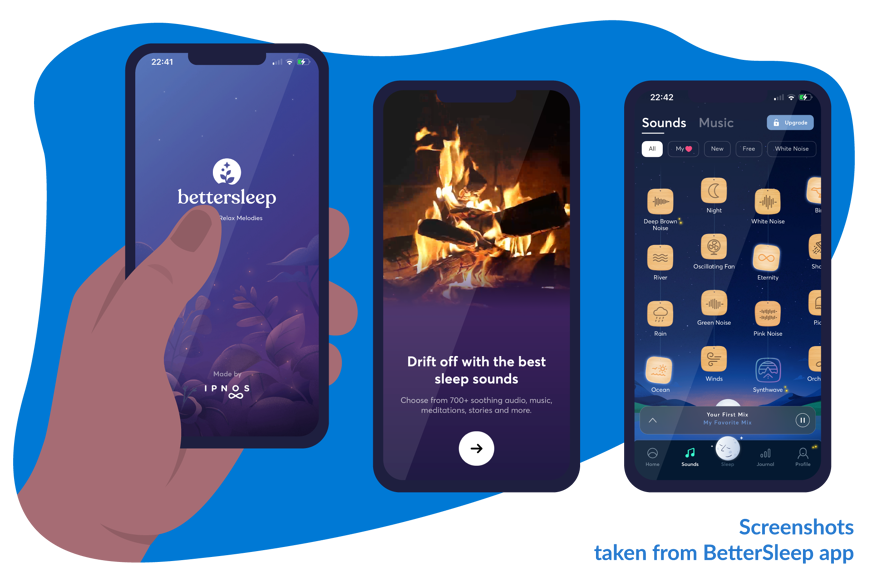 Like other meditation apps, BetterSleep asks new users what their primary goals are. ✅
But, all options are distinctly sleep-related and include goals like falling asleep faster, sleeping all night, relaxing, managing tinnitus, helping kids sleep better, enhancing focus, and ensuring better mornings.
BetterSleep also has the option of activating a timer that will automatically switch the app off after a certain period, making it ideal for falling asleep.
After a 7-day free trial, users can opt for a monthly or annual subscription.
Calm
Why choose Calm: Popular app with a variety of meditations
Trial: 7-day free trial
Membership costs: Choose an annual (roughly £40) or lifetime (roughly £400) membership
Calm is one of the most popular paid-for meditation apps, combining a variety of guided meditations, music, soundscapes, sleep stories, movement tracks, and mood trackers.
During the initial setup, new users can select a variety of reasons for accessing Calm, including sleep, stress or anxiety, learning to meditate, and personal growth.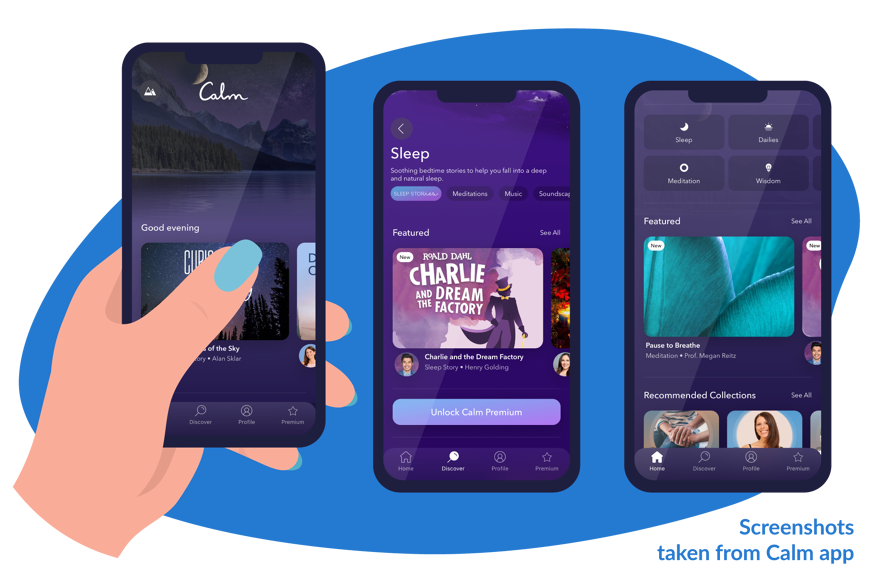 But all content can be accessed within the app itself.
Calm is free to download and comes with a 7-day free trial, after which users can sign up for an annual membership.
Headspace
Why choose Headspace: Specifically designed to teach mindfulness to beginners
Trial: 7-day free trial (for a monthly subscription) or 14-day free trial (for an annual subscription)
Membership costs: Choose a monthly (roughly £13), annual (roughly £70), or family (roughly £100 for 6 users) membership
Headspace is best known for teaching mindfulness and the art of meditation, but it also offers a library of guided meditations, sleepcasts, music, and sounds.
The app is science-backed, and, according to a Headspace study, just 10 days of using Headspace can increase overall happiness by 16%.
During setup, Headspace will ask whether new users are looking to be more present and mindful, sleep better, manage anxiety, reduce stress, or feel more calm and relaxed.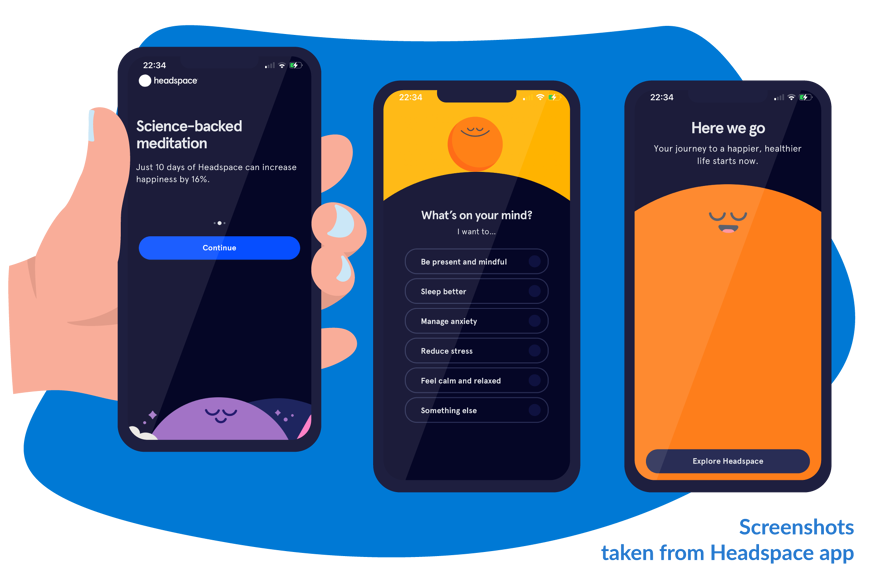 But, all app content can be accessed by everyone, and users can choose by topic (including meditation, sleeping, and movement) or settle for a daily recommendation. 👍
Headspace is free to download and comes with a 7-day trial, followed by a monthly membership, or a 14-day trial, followed by an annual membership.
Insight Timer
Why choose Insight Timer: World's largest free meditation app
Trial: N/A
Membership costs: Free to use, but there is a premium version for roughly £10 monthly or £60 annually
Insight Timer is one of the largest free meditation libraries in the world, making thousands of audio tracks available for users worldwide. 🌎
In addition to guided meditations, the app also features meditation timers, courses, live events, workshops, playlists, and stories.
The audio library is also brilliantly divided into a number of categories, such as anxiety, healing, yoga, and sleep.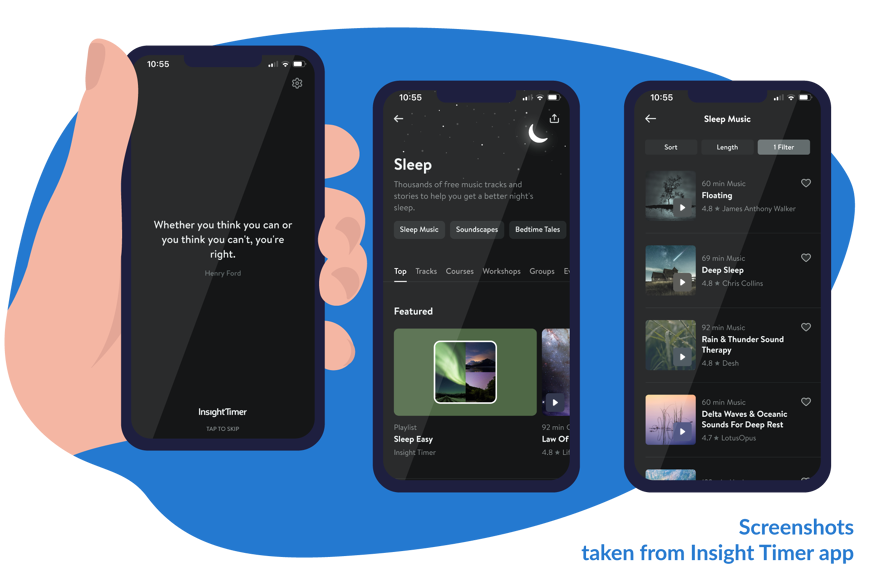 Within the sleep category, Insight Timer offers sleep music, soundscapes, bedtime tales, guided deep sleep meditations, and sleep for parents, which can be further filtered down by the narrator and length of audio.
Conveniently, users can also follow meditation teachers, bookmark favourite tracks, read quotes, track their moods, and engage with a worldwide community of fellow meditators.
Insight Timer is completely free to download and use, though there is the option of subscribing to premium content and accessing paid-for courses.
Pzizz
Why choose Pzizz: Sounds, music, or narration designed for sleep, nap, and focus times
Trial: N/A
Membership costs: Free to use, but the full library is only available on a monthly (roughly £8) or annual (roughly £50) membership
Pzizz is a sleep app that's quite different to the standard sleep mediation apps.
Upon opening the app, users can select one of three modes - sleep, nap, and focus.
Depending on the mode selected, the app will combine a playlist of sounds, narration, and relaxing music to help users sleep, nap, or focus. 💤
Users have the option of selecting the soundscape (the background music) they prefer and the narration they'd prefer, but they also have the option of switching off one or the other.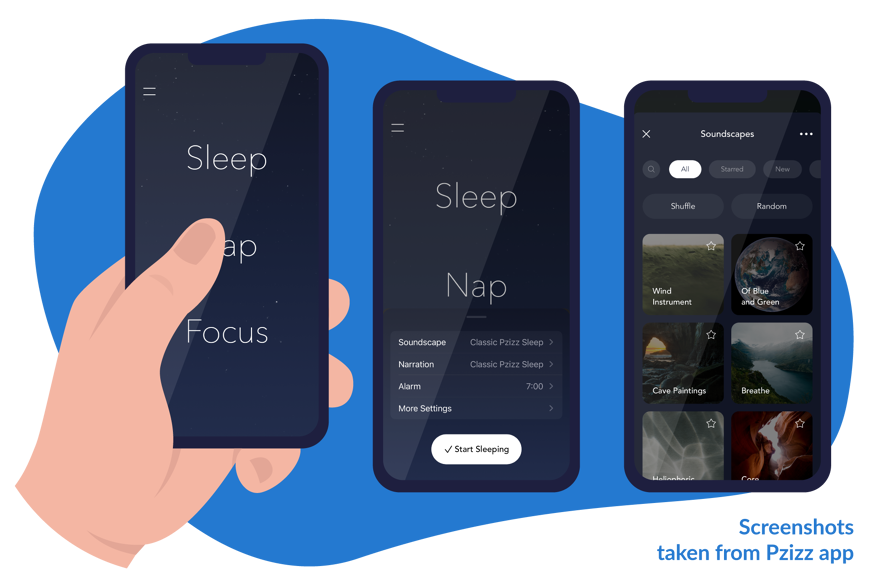 Conveniently, users can also set an alarm for the next morning, ensuring they're woken in a gentle way, and have the option of amending the timer for how long the meditation plays before switching off automatically.
The app is free to use, but access to the full library of sounds and narrations is only given with the purchase of monthly or yearly memberships.
Best sleep meditations on YouTube, Spotify, and beyond
While sleep meditation apps are tremendously popular, they're not the only way to enjoy guided meditations designed for sleep.
You can also find a range of sleep meditations available on platforms like Spotify, YouTube, and iTunes.
Let's take a closer look at some of the most popular sleep meditations and sleep meditation gurus on the internet.
Get Sleepy
Get Sleepy is a story-telling podcast designed to help listeners achieve a great night's rest.
New episodes are released regularly, so there's always fresh content to explore, and the stories offer a good range of themes and characters.
One of Get Sleepy's most popular episodes is a re-telling of the Mesopotamian Epic of Gilgamesh:
The Get Sleepy podcast is available via Spotify, Apple Podcasts, and YouTube.
Fans can also sign up for premium content and access merchandise via the Get Sleepy website.
Gabby Bernstein
Gabby Bernstein is a #1 New York Times bestselling author, podcast host, and international speaker.
She offers a range of more upbeat meditations and talks through her Get Gabby podcast, available on Apple podcasts.
While her meditations aren't necessarily sleep-related, she does offer a range of episodes to discuss meditation and well-being more holistically.
Listeners can access free meditations and talks on her podcast or by signing up for her email list, but she also sells full-length meditation albums via her website.
Goop
The Goop sleep meditation is a popular online track where meditation instructor Kate Waitzkin leads the listener through a cleansing breathing exercise to help settle in for sleep.
Listen to it here:
Goop itself, as Gwyneth Paltrow's lifestyle brand, isn't usually associated with meditations, but this quick-to-access sleep video has amassed over 300,000 views.
Jason Stephenson
Jason Stephenson is an Australian sleep meditation producer who helps listeners find inner peace, fall asleep faster, and wake up more refreshed.
His work is popular on YouTube, but fans can also access his tracks via Spotify or other meditation apps like Insight Timer.
Stephenson's meditation tracks combine spoken narrative with music and sound for an all-round hypnotic practice.
He has over 2.8 million YouTube subscribers, and some of his most popular tracks, like the below guided sleep meditation, have millions of views.
New work is released regularly, ensuring a stream of fresh content for fans.
Lauren Ostrowski Fenton
Lauren Ostrowski Fenton is a sleep meditation coach who releases her work on YouTube, Apple podcasts, and Spotify.
She has over 177k subscribers on YouTube, and some of her most popular videos, like the below ASMR video, have tens of thousands of views.
While all content is free, fans can donate via her YouTube page.
Tara Bach
Tara Bach is an author and meditation teacher who blends Western psychology with Eastern spiritual practices.
She's also the founder of the Insight Meditation Community of Washington and, along with Jack Kornfield, leads the Mindfulness Meditation Teacher Certification Programme (MMTCP) in 74 countries around the world.
While Bach offers a range of online resources, courses, and a regular meditation newsletter, her online meditation tracks are among the most well-known.
Her podcast is available via a range of platforms, including YouTube, iTunes, Google, Spotify, Soundcloud, and Stitcher, but most content is also available via the Tara Bach website.
Meditation content is free to access, but listeners can also offer donations or sign up for on-demand courses.
While she focuses on a range of topics, some of her meditations are also exclusively designed for sleep, guiding listeners with her calm, trance-inducing voice, as in the popular video below:
Bach has a strong fanbase, with over 235k YouTube subscribers and millions of views.
The Honest Guys
As one of the most popular YouTube sleep meditation producers, The Honest Guys have over a million subscribers and tens of millions of views.
One of their most popular videos, a blissful deep relaxation practice, has over 21 million views:
Designed to help anyone reach a profound sense of relaxation, meditation, and sleep, all Honest Guys videos feature high-quality audio and are free to access.
Given their success, the team now also offers a few premium features on their website, including a members club and full-length albums.
Best practices when using guided sleep meditations
Using guided meditation for sleep might seem like the opposite of what you should be doing, considering the dominant advice to minimise the use of devices before bedtime and remove electronics from the bedroom.
To work around this, you may want to engage in a regular meditation practice that doesn't revolve around bedtime.
As we've seen above, regular meditation does have a positive effect on overall sleep quality.
Alternatively, you may also wish to focus on breathwork or mantra meditations, which you can learn once and then turn to again and again.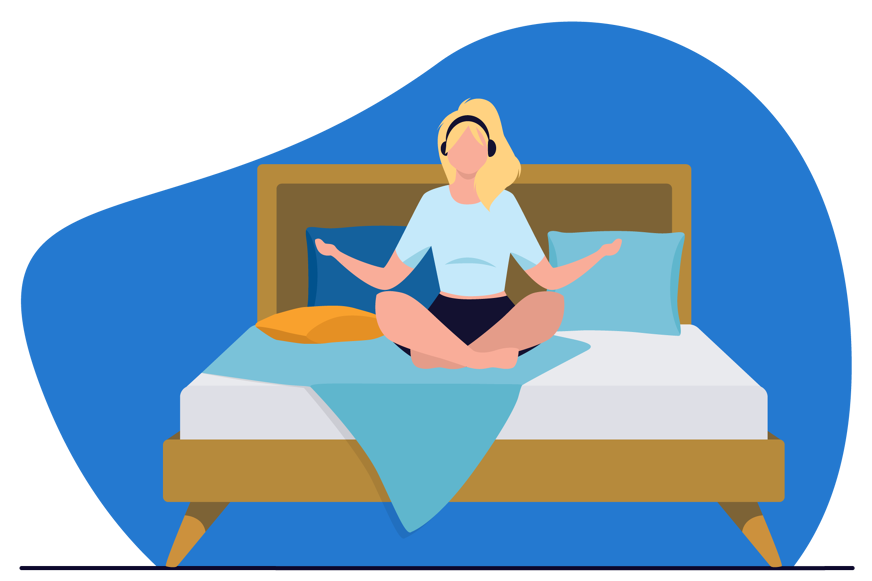 However, sleep meditation apps have been specifically designed to be used in bed to help you sleep better, and there are a few things you can do to have a better experience:
Many sleep meditation apps work best with headphones, but you can also listen to the apps on speaker.
If you don't want to use headphones, placing your mobile phone underneath your pillow will result in a better audio experience.
We'd recommend opting for premium accounts where you can download meditations ahead of time, giving you the option of putting your phone on aeroplane mode and then listening to the offline download.
Switching your phone to dark mode and adding a blue light filter will take some of the strain off your eyes.
Many meditation apps come with timers, so you can set the duration of the track you want to listen to ahead of time. The app will then switch off automatically.
There is no best way to meditate.
Experimenting with different types of tracks and durations is the best way to figure out what works for you.
Lifestyle changes to help you sleep better
Of course, sleep meditation apps can help you relax and fall asleep faster, but many lifestyle factors can also impact the quality of sleep.
Practising good sleep hygiene to ensure that we get enough sleep is very important, and one of the most important factors to pay attention to is our daily sleep habits and routines.
For example, regular exercise and a healthy diet can help to improve sleep by reducing stress levels throughout the day, while avoiding caffeine, nicotine, sugar, and alcohol in the evening can all help us fall asleep more easily.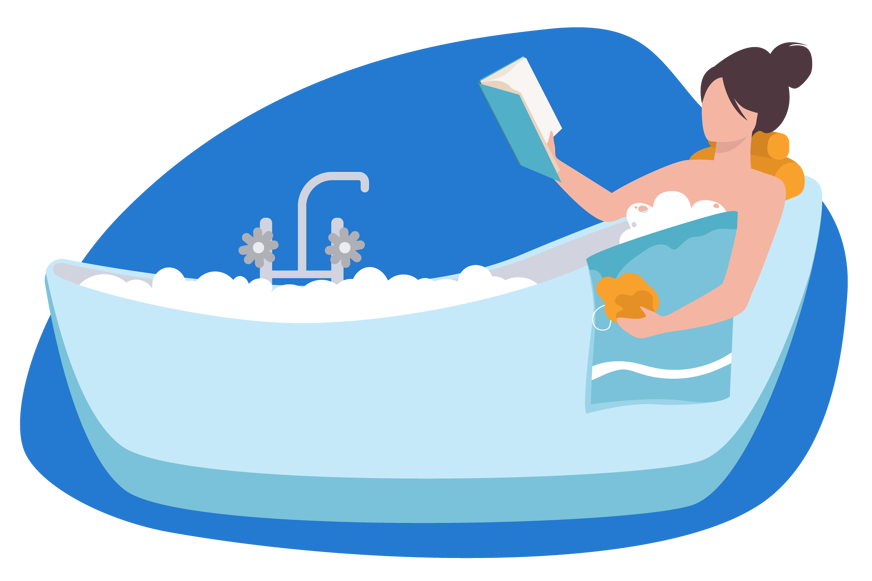 Other good practices include establishing a regular bedtime routine before going to bed each night, limiting screen time before bed, and establishing a relaxing nighttime ritual that you do right before going to sleep (such as reading or taking a warm bath).
Together with meditation, these simple lifestyle changes can make a big difference when it comes to getting the restful and restorative sleep you need to function your best.
You could even consider adding some luxurious products to help you unwind and relax.
Some of our favourite bedtime ritual products:
Aeyla

Price from &nbsp

£ 19.99

£ (29 )

The Aeyla Sleep Candle blends notes of jasmine, eucalyptus and lavender to create a sense of calm before bed.

The Aeyla Sleep Candle blends notes of jasmine, eucalyptus and lavender to create a sense of calm before bed.

Price from

£ 19.99

(£ 29 )

Aeyla

Sleep Enhancer Pillow Spray

Price from &nbsp

£ 14.99

£ (19.99 )

The Aeyla Sleep Enhancer Pillow Spray combines aloe vera, lavender, and wild chamomile to help you fall asleep faster.

The Aeyla Sleep Enhancer Pillow Spray combines aloe vera, lavender, and wild chamomile to help you fall asleep faster.

Price from

£ 14.99

(£ 19.99 )

Simba

Price from &nbsp

£ 109.85

£ (169 )

The Simba Orbit Weighted Blanket has been perfectly designed with nano-beads to ease stress and anxiety.

The Simba Orbit Weighted Blanket has been perfectly designed with nano-beads to ease stress and anxiety.

Price from

£ 109.85

(£ 169 )

Relux

The Relux bath pillow comes with a 100% money-back guarantee.

The Relux bath pillow comes with a 100% money-back guarantee.

Price from

£ 18.99
Should you try sleep meditation?
If you've had trouble sleeping, then trying a sleep meditation is a great idea.
There is no right or wrong way to meditate, and thousands of sleep meditations are available by looking at apps or social platforms like YouTube.
Give the ones we've recommended a go, and see which work best for you.
If in doubt, we'd recommend trying Insight Timer, one of our favourite meditation apps.