How we test products
Our mission is to take the guesswork out of finding the perfect sleep products.
We've dedicated hundreds of hours to testing mattresses and sleep accessories, and rely on a team of testers of differing weights, temperature preferences, and sleeping positions to evaluate each product.
Tested products are granted the Sleep Hero tested stamp of approval, a mark of our review's reliability.
If we haven't personally tested a product, please be assured that we invest significant time and energy into scouring the UK market and researching the best recommendations, and we work with a team of sleep experts who review our articles, ensuring that the insights we provide are not only relatable but also reliable.
Are cooling duvets actually cooling?
Many brands advertise a duvet as 'cooling' if it has a lower tog rating or breathable material, like down or microfibre.
The premium brands also use innovative technology, like Stratos, to improve the temperature-regulating capabilities of the duvet.
We get into this further down.
However, for the most part, these duvets do not provide an instant cooling sensation like having a cold shower or putting an ice pack on your forehead.
Instead, they are designed to prevent overheating so you don't wake up dripping in sweat.
How do cooling duvets work?
Cooling duvets might not provide an instant cold sensation, but they do help to regulate your temperature at night.
Here are a few features that help cooling duvets do their job.
Cooling technology
Some of the best cooling duvets (UK) utilise patented thermo-regulating fabrics, adapting to your body temperature so you stay cool.
Advanced technology allows the duvet to adjust its heat absorption and dissipation properties, creating a balanced sleeping environment.
You could even have a duvet that takes cues from NASA spacesuits. 🧑‍🚀
Certain cooling duvets incorporate Stratos®, a material originally developed by NASA for use in spacesuits.
This incredible material can absorb excess body heat and then release it back to you if you start feeling chilly.
This space-tech-inspired innovation makes the duvet highly versatile and suitable for year-round use regardless of the weather.
Our recommended Simba duvet uses this space-inspired technology!
25% OFF SIMBA HYBRID 3-IN-1 DUVET W/ MATTRESS
Lightweight tog
One of the key features of cooling duvets is their lightweight tog rating.
Tog refers to the measure of thermal resistance in a duvet, determining its warmth level. 🔥
Cooling duvets are typically designed with a lower tog rating, allowing for enhanced breathability and heat dissipation.
The lower tog also provides a lightweight and comfortable feel, giving you a more refreshing sleep.
We recommend the Fogarty Extra Cool Duvet with a one tog rating if you're an extra hot sleeper.
BUY FOGARTY EXTRA COOL 1 TOG DUVET£ 14
Breathability
Both natural and manmade cooling duvets offer excellent breathability.
But how exactly do fabrics breathe? 🫁
Well, it's not in the human sense, that's for sure!
When it comes to fabrics, breathability means the fabric's ability to allow water vapour to pass through the material and evaporate from the other side.
This keeps your skin dry and your body temperature down while you're under your cooling duvet.
Natural materials such as cotton and bamboo are known for their moisture-wicking properties that absorb your sweat all night.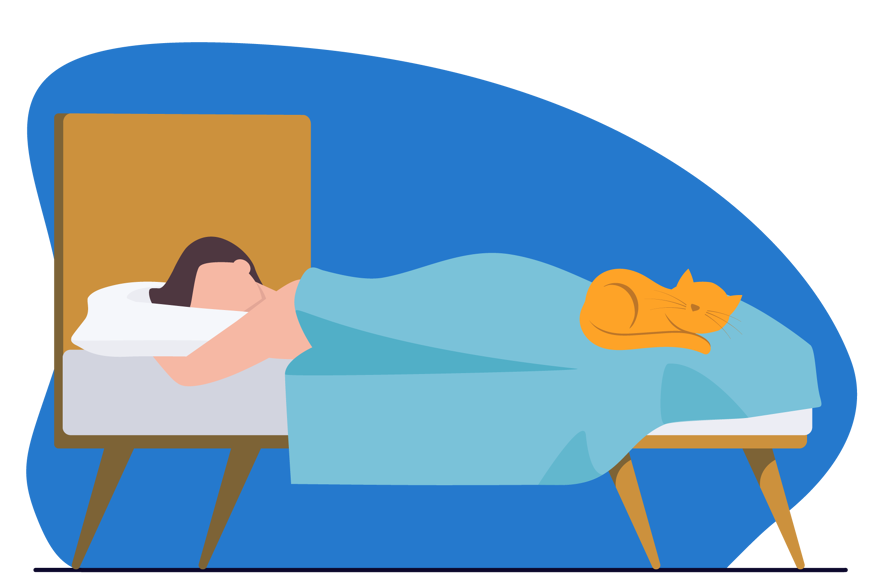 Equally, manmade materials like microfibre often have superior cooling technology that promotes airflow to keep your skin dry while sleeping.
Ultimately, the choice between natural and manmade materials comes down to personal preference and budget.
Machine washable
If you're a sweaty sleeper, a machine-washable cooling duvet cover and insert is an absolute essential.
Luckily, many cooling duvets are designed to be easily washable, so you can keep them fresh and hygienic.
Bear in mind you should only wash your duvet once or twice a year unless you spill something on it.
Before washing, be sure to check the care instructions provided by the manufacturer to ensure you're following the recommended cleaning process.
Annual washing eliminates sweat and odour and helps maintain the duvet's cooling properties over time.
What is the best cooling duvet material?
The composition of your duvet can make a huge difference to its cooling properties.
Here are some of the most popular materials for the insert and cover of cooling duvets.
Microfibre
Some of the best cooling duvet covers are made from microfibre.
It's popular because of its super soft and smooth texture.
It is a synthetic fabric made from finely woven polyester fibres, which create a lightweight and breathable duvet cover.
Microfibre cool duvet covers are known for their excellent moisture-wicking properties, helping you keep cool and dry throughout the night.
Additionally, microfibre is generally easy to clean and maintain and has anti-allergy properties.
We recommend the Silentnight Cooler Summer Duvet if you want an anti-allergy or goose-down alternative duvet.
BUY SILENTNIGHT COOLER SUMMER DUVET£ 18
Hollow fibre
Hollow fibre makes one of the best cooling duvet inserts.
It is a synthetic filling material with great breathability and temperature regulation.
It consists of hollow polyester fibres that trap air, creating a lightweight, insulating layer.

Hollow fibre duvet fillings are known for maintaining a comfortable sleeping temperature by allowing excess heat to escape while retaining warmth when needed.
Hollow fibre duvets are often hypoallergenic and easy to care for, making them a practical choice for those with specific needs.
Cotton
Cotton is a classic and widely beloved fabric for duvet covers.
Cotton allows air to circulate and prevents heat buildup so you can sleep in a cool sleep environment.
If you're looking for a cotton cover to go over your duvet, make sure it is 100% cotton and not cotton sateen.
Sateen has a thicker weave and is better for the cooler months.
Cotton covers are highly absorbent, effectively wicking away moisture and providing a comfortable feel against the skin.
Moreover, cotton is a natural and hypoallergenic material, making it an excellent choice for individuals with sensitive skin or allergies.
Polyester
Polyester is another commonly used synthetic filling material in cooling duvets.
It is known for its affordability, durability, and easy maintenance.
Polyester duvet fillings provide a lightweight, hypoallergenic option, allowing for adequate air circulation and effective temperature regulation.
While polyester may not offer the same level of breathability as natural materials, it is a budget-friendly choice that can still provide a comfortable sleep experience.
The Fogarty Extra Cool 1 Tog Duvet features a recycled polyester filling to keep you comfy all night long.
BUY FOGARTY EXTRA COOL 1 TOG DUVET£ 14
Feather or down duvet
Down and feather fillings are sourced from birds, typically ducks or geese. 🦆
They are highly regarded for their natural insulation properties and breathability.
Down refers to the soft clusters found beneath a bird's feathers, while feather fillings come from the outer feathers.
Down and feather duvet fillings create a warm yet breathable layer that adapts to your body temperature, keeping you cosy without overheating.
However, it's important to note that some individuals may have allergies or sensitivities to these natural fillings, so consider this when selecting.
Which materials should hot sleepers stay away from?
As mentioned above, polyester is less breathable and may not perform as well as the other materials listed.
That said, polyester is still budget-friendly and lightweight, so it's worth testing if you can't afford the more expensive cooling duvets.
Other bedding to keep you cool
A cooling duvet is only one step to a comfortable night's sleep in the summer months.
There are cool mattresses, pillowcases, bed sheets and much more to think of, too.
Cooling duvet covers UK
If you already have a duvet that you love but still want to lower your temperature, a cooling duvet cover is a game-changer.
These covers are specifically designed with breathable fabrics that promote air circulation and prevent heat buildup. 💨
Look for duvet covers made from materials like bamboo, cotton, linen or eucalyptus fibres, known for their excellent moisture-wicking properties and breathability.
Choose a cooling duvet set with a higher thread count for a more luxurious feel.
Investing in a cool duvet cover can transform your regular duvet into a cooling oasis, providing a more refreshing night's sleep during the summer.
Cooling mattress pad
Cooling mattress toppers are a fantastic addition to your bedding ensemble, especially during hot summer nights.
These pads are typically made with advanced cooling technologies or materials that actively draw heat away from your body.
They work by dissipating excess heat and regulating your body temperature, ensuring you stay cool and comfortable.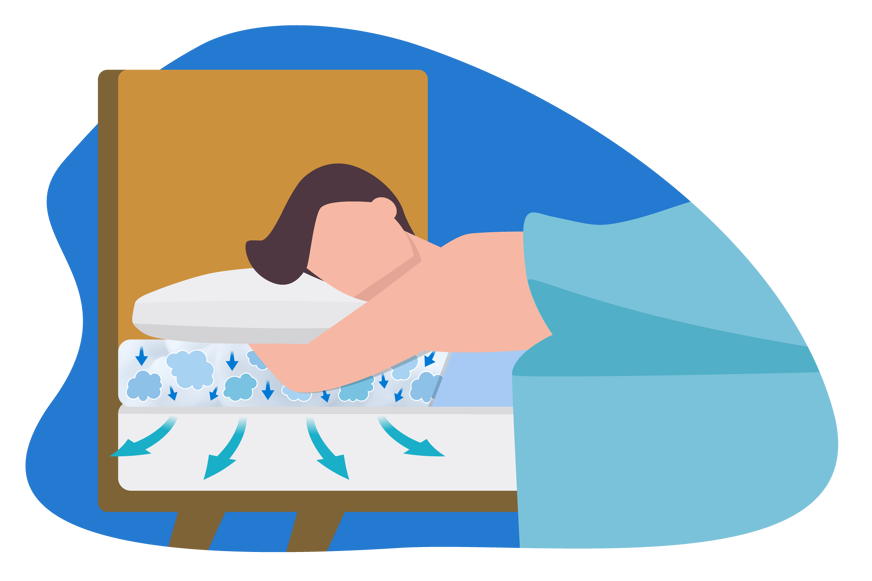 Cooling mattress pads come in various forms, including gel-infused pads or those with moisture-wicking properties.
You can find them in all different sizes, from super-king to singles.
Placing a cooling mattress pad directly on top of your mattress creates a cool barrier between your body and the heat-retaining surface.
We love the Simba Mattress Topper for a night of sweat-free sleep.
Cooling pillows
While we often focus on keeping our bodies cool, we must not neglect our heads during the night.
Cooling pillows are designed to support and refresh your head and neck while keeping you cool.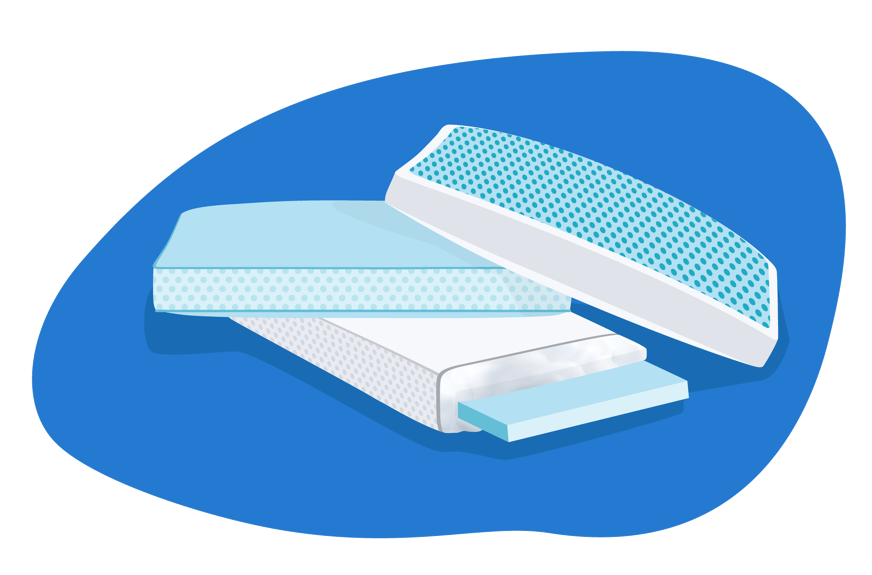 These pillows often incorporate cooling gel or breathable materials that promote air circulation and prevent heat accumulation.
They are typically made from memory foam, which contours to your head and neck while offering pressure relief.
With a cooling pillow, you can enjoy the benefits of temperature regulation, allowing you to stay cool and sleep soundly throughout the summer nights.
We recommend the Kally Cooling Pillow to keep your head and neck dry all night long.
So, is there a duvet that keeps you cool?
Cooling duvets can be a major lifesaver if you're going through menopause or struggling with the UK summer heat.
With cooling technology and breathable natural fabrics, these duvets are designed to regulate your temperature at night and help you get a better night's sleep.
If you're still struggling with being too hot at night, we recommend adding a cooling gel mattress pad and pillow.
What are the best cooling duvets?
Silentnight

Price from &nbsp

£ 18

£ (20 )

The Silentnight Cooler Summer Duvet is a breathable duvet with a hollow fibre filling and microfibre cover.

The Silentnight Cooler Summer Duvet is a breathable duvet with a hollow fibre filling and microfibre cover.

Price from

£ 18

(£ 20 )

Simba

Simba Hybrid 3-in-1 Duvet

Price from &nbsp

£ 186.75

£ (249 )

The Simba Hybrid 3-in-1 Duvet is actually a set of two duvets with tog ratings of 3.5 and 7 that can be combined to form a third 10.5 tog duvet.

The Simba Hybrid 3-in-1 Duvet is actually a set of two duvets with tog ratings of 3.5 and 7 that can be combined to form a third 10.5 tog duvet.

Price from

£ 186.75

(£ 249 )

Emma

Price from &nbsp

£ 48.30

£ (69 )

The Emma Cloud Duvet is a microfiber duvet made of temperature-regulating fibres to keep you cool and refreshed throughout the night.

"Get 5% off with our exclusive 'SLEEPHEROUK5' discount code."

The Emma Cloud Duvet is a microfiber duvet made of temperature-regulating fibres to keep you cool and refreshed throughout the night.

"Get 5% off with our exclusive 'SLEEPHEROUK5' discount code."

Price from

£ 48.30

(£ 69 )

Fogarty

The Fogarty Extra Cool 1 Tog Duvet is super lightweight and easily accessible on Dunelm.

The Fogarty Extra Cool 1 Tog Duvet is super lightweight and easily accessible on Dunelm.

Price from

£ 14