How we test products
Our mission is to take the guesswork out of finding the perfect sleep products.
We've dedicated hundreds of hours to testing mattresses and sleep accessories, and rely on a team of testers of differing weights, temperature preferences, and sleeping positions to evaluate each product.
Tested products are granted the Sleep Hero tested stamp of approval, a mark of our review's reliability.
If we haven't personally tested a product, please be assured that we invest significant time and energy into scouring the UK market and researching the best recommendations, and we work with a team of sleep experts who review our articles, ensuring that the insights we provide are not only relatable but also reliable.
Better than the Eazzzy topper: Our recommended UK mattress topper alternatives
We don't have to keep you waiting:
We were not impressed by the Eazzzy topper and would not recommend you buy this product.
Furthermore, the Eazzzy topper is no longer easily available in the UK 🇬🇧
You'll be better off investing in any of the below mattress toppers that are easily available in the UK and offer much better value for money.
Simba

Price from &nbsp

£ 161.85

£ (249 )

The Simba mattress topper is a high-quality hybrid topper with mini pocket springs, synthetic latex, and high-resilience foam.

The Simba mattress topper is a high-quality hybrid topper with mini pocket springs, synthetic latex, and high-resilience foam.

Price from

£ 161.85

(£ 249 )

Panda London

Price from &nbsp

£ 89.96

£ (99.95 )

The Panda Mattress Topper is a gel-infused orthopaedic memory foam topper with a breathable bamboo cover.

The Panda Mattress Topper is a gel-infused orthopaedic memory foam topper with a breathable bamboo cover.

Price from

£ 89.96

(£ 99.95 )

Emma

Price from &nbsp

£ 122.55

£ (129 )

The Emma mattress topper has a unique dual-sided design.

"Get 5% off with our exclusive 'SLEEPHEROUK5' discount code."

The Emma mattress topper has a unique dual-sided design.

"Get 5% off with our exclusive 'SLEEPHEROUK5' discount code."

Price from

£ 122.55

(£ 129 )
What does sleeping on the Eazzzy topper feel like?
Technically, a good mattress topper should provide for a comfortable sleep and eliminate any causes of back pain.
It should achieve the following:
Enhance the comfort & softness of your mattress.
Provide pressure relief & prevent tension.
Aid in regulating temperature.
A mattress topper also protects your mattress and elongates its life span.
Note: This does not mean that a mattress topper can replace a mattress protector. We briefly describe the difference between the two in the FAQ section.
But does the Eazzzy topper do any of this?
Let's find out 👇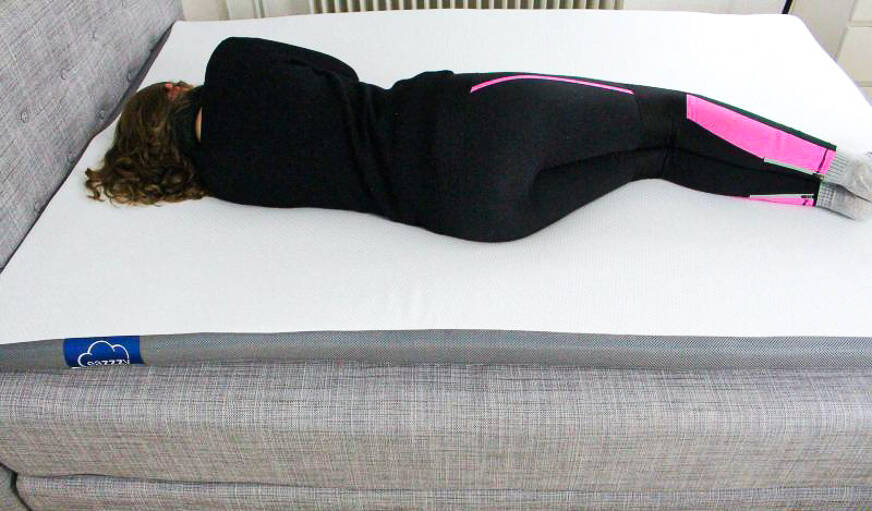 How comfortable was the Eazzzy topper?
Genius advertises its topper as allowing for "a whole new sleep quality like on clouds" ⛅️
We thought sleeping on the Genius Eazzzy topper was semi-comfortable but average at best and not worth writing home about.
Of course, the quality of the actual mattress you're using does play a significant role here.
Since a topper's efficacy depends on the quality of the mattress, it is near to impossible to state a general degree of firmness or improvement in comfort.
For our Eazzzy mattress topper review, we slept on quite a firm pocket sprung mattress, the IKEA Hövag.
This isn't a great mattress to begin with, and we'd recommend you choose a better-quality mattress like the Emma Original or the Nectar memory foam mattress.
That said, the IKEA Hövåg is an average mattress with a firm feel, making it a good choice to test a mattress topper.
In our case, we did notice an increase in comfort with the Eazzzy topper.
The Eazzzy mattress topper definitely made this mattress a bit softer and thus much more comfortable 🐑
Nevertheless, a topper with a gel pad or memory foam would be preferable as these adapt better to the contours of the body and allow for good pressure distribution.
The Eazzzy topper is made of cheaper quality foam, which negatively affects the overall quality of the topper.
We take a closer look at the composition of the Eazzzy mattress topper below.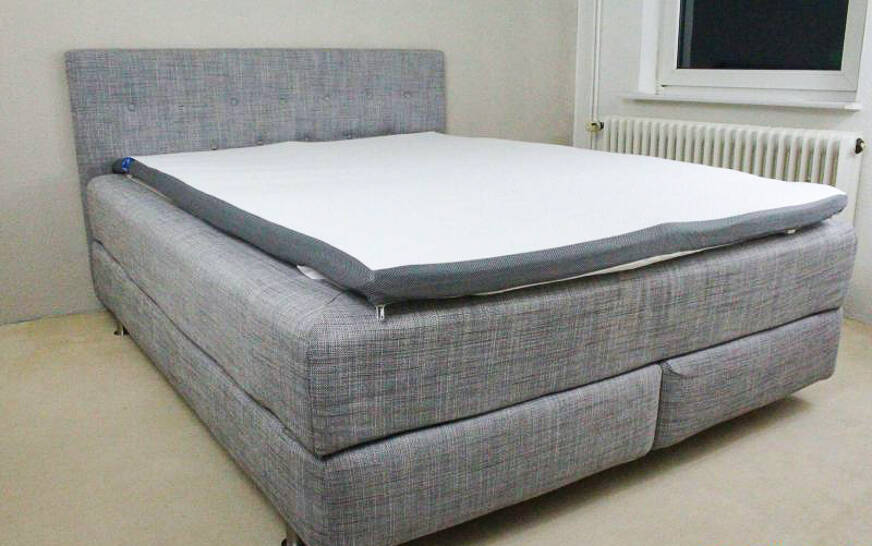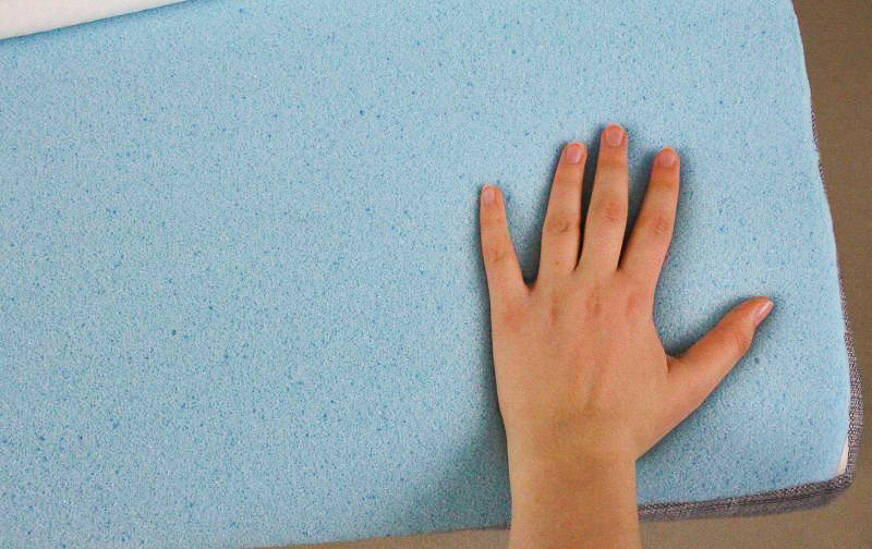 The topper we received was damaged
This came as a bit of a surprise, but the topper delivered to us was damaged 😱
It had a noticeable kink in the middle, probably due to a longer storage period.
Even though mattress toppers are rolled up, larger toppers are still folded in the middle to fit into a box.
This would perfectly explain the kink and its position - but, of course, bad quality materials, bad manufacturing, or faulty storage and transport choices may also be at fault.
Regardless, a damaged product like this is completely unacceptable 🚫
Our Eazzzy topper did flatten out a little after a few days, but traces of the bend remained.
A kink like this is neither comfortable nor is it great for your back or spine.
Of course, this severely diminished our opinion of the Eazzzy topper.
Unfortunately, the Genius Eazzzy topper customer service isn't great either.
You may fare better if you get the Amazon Eazzzy topper, but this offer is currently unavailable in the UK.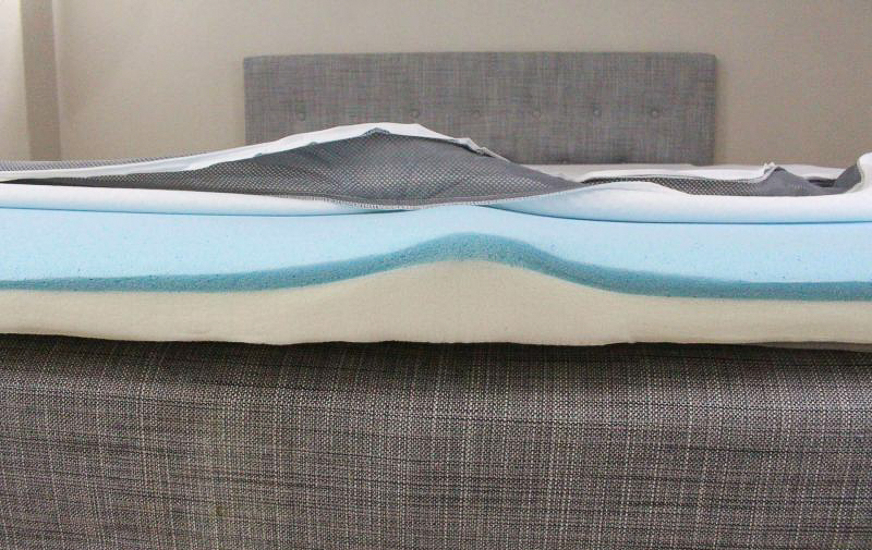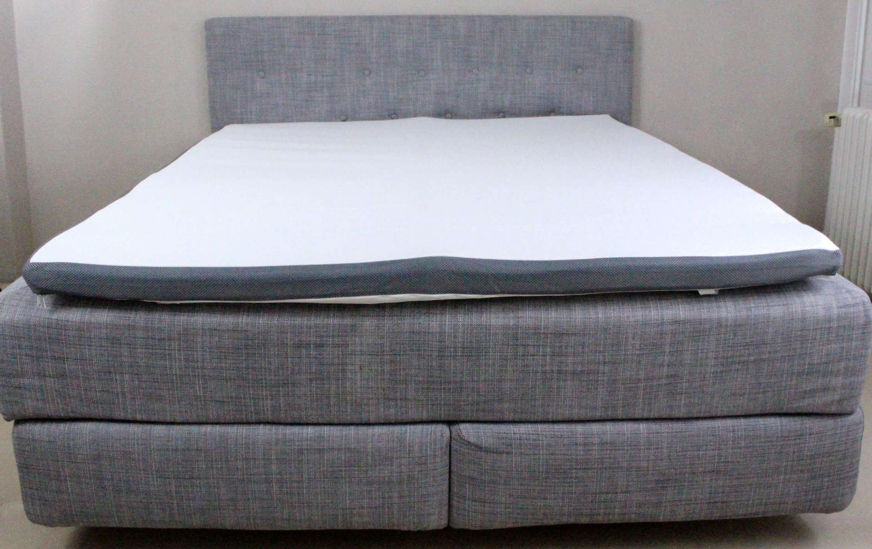 Eazzzy topper sinkage depths
To really put this mattress topper to the test for our Eazzy topper review and see if there was an actual difference in the firmness of the mattress, we measured how deeply we sank into the mattress with and without the Eazzzy topper.
The deeper you sink into a foam, the softer it is.
This is a good indicator of overall firmness.
Our test sleeper was 1.78 m (5 foot 8 inches) tall and weighed 65 kg (143 lbs), and we took our measurements while our sleeper lay on the stomach, back, and side.
These are our results:
| | | |
| --- | --- | --- |
| Test sleeper | Sinkage without Eazzzy topper | Sinkage with Eazzzy topper |
| Lying on the back | 3 cm (1.1 inches) | 4.5 cm (1.7 inches) |
| Lying on the side | 3 cm (1.1 inches) | 4.5 cm (1.7 inches) |
| Lying on the stomach | 1.5 cm (0.5 inches) | 2.5 cm (0.9 inches) |
As you can see from the above table, sinkage depths increased as soon as we placed the Eazzzy topper on top of the mattress.
This suggests that the mattress did, indeed, become softer.
As alluded to previously, the exact effect of a mattress topper will depend on the quality and firmness of the actual mattress used.
We slept on a firm mattress rated as 7 out of 10 on the Sleep Hero firmness scale, where 1 is the softest and 10 the firmest.
With the topper, we would give it a rating of 6 to 6.5 out of 10 📝
The Eazzzy topper definitely enhanced our sleeping comfort and created a softer sleeping surface.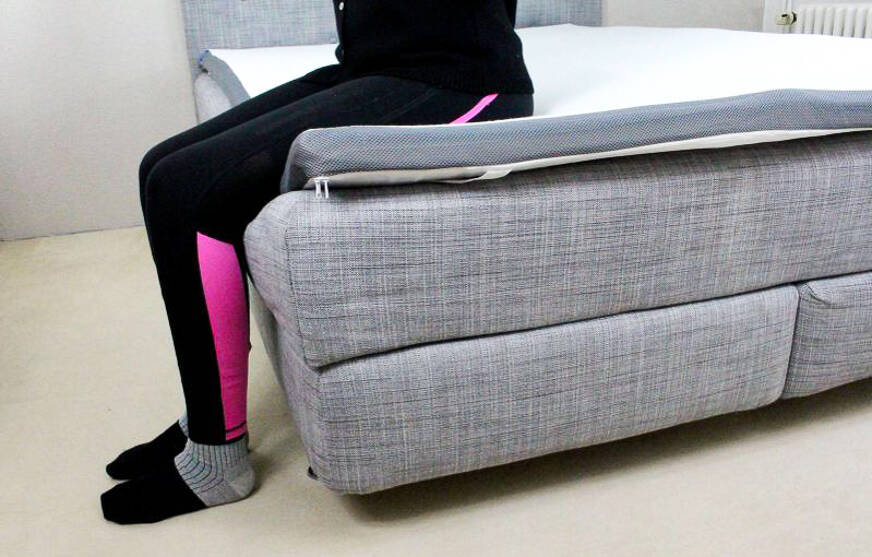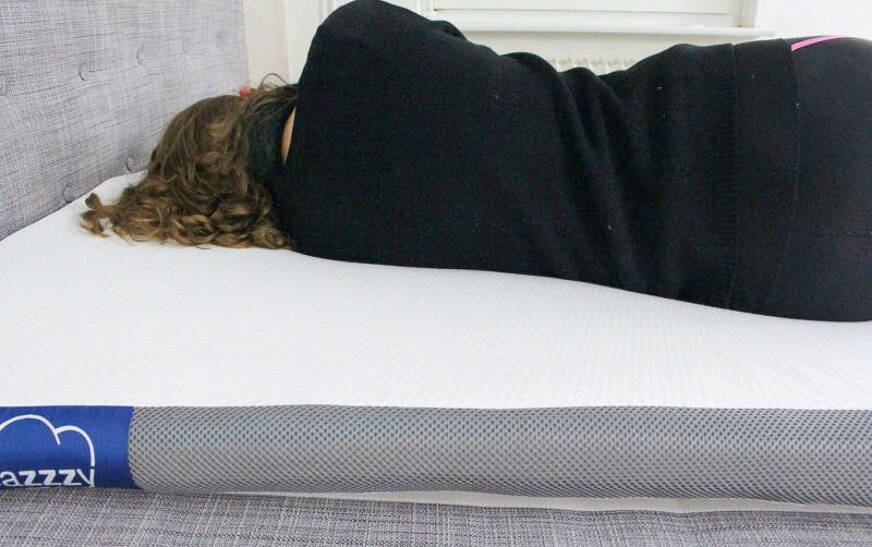 Eazzzy topper composition
The Genius Eazzzy topper is 7 cm thick and has been designed to provide that box-spring feeling.
It consists of two foam layers:
The first blue foam layer has cooling properties for a more temperature-neutral sleep.
The thicker second layer is supportive and maintains body alignment.
The topper also features a breathable cover, which we'll expand upon a little further down 💨
Something we found a little odd is that the topper is advertised as having a soft-touch gel foam layer, but the accompanying booklet we received described the topper as 100% polyurethane foam.
Polyurethane foam isn't necessarily bad, but most high-quality toppers are made of gel foam or memory foam.
The Eazzzy topper has a good density of 40 kg/m³ - generally, the higher the density of a mattress or mattress topper, the higher its quality and the longer its lifespan.
According to Genius, the Eazzzy topper is also hypoallergenic, and all materials are Oeko-Tex-Standard-100 and Certipur-certified.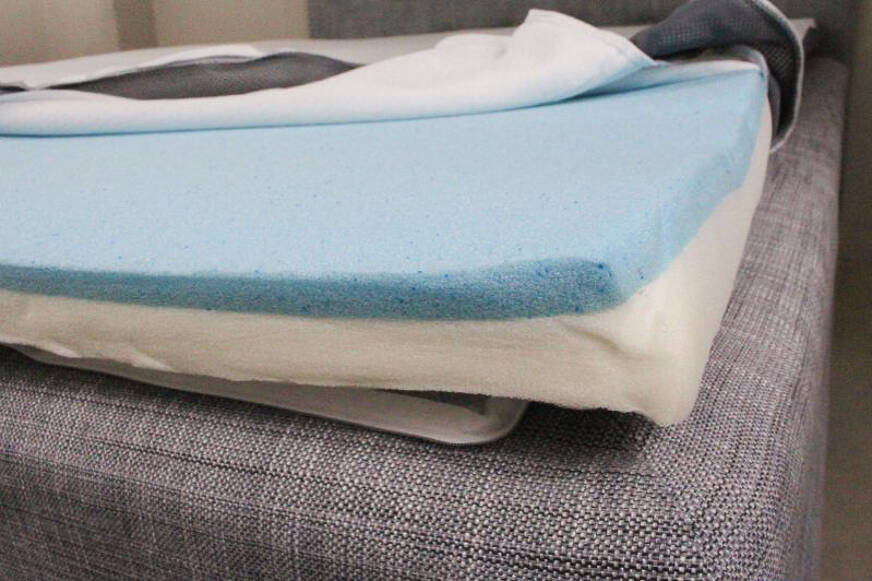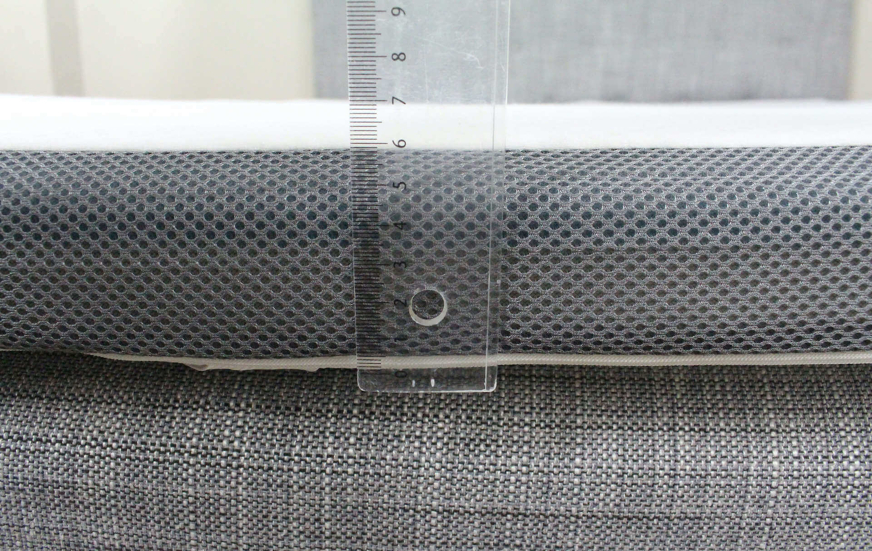 Eazzzy topper cover
The Eazzzy topper has a hypoallergenic, quilted and removable cover made of 100% polyester.
It is equipped with OptiAir quilting, which improves air circulation and enhances breathability.
The Eazzzy topper cover is machine-washable at 60°, which is great for allergy sufferers.
Conveniently, the Eazzzy topper cover also has elastic bands, with which you can attach the topper to the mattress 📌
Anti-slip nubs at the bottom of the topper also prevent slippage during the night and keep the topper firmly in place.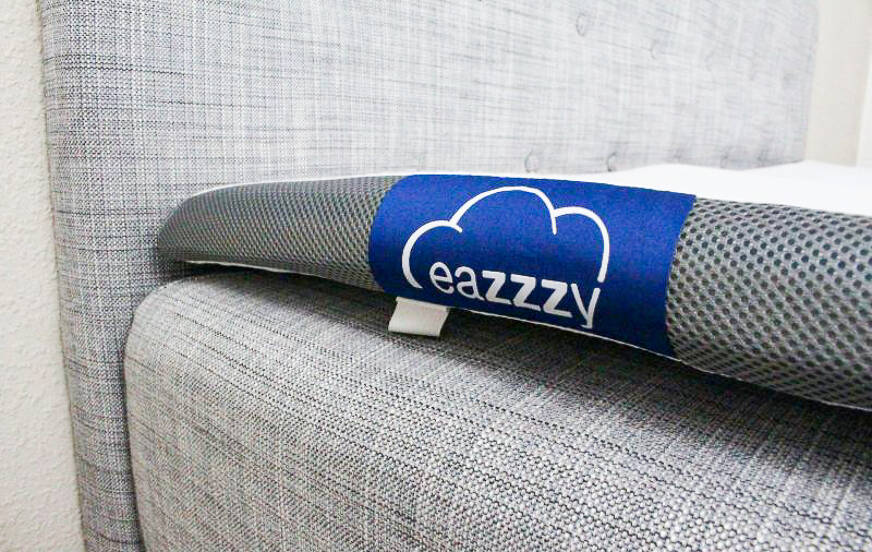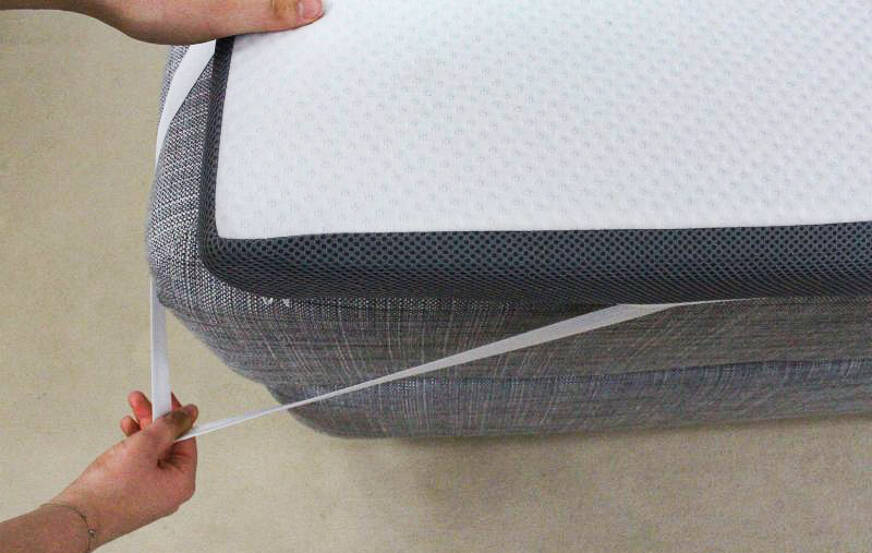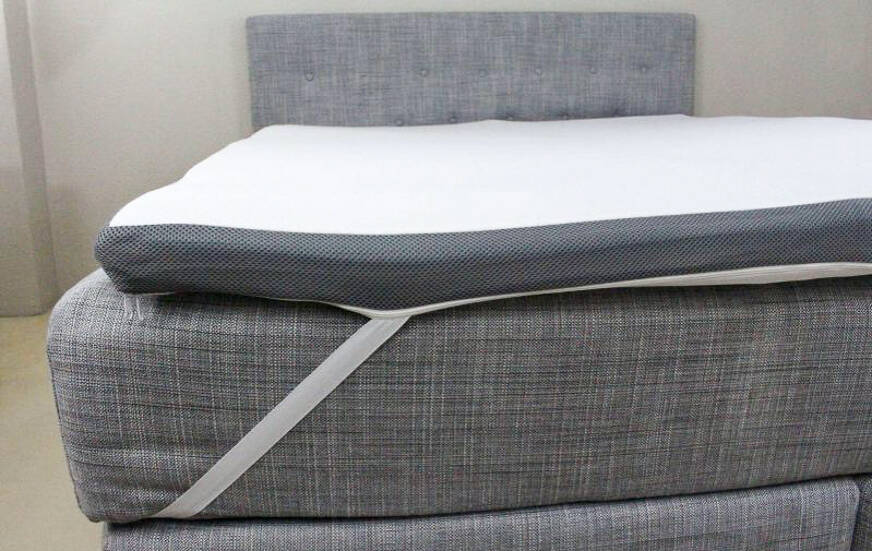 Eazzzy topper sizes
The Eazzzy topper is more popular in Europe 🇪🇺
This also explains why it's most commonly available in European mattress sizes.
These include:
Eazzy topper 120 x 200 cm (3'9" x 6'6")
Eazzy topper 140 x 200 cm (4'6" x 6'6"
Eazzy topper 160 x 200 cm (5'2" x 6'6")
Eazzy topper 180 x 200 cm (5'9" x 6'6")
Unfortunately, these dimensions won't fit the standard UK mattress sizes.
We'd recommend that you check out the Panda mattress topper instead, which is available in all standard UK sizes.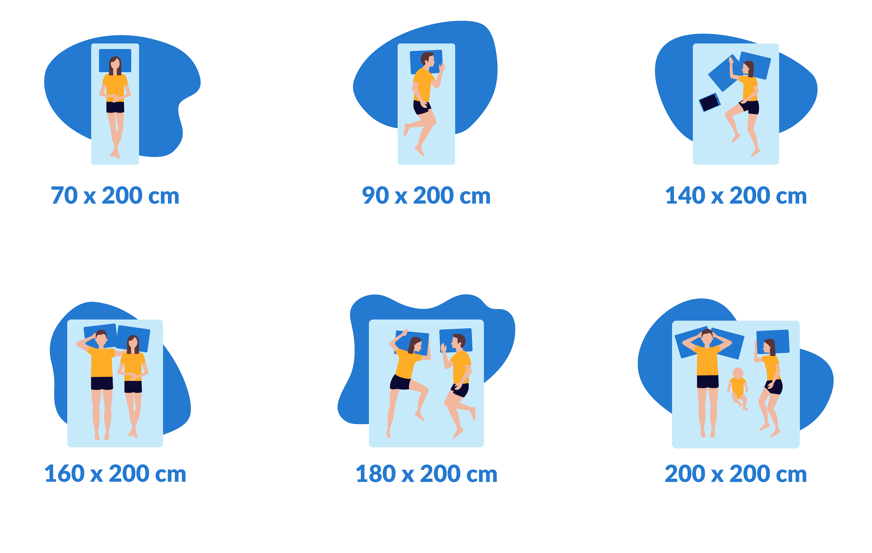 Eazzzy topper criticisms
We haven't had a very favourable experience with the Eazzzy topper.
But we're not the only ones.
The Eazzzy topper and its manufacturer, Genius TV, have come under criticism several times.
Customers have questioned both the manufacturer and the quality of the product itself.
While we won't cover all the criticisms here, we thought it would be helpful to highlight some of them.
Where is the Eazzzy topper made?
This question is simple to answer - no one knows!
Despite spending a reasonable amount of time researching this, we haven't been able to find out where the Eazzzy topper is made.
The manufacturer hasn't been forthcoming with this information either.
In Germany, for example, Genius TV talks about German quality. But they don't explicitly state that they make the Eazzzy mattress topper in Germany.
It could be made anywhere 🤷‍♀️
This is not to say good quality products can't be manufactured elsewhere.
But the fact that the manufacturing details are so hidden is a little worrisome.
All the other brands we've reviewed clearly state where the product is manufactured.
Fake customer reviews
Genius TV has come under attack for their fake customer reviews many times.
Criticisms state that:
There are no negative reviews in the online shop.
Customer images are stock photographs 🙎‍♀️
Since these accusations were first made, Genius TV has removed customer review images.
They now only display a handful of five-star ratings.
We can't definitively say whether all the reviews are fake.
But with the history of the company, trusting them is a little tricky.
Shoddy marketing gimmicks with hidden costs
The Eazzzy topper is often advertised as being available with one - or even two! - free pillows.
But, if you read the fine print, you'll see that you'd actually be paying extra costs for service and packaging.
You wouldn't be paying these fees if you bought the stand-alone topper.
Of course, if you want the pillow, you'll still save some money with this deal 💲
But the pillow is not free.
Eazzzy topper delivery & trial periods
The Eazzzy topper, like so many other online toppers, is delivered rolled up in a compact box 📦
This usually works quite well, but, as we mentioned above, our topper was damaged - either through the folding itself or a longer storage time.
If you purchase the Eazzzy topper directly through Genius TV (which you can't do in the UK), you'll get a 111-day trial period.
Trial periods are great and all big bed-in-a-box mattress brands, like Emma and Eve, offer these.
They give you the chance to test the product in the comfort of your own home and return it if you're not completely satisfied, usually free of charge and for a full refund.
This isn't that simple with the Eazzzy topper.
Why?
Genius doesn't cover the costs of the return shipment, you need to organise the foil or cardboard box to place the topper in yourself, and you need to keep a copy of your invoice and receipt with the tracking number.
This makes the return process quite cumbersome and not at all convenient 🤯
While you should receive a full refund within 10 working days, we really don't like that the customer has to incur such costs and inconveniences to return the topper.
Buying the Eazzzy topper via Amazon
Given the hassles of working with Genius directly, we'd recommend purchasing the Amazon Eazzzy topper.
If anything should go wrong with your topper, Amazon makes the customer service process a whole lot easier.
But:
The Eazzzy topper is currently not available via Amazon in the UK.
That's okay, though; you're not missing much to begin with and are far better off choosing one of our recommended alternatives.
You can check out all our favourite mattress toppers here.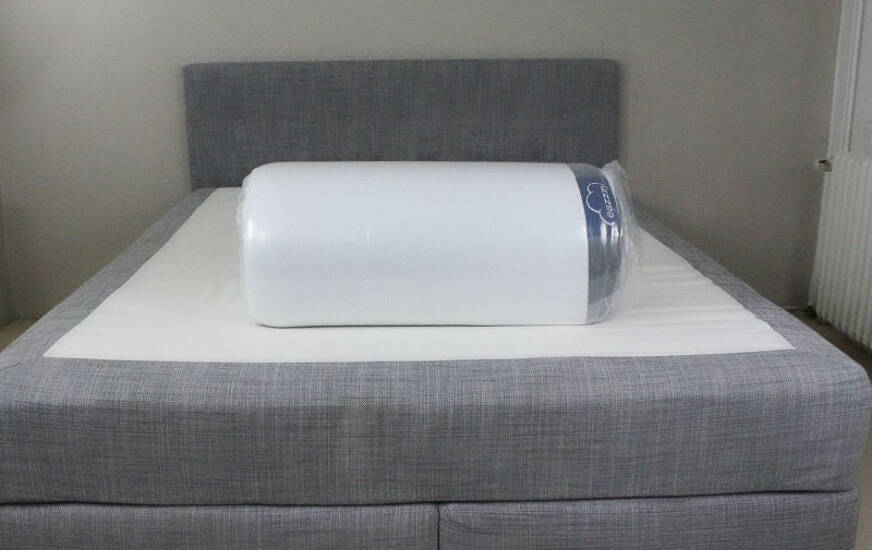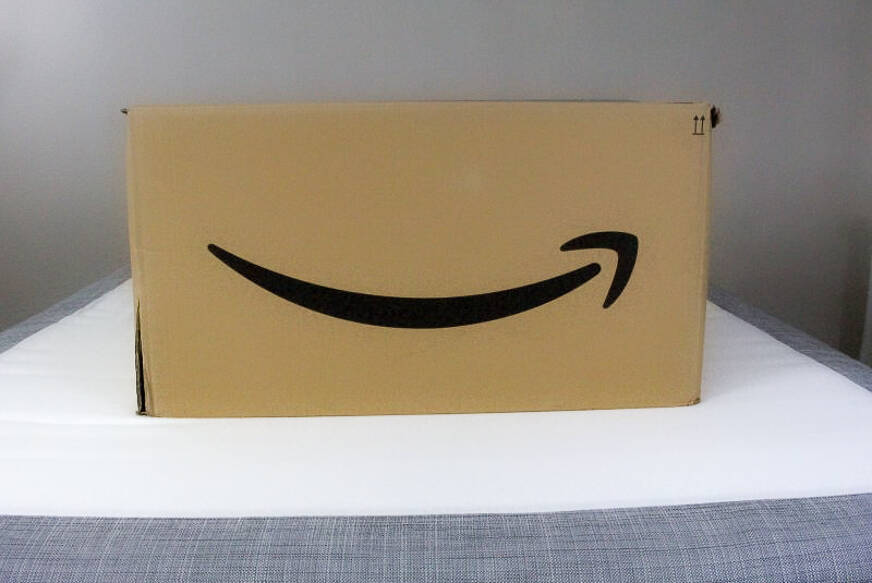 Should you buy the Eazzzy topper?
As our Eazzy mattress topper review has probably shown:
No, you should not buy the Eazzy topper.
Unfortunately, our experiences with the Eazzy topper was average at best:
The topper we received was damaged.
While it did make our very firm mattress a little softer and more comfortable, the actual quality of the materials is questionable.
Customer services was not a breeze.
It's really not great value for money.
You'll find a dozen better products with better customer services - and ones that are more easily available in the UK!
Simba

Price from &nbsp

£ 161.85

£ (249 )

The Simba mattress topper is a high-quality hybrid topper with mini pocket springs, synthetic latex, and high-resilience foam.

The Simba mattress topper is a high-quality hybrid topper with mini pocket springs, synthetic latex, and high-resilience foam.

Price from

£ 161.85

(£ 249 )

Panda London

Price from &nbsp

£ 89.96

£ (99.95 )

The Panda Mattress Topper is a gel-infused orthopaedic memory foam topper with a breathable bamboo cover.

The Panda Mattress Topper is a gel-infused orthopaedic memory foam topper with a breathable bamboo cover.

Price from

£ 89.96

(£ 99.95 )