Budget-Friendly
Introducing the VonHaus Hanging Chair, where comfort and style meet affordability.
This budget-friendly chair is made from durable cotton and features a padded seat and back for a supportive lounging experience.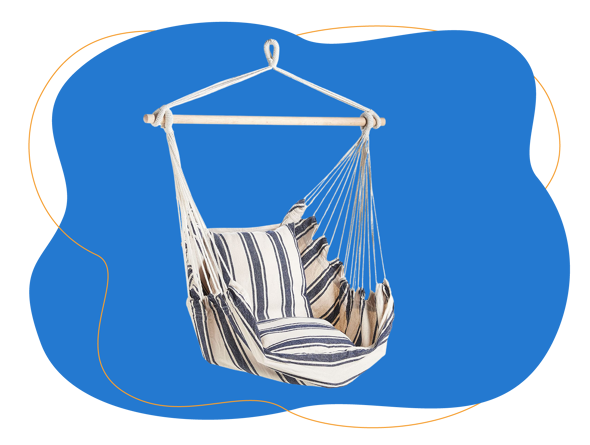 The VonHaus Hanging Chair is made from white and blue striped cotton that is durable and lightweight. 
Its padded seat and back provide an extra layer of comfort, ensuring a blissful lounging experience.
Versatility is key with this chair, as it can be used indoors or outdoors. 
The portable and compact design makes it easy to transport and store, allowing you to enjoy comfort wherever you go.
Setting up the chair is a breeze, thanks to the included instructions. 📑
With dimensions of L130 x W95 cm (51 x 37 inches) and a weight capacity of 120 kg (265 lbs), it offers ample space and support.
All VonHaus products come with a minimum 2-year warranty, ensuring your peace of mind.
BUY VONHAUS HANGING CHAIR£ 29.99
| | |
| --- | --- |
|   | VonHaus Hanging Chair Blue and White Striped |
| Weight capacity: | 120 kg (265 lbs) |
| Material: | 100% cotton |
| Suitable for: | Indoor and outdoor use |
| Cost: | £ |
| Guarantee: | 2 years |
| Size: | L130 x W95 cm (51 x 37 inches) |
Best For Storage
The Vounot Swing Chair is a budget-friendly and space-saving hanging option that can be used inside and outside your home.
This macrame hanging chair is made from sturdy cotton rope and can be folded away or permanently featured inside your home.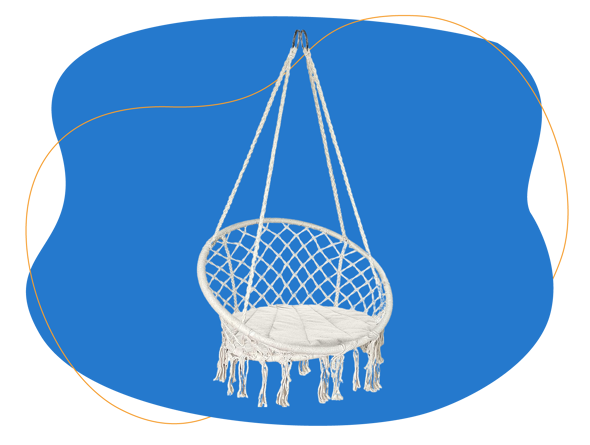 The Vounot Swing Chair features a bohemian chic style and a heavy-duty steel hanging kit for stability and safety, supporting up to 120 kg (265 lbs). 
Just remember that with a hanging chair like this, your ceiling will also need to be strong enough to support your weight in this chair.
The chair even comes with a thick cushion for a little extra comfort while you're lounging in the swing on a hot summer's day. 
Hang it indoors or outdoors, whether in a baby's room, bedroom, reading room, garden, patio balcony, yard, porch, patio, deck, or bar. 🏡
Its versatility and functionality make it a charming addition to any space and super affordable, too! 
BUY VOUNOT SWING CHAIR WITH CUSHION£ 36.99
| | |
| --- | --- |
|   | VOUNOT Swing Chair with Seat Cushion |
| Weight capacity: | 120 kg (265 lbs) |
| Material: | Cotton polyester |
| Suitable for: | Indoors and outdoors |
| Cost: | £ |
| Guarantee: | N/A |
| Size: | 80 x 62 x 155 cm (31 x 24 x 61 inches) |
How we test products
Our mission is to take the guesswork out of finding the perfect sleep products.
We've dedicated hundreds of hours to testing mattresses and sleep accessories, and rely on a team of testers of differing weights, temperature preferences, and sleeping positions to evaluate each product.
Tested products are granted the Sleep Hero tested stamp of approval, a mark of our review's reliability.
If we haven't personally tested a product, please be assured that we invest significant time and energy into scouring the UK market and researching the best recommendations, and we work with a team of sleep experts who review our articles, ensuring that the insights we provide are not only relatable but also reliable.
The different types of hanging chairs
There are countless hanging chairs available on the market - but which one is right for you?
A hanging chair is any chair supported by a rope or chain that sits off the ground.
Let's take a look at the most popular types of hanging chairs and their distinctive features.
Ceiling-mounted hanging chair
With a spreader bar, it is possible to attach a hanging chair to the ceiling of a balcony, pergola or interior room.
A spreader bar allows you to attach your hanging chair on either side of the bar, spreading the weight load and keeping the chair suspended.
These chairs often come in a popular boho design, adding a stylish touch to your space.
Remember to double-check whether your balcony ceiling can safely support the chair and your weight.
After all, you don't want a construction disaster on your hands!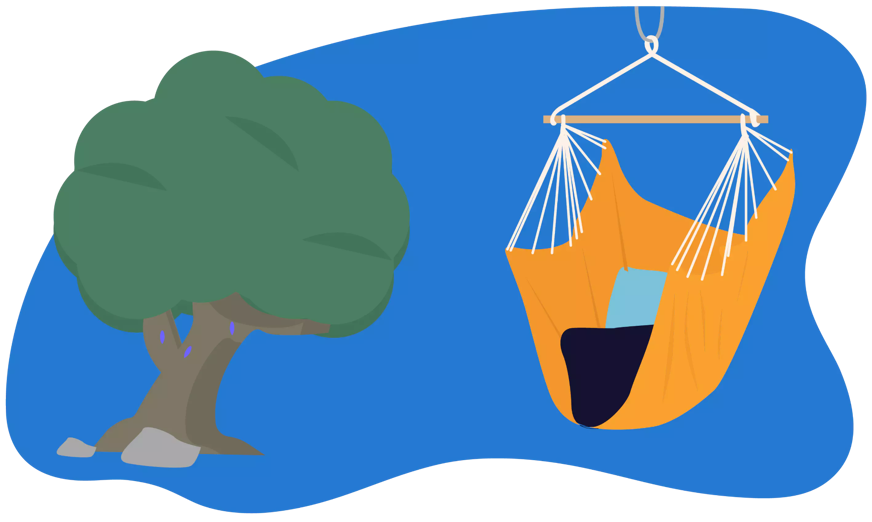 Alternatively, hang your chair from a load-bearing wall or even a sturdy tree branch in your garden.
With a mounted hanging chair, like the VonHaus Blue and White Striped Hanging Chair, the possibilities are endless.
BUY VONHAUS HANGING CHAIR£ 29.99
Standalone hanging chair
A standalone hanging chair comes with a metal frame that holds it off the ground without needing to mount it anywhere.
This type of chair is much easier to build and can be placed anywhere around your home.
You can even move the hanging chair stand between your inside space and garden.
The standalone chair usually comes in the form of an egg chair or hanging bubble chair.
The Dunelm Singapore Hanging Egg Chair is an excellent standalone option.
Fabric chair
Fabric chairs, often called hanging chair pods, are popular and affordable.
It closely resembles a hanging cocoon chair and is typically made of cotton cloth.
These chairs can be attached to a spreader bar mounted to the ceiling.
Fabric chairs are known for their adaptability, providing a comfortable and relaxing experience.
Net chair
Net chairs are a great choice for those seeking a more elegant option.
A rope hanging chair features a seat made of net woven from cotton cords and can be hung from the ceiling.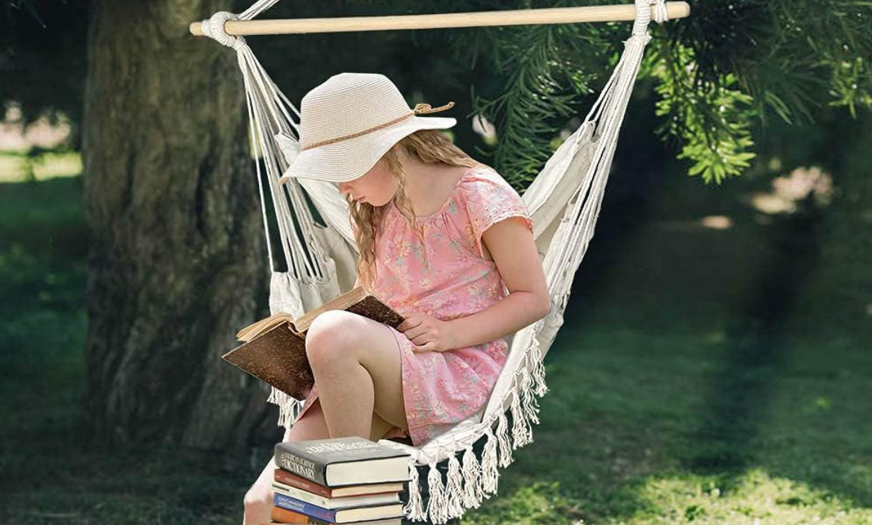 Remember that net chairs can become uncomfortable over time without a good seat cushion.
Carefully consider the quality and material of the accompanying seat cushion to ensure optimal comfort.
For example, the Vounot Swing Chair has the perfect cushion to keep you comfy all day without any rope or net digging into your legs.
BUY VOUNOT SWING CHAIR WITH CUSHION£ 36.99
Wicker hanging chair
Hanging wicker chairs are considered the most modern and aesthetically pleasing type of hanging chair.
But they are generally more expensive due to the woven poly rattan material.
They are highly regarded for their durability and weatherproof characteristics, making them an ideal option for outdoor seating.
What to look for in a good hanging chair
When shopping for a hanging chair, it is essential to consider the different features that make it suitable for your home.
Suspension
One of the key features to consider when purchasing a hanging chair is the suspension system.
Look for a hanging chair frame that is equipped with a suspension mechanism.
This helps to dampen jerky movements and allows for a gentle rocking motion. ⚙️
Weight
It is important to consider the weight of the hanging chair, especially when it comes to assembly and installation.
Cloth-hanging chairs are typically lighter, weighing around 3 kg (7 lbs), while rattan models can weigh up to 10 kg (22 lbs).
The VonHaus Hanging Chair is a great option for a lighter chair, weighing only 2.25 kg (5 lbs).
BUY VONHAUS HANGING CHAIR£ 29.99
Durability
Durability is crucial for a hanging garden chair.
Look for chairs made from weather-resistant and robust materials like poly rattan or FSC-certified tropical wood. ♻️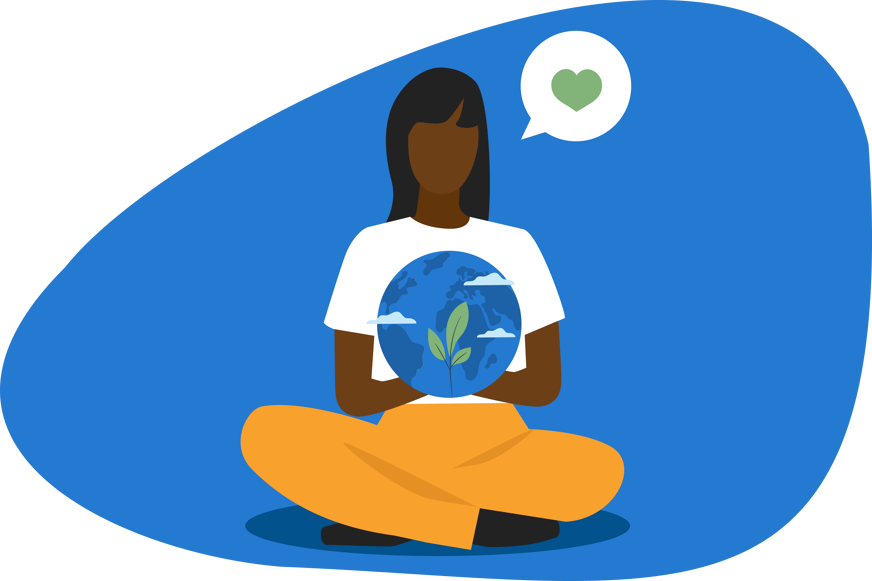 Take the Habitat Malta Double Garden Chair, for example.
These materials are known for their ability to withstand different weather conditions and provide long-lasting durability.
Comfort
Comfort is essential when it comes to hanging chairs.
Ensure the chair provides adequate support and cushioning for a comfortable sitting experience.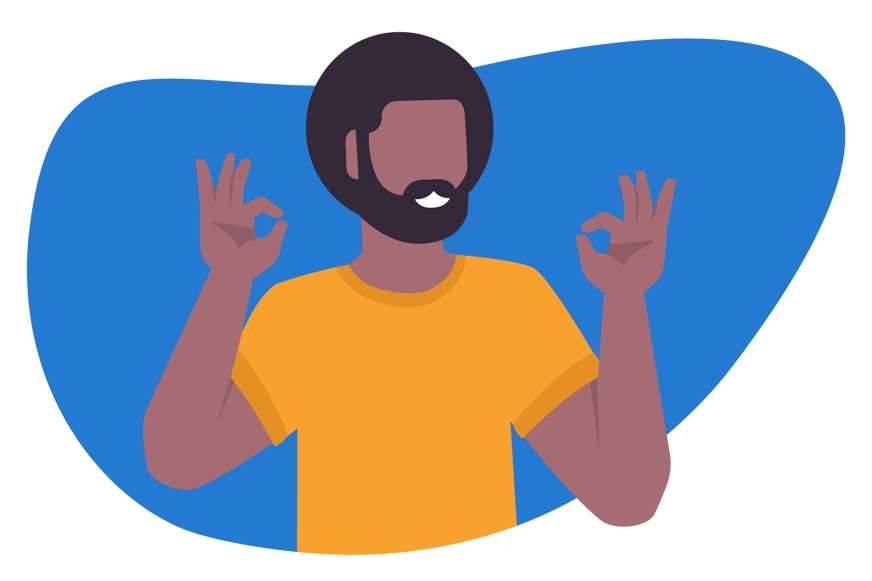 Look for models with high-quality seat cushions made from materials such as cotton or polyester.
Pay attention to the sagging of the chair and ensure it offers proper support for your body.
For example, the Vounot Swing Chair has a high-quality cushion for a super cosy hanging experience.
BUY VOUNOT SWING CHAIR WITH CUSHION£ 36.99
Weather resistance
If you are looking for a garden hanging chair, weather resistance is a crucial feature to consider. 🌧️
A hanging rattan chair made from poly rattan can withstand frost, rain and sun year-round.
Just remember to check if the cushions have removable and washable covers so they are easy to clean and maintain.
How to hang your new chair correctly
If you have chosen a ceiling-mounted hanging chair, you need to learn how to install it correctly and safely.
Installing an indoor hanging chair
It is important to choose the right hardware for installation. ⚒️
Here are a few tips to consider when installing your indoor hanging egg chair:
1. Select screws and dowels suitable for the hanging chair's weight.
2. Locate a sturdy ceiling joist or beam to ensure proper support.
3. If available, use a swivel joint on the rope to allow the chair to rotate 360 degrees.
Remember to follow any specific instructions the manufacturer provides and be careful.
Is it safe to hang a chair from your ceiling?
Hanging a chair from your ceiling can be safe if done correctly.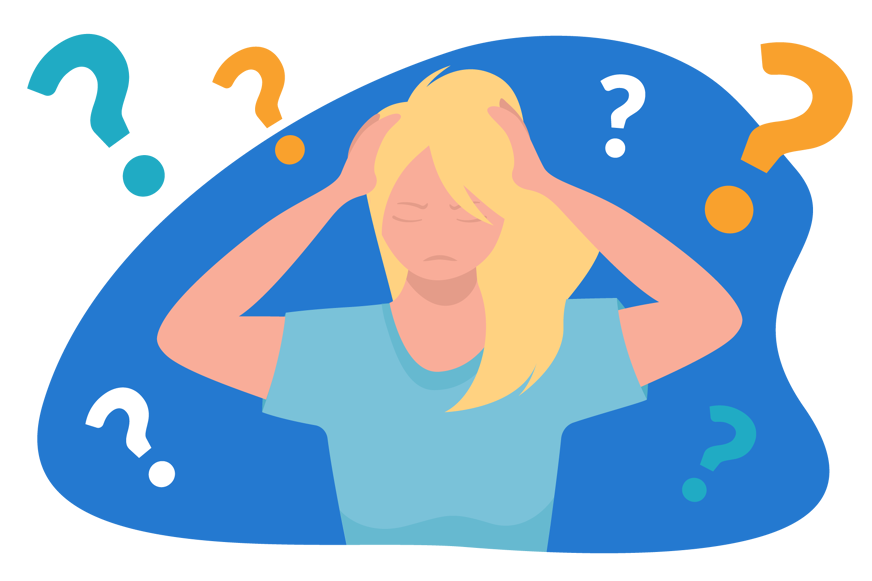 It all comes down to your ceiling structure and whether it can support the weight of the chair and the person using it.
You can't hang your chair from anywhere in your ceiling; you need to look for the strongest point.
You should attach the chair to a load-bearing ceiling joist or beam for optimal stability.
If you are unsure about ceiling joists and strength, consult a professional or consider using a hanging chair with a standalone frame instead.
Better to be safe than sorry!
Besides, the Dunelm Singapore Egg Chair is a great standalone option.
Installing an outdoor hanging chair
When installing a hanging garden chair, it is important to consider the weather conditions in your area.
Choose a suitable location that provides enough space and clearance for the swinging chair to move freely.
If you have a sturdy pergola in your garden, you could install your hanging garden egg chair onto the strongest point.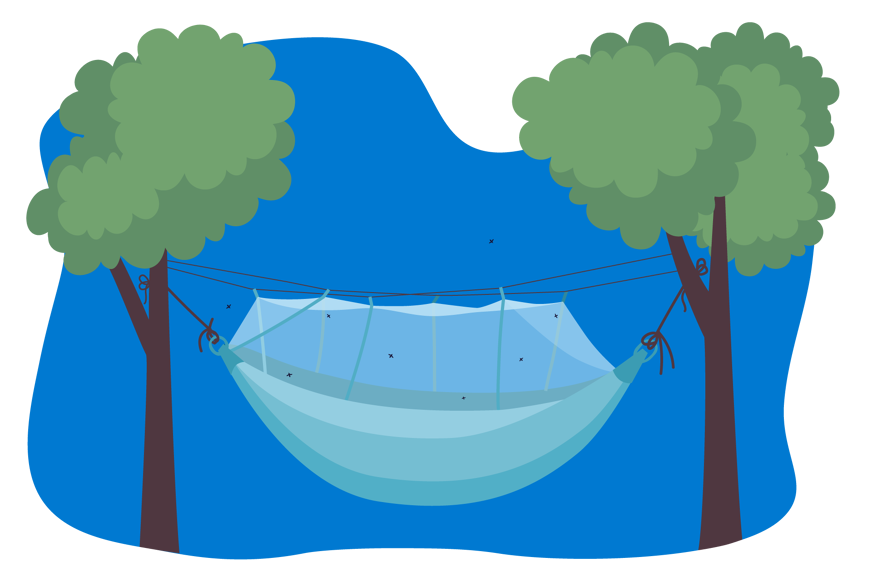 Double check it is strong enough, and always consult the manufacturing instructions if you're unsure.
If you're installing a garden egg chair with a standalone frame, assemble it according to the manufacturer's instructions and place it on a flat and stable surface.
Remember to ensure the chair is securely anchored to prevent tipping or movement while sitting in it.
You could place a few bricks on the chair's base to keep it secured to the ground. 🧱
How much room do you need for a hanging chair?
The amount of room required for a hanging swing chair depends on its size and desired range of motion.
This will prevent any collisions with walls, furniture, or other objects.
You should also consider the height clearance to ensure the chair has enough vertical space for swinging without obstruction.
As a general guideline, aim for between 40 to 50 cm (16 x 20 inches) underneath the chair so you can swing freely.
You may opt to hang the chair a little higher if you're on the taller side.
The different hanging chair materials
Each hanging chair material comes with its own set of disadvantages and advantages.
Hanging rattan chair
Rattan is a natural and sturdy material derived from the rattan palm tree. 🌴
The pros of rattan hanging chairs include their charming rustic look and suitability for indoor use.
However, a rattan hanging egg chair is not as weather-resistant as other materials and requires outdoor protection from the elements.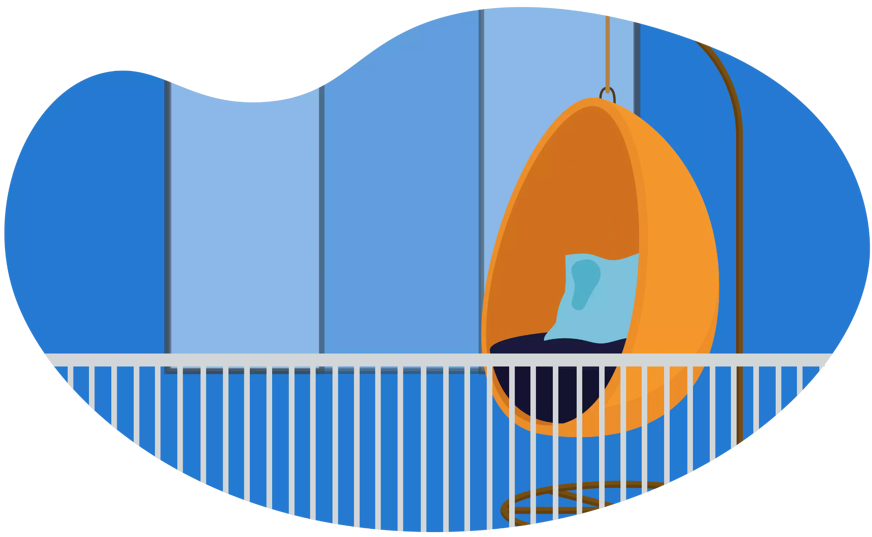 That's where poly-rattan comes in.
You can enjoy the appearance of rattan while reaping the benefits of its weather and UV-resistant sister.
Poly rattan is often used for the egg swing chair design.
Wooden hanging chairs
A wooden hanging outdoor chair offers a warm and cosy feel and is available in many types of wood. 🪵
They can be used inside and outside, depending on whether the wood has been properly treated and protected from moisture and sun exposure.
Without this treatment, your wooden hanging chair will quickly deteriorate outside.
Metal hanging chairs
Standalone hanging chairs have a metal frame of aluminium or powder-coated steel to provide extra stability.
These materials are much easier to clean than rattan or wood.
If you leave a steel chair outside, it will begin to rust after a while due to wet British weather.
So, if you leave the chair outdoors, it's best to use a waterproof cover over the chair to protect it from weather damage.
Fabric hanging chairs
Fabric hanging pod chairs are comfortable and available in various colours and patterns. 🛋️
They tend to be much lighter than other materials, so you can easily store them away on rainy days.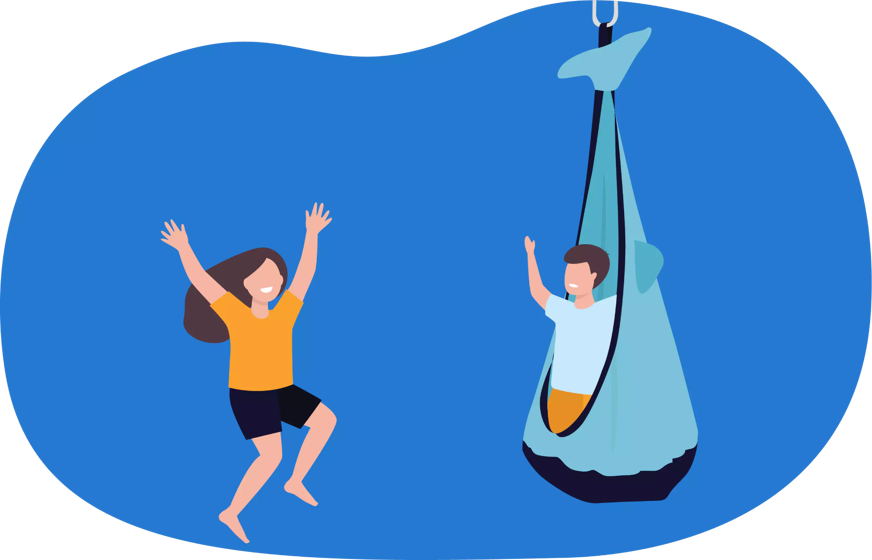 However, cotton fabrics are far less durable than metal or wood and require more cleaning.
You can wash the fabric chair in your washing machine at the end of the summer and store it away for the next heatwave. 🌞
Colours, designs and sizes for hanging chairs
Hanging chairs come in all different shapes and sizes, but which one is right for you?
Colour
Hanging chairs come in countless different colours to match your style and decor.
The most popular hanging chairs tend to be in neutral tones, like black, white, grey, light grey, brown, anthracite, taupe, and beige.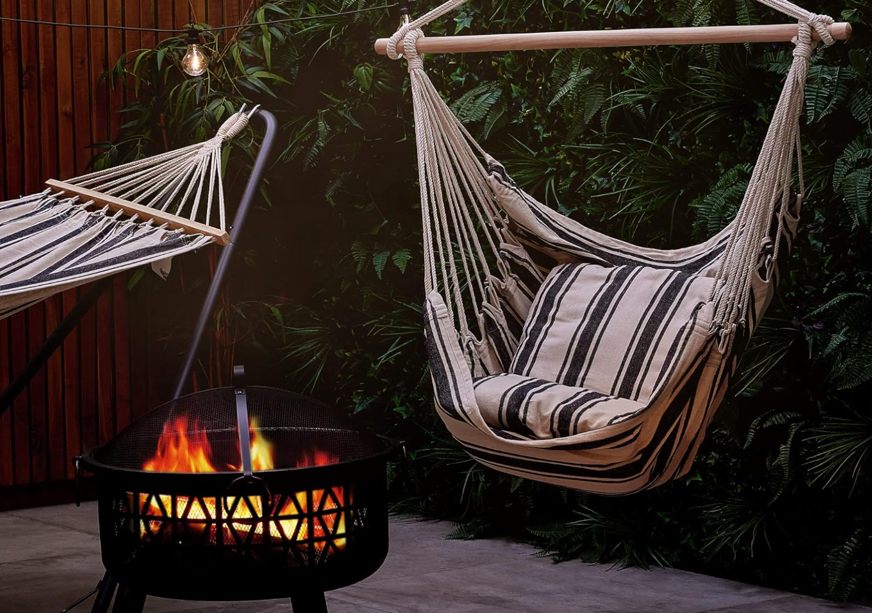 Whether you prefer a sleek and modern look or a more vibrant and playful aesthetic, there is a colour that can complement your space.
Design
The most popular hanging chairs often feature boho styles with fringes and macramé designs, like the Vounot Swing Chair.
BUY VOUNOT SWING CHAIR WITH CUSHION£ 36.99
The basket hanging chair, often called an egg chair, is also a popular option with a rattan composition and metal stand.
The egg-shaped design provides a cosy, sheltered feeling and the perfect reading nook.
Bear in mind that some hanging basket chairs can be quite uncomfortable and make you feel secluded from others sitting around you, depending on the design.
Consider your personal taste and the overall ambience you want to create when choosing the perfect hanging chair for your home.
Size
The size of a hanging chair is an important consideration to ensure it fits well in your intended space.
Choose between a single, triple or double hanging chair for your family.
There are even XXL sizes for those who prefer extra space or want to share the chair with others.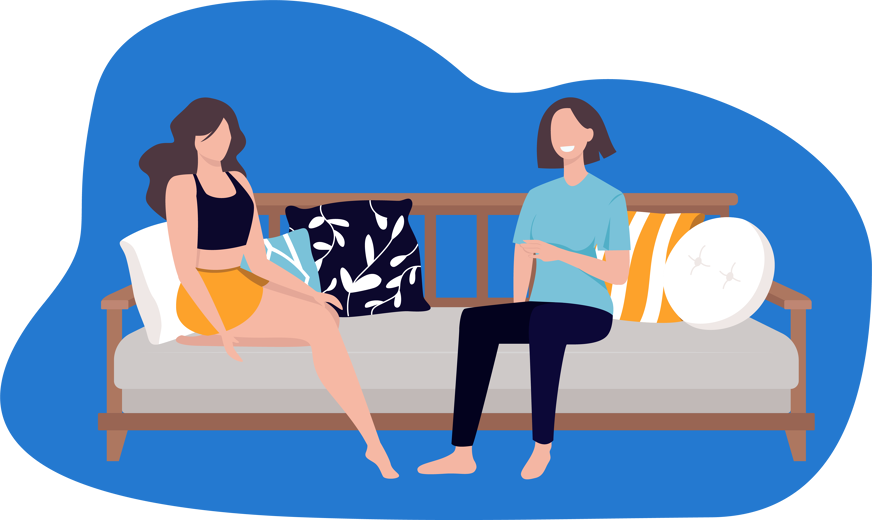 Measure the available area where you plan to hang the chair and consider the dimensions of the chair you are interested in.
The smaller cloth hanging chairs are suitable for balconies or more compact spaces, while larger two seaters provide ample room for couples or families.
Opt for a size that suits your space and seating requirements to ensure a comfortable and functional hanging chair experience.
Who are hanging chairs suitable for?
Hanging chairs are suitable for many people, from families and children to couples and campers.
Hanging chairs for families and kids
For families with young children, safety is paramount when choosing a hanging chair.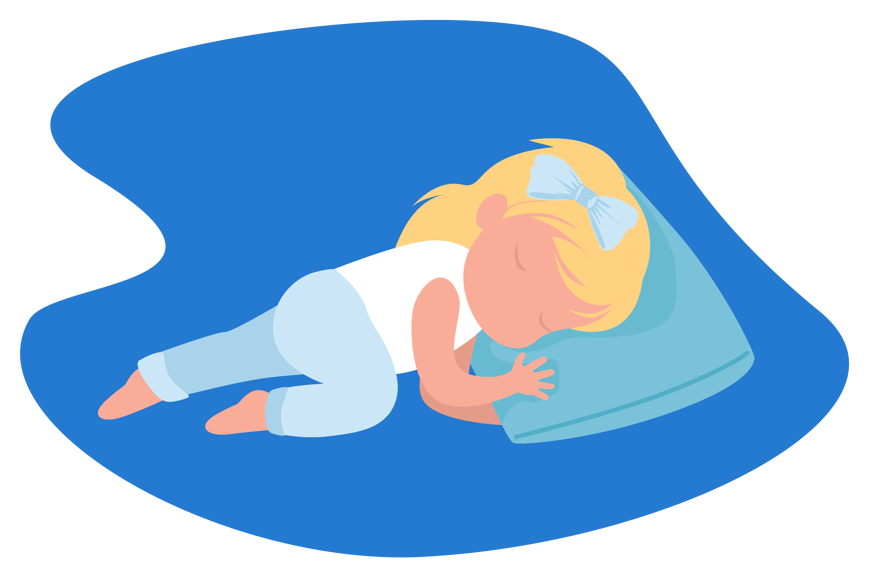 A standalone egg chair is the most stable option, often including a metal base and sturdy poly rattan construction.
Take the Dunelm Singapore Egg Chair, for example!
However, a fabric hanging chair is a great option for young kids if you're looking for something a little softer inside your home.
If anything gets spilt or stained during playtime, you can wash the chair in your laundry machine, and it will look brand new again.
The Vounot Swing Chair is a great option for kids' playrooms.
BUY VOUNOT SWING CHAIR WITH CUSHION£ 36.99
Hanging chairs for couples
Couples often seek hanging chairs that provide a comfortable space for snuggling together. ♥️
Fortunately, plenty of two-seater hanging chairs are on the market for this exact purpose.
We love the Habitat Malta Double Hanging Chair as a love seat that can withstand the combined weight and British weather conditions.
Hanging chairs for campers
For campers, practicality and portability are key.
It's all about space-saving and foldable hanging chairs that can be packed away easily.
Just imagine chilling in your hanging chair next to the fire pit on your next camping holiday!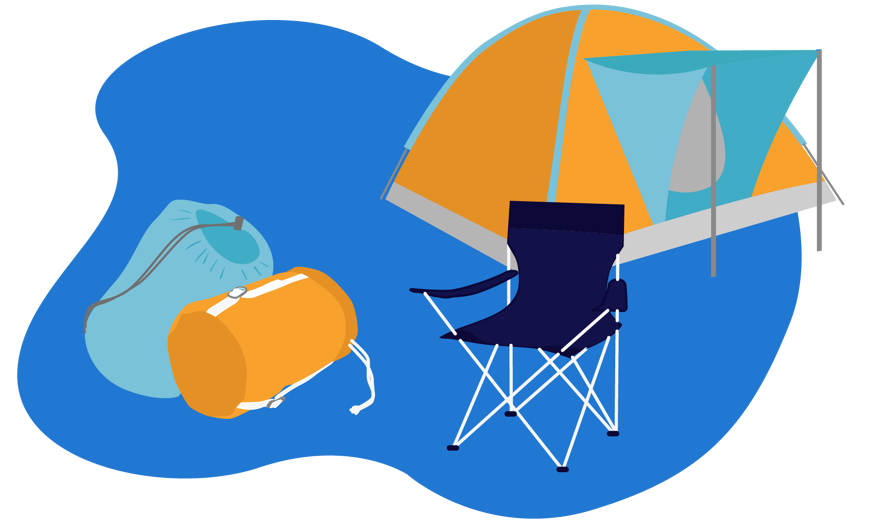 Lightweight frames made of aluminium are a great choice for easy transportation.
Alternatives to hanging chairs
If hanging chairs aren't your cup of tea, these alternatives can provide an equally enjoyable and relaxing experience.
Hammock
One popular choice is a hanging hammock chair, offering a comfortable lying position for those who prefer to recline or want to take a break from sitting.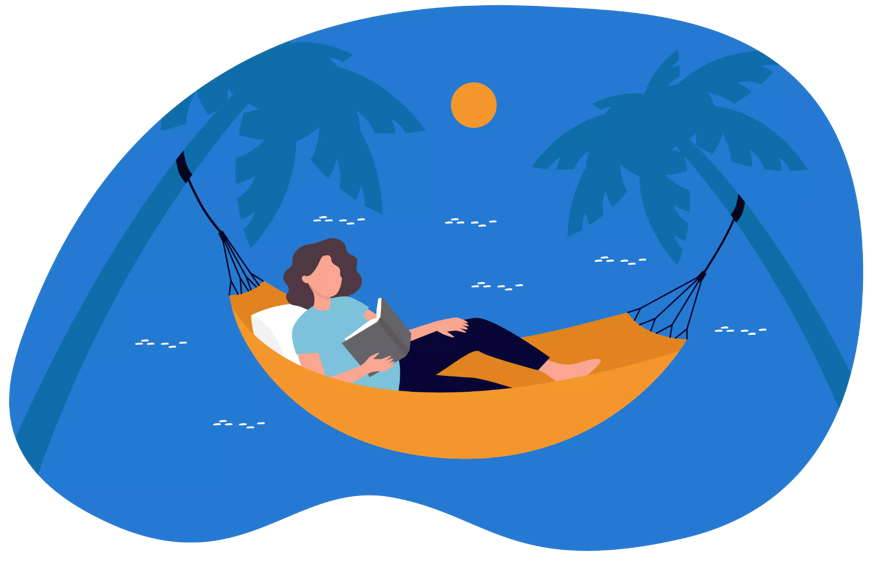 When setting up a chair hammock, ensure you have two sturdy points to attach it and avoid stretching it too tightly, as it can result in discomfort.
Scroll up to read how to hang a chair safely.
Sun lounger
Another alternative worth considering is a sun lounger or a Hollywood swing.
These options come with the added benefit of a sun canopy and are easily foldable, making them convenient for outdoor relaxation. ⛱️
Some even come with a separate footrest to put your feet up and enjoy a cocktail or two in your back garden.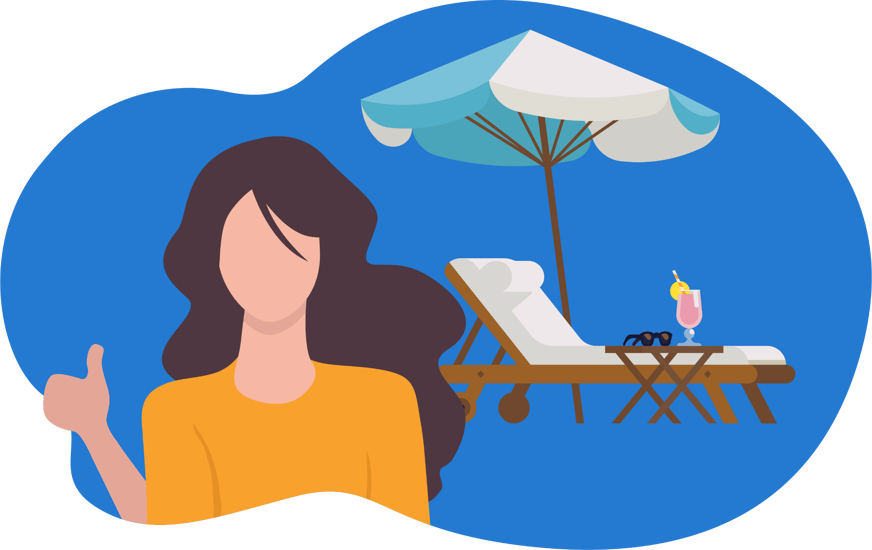 Whether enjoying a lazy afternoon or soaking up the sun, these alternatives provide a comfortable and stylish seating option.
Hanging chairs delivery and return
Check out the following suppliers instead for excellent delivery and returns:
All of our recommended suppliers provide fast and free delivery options so you can get your garden egg chair in time for the next heatwave.
If you don't like your chair when it arrives, no problem!
These suppliers provide quick and easy returns for all customers.
Elevate your summer garden with a hanging chair
Hanging chairs come in all sorts of shapes and sizes.
A hanging garden chair is the perfect piece of furniture to add a boho touch to your summer parties or relaxing Sundays.
Use our recommendations to find the best chair for your family, and make sure to install it safely.
Our favourite hanging chairs
VonHaus

Hanging Chair Blue and White Striped

Introducing the VonHaus Hanging Chair, where comfort and style meet affordability.

Introducing the VonHaus Hanging Chair, where comfort and style meet affordability.

Price from

£ 29.99

VOUNOT

Swing Chair with Seat Cushion

The Vounot Swing Chair is a budget-friendly and space-saving hanging option that can be used inside and outside your home.

The Vounot Swing Chair is a budget-friendly and space-saving hanging option that can be used inside and outside your home.

Price from

£ 36.99