How we test products
Our mission is to take the guesswork out of finding the perfect sleep products.
We've dedicated hundreds of hours to testing mattresses and sleep accessories, and rely on a team of testers of differing weights, temperature preferences, and sleeping positions to evaluate each product.
Tested products are granted the Sleep Hero tested stamp of approval, a mark of our review's reliability.
If we haven't personally tested a product, please be assured that we invest significant time and energy into scouring the UK market and researching the best recommendations, and we work with a team of sleep experts who review our articles, ensuring that the insights we provide are not only relatable but also reliable.
What are massage guns?
We all know the feeling of being bogged down by sharp aches and pains - especially in your back and neck. 😩
While a good mattress against back pain and regular exercise and stretching can help, you do sometimes need immediate relief.
We may have a suitable solution: Massage guns.
A what now?
Massage guns are becoming increasingly popular, and it's quite likely that you've heard about these nifty little gadgets before.
These are small percussive devices that look like a somewhat wonky gun (or hard-wearing hairdryer) and can be used for deep tissue massages - on yourself or a partner. 💆‍♀️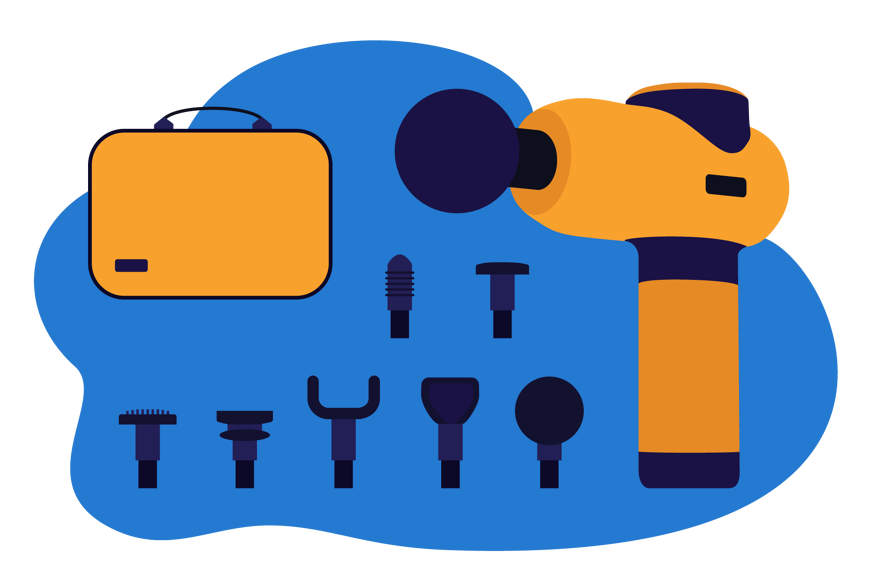 They don't offer you what you'd traditionally think of as a massage.
Instead, they rely on percussive therapy - that is, pounding and jiggling the muscle to increase blood flow, which can help reduce inflammation and muscle soreness.
While they may sound daunting, massage guns are actually pretty easy to use.
We'll show you how to use them correctly a bit further down. 👇
But, first, what can a massage gun help with and who are they suitable for?
What can a massage gun be used for?
While back and neck pains are the most common adult concerns, muscle massage guns can actually be used for a wide range of problems.
Massage guns are known to assist with:
Increased blood circulation
Relieving tensions and adhesions
Muscle relaxation
Muscle growth
Increasing mobility
Breaking up scar tissue
Lactic acid and lymphatic drainage
Relief of chronic pain
Reducing cellulite and body fat
Massage guns can also really help with sore muscles, sprains, tension relief, slipped discs, arthritis, and sciatica.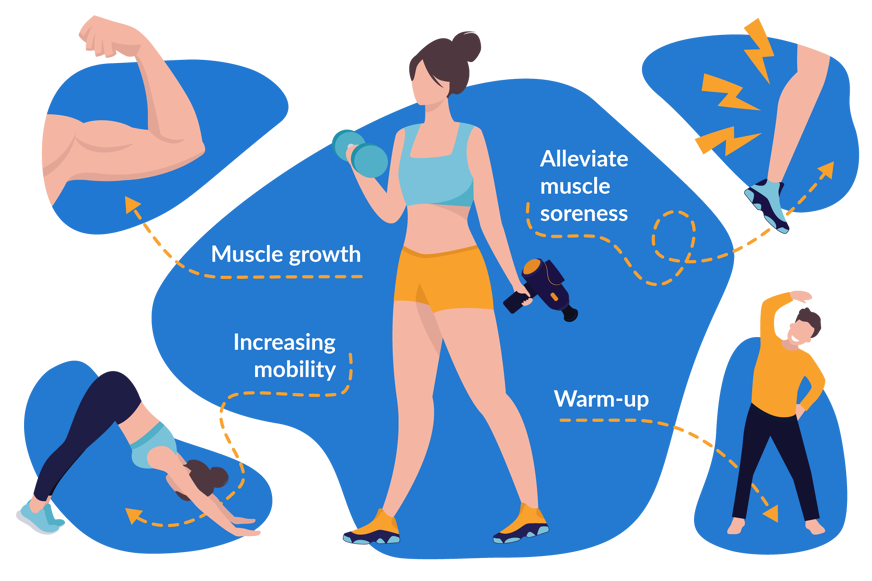 Some massage guns, like the HoMedics Pro Power, also come with special heat or cellulite attachments to help with specific problems.
BUY HOMEDICS PRO POWER£ 178.89
But do massage guns work?
Unfortunately, there are no scientific studies as yet that prove the efficacy of these devices. 🤔
But, we can speak from personal experience that they do actually seem to help!
Of course, massage guns are not a miracle cure and they may not be able to help relieve chronic pain and conditions.
You should also always consult your doctor or physiotherapist if you're planning on using a massage gun to deal with medical conditions. 🩺
Bob and Brad, a famous YouTube physical therapist duo, have even launched their own massage gun - a testament that they believe in the efficacy of percussion massagers.
Who are massage guns suitable for?
Massage guns can be used by almost everyone.
We'll go into details on who massage guns are not suitable for in the next section. 🙅‍♂️
But, first: Who can use a massage gun?
Massage guns for relaxation
Massage guns are great for a range of people looking for relaxation, muscle relief, and getting rid of those knots in your back and neck.
After all, who doesn't enjoy a good massage?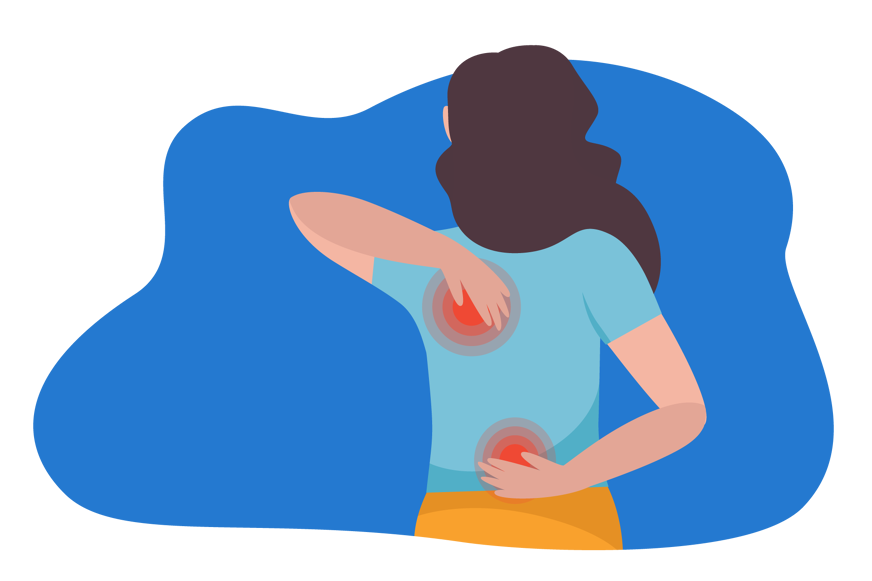 Visiting a massage therapist every day is expensive. 💰
With a massage gun, you can enjoy a powerful massage daily - and only pay once.
If you're just starting your massage gun journey, we'd recommend starting at the lowest level first to loosen those muscles before getting into more deep tissue work.
If you want to relax and sleep better, you could try out a sleep meditation app.
If you're using your massage gun to target more specific pain, it's a good idea to chat with someone in the know - or do some thorough research. 🙇‍♂️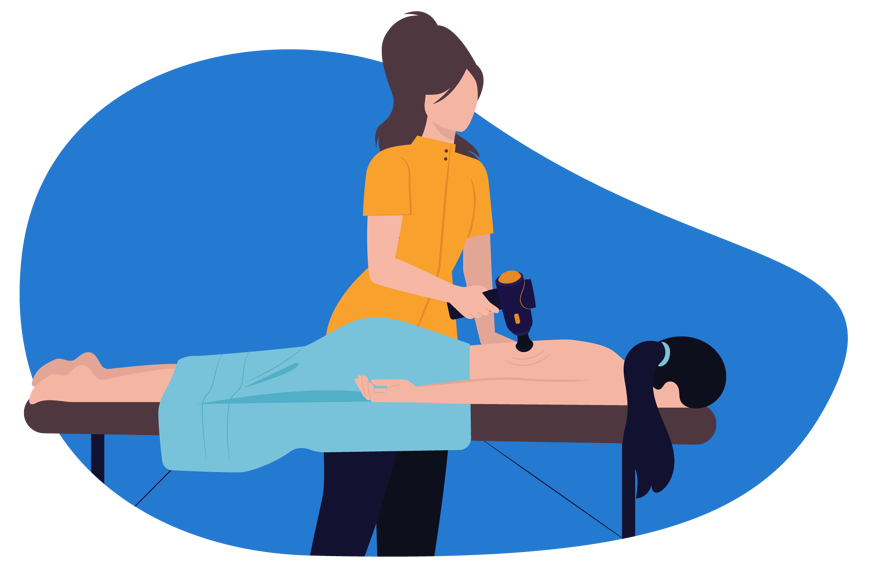 Massage guns for athletes
Athletes training regularly - and intensively - will undoubtedly benefit from massage guns. ⛹️‍♂️
These not only help with faster muscle recovery but also improve range of motion.
This is because the massage gun can loosen the fascia, the connective tissue around the muscles.
Massage guns are great for alleviating acute muscle soreness and delayed onset muscle soreness (DOMS).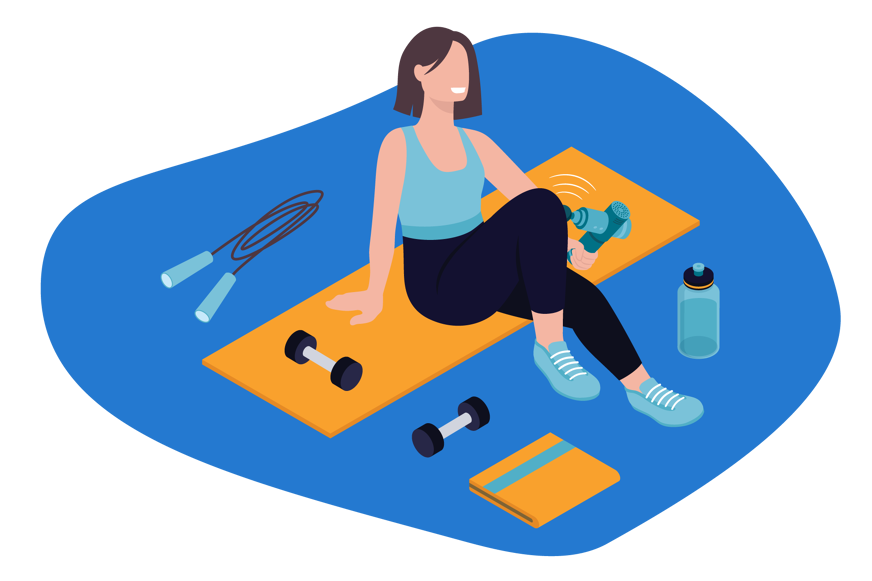 Professional athletes can also use massage guns before training to prepare the muscles for a good workout and prevent injuries and fatigue. 🥳
This makes daily training without excessive muscle stiffness possible.
Athletes may benefit from massage guns with higher amplitude (meaning they can reach deeper-lying muscle tissue).
The TheraGun Pro has an amplitude of 16 mm!
Massage guns for chronic pain
People with chronic conditions such as continuous back pain, neck tension, or muscle stiffness may notice positive effects from using a massage gun.
But:
It's vital that you discuss the use of the massage gun with your doctor or physiotherapist first.
If used incorrectly, chronic pain may worsen. 😳
Did you know? Deep pressure stimulation through the use of weighted blankets may also help relieve chronic pain.
Massage guns for the elderly
Decreased mobility and increased pain are common struggles with ageing.
Massage guns can help combat these problems by reducing pains, increasing tissue elasticity, and heightening overall wellness.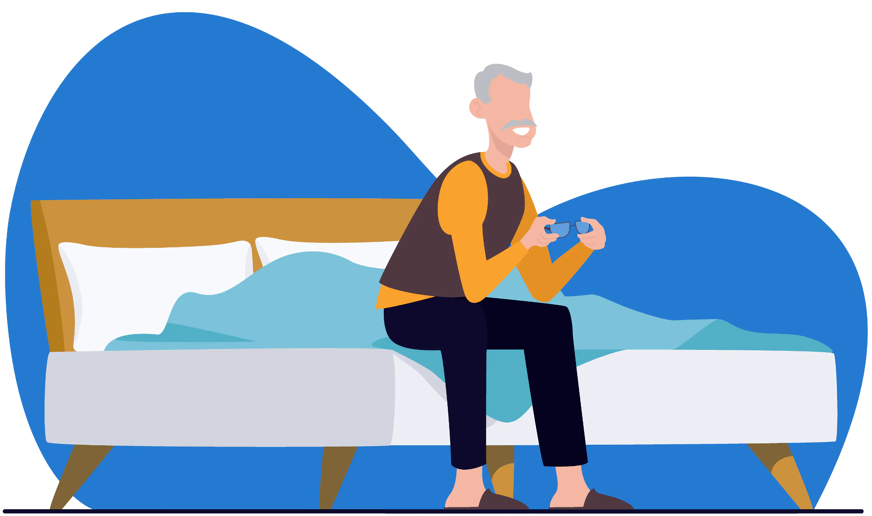 Be careful that you don't overuse the massage gun - and stay away if you have high blood pressure or osteoporosis.
You may want to try a percussive massage device like the Wahl with an extra-long handle for easy use.
Who are massage guns not suitable for?
There are some instances when you definitely should not use a massage gun. 🙅‍♂️
Can you use a massage gun after an operation?
You should not use a massage gun after you've had an operation.
The shock impulses can cause stitches to rip open.
Since a massage gun promotes blood circulation, fresh cuts or stitches can start bleeding again.
It's best to wait until you've fully healed from your operation before starting to use a massage gun. 🥼
Can you use a massage gun if you have osteoporosis?
You should not use a massage gun if you suffer from any bone diseases, like osteoporosis, or if you have a broken bone. 🦴
The vibrations can damage the bones even further.
Electric blankets to increase heat or more gentle massage pads are a much better alternative.
Can you use a massage gun if you're pregnant?
You should not use a massage gun while pregnant. 🤰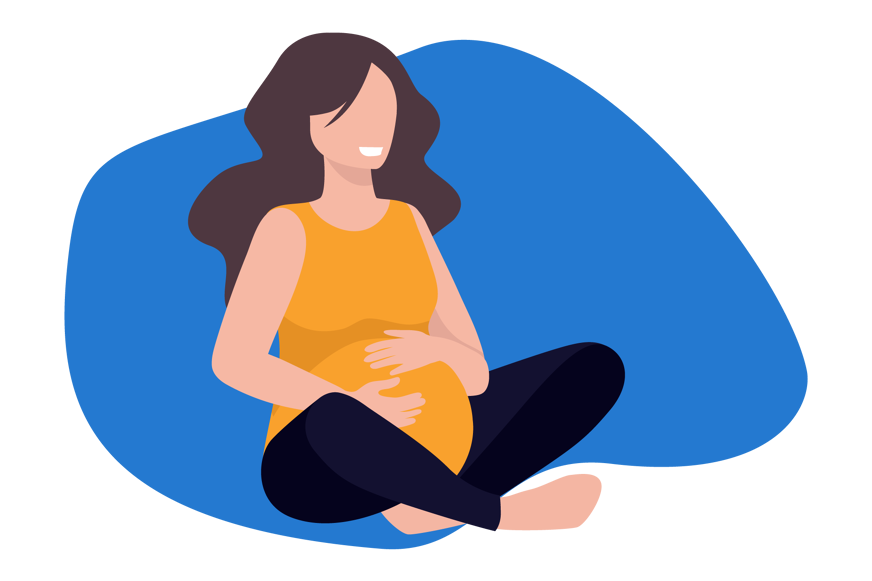 Early on during pregnancy, a massage gun can loosen up the flexible tissue of your skin even further.
Later on, massage guns can trigger premature birth. 👶
If you're pregnant and in need of some pain relief, you should seek the helping hands of a massage therapist - or ask your partner for a good neck rub!
We'd also recommend trying out a V-pillow or full-body pillow for great support while resting.
Here are some of our favourites:
Kally Sleep

Price from &nbsp

£ 42.98

£ (59.99 )

The Kally Body Pillow offers full-body support and comfort.

The Kally Body Pillow offers full-body support and comfort.

Price from

£ 42.98

(£ 59.99 )

The Fine Bedding Company

Back Support V-Shape Pillow

Price from &nbsp

£ 25.50

£ (30 )

The Fine Bedding Company Back Support V-Shape pillow provides firm cushioning support for those who like to sit up in bed.

"Get 15% off with our exclusive 'SLEEP15' discount code."

The Fine Bedding Company Back Support V-Shape pillow provides firm cushioning support for those who like to sit up in bed.

"Get 15% off with our exclusive 'SLEEP15' discount code."

Price from

£ 25.50

(£ 30 )
How to use a massage gun on yourself
How to use a massage gun on yourself correctly depends both on your needs and on how long you've been using massage guns.
First-time users often find high intensities painful. 😬
They should stick to lower intensities to work on loosening the muscles first.
Here is a quick step-by-step guide on how to use a massage gun on yourself:
Check the massage gun for cracks or production faults.
Read the user manual carefully to find out which attachment and which level is best for you. 📖
You don't have to undress to use the massage gun - the machine can be used on naked or covered skin.
Find a comfortable lying or sitting position. 🧘‍♀️
Start on a low level to warm up your muscles and work up the intensity bit by bit.
Let the massage gun do the work for you. There's no need to apply additional pressure. To work on a trigger point, slowly move the massage gun over the area, drawing circles or lines.
You should not remain on any one point for too long. ⏲
If you feel any sharp or strong pains, stop massaging immediately.
Remember to clean your device and massage heads with a slightly damp cloth after each use.
If you're working on difficult-to-reach areas, it's best to ask a friend, partner, or family member to help you out.
How often should you use a massage gun?
If you're using your massage gun for back pains or simple relaxation, a treatment two to three times per week is sufficient.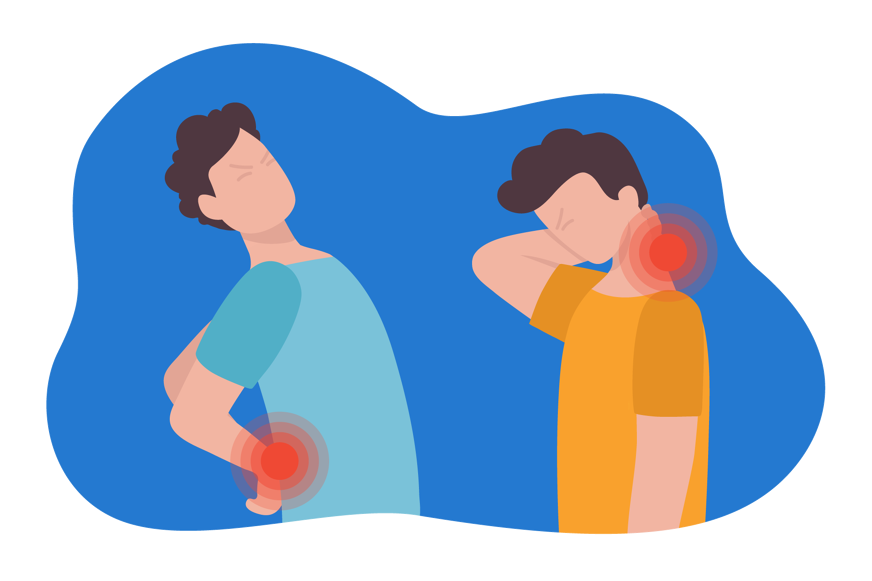 If you're working out, you can use the massage gun as a warm-up before each training session. ♨️
This will help prevent sore muscles after your training.
You only need to use the gun on each muscle group for 30 to 90 seconds.
After the training session, you can use the massage gun on the muscle groups for 2 - 5 minutes to help relieve cramps.
For how long should you use the massage gun?
Since massage guns can deliver up to 3200 revolutions or percussions per minute, it's important to not use the device for too long - especially if you're starting out! 😲
Sportspeople can use the massage gun for 30 - 90 seconds before exercise and 2 - 5 minutes after training.
To relieve sore muscles, you should use the massage gun at its lowest speed and massage each tension point for about three minutes. ⏰
Some massage guns, like the Bob and Brad X6 Pro, can turn off automatically to prevent overuse.
How long to massage for will be influenced by the attachment you're using.
Some massage heads have a more pointed tip than others and are better suited for deep-seated pain.
These should be used for shorter periods of time than flatter attachments, which can be used over your whole body. 🚶‍♂️
Let's take a closer look at massage gun attachments in the next section.
Different massage gun attachments
Quality massage guns come with a range of different attachments. 🛠
These different massage heads can be used to treat different body parts and different problems.
Specifics may vary - you should always refer to your product-specific user manual for guidelines.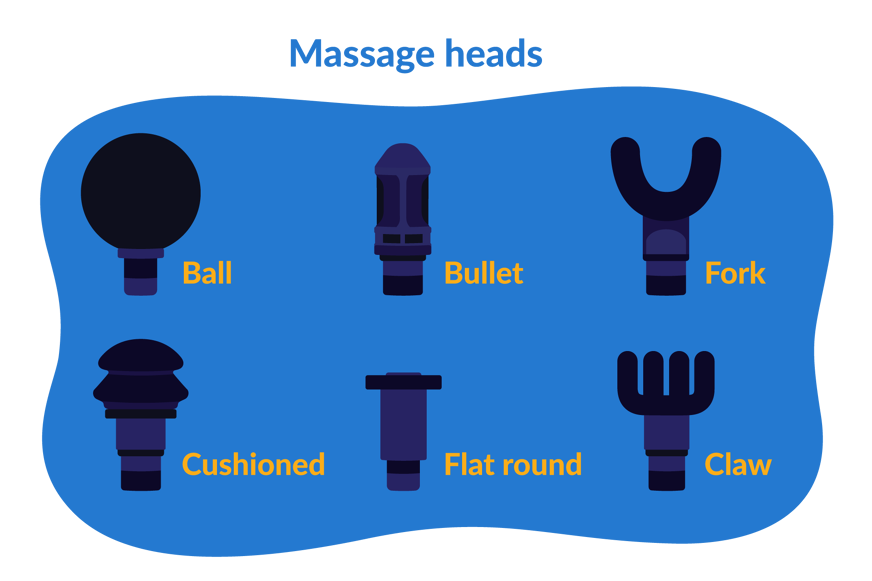 Here is a quick overview of the most common types of massage gun attachments:
Ball massage head: This round massage head delivers a gentle massage and is great for whole-body muscle relief. Best used on thighs, calves, back, and buttocks. 🍑
Bullet massage head: This attachment is more pointed and excellent for releasing trigger points. Best used for deep-tissue massage, leg joints, and small muscle areas.
Fork or u-shaped massage head: This attachment allows the force to be directed to two points on the edge, protecting the bones in the middle of the area of application. This is especially useful for the neck and spine. 🦴
Flat round massage head: With this attachment, the impulse force is distributed over a larger area, decreasing pressure. The flat attachment is perfect for relaxation.
Cushioned or padded round massage head: This massage head is similar to the flat round but cushions the percussive force. This makes it good for more bony parts of the body, like hands and feet. 🦶
Finger or claw massage head: This attachment consists of several "arms" arranged in a circle - it's great for a good calf massage. 🐙
Not all massage guns come with all types of attachments.
If you're looking for the most variety, it's best to opt for a massage gun set that comes with a range of different massage heads.
How do massage guns actually work?
So, how exactly does a massage gun work?
What's the technology behind it?
A massage gun delivers percussions that affect the targeted muscle areas and can relieve deep-lying tension.
Most massage guns contain an electric motor that draws its power from a rechargeable battery, usually located in the handle.
Some massage guns, though, are cable- and not battery-operated.
During use, your massage gun will heat up - this is why you'll usually find air holes in the casing. 💨
Make sure you keep these open and clean to prevent overheating.
Different intensities and speeds
Most quality massage guns have different speed levels and can manage between 1200 and 3200 revolutions per minute! 😱
Different speeds should be used for different areas of the body.
You should also start slowly if you're new to massage guns.
Massage gun amplitude
In addition to speed, massage guns will often give their amplitude.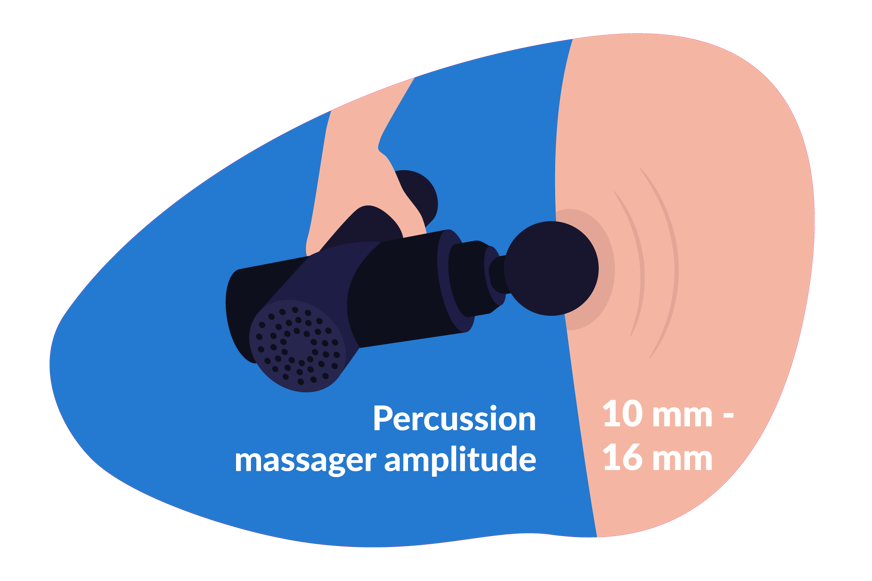 This refers to how deep it can get into your muscles.
The higher the amplitude, the deeper an effect the massage gun can have.
The Theragun Pro, for example, has an astounding amplitude of 16 mm!
What do I have to consider when buying a massage gun?
Massage guns don't always come cheap, so it's a good idea to consider various products before you make your final decision.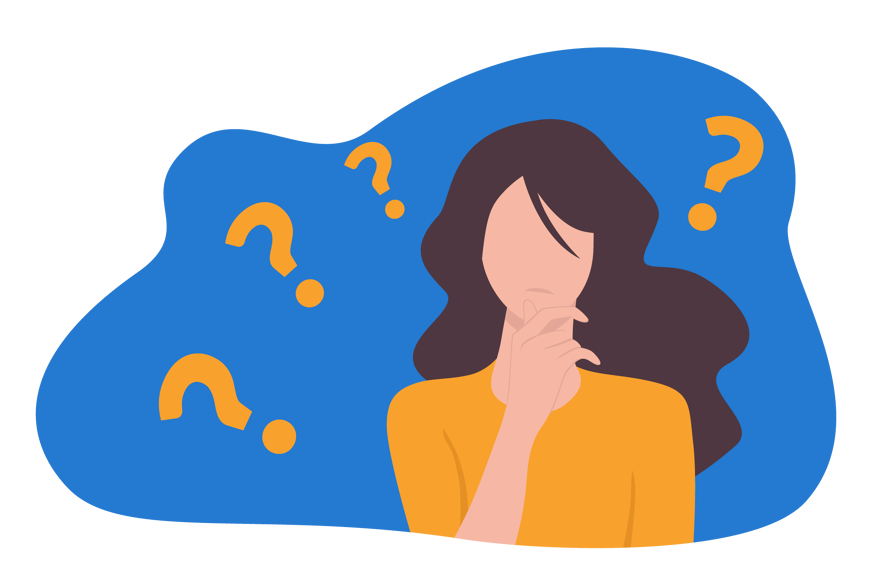 But you can't only look at the device itself. 🧐
You also need to consider the battery life, noise level, price, performance, and which attachments are included.
Let's consider these factors in a bit more detail.
Device design
Of course, you want your new massage gun to be aesthetically pleasing, but the design is also important for a few other reasons.
Consider the following:
Are the surfaces smooth and easy to clean?
Do the attachments fit tightly?
Does any part of the massage gun wobble when turned on?
Does the device feature sturdy metal housing or only plastic?
Are there sufficient air holes to prevent overheating?
Does the handle have a silicone or rubber grip?
You should ensure that the device sits nicely in your hand. ✋
We prefer smaller and more lightweight massage guns that are easier to hold, but what works best for you will depend on your size and build as well.
For example, if you're a lady of petite build with small hands, you may need a smaller device with a thinner handle.
The TheraGun Mini is a great option!
In contrast, if you're a man of larger build with big hands, a bigger and more sturdy device may work best for you!
Noise levels
You should always look at the decibel count listed before buying your massage gun.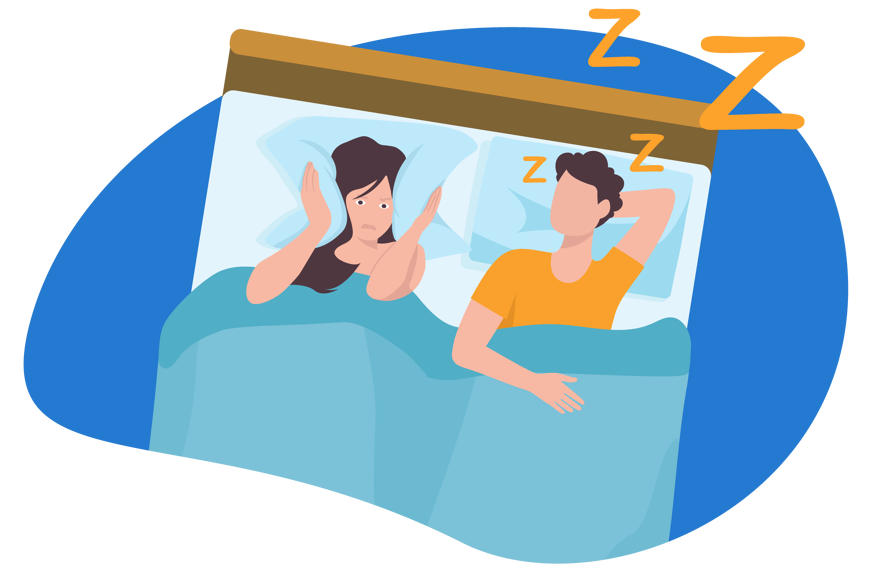 While most massage guns are marketed as low noise, some are a tad louder than others. 🎧
As a general guideline:
Anything below 65 decibels is good; anything above 70 decibels may hurt your ears.
You want your massage gun to be as quiet as possible, but also remember that volume will increase as you up the intensity!
Different massage guns also emit different sounds. 🦜
Battery life
We prefer handheld massage guns with rechargeable batteries.
While cable-operated massage guns can be convenient if you're looking for uninterrupted massage time, these aren't as user-friendly.
Plus, most modern massage guns have exceptional battery life. ⚡️
Lithium-ion batteries tend to charge faster and offer a longer battery life.
The HoMedics Pro Power massage gun can run for a full 5 hours!
BUY HOMEDICS PRO POWER£ 178.89
A good device will have a clear battery indicator so you can quickly see when it's time to recharge. 🔋
There's nothing more annoying than your massage gun just running out of steam mid-massage.
Charging time is also important - especially for physiotherapists and athletes.
You want your device to recharge quite quickly so you can use it again.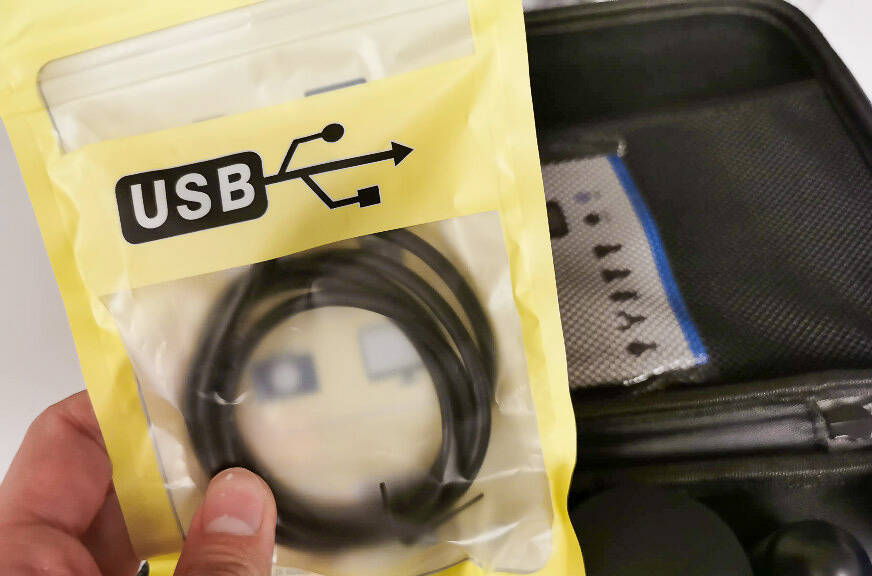 Finally, you should make sure that the massage gun set has everything you need to charge the device.
Some massage guns require a special adaptor or charger that you'd need to buy separately. 🤯
Sleep Hero preference: We like compact units where you don't have to remove the battery to charge.
Motor
We've already given a quick overview of how massage guns work, but let's look at this in a tad more detail.
Many massage guns feature carbon brushes that transfer current from the rotor to the stator, creating the shock impulses.
Due to the sliding contact, a lot of heat is developed and the motor wears out more quickly.
This is why we always recommend massage guns with a brushless electric motor.
Brushless motors, as the name suggests, don't have carbon brushes and rely on chips instead.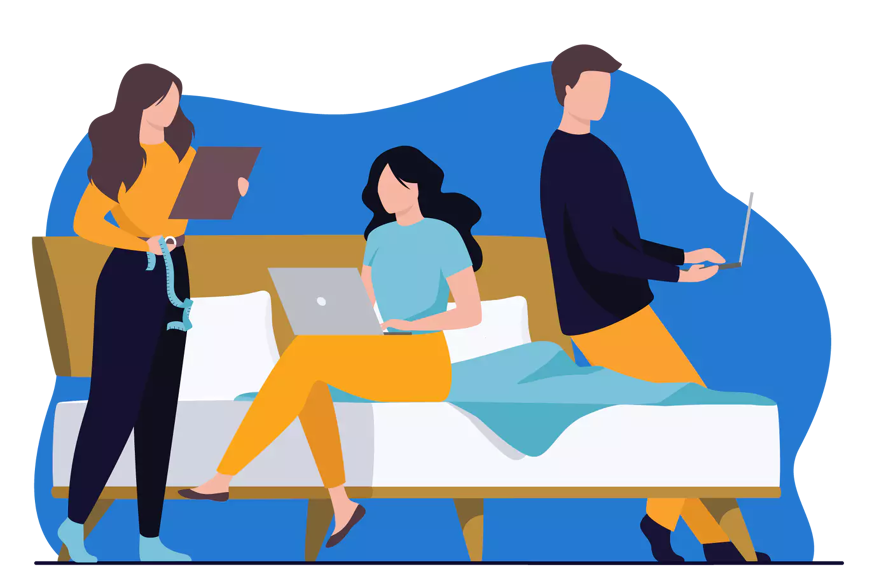 These motors are more durable and are likely to last much longer.
The power of the motor also matters, and it's best to look at the pulses per minute.
Very high-quality devices can offer over 4000 pulses per minute, but most devices offer 1200 - 3200 pulses per minute.
The higher the pulse rate (aka speed), the more intense the massage.
Most massage guns have different intensity levels, allowing you to set the speed and monitor your massage more directly. 🏎
Operating the massage gun and adjusting the intensity should be super simple.
One-touch buttons and LED touch screen displays are convenient. 👍
Ultimately, the device needs to be simple to use.
Massage gun accessories
Finally, you also need to consider how many massage heads your massage gun comes with.
As we've discussed, massage heads allow you to treat different areas and problems more effectively. 😁
We'd recommend going for a massage gun set with the most attachments.
This ensures you're not missing out.
But, remember: Some mini massage guns like the TheraGun Mini only come with one attachment for ease of travel.
Storage sets
Most quality portable massage guns come with a convenient carry case, allowing you to store the device and all attachments in one location. 🧳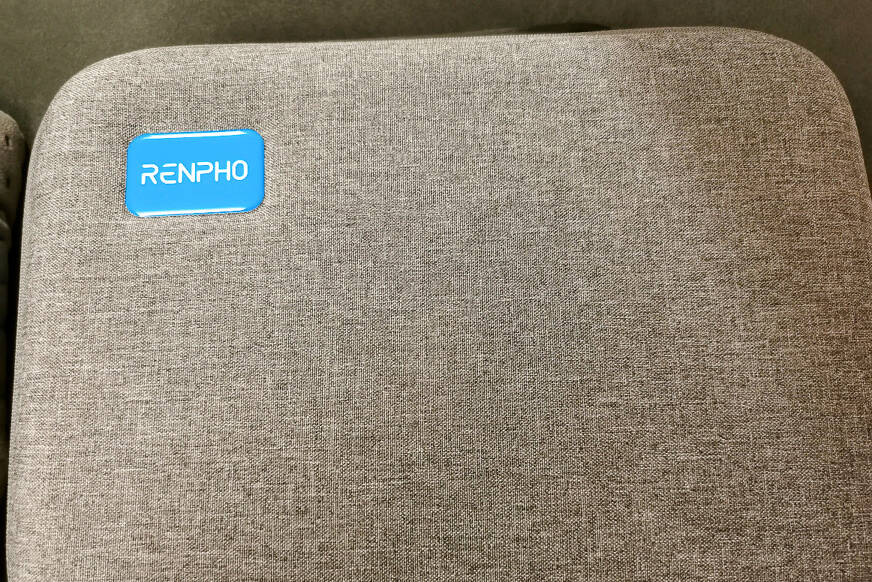 This not only protects the device and keeps it clean but also allows you to carry it with you wherever you go.
What do massage guns cost?
Most quality massage guns are available for around £100.
But there are also some cheaper and some much more expensive models available!
The TheraGun Pro, for example, costs upwards of £500.
A massage gun that costs more isn't necessarily better.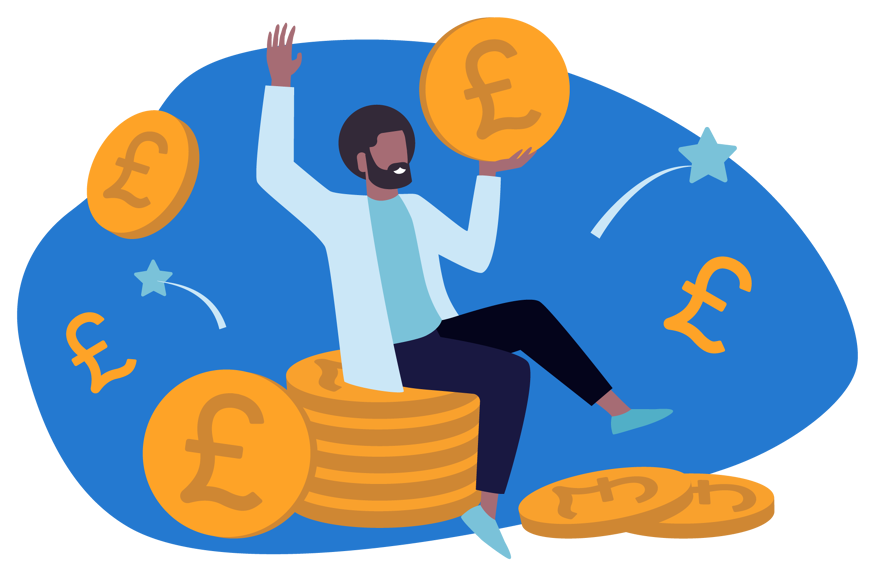 Remember to look at the criteria listed above to see if a massage gun will suit your requirements. 👆
Should you buy a massage gun?
We love working with massage guns and really think most people can benefit from using one. 🤩
Of course, stay away if you're recovering from an operation, have a bone disease, or are pregnant.
But if you're looking for a great way to relieve muscle tension and find some relaxation after long days at work, a good massage gun may just do wonders.
Opt for a model with a money-back guarantee so you can return it if you're not completely satisfied.
Here is another quick look at our favourite UK massage guns:
Bob and Brad

X6 Pro Deep Tissue Massage Gun

Price from &nbsp

£ 139.99

The Bob and Brad X6 Pro Deep Tissue muscle massager features 5 speeds and 5 attachment heads.

The Bob and Brad X6 Pro Deep Tissue muscle massager features 5 speeds and 5 attachment heads.

Price from

£ 139.99

HoMedics

Price from &nbsp

£ 178.89

£ (299.99 )

The HoMedics Pro Power Massage Gun offers heated deep-tissue therapy.

The HoMedics Pro Power Massage Gun offers heated deep-tissue therapy.

Price from

£ 178.89

(£ 299.99 )

TheraGun

The Theragun Pro is a professional percussive therapy deep-tissue massage gun recommended by athletes and therapists.

The Theragun Pro is a professional percussive therapy deep-tissue massage gun recommended by athletes and therapists.

Price from

£ 469