What are smart mattresses and smart beds?
The two terms are largely used interchangeably as there is no standard definition as yet.
In general, though, smart mattresses and smart beds are designed to incorporate high-tech technology into the mattress or bed base.
Smart mattresses and smart beds have sensors that function much like health trackers to analyse your sleep patterns and even actively improve the quality of your sleep.
They monitor body movement, heart rate, and breathing to measure sleep duration and sleep cycles, and can even automatically adjust your bed or mattress to ensure better-quality sleep.
The most commonly available features of smart mattresses and smart beds include:
Sleep tracking
Automatic adjustment of firmness levels in the mattress
Temperature regulation
Adjustable bed bases
Anti-snoring features
Smart home integration
Smart home integration
Many of the newest smart beds and smart mattresses directly connect to modern smart homes.
This is commonly known as the Internet of Things (IoT) and refers to the ability of everyday household items, including lighting, thermostats, locks, etc. to communicate with each other via WiFi or Bluetooth.
IoT devices run on different operating systems and are often enabled by voice assistants like Amazon Echo's Alexa or Google Home.
Smart beds with smart home connectivity can directly communicate with the rest of your home for some nifty features.
IFTTT
Some smart bed manufacturers have even begun connecting their devices with IFTTT (If This, Then That).
IFTTT is a commonly-used free service that allows people to create applets or recipes to create a chain reaction of events if the first step in the chain is completed.
Conventionally, for example, you could create an IFTTT applet that automatically posts a WordPress article to Facebook.
IFTTT can become quite a bit more complicated, though.
For example, in the smart mattress world, you can find IFTTT applets that allow your coffee machine to automatically start brewing coffee when you get up in the morning.
Our selection of the best smart mattresses and smart beds
Smart mattresses and smart beds are still new in the mattress world but they are becoming increasingly popular.
For now, the US is still the leader in the smart bed world, and many of the best smart mattresses are currently only available in the US.
Even though we've featured numerous of the best smart beds in the world in this article, you will not necessarily be able to access all of them in the UK.
But we have included notes about this within each section.
Eight Sleep's The Pod
The Pod by Eight Sleep is the ultimate in modern sleep technology.
This signature mattress comes with the Eight Sleep tracker app to analyse, control, and enhance your sleep.
Monitoring your sleep
The Eight Sleep tracker can measure heart rate, breathing, and body movement for two people sharing a bed.
It relies on ballistocardiography, a non-invasive technique that doesn't rely on wearables. Many in-bed sleep trackers use this.
Since it doesn't require wearables, sleep tracking takes place seamlessly and automatically.
In addition to body metrics, it has sensors that can monitor your bedroom environment conditions, including:
Ambient light levels
Temperature
Humidity
Noise levels
Temperature control
A distinctive feature of Eight Sleep is that you can set different temperatures for the two halves of the bed.
This means that you and your partner can both sleep in an optimally-designed environment.
Being able to customise each side of the bed makes The Eight Sleep Pod an excellent choice for couples.
Smart home integration
The Eight Sleep Pod is fully compatible with IFTTT, Amazon Alexa, Philips Hue lighting, Nest thermostats, Fitbit activity tracking, and more.
You can also get the mattress cover
If you're happy with your current mattress, you can also invest in the Eight Sleep cover, which gives you all the same features as The Pod.
You can place this cover on to any mattress.
Is Eight Sleep available in the UK?
YES!
Sleep Number 360 Smart Bed
Sleep Number has a range of mattresses that come with adjustable firmness levels and can be combined with their SleepIQ tracker.
SleepIQ Tracker
The SleepIQ application is available for all of the Sleep Number beds.
It helps users fully monitor their lives so they can find out how choices are affecting their sleep.
The Sleep Number bed uses sensors to track your heart rate, breathing, and motion to provide data on your sleep patterns.
It also tracks your actions, like exercise and diet, throughout the day so you can see how those adjustments affect your sleep.
Sleep Number 360 Smart Bed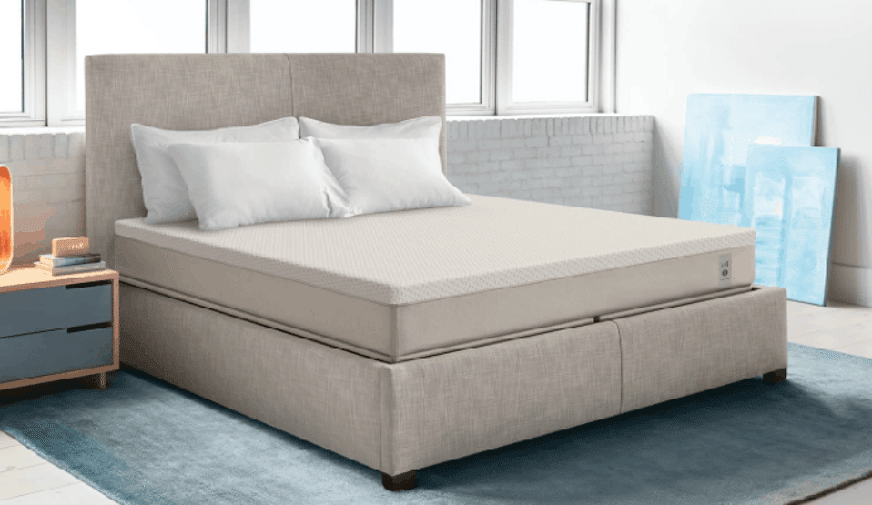 The Sleep Number 360 Smart Bed is the epitome of Sleep Number's smart technology.
These mattresses consist of 3 layers: The FlexFit base, the ResponsiveAir technology layer with inflatable air chambers to regulate firmness, and the final comfort layer.
The ResponsiveAir technology can make tiny automatic adjustments to the firmness of your mattress throughout the night to perfectly suit your sleeping position.
If you choose the FlexFit adjustable base, you'll also be able to raise or lower the mattress into more reclining or supportive positions for superior comfort.
The 360 Smart Bed also has numerous other features, including:
In-built snoring detection: When the mattress detects an audible sign of snoring, the head of the base is gently raised by a few degrees, altering your head position and preventing further snoring.
Foot warming: This can help you fall asleep faster.
LED lighting: If you wake up in the middle of the night, sensors will detect if you get up and the LEDs at the base of the bed will automatically switch on for gentle illumination.
The Smart Bed also features IFTTT and smart home integrations.
Is Sleep Number available in the UK?
Sleep Number is not currently available in the UK.
ReST Bed with Purple Grid
ReST creates smart beds that automatically adjust to your needs.
The ReST Bed with Purple Grid incorporates the very best of the Purple Mattress into a smart bed.
What Is Purple Grid?
The Purple Grid is a hyper-elastic polymer grid that has been developed by Purple, which also manufactures the Purple Mattress.
This polymer grid provides additional pressure relief, comfort, and support.
It also aids temperature regulation as the grid layer includes open channels for better airflow and is generally more breathable.
ReST air chamber support core
The ReST with Purple Grid smart bed features an air chamber support core that allows you to customise the firmness levels for each side of the mattress.
There are five zones so that you can independently adjust the desired firmness level for your legs, hips, lumbar region, shoulders, and head.
The ReST bed relies on a closed WiFi system that connects to an app so that users can control the amount of inflation for each chamber.
These can be set manually, but you can also enable automatic real-time response so that the chambers adjust as you move throughout the night.
Are ReST Smart Beds available in the UK?
ReST Smart Beds are currently not available in the UK.
Simmons BeautyRest Smart Motion and Sleep Tracker
Well-known mattress manufacturer Simmons has also entered the smart bed market with their SmartMotion adjustable bed bases and the BeautyRest SleepTracker.
SmartMotion adjustable bed bases
The SmartMotion bed base can be used together with any mattress and provides a range of smart features, as well as full integration with the BeautyRest Sleep Tracker app.
Features include a wireless remote, snore relief, a 6-level massage system, and a full range of adjustable head and foot positions.
BeautyRest SleepTracker and app
The BeautyRest SleepTracker allows you to benefit from sleep monitoring and analysis without having to rely on wearables.
The device is fully integrated into the range of SmartMotion bases and consists of 2 sensors and a control unit.
These can wirelessly track sleep for two individuals in a bed.
The BeautyRest SleepTracker is also available as a standalone in-bed sleep monitor that can be used with any other existing mattress.
Interested in sleep trackers? The Oura Ring is a smart jewellery sleep and health tracker that can monitor your lifestyle choices. Our Oura Ring review can tell you more.
Is BeautyRest available in the UK?
While BeautyRest gel memory foam mattresses are available in the UK, the SmartMotion bases and the BeautyRest SleepTracker are currently not available.
Mode Smart Bed
Mode features a range of products, including the Mode Smart Bed, Mode Mattress, and the Mode App.
The Mode Smart Bed and the Mode app work together, but mattresses are sold separately, and you don't necessarily have to invest in a Mode mattress to use their smart bed and its functionality.
The Mode Smart Bed comes in a beautiful design with headboard and upholstery.
Mode Smart Bed functionality
The Mode Smart Bed includes a range of functions:
Under-bed lighting with a smart LED system.
USB ports to charge all your bedroom gadgets.
Luxury massage motors that can be switched from continual to pulse effect massage with adjustable intensity.
Adjustable bases, including a split base that allows for fully independent movement for you and your partner.
You can control the Mode Smart Bed with either the accompanying smartphone app or the backup wireless remote control.
Mode Smart Bed sizes and prices
Currently, Mode Smart Bed bases are available for the following standard UK mattress sizes:
Double Mattress
King Mattress
Super King Mattress
Prices start from £2299.
Are Mode Smart Beds available in the UK?
Yes! Mode Smart Beds are available in the UK, together with the Mode App and Mode Mattresses.
How much do smart mattresses cost?
Smart mattresses and smart beds are enormously expensive. You're looking at an absolute minimum spend of £1000.
That said, some smart mattresses are more expensive than others as they all do different things.
You can also always choose 'how smart' you want your sleep technology to be.
You can choose to invest in a smart mattress with a tracking app or go the full monty and indulge in a smart mattress with a smart bed base.
You could even simply invest in a smart mattress cover to turn your current mattress into a 21st-century sleeping experience.
There are definitely options available.
Do you need a smart mattress?
No, you'll find just as many great mattresses in the traditional mattress world.
But if you don't have any budgetary constraints and you're ready to jump into the next century of mattress technology, then a smart mattress or smart bed is a great option.
Plus, many smart beds have unique features that can do anything from cure body pains, silence a snoring partner, help you find the most comfortable position, and switch on lighting, so you don't stump your toes in the dark.
They are also particularly great at helping with orthopaedic complaints like back pain and can help you get better sleep.
If you have the finances available, they can be an excellent investment.
Conclusion
Smart mattresses and smart beds are remarkable technologies that can really enhance your sleep.
But they are enormously expensive.
While the investment is usually worth it, they're just simply out of range for most consumers.
Many smart beds are also not yet available in the UK.