How we test products
Our mission is to take the guesswork out of finding the perfect sleep products.
We've dedicated hundreds of hours to testing mattresses and sleep accessories, and rely on a team of testers of differing weights, temperature preferences, and sleeping positions to evaluate each product.
Tested products are granted the Sleep Hero tested stamp of approval, a mark of our review's reliability.
If we haven't personally tested a product, please be assured that we invest significant time and energy into scouring the UK market and researching the best recommendations, and we work with a team of sleep experts who review our articles, ensuring that the insights we provide are not only relatable but also reliable.
First impressions: Our Oodie review
The Oodie is a cosy and snuggly oversized hoodie that lives up to its promise of ultimate comfort.
Comfort and warmth
We were surprised by how thick the Oodie was, providing an instant feeling of cosiness that is hard to imagine from just looking at pictures of it online.
It's perfect for snuggling up on the sofa, and even without the heating on, it kept us warm and snug.
We had no problems with overheating when relaxing in our Oodie.
In fact, it can be a game-changer for energy bills since you don't need to have the central heating cranked up so high.
However, it could get a bit hot when doing housework or other active tasks, and the sleeves are not easy to roll up when cleaning. 🧹
Design
The adult Oodie has an oversized one-size-fits-most design that feels like a giant teddy bear is cuddling you. 🐻
It fit our female tester (5'5 and 9 stone / 126 lbs) and male tester (5'10 and 13 stone / 182 lbs) perfectly.
The large pocket is useful for storing essentials like a phone, Nintendo Switch, or even a book.
But the pocket also comes in handy for keeping your hands warm and toasty. 👐
We were thrilled that it also had fitted cuffs, as we know some alternative brands have loose sleeves instead.
The fitted cuffs are convenient as they ensure the sleeves don't get in the way when using your hands, such as when you're typing at your desk.
Wearing it with the hood up makes you feel like you're wrapped up in a cave of fleece, ideal for when you want to shut the world out. 🙈
Durability
We have been using the Oodie for a few years, and it has gone through multiple washes with little to no change in the fabric.
The only slight difference we noticed is that the inner sherpa fleece isn't quite as soft and bright white as when we first got it.
On the other hand, the exterior fleece has stayed vibrant and feels as soft as new.
We recommend hand-washing only if you want it to stay in the best condition. 🧼
We'll go into more detail about how to wash an Oodie later.
Storing
The Oodie is large and bulky, so it isn't the easiest to store.
We couldn't fold and put it away like other loungewear.
It is also fairly weighty, so we wouldn't recommend hanging it up on a hook that isn't strong enough to handle heavy weights.
You could vacuum-pack your Oodie and store it away during the summer, but this might not be the most practical solution for when you're using it regularly.
We did end up storing it in our ottoman bed frame, which is ideal for those that have extra bedding and clothes but nowhere to store them.
But storage is definitely something to keep in mind, particularly if you plan on purchasing multiple Oodies.
What is an Oodie?
It's not a hoodie or an oddie - it's an Oodie.
But what does that mean?
The Oodie is an Australian brand of blanket hoodies, which have quickly become a worldwide viral sensation on social media. 🌍
They're designed to keep you snuggled up and comfortable even when you're on the move!
The Oodie hoodie started getting popular in the UK in 2020 during lockdown.
And now, with the current energy crisis in the UK, they have become an even more practical choice for those looking to save on their heating bills. 💡
The Oodie overview
The Oodie combines two cosy products in one: a hoodie and a blanket. 🧥
It's made from high-quality, soft materials, including sherpa fleece on the inside and Toastytek flannel fleece on the outside.
These high-quality materials make it stand out from cheaper copycats, which are typically made with just one thin layer of fleece.
The inner sherpa fleece lining provides excellent insulation to keep you as warm as possible during cold weather. ❄️
But it's also highly breathable, so you won't feel suffocated by the material.
The company also claim their product is 10x longer than competitors for extra comfort.
Who is an Oodie suitable for?
The Oodie has a one-size-fits-most fit, meaning it's suitable for everyone.
However, we think it'd make an excellent gift for:
Those who feel cold easily: It keeps you warm and snug.
Those looking to save on energy bills: No need to crank up the heating.
Those who spend lots of time in loungewear or pyjamas: It trumps all of these easily!
Those working remotely: It's the perfect working-from-home uniform.
Stay-at-home mums: You can throw it on quickly - and a maternity version is now available!
Those with cats or other cuddly pets: Our cats love to "make biscuits" and snuggle up on our lap when we wear our Oodie.
Those feeling under the weather: It feels like a giant cuddle for the perfect pick-me-up.
Oodies for men
Some people might consider Oodies for women only, but men can enjoy one just as much.
They come in many styles and designs, so we're sure an Oodie for men could win over even the most macho guys. 💪
In fact, our male tester wears his all the time!
Oodies for pregnant women and mums
We also recommend a maternity Oodie to pregnant women and new mums who are looking for practical comfort wear.
The maternity Oodie is designed with easy feeding access for those who breastfeed and it has line-free pockets to store dummies or any other baby essentials.
They are available in multiple designs, our favourite being the adorable stork design.
Oodies for dogs
There are even Oodies for dogs (big and small), which look adorable. 🐕
These are a great option for dogs that feel cold during the wintertime.
Oodies for dogs have a handy opening in the neck area, so you can easily attach a lead and it has a snap button to take the Oodie on and off easily.
We'd love to see some cat Oodies in future too!
Kids Oodies
Kids Oodies are also available if you're looking for a cosy companion for the little one.
They're designed for children from 3 to 13 years old and are 75 cm (29.5") long.
You can get them in a variety of patterns, including Pokemon, Looney Tunes, Barbie, pizza, avocado and many more.
Oodie also sells sleep tees and other designs so that you can stay snuggly in the summer too.
Our favourite Oodie products:
The Oodie

Price from &nbsp

£ 29

£ (69 )

Embrace the holiday spirit in a cosy, comfortable style with the Oodie Christmas Sleep Tee, blending festive charm with unmatched softness for perfect holiday nights.

Embrace the holiday spirit in a cosy, comfortable style with the Oodie Christmas Sleep Tee, blending festive charm with unmatched softness for perfect holiday nights.

Price from

£ 29

(£ 69 )

The Oodie

Price from &nbsp

£ 29

£ (39 )

Keep your furry friend adorably cosy and stylish with the Dog Oodie, crafted from the ultra-soft ToastyTek fleece in bright, cheerful designs with a variety of motifs.

Keep your furry friend adorably cosy and stylish with the Dog Oodie, crafted from the ultra-soft ToastyTek fleece in bright, cheerful designs with a variety of motifs.

Price from

£ 29

(£ 39 )
Oodie customer reviews & ratings
The Oodie is a popular option for those seeking a comfortable and cosy wearable blanket.
With over 21,000 Oodie Trustpilot reviews, the company has an impressive average score of 4.3/5 stars.
We took a closer look at the Oodie reviews UK.
Many customers have praised the quality and comfiness of the Oodie, with some expressing that it far exceeds cheaper alternatives. 👍
However, there have been some negative comments regarding late orders, and a few customers have reported mixed experiences with customer service. 👎
Nevertheless, Trustpilot reports that Oodie customer service has responded to 99% of the comments in less than 2 days, indicating that they take feedback seriously.
While we cannot comment on the quality or experience of their other products, we have yet to experience any communication issues ourselves.
We'll go into more detail about our own delivery experience further down. 👀
Are Oodies one size?
Oodies UK comes in a one-size-fits-most design for adults. 📏
A plus-size Oodie hoodie isn't necessary, as the regular one should fit people of all shapes and sizes.
In fact, despite our two testers being of different heights and weights, it somehow fit them both perfectly.
Both testers had a similarly oversized fit, which felt like a magic trick.
Check out the size chart below:
| | |
| --- | --- |
| Age | Size |
| Adult Oodie | 193 x 102 cm (75.9 x 40.1") |
| Kids Oodie | 152 cm x 75 cm (59.8 x 29.5") |
The kids Oodie is suitable for children aged 3 - 13 years old, meaning it can last them for years as they grow older. 👨‍👦
How much do Oodies weigh?
Oodies are fairly bulky and weigh around 1.51 kg (3.32 lbs).
This means they're not the most sleepover or travel-friendly.
For a more lightweight option, consider an Oodie Sleep Tee instead.
How to wash Oodies
Washing an Oodie is actually very easy.
They can be machine-washed up to 40°C on a gentle cycle using mild detergents.
However, if you want your Oodie to last longer, it's recommended to hand wash it instead. 🧼
We've washed ours several times in the washing machine, and it has remained in good quality with no loss of colour or much difference to the exterior material.
The only difference we noticed is the sherpa fleece isn't as soft as before washing and has lost some of its stark white colour.
However, this didn't make any difference to the overall comfort of the Oodie. 🤗
How to dry an Oodie quickly
Understandably, you want to wash and dry your Oodie quickly so you can wear it again.
However, you should not put it into the tumble dryer.
Instead, hang it up to dry in an airy room. 🌬️
This will ensure your Oodie dries quickly without losing shape or quality.
Because of this, it can take a few days for the Oodie to dry in colder weather.
Is an Oodie worth the money?
There's no denying that the Oodie is one of the most expensive wearable blankets available.
However, it's also one of the best quality options you can buy.
Whether or not it's worth the price depends on your circumstances and budget. 💰
The Oodie is able to insulate heat, which means it can also help you save on energy bills.
If you prioritise quality, comfort, and durability, the Oodie is worthwhile.
You'll get daily use out of it and enjoy its cosy warmth for years to come.
We'd regard the Oodie as an investment item, such as a coat or good pair of slippers.
But spending so much on a single item might not make sense if you're on a tight budget or your home is well-insulated. 🔥
As a result, exploring cheap Oodie alternatives could be a practical option.
However, it's essential to remember that although these alternatives are often less expensive, they may not match the quality, insulation, and variety of designs Oodies offers.
The Dunelm Oodie is an excellent alternative.
Oodie discount codes
Let's be honest, the Oodie doesn't come cheap.
However, Oodie discount codes and seasonal promotions can give you oodles of savings year-round.
If you're looking for his and hers Oodies, you can also buy a twin pack for extra savings. 👯‍♀️
If there is an Oodie sale, we'll let you know throughout the article.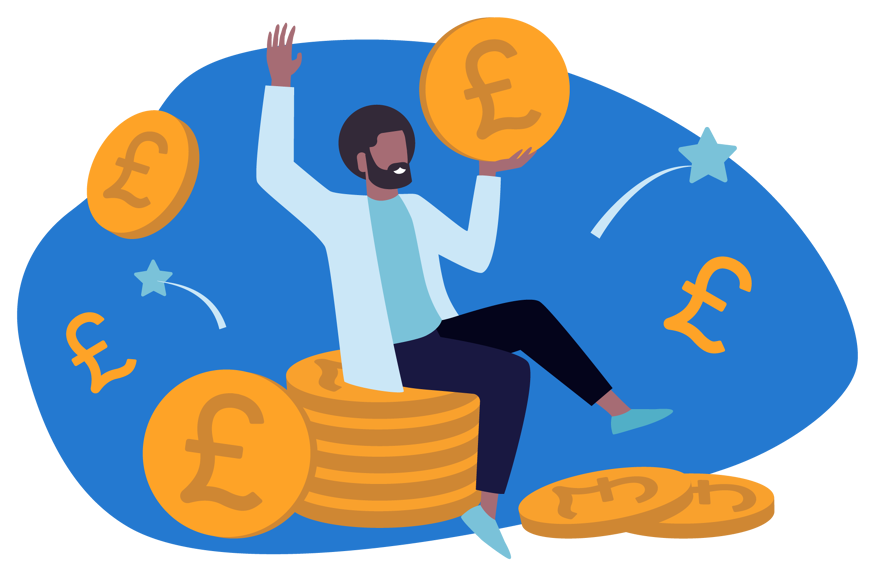 Alternatively, bookmark our discounts page for all our favourite promotions on mattresses and sleep products.
You can also sign up for our newsletter, where we promote our favourite deals and sleep tips:
Oodie UK delivery & returns
Oodie orders are shipped within 72 hours of placing your order and will arrive between 2 - 8 working days. 🚚
Your order will be delivered by Royal Mail or Evri.
We've got two Oodies, and while our first pink Oodie was delivered full-size in a large parcel, our second panda Oodie came vacuum-packed.
This made it much easier to store before opening it up. 📦
When we unpacked our panda Oodie, we noticed it had a strong chemical smell.
This is known as off-gassing and is common with vacuum-sealed items.
But while this smell can be unpleasant, it is completely harmless.
The odour typically disappears after a few hours, but it didn't entirely disappear until we washed it. 🚿
Oodie returns
If you change your mind about purchasing an Oodie, you can return it within 30 days.
However, there are some additional conditions that you should be aware of:
You must initiate the return within 30 days of delivery/receiving your order
Items marked final sale/non-refundable are not eligible for returns
It should be in its original packaging and an unused condition
You can find out more about Oodie returns on their website.
Are Oodies worth it?
The Oodie is a high-quality wearable blanket made from soft, breathable materials with excellent insulation and comfort for those chill nights at home.
Investing in an Oodie could be a complete game-changer for your energy bills.
They are perfect for those lazy days, snuggling on the sofa or even working from home.
It makes a thoughtful gift for anyone who loves feeling warm and cosy and has options suitable for all ages and genders. 👨‍👩‍👧‍👦
Overall, we think the Oodie is worth the hype and an excellent investment for those seeking a cosy and comfortable wearable blanket.
Contact Oodie UK
Customer service: To contact Oodie UK directly for complaints, support, or queries, please e-mail them at help@theoodie.co.uk.