Who are Dreams?
Dreams is the UK's number one specialist bed retailer with over 40 years of experience in the making.
They are a household name and have over 200 stores sprinkled nationwide. 🤯
But where did Dreams originate?
How did Dreams start?
In 1985, Mike Clare opened the first Dreams bed store in Uxbridge, West London. 🛒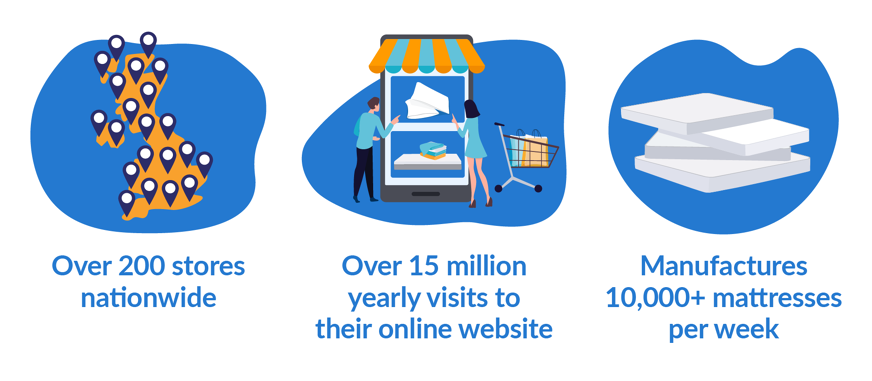 Over the next few decades, Dreams grew into one of the biggest UK bed retailers.
As well as opening more stores nationwide, Dreams built the Dreams Workshop in Oldbury, where they could manufacture their own mattresses, bed bases, and headboards.
Dreams today
In 2021, Dreams beds UK was acquired by the esteemed Tempur-Sealy.
Tempur is known for producing luxury memory foam mattresses at premium prices. 💰
Since changing hands, Dreams has continued to grow its online and in-store business.
Today, Dreams:
Has over 200 stores nationwide. 🤯
Has over 18 million website visitors yearly. 💻
Manufactures almost 300,000 mattresses and 200,000 divan bases and headboards yearly. 👩‍🔧
As well as crafting its own products, Dreams UK stocks a range of mattresses and bed frames from other best-selling brands such as Tempur, Silentnight, and Sleepeezee.
Next up in this Dreams beds review, let's take a closer look at the Dreams beds and mattresses selection. 🕵️
What brands do Dreams sell?
Dreams makes and sells many of its own exclusive products. 😍
Dreams own-bed brands include:
Dream Team.
Dreams Workshop.
Apart from these Dreams bed brands, customers can find some of the biggest mattress brands on the Dreams website and in their stores.
Brands found in Dreams beds UK include:
Sealy
Relyon
Therapur
Harrison Sparks
Flaxby
Country Living
Little Big Dreams
House Beautiful
Many of these brands are manufactured in the UK and have decades of mattress manufacturing experience. 🏆
This is undoubtedly true of Dreams beds and mattresses, which have been crafted in the UK for around 40 years.
Dreams bed frames
Dreams bed frames are undeniably worth checking out and even made it into our rankings of the best bed frames. 🏆
Most Dreams UK beds are very well-made.
This overall quality is likely not surprising given the well-known brand has been operating in the industry for around 40 years.
They also have a seriously impressive range of bed frames on offer. 👏
Just bear in mind that you won't find the same jaw-dropping variety of bedsteads in a Dreams store as you can on their website.
Of course, with so many different frames being made and sold, you're bound to get some lower-quality beds that don't meet the brand's general standards.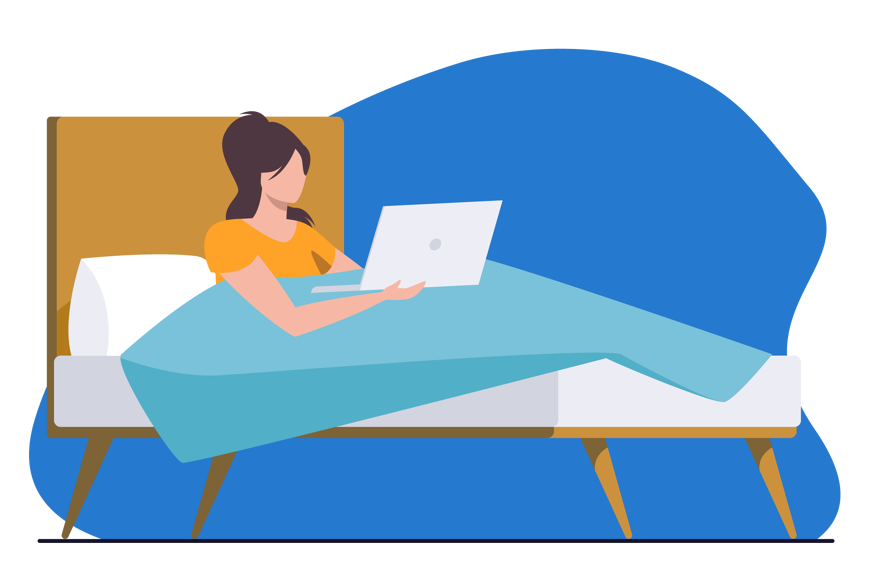 So it's always worth checking what customers say in individual Dreams beds reviews.
You'll also find that Dreams beds don't come with a trial or have the longest guarantee, but we'll get into that in more detail in the trial and guarantee section below. 👇
For now, let's see what types of bed frames Dreams sells.
The Dreams bed range includes:
Dreams storage beds, including Dreams divan beds and ottoman beds.
Dreams TV beds, tech beds, and gaming beds.
Dreams adjustable beds.
Dreams kids beds.
Dreams sleigh beds.
Dreams metal beds.
Dreams wooden beds.
Dreams leather beds.
You can also find various Dreams guest beds, including Dreams sofa beds, day beds, air beds, and folding beds.
But remember that if you're looking for Dreams beds and mattresses, these items are purchased separately (you won't get a mattress with your bed frame).
Before we move onto the Dreams mattress range, let's dive a little deeper into some of the most popular categories of Dreams UK beds. 🏊
Dreams storage beds
Do you ever groan at the sight of items crammed under your bed? 😣
Luckily, Dreams storage beds are a stylish and handy way to keep your bedroom easily organised whether you hate the look of mess or are low on space.
And great news for those with smaller rooms: you can get Dreams single beds with storage, including Dreams single divan beds and ottoman beds.
Let's look at the two most popular types of Dreams storage beds. 👇
Dreams divan beds
Divan beds can typically be bought with no drawers, 2 drawers, or 4 drawers, depending on your storage needs.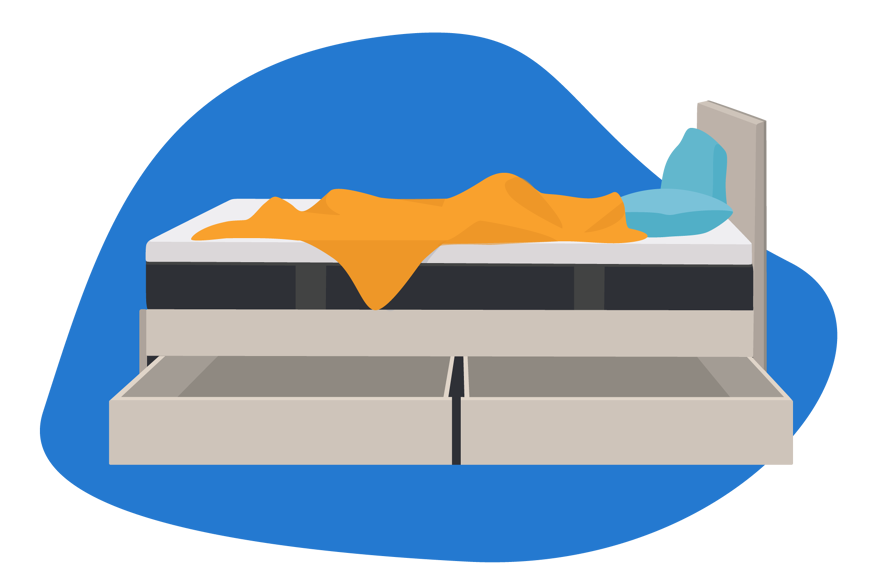 They can also be found in various styles and sizes (yes, including Dreams beds single divans). 🎉
Most Dreams divan beds can also be purchased with or without headboards.
Alongside Dreams' own divan beds, customers can find beautiful frames from well-known brands like Silentnight, TheraPur, and many more.
Dreams ottoman beds
Another excellent option for those who want a bed with storage is the range of Dreams ottoman beds.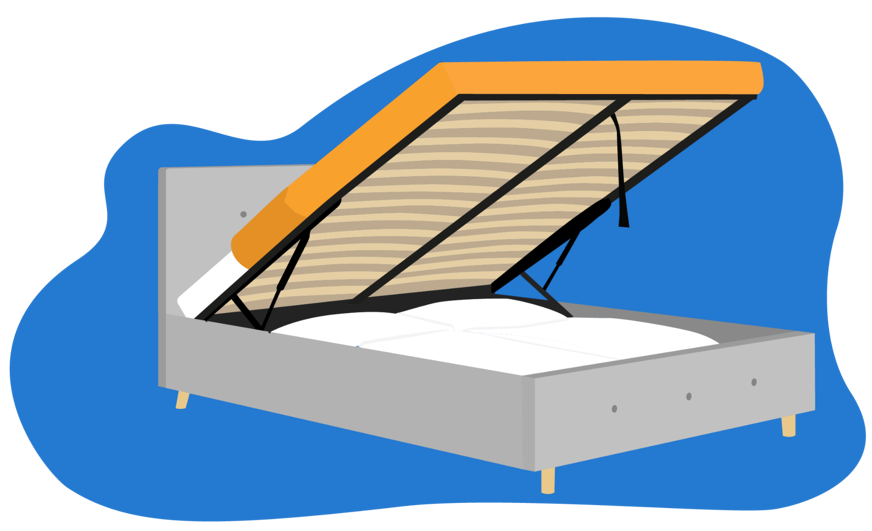 Dreams ottoman beds also come in a selection of styles, prices, and sizes, with options from Dreams and various other brands.
Ottoman beds are unbeatable when it comes to the amount of storage they offer. 🤯
With ottoman beds, the entire base of the bed acts as a storage chest.
Dreams adjustable beds
Dreams adjustable beds, also called Dreams electric beds, can make a world of difference for those with mobility difficulties, poor circulation, joint pain, or back pain. 👴
An adjustable bed comes with a remote which can be used to lift either end of the mattress to assist with getting in and out of bed.
These beds must be used with a compatible mattress, such as a latex, pocket sprung, or memory foam mattress.
Dreams adjustable beds come in all sizes and styles, with options made by some of the UK's most reputable brands.
Sleepmotion beds are among the best-rated Dreams adjustable beds. ⭐
Dreams children's beds
Looking for the perfect bed for your little one? 🧒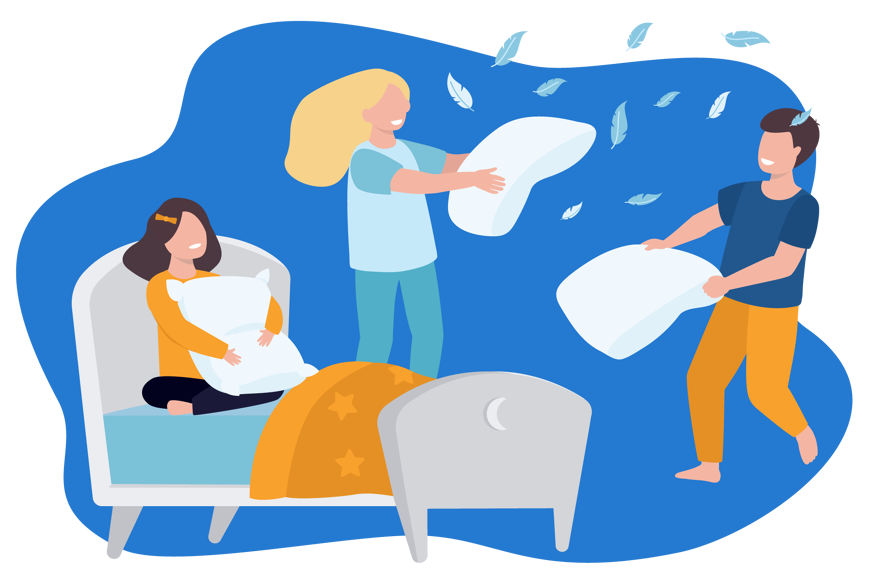 Dreams kid's beds are a great place to start!
The Dreams kids range includes:
Dreams storage beds.
Dreams cabin beds.
Dreams bunk beds.
Dreams high and mid sleeper beds.
Dreams desk beds.
Dreams toddler beds.
Many of these Dreams kids' beds are designed to help you maximise limited space in your child's room.
Other options, like bunk beds from Dreams, are perfect for children sharing a room.
Other Dreams beds
One of the handy things about the endless Dreams beds selection is that there's something for everyone, whatever your taste, space, or budget.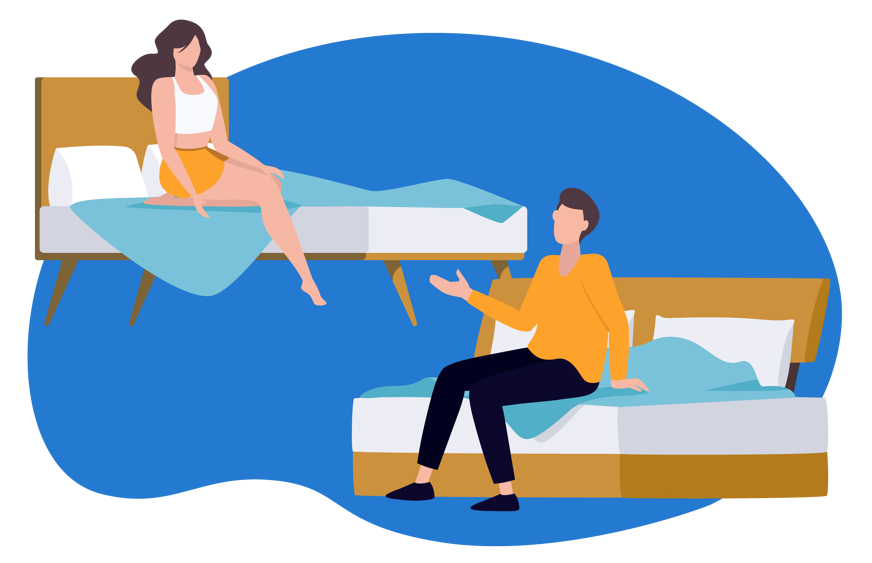 This selection includes affordable guest beds and stylish tech beds.
For those wondering, tech beds are simply bed frames with technological features built into the frame. 🤔
For instance:
Dreams electric beds: These adjustable frames can move and change positions with the flick of a button.
Dreams TV beds: These have Bluetooth speakers and a TV built into a typically remote-controlled footboard, which can be quietly raised for TV time or lowered for sleep.
Dreams gaming beds: These frames are similar to the Dreams TV bed range but often also include LED lights, console storage space, and a place to hang headsets.
While more expensive than your average Dreams UK bed frame, these tech beds are a great match for tech wizards. 🧙
Many of our favourite sleep specialists have limited bed frames, ideal if you're indecisive but not so great if you want something more unique.
Luckily, it's Dreams to the rescue! 🦸
Whether you want timeless elegance, simple rustic, funky modern, or bold classic, there's a Dreams bed frame for you.
Dreams mattresses
As well as their own-brand mattresses, Dreams stocks some of the best mattresses from top UK brands, like Tempur (the current owner of Dreams), Silentnight, and Sleepeezee.
Product quality is practically guaranteed. ⭐
Most Dreams mattress reviews are very positive.
But one less fortunate thing we've noticed with Dreams own-brand mattresses is that the products are frequently rebranded.
This constant renaming can be frustrating, especially if you are looking for a specific Dreams mattress. 😣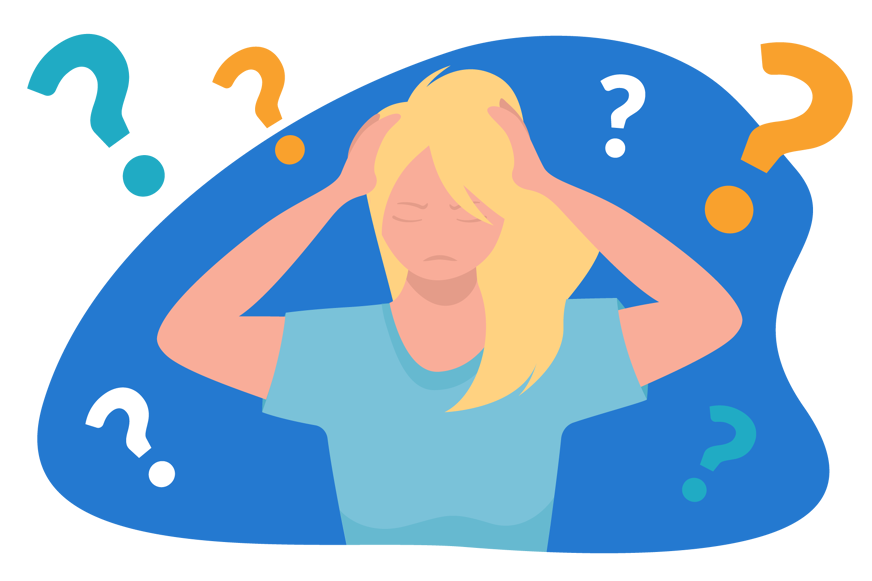 Of course, it's not all bad.
You'll often find renamed or upgraded versions of the own-brand Dreams mattresses, meaning you can still get the same or a very similar mattress to the one you wanted. 👍
Dreams mattresses come in various sizes, budgets, and styles.
From pocket sprung to memory foam and intriguing hybrid varieties, Dreams has it all.
Let's peel back the layers of some of the most popular Dreams mattresses in the UK. 🔎
Dreams pocket sprung mattresses
Dreams boasts an impressive range of well over 50 pocket spring mattresses. 🛏️
This collection encompasses both Dreams' own creations and offerings from other leading brands.
But what is a pocket spring mattress?
In simple terms, a pocket spring mattress falls under the broader category of innerspring mattresses.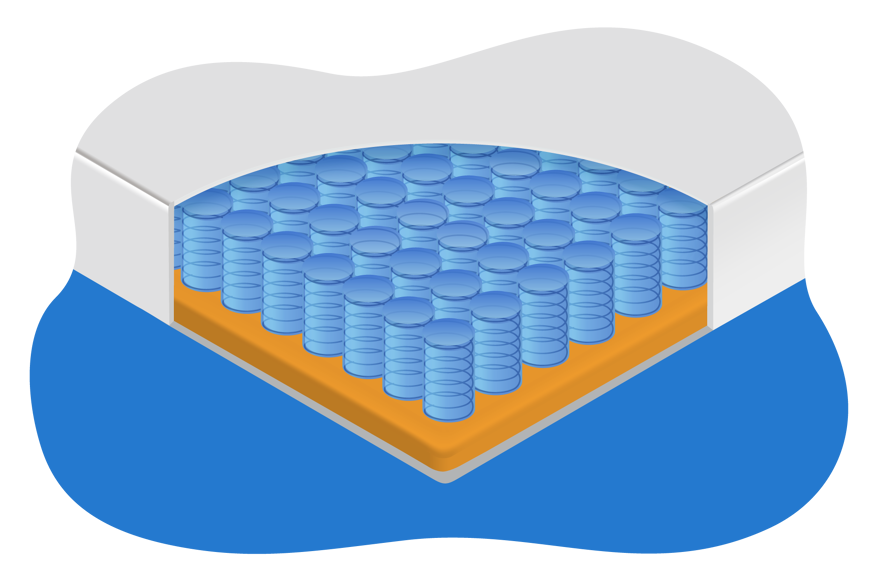 But with a pocket spring mattress, each spiral-shaped spring sits within an individual fabric pocket. 🌀
This design allows the springs to move independently, offering better point elasticity, meaning it can adapt wherever pressure is applied.
Additionally, the gaps between springs ensure free airflow and a cooler sleep. ❄️
But beware, pocket spring mattresses with too few springs are not as comfortable and don't offer the point elasticity needed.
Luckily, most Dreams mattresses have over a thousand pocket springs, with a few of the cheapest products having slightly under this recommended number.
According to Dreams mattress reviews, most mattresses promise a comfy medium-firm to firm support level. 👏
Dreams memory foam mattresses
NASA invented memory foam. 🧑‍🚀
Tempur became the first to use it in a mattress, seeing its potential to improve pressure relief.
Memory foam is made up of polyurethane and additional chemicals, which improve the material's density and viscosity.
It has a memory effect, meaning it leaves a brief imprint when pressure is applied. 🤗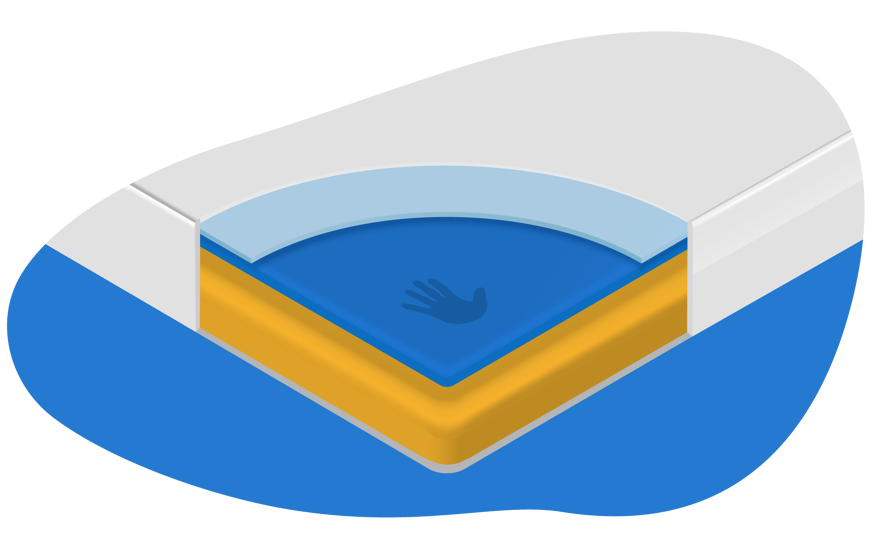 Memory foam mattresses offer outstanding support and pressure relief, making every night's sleep feel tailored.
And again, Dreams' memory foam mattresses aren't limited to just their own brands - they also stock industry-famous names like Tempur!
Whether you're saving up or splurging, Dreams has got a memory foam mattress priced just right for you. 💷
And guess what?
At the time of this review, all memory foam mattresses at Dreams sported ratings of over 4 out of 5 stars. 💫
Other Dreams mattresses
Aside from memory foam and pocket spring mattresses, what else can you find at Dreams?
Dreams mattresses include:
It's great to see this variety since everyone has different preferences.
For instance, while some people love the pressure-relieving properties of memory foam mattresses, others find they sleep too hot.
Spring, hybrid, latex, and gel mattresses tend to better suit hot sleepers. 🥵
Alternatively, those on the hunt for an eco-friendly option may prefer a natural or organic mattress, which avoids synthetic materials.
But, if you're prone to allergies, a latex mattress (natural or synthetic) may be more up your street.
Whatever your needs, the impressive Dreams mattress range makes finding your perfect mattress easier. 😄
Dreams Workshop and Dream Team
Dreams has 2 of its own brand labels.
These include:
Let's get into these brands in a little more detail. 👇
Dreams Workshop
The Dreams Workshop manufactures over 200,000 mattresses a year.
All Dreams Workshop mattresses are produced in the UK in the Dreams Oldbury factory, which was opened in 2003. 🪡
They manufacture bed frames, mattresses and headboards sourced from the highest quality materials.
Dream Team
The Dream Team is the official sleep partner of Team GB and the Paralympics GB.
Including bestselling mattresses, the Dream Team range combines the latest sleep technology and expert construction. 💖
The Dream Team Gold Range is a special collection of mattresses that features the best British craftsmanship.
As a general rule, the Dream Team range can be more expensive that the Workshop mattresses.
But both the Dream Team and Dreams Workshop mattresses have positive reviews, all over 4 stars. ⭐
The Dreams experience
Is Dreams the stuff of dreams, or does it fall short? 🤔
Looking at Trustpilot, Dreams boasts a hearty 88% Excellent score, which translates to an overall 4.8 rating.
However, no company's journey is without a few bumps.
There've been murmurs of issues with product quality, delayed deliveries, and occasional miscommunications. 👎
Let's take a closer look at how Dreams compares to its competitors on Trustpilot.
| | | | |
| --- | --- | --- | --- |
| Brand/retailer | Overall reviews | Excellent reviews | Bad reviews |
| Dreams beds | 74,088 | 88% | 4% |
| Bensons for Beds | 262,091 | 77% | 7% |
| Simba | 44,544 | 79% | 6% |
| Eve Sleep | 13,240 | 75% | 11% |
| Emma | 37,237 | 72% | 13% |
| Nectar | 13,252 | 72% | 9% |
| DreamCloud | 1,718 | 71% | 8% |
As you can see, Dreams aces things compared to its competitors, scoring the least negative reviews.
The positive experiences in Dreams beds reviews seem largely thanks to the excellent Dreams beds customer service.
Dreams online vs. in-store experience
Customers can opt to shop online or in-store if interested in a Dreams bed or mattress. 🏬💻
If shopping in-store, you can either browse alone or accept the help of a Dreams sales assistant.
You can also try the fascinating Dreams Sleepmatch machine.
Just a quick 3-minute lay down, and the system can offer mattress recommendations tailored for you.
Skeptical? We were, too. 🤔
But feedback from others suggests it's worth a go.
So we know in-store shoppers can access great recommendations, but can they find good deals?
Well, Dreams beds UK isn't as flexible as Bensons for Beds in the haggling department.
But you might find a bargain if the stars align (like end-of-week visits or when a salesperson's target is within reach). 🌟
If you plan to shop online, you won't be able to try the Dreams Sleepmatch machine or test your haggling skills.
But does that mean you're better off shopping in-store?
Not necessarily.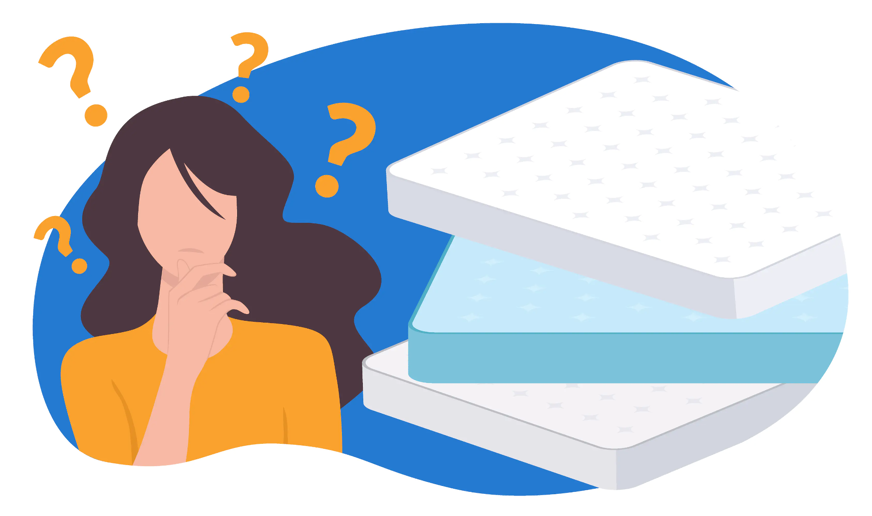 Online shoppers can access a broader product range and many of the latest and most enticing deals. 😊
Of course, you can also mix and match shopping online and in-store to better suit your needs.
Dreams bed and mattress sizes
Dreams beds and mattresses are available in most standard UK sizes.
The Dreams mattress range includes:
Dreams small single mattresses - 75 x 190 cm (2'6" x 6'3").
Dreams single mattresses - 90 x 190 cm (3' x 6'3").
Dreams small double mattresses - 120 x 190 cm (4' x 6'3").
Dreams double mattresses - 135 x 190 cm (4'6" x 6'3").
Dreams king-size mattresses - 150 x 200 cm (5' x 6'6").
Dreams super king-size mattresses - 180 x 200 cm (6' x 6'6").
Currently, you can't buy European-size mattresses from Dreams.
Still, it's great to see this variety of UK sizes, as not all sleep brands stock such a range: small double mattresses tend to be harder to find. 🔍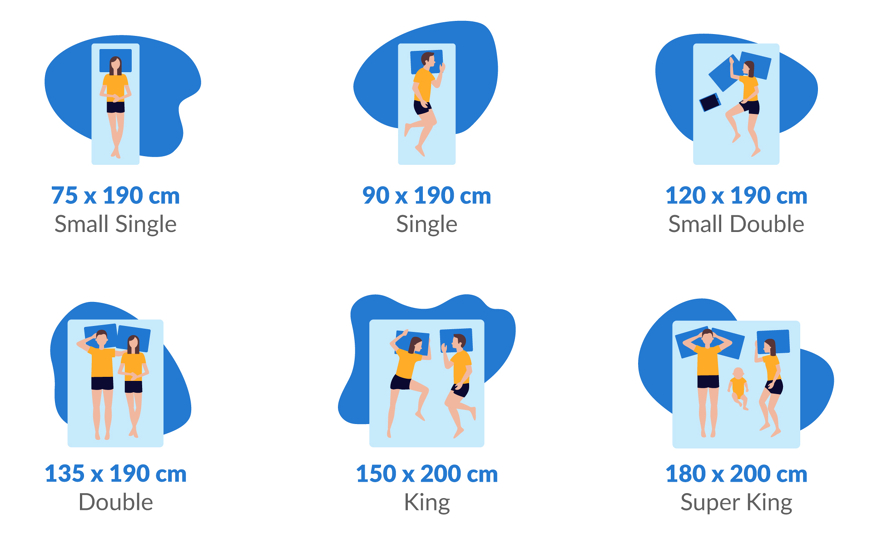 Of course, you'll also find the corresponding bed sizes at Dreams. 👇
The Dreams bed range includes:
Dreams small single beds.
Dreams single beds.
Dreams small double beds (also called Dreams 4ft beds).
Dreams double beds.
Dreams king-size beds.
Dreams super king beds.
As expected, bed frames usually measure slightly larger to ensure the mattress fits.
So Dreams king-size beds will be slightly longer and wider than Dreams mattresses of king sizes.
As well as adult beds, there are the Dreams children's beds, toddler beds, and (a limited range of) cot beds and mattresses. 👶
Dreams beds prices
The fantastic news about Dreams beds and mattresses is that they come at both affordable and high-end prices.
Adult mattresses range anywhere between under £200 and over £2,000. 💰
Similarly, Dreams beds can go from under £200 to over £3,000.
In general, the cheapest Dreams beds have simpler designs.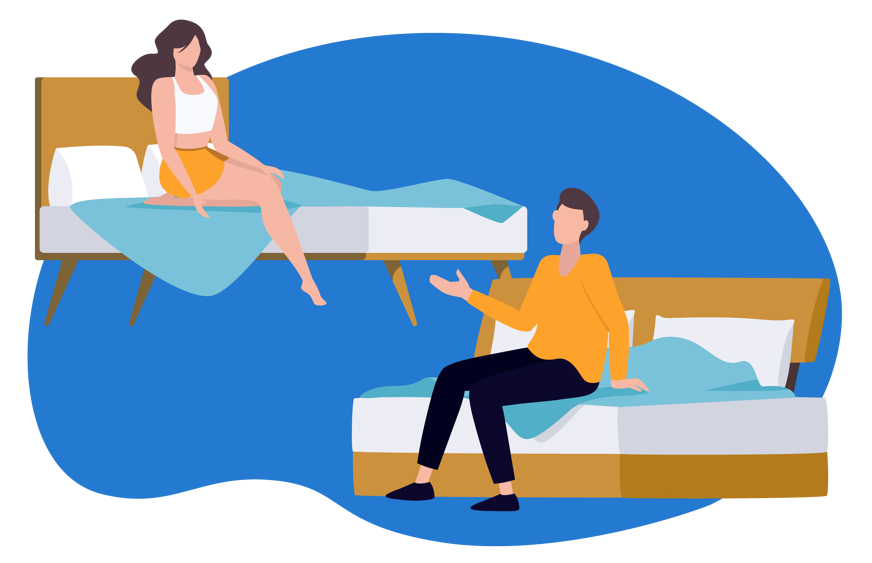 The most expensive Dreams beds tend to have more complicated technological designs like built-in TVs, gaming setups, or adjustable frames.
For those who want a little more info on Dreams mattress prices, our table can help give you some pointers. 👇
Our Dreams mattress price guide*:
Price
Materials
Budget
Up to £500

Traditional coil mattress

Rolled mattresses

Around 800 pocket spring mattresses

Lower-quality memory foam mattress

Mid-range
£500 - £1000

Around 1000 - 1200 pocket spring mattresses

Hybrid mattresses

Rolled mattresses

Pillow top mattresses

Mid-quality memory foam mattress

Luxury
£1000 - £3000

Around 2000+ pocket spring mattresses

Hybrid mattresses

ActiGel mattresses

Latex mattresses

Natural fillings mattresses

Pillow top mattresses

Highest-quality memory foam mattresses
*Price and quality based on a double-size mattress for adults.
Dreams beds and mattresses range from cheap to expensive, meaning there's something to suit all budgets.
You can find even better deals by checking out Dreams beds sales. 👇
Dreams beds sales
High-quality mattresses tend to cost more, and it can be challenging to determine just how much to spend for a good night's sleep.
Expensive luxury mattresses can seem excessive to some. 🤨
But we spend a third of our life in bed, so a great mattress is something you shouldn't cheap out on.
Having said that, not everyone can afford to spend a small fortune on a mattress.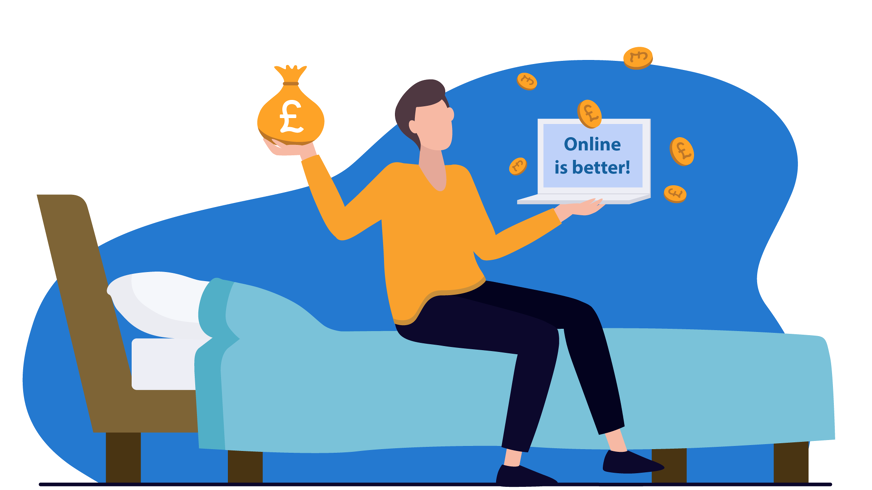 So, what can be done?
Dreams beds sale UK
Fortunately, there are frequent Dreams beds sales and promotions.
These help make their luxury products much more affordable. 🏷️
And the Dreams website even makes browsing these deals a dream.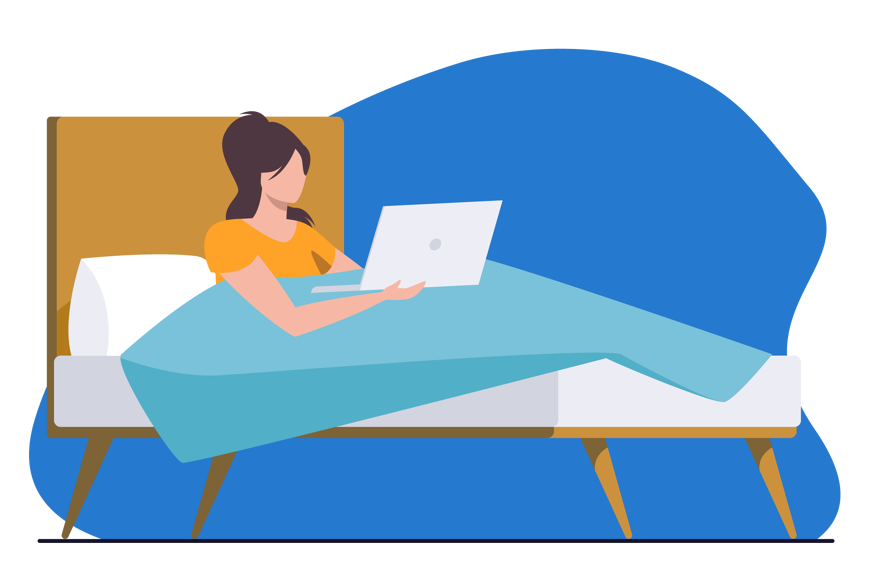 Customers can simply hop onto the Sale & Offers tab to browse Dreams sale beds and Dreams ex-display beds.
With as much as 50% off Dreams mattresses and beds, you can buy a high-quality quality product at a fraction of the cost. 🥳
Dreams also offers student discounts.
You can get an extra 10% off with Dreams beds discount codes from the Student Beans platform, which you can sign up for free.
What else do Dreams offer?
So, we know that Dreams offers a fantastic range of beds and mattresses, from popular brands such as Tempur to their own Dreams Workshop mattresses.
But what else do they sell? 👇
The Dreams range includes:
Dreams headboards.
Dreams bedroom furniture (including bedside tables, dressers, footstools, and blanket boxes).
Dreams bedding (including Dreams pillows, Dreams duvets, Dreams mattress protectors, Dreams mattress toppers, and electric blankets).
Kids furniture (including Dreams bunk beds, cot mattresses, cabin beds, toddler beds, and more).
As well as discounts on mattresses, you can find regular promotions on these items too!
Dreams beds delivery
So, how does the delivery process work at Dreams?
Dreams provide free delivery on all UK orders with no minimum spend. 🚚
Delivery slots are available from Monday to Saturday.
However, Saturday deliveries and re-deliveries will be charged a fee.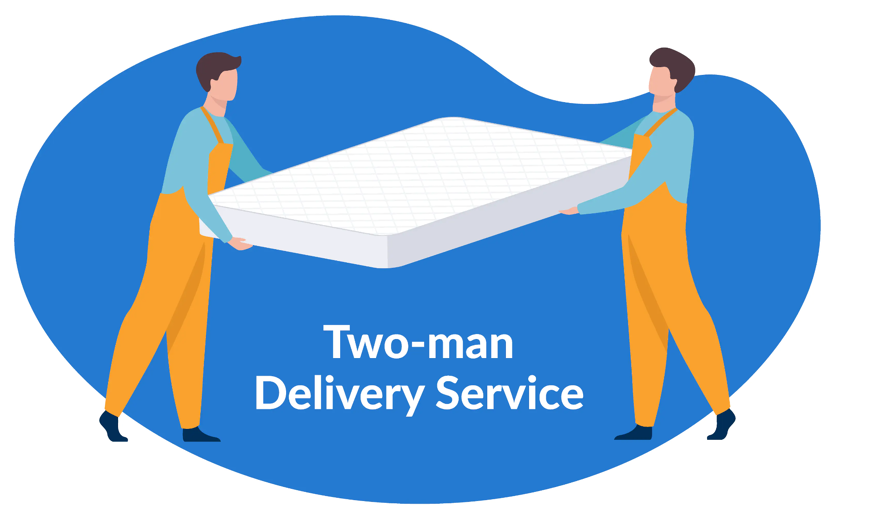 Before your delivery, you'll be given a 2-hour time slot. ⏲️
Dreams beds have a white glove delivery service, meaning two men will deliver your products to your room of choice.
The downside is that delivery times are fairly long compared to online brands that offer next-day delivery.
Most Dreams mattress deliveries take around 2 weeks, but some take much longer.
This vastly differs from Ergoflex, which offers free next-day delivery on their mattresses. 👏
Do dreams take away your old mattress?
Dreams also offer a recycling service when you place an order. ♻️
The items that Dreams recycles include:
Dreams mattresses.
Dreams bed frames & divan bases.
Dreams sofa beds.
Dreams headboards.
Dreams TV beds.
Recycling costs vary depending on the size of the mattress and the product itself.
If you choose to use the Dreams recycling service, you'll need to prepare your items for collection. 🚚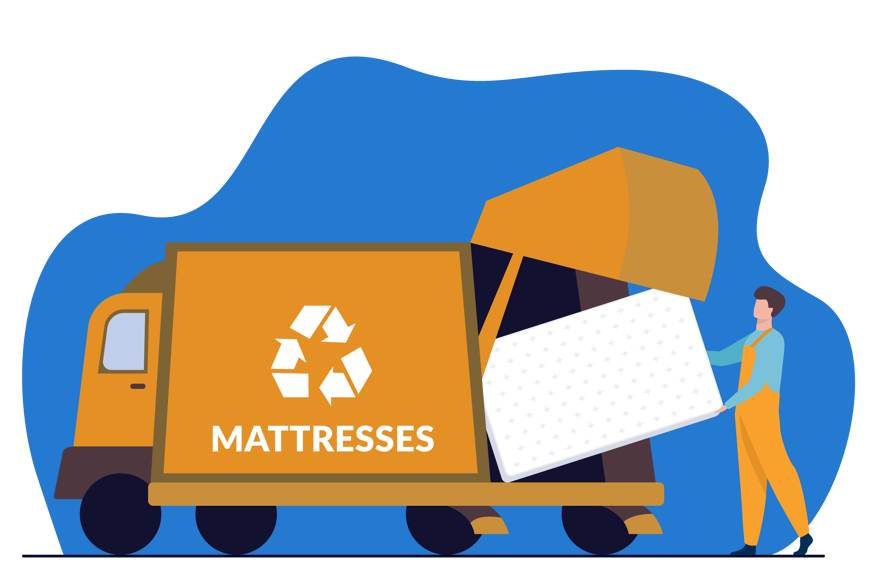 You'll be given or sent a recycling bag to wrap mattresses before delivery.
Alternatively, you'll need to disassemble your bed frame if you're having this collected and recycled.
You can see full instructions on the Dreams website.
Dreams beds assembly service
Dreams can also assemble different products to make the delivery process even easier.
Prices for assembly vary depending on the size of the item and complexity of the assembly process. 🛠️
The Dreams assembly service is ideal if you're worried about building the frame alone.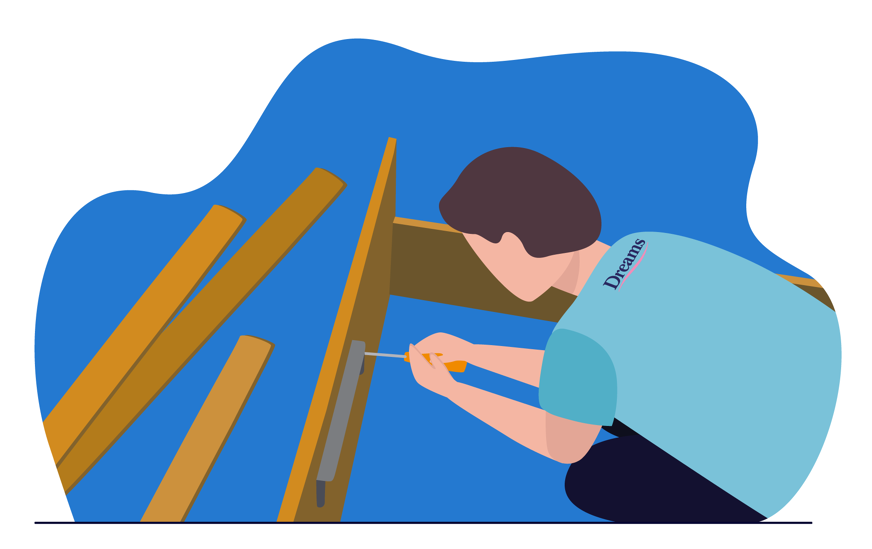 And more great news: they also take away all the packaging to be recycled, saving you an extra job!
Dreams trial and guarantee
Dreams trials and guarantees vary depending on the brand and whether you're buying a bed or mattress.
Let's dive into these in more detail! 🔎
Dreams trials
A trial period allows you to test your Dreams mattress or bed at home.
Dreams mattresses currently come with a 100-night comfort guarantee (which is essentially a trial). 👍
This essentially allows customers to exchange their Dreams mattress between 30 and 100 days after purchase.
You must use a mattress protector as part of this Trial.
Unfortunately, this 'comfort guarantee' only allows exchanges, whereas most sleep brand trials offer full-refund returns.
For instance, Simba gives you 200 days to try the mattress or your money back. 🤯
Unfortunately, the Dreams 100-night comfort guarantee is only applicable to mattresses.
Dreams bed frames currently have no trial. 🙅
If you're looking for the best bed frame and are concerned about having a trial to test your new frame, we'd suggest checking out the Emma beds collection.
Emma Sleep is one of the few companies to offer trial periods for their beds!
Dreams guarantees
Dreams only offer a 1-year guarantee on their beds and mattresses as standard.
This guarantee covers manufacturing faults such as dipping but not accidental damage. 🛠️
A 1-year guarantee isn't shocking for a bed frame, though some brands offer warranties of up to 10 years.
However, the 1-year Dreams mattress guarantee is definitely on the lower end.
For instance, Bensons for Beds offer a minimum 5-year guarantee, and other online brands have mattress warranties that last 10 years or more.
Given that good quality mattresses should last 8 years, this 1-year guarantee is disappointing.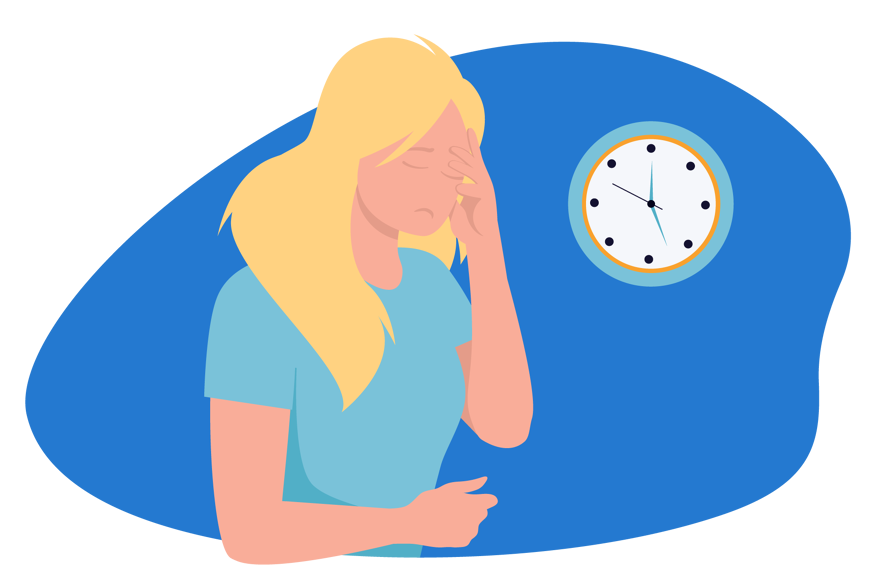 Luckily, Dreams customers do have another option.
The Dreams Bedcover Service offers up to 8 years cover for structural damage and 5 years for cosmetic damage. 🙂
While not overly expensive, customers can expect to pay up to £100 extra for this guarantee, depending on the price of the item.
Dreams should repair or replace the mattress if a fault is found, though this will depend on the damage.
Other brands offer much better guarantees in comparison.
For example, Nectar and DreamCloud offer jaw-dropping lifetime warranties on their mattresses. 🏆
Simba

Price from &nbsp

£ 479.40

£ (799 )

The Simba Hybrid mattress is a high-quality pocket sprung mattress with multiple layers of foam.

The Simba Hybrid mattress is a high-quality pocket sprung mattress with multiple layers of foam.

Price from

£ 479.40

(£ 799 )
Dreams returns
Customers have 14 days to return items if they aren't happy.
Currently, items can only be returned if they are unused and unopened. 📦
Customers must contact customer services to arrange the return of larger items like mattresses and bed frames.
A refund will only be issued once items have been returned, and customers can expect to pay a collection fee.
Should you buy Dreams and mattresses?
So, should you buy from Dreams?
Dreams beds have fantastic products and an excellent customer service team to help keep buyers happy.
With mountains of positive reviews and recommendations, it's no wonder that Dreams has withstood the test of time and remains a strong UK retailer. 💃
Buying from Dreams helps support the British high street.
Contact Dreams UK
Customer service: To contact Dreams UK directly for complaints, support, or queries, please contact them at 0800 652 6750, visit their live online chat, or complete their online contact form.
Registered office: Knave's Beech Industrial Estate Knaves Beech Way Loudwater, High Wycombe HP10 9YU.