How we test products
Our mission is to take the guesswork out of finding the perfect sleep products.
We've dedicated hundreds of hours to testing mattresses and sleep accessories, and rely on a team of testers of differing weights, temperature preferences, and sleeping positions to evaluate each product.
Tested products are granted the Sleep Hero tested stamp of approval, a mark of our review's reliability.
If we haven't personally tested a product, please be assured that we invest significant time and energy into scouring the UK market and researching the best recommendations, and we work with a team of sleep experts who review our articles, ensuring that the insights we provide are not only relatable but also reliable.
Who is the Ergoflex mattress best suited for?
Most bed-in-a-box mattresses are designed to suit a wide variety of people and body types.
But, particular individuals may sleep better on different mattresses. 🙋
The Ergoflex mattress is a good choice for:
Couples and light sleepers
Asthma and allergy sufferers
Any sleep position
The Ergoflex mattress could work for you if you're sharing your bed with a partner, suffer from allergies, or are a side, stomach, or back sleeper.
Couples and light sleepers
The Ergoflex mattress is firm with extremely low motion transfer, making it great for couples and light sleepers. 👫
Motion transfer refers to movement carried through the mattress.
Low motion transfer means less sleep disturbances for you and your partner. 😲
Spring mattresses tend to be bouncier and, therefore, transfer more motion in comparison to mattresses like the Ergoflex 5G.
50% OFF ERGOFLEX WITH SAVE50£ 385
Asthma and allergy sufferers
The Ergoflex 5g mattress is anti-allergenic, making it ideal for asthma and allergy sufferers.
It is also OEKO-TEX 100 certified and has been tested for harmful substances.
OEKO-TEX-certified products are well-suited to those with sensitive skin or allergies since they are guaranteed not to contain harsh chemicals or dyes.
The Ergoflex 5G memory foam mattress is also anti-microbial. 🤧
It is resistant to dust mites, bacteria, moulds, mildew, and fungi, all of which are common triggers of allergies and asthma.
Any sleep position
The Ergoflex 5G mattress offers a firmer support, but it's still a good option for all sleeping positions.
It is particularly well suited to back sleepers and stomach sleepers, both of which need a firmer mattress to keep their spines aligned.
But, heavier-weight side sleepers will also find the Ergoflex quite comfy.
Who is the Ergoflex mattress not suitable for?
As great as the Ergoflex 5G memory foam mattress works for some, it is not for everyone.
So who should avoid the Ergoflex mattress? 🤔
The Ergoflex mattress may not be the best choice for:
Combination sleepers
Hot sleepers
People using electric blankets
These are some of the most common potential Ergoflex problems, but they won't affect all sleepers.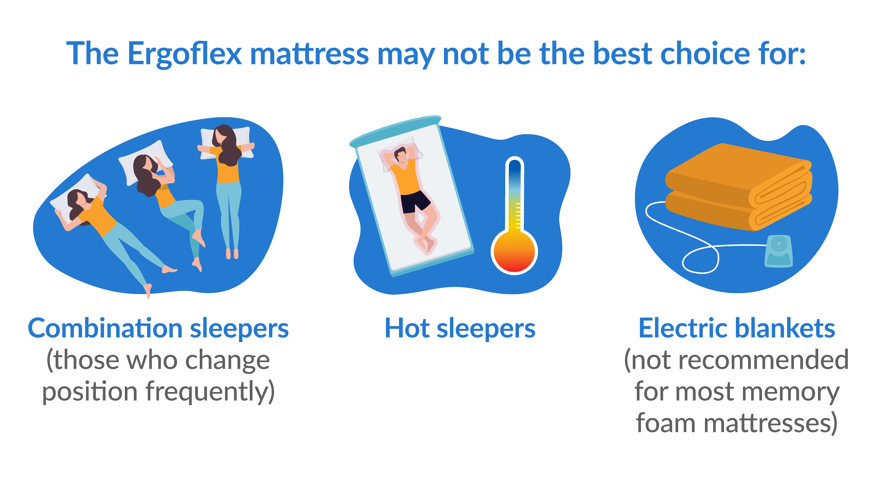 It may be worth shopping for other mattresses if this sounds like you.
You'll find our alternative mattress recommendations for hot sleepers, combination sleepers, and electric blanket users below. 👇
Hot sleepers
Memory foam retains more warmth than other mattress choices. 🥵
Unlike most memory foam mattresses, the Ergoflex 5G mattress contains a bespoke cooling layer designed to increase airflow.
50% OFF ERGOFLEX WITH SAVE50£ 385
It was found to be breathable and not especially warm to lie on when tested by Which.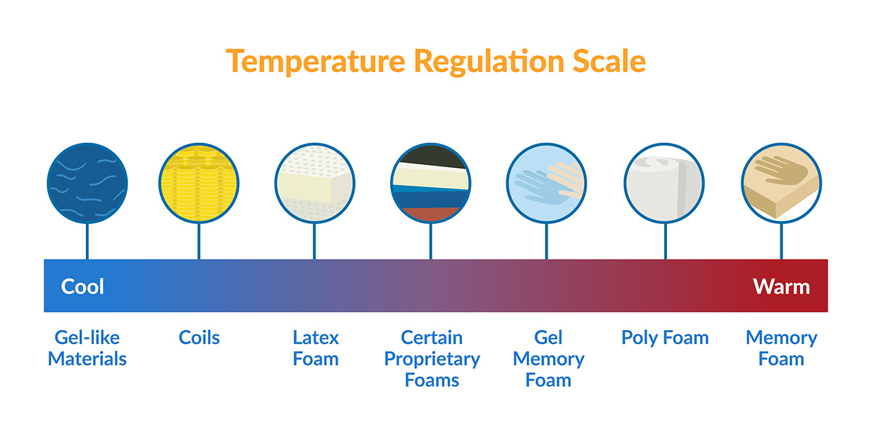 However, some customer reviews do indicate it to be warmer than expected despite the airflow system.
So, it may not be the best choice for hot sleepers. 🔥
Pocket-sprung mattresses and hybrid mattresses tend to sleep much cooler. 🥶
Hot sleepers may prefer a hybrid mattress like the Simba Hybrid.
Combination sleepers
If you are the type to toss and turn a lot, you may find that the memory foam composition makes it difficult to change positions.
Sleepers sink into the Ergoflex 5G memory foam mattress, which makes it tricky to fidget.
If you are looking for something bouncy and easy to move on, you should consider a hybrid mattress or pocket-sprung mattress. 🦘
The DreamCloud Luxury Hybrid is an excellent choice.
£540 OFF DREAMCLOUD + FREE BEDDING SET£ 408.07
Electric blanket users
Electric blankets don't mix well with memory foam mattresses.
Even though using an electric blanket doesn't pose a safety issue, it does affect the feel of the mattress.
The wires and blanket interfere with how the memory foam moulds to the shape of your body. 😣
Spring mattresses may be a better option if you're a regular electric blanket user.
How comfortable is the Ergoflex mattress?
Have you been wondering if Ergoflex mattresses are any good?
While comfort is pretty subjective, there are some things you can look out for.
Overall, customer reviews of the mattress have been very positive.
Most Ergoflex mattress reviews praise the memory foam's body-hugging support and coziness. 🤗
It is particularly well-suited to those with back pain or joint conditions.
If you suffer from back or joint pain, you may want to try the Ergoflex memory foam mattress.
Why is the Ergoflex mattress good for back pain?
Memory foam is orthopaedic.
It moulds around you, supporting your body's curves and natural lines. 💃
This gives you optimal support and allows your muscles to relax.
It also allows for an overall feel of contouring and good pressure relief.
The foam layers will mould around your body and provide good support so you wake up without any aches and pains. 👌
Comfort according to build & sleeping position
The comfort you'll experience on the Ergoflex mattress (or any premium mattress) will depend on your build and sleeping position. 🧐
The Ergoflex mattress is a good fit for back sleepers of any build.
50% OFF ERGOFLEX WITH SAVE50£ 385
This is because it's a firmer mattress that gives you stability and support, allowing your spine to remain optimally aligned while sleeping. 🏔
It's also a good fit for stomach sleepers.
The Ergoflex mattress would also be an excellent choice for heavier-weight side sleepers.
However, it may be a bit too firm for average-weight and lighter-weight side sleepers.
Average and lighter-weight side sleepers may prefer a bed with a bit more give around the shoulders and hips.
Lighter-weight side sleepers may not be heavy enough to sink into the foams, which could cause misalignment and create tension and pain.
If you are exclusively a side sleeper, you may want to consider the Simba Hybrid mattress, which is slightly softer and allows for more sinkage.
If you are quite heavy, though, you may not find the Ergoflex that comfortable.
In general, people of very large builds should try to steer clear of all-foam mattresses, which are generally too soft.
Instead, stick to innerspring mattresses, which can offer much better support.
Ergoflex mattress composition
The Ergoflex 5G mattress is a high-density memory foam mattress.
It is about 23 cm (9 inches) in height and is made up of 3 foam layers.
The Ergoflex 5G mattress includes:
9 cm (3.5 inches) high-density viscoelastic memory foam for body-shaping comfort
5 cm (1.9 cm) Cool Sleep airflow system for excellent temperature regulation
9 cm (3.5 inches) high resilience foundation layer
Each foam layer has a unique purpose.
The Ergoflex memory foam mattress is also sustainably made, and OEKO-TEX certified.
This means that the materials used in the mattress are certified as being free from harmful chemicals. 🎉
The Ergoflex mattress also comes with an all-natural TENCEL® fabric outer cover.
The Tencel cover is a recent addition to Ergoflex's offering, which we'll look at it in more detail further down. 👇
For now, let's talk about Ergoflex's unique proprietary foam. 🙌
50% OFF ERGOFLEX WITH SAVE50£ 385
Ergoflex mattress's foam layers
There are lots of memory foam mattresses on the market, so what makes the Ergoflex mattress special?
Ergoflex memory foam layer
Their unique foam, called ACPT foam, is designed with billions of spherical-shaped open cells.
Higher-density memory foam, like that in Ergoflex's ACPT layer, is clinically shown to have a longer life expectancy and offer better support.
The foam has orthopaedic pressure-relieving properties. 🤸
It allows the hips and shoulders to sink in while offering greater support to the lower back.
In particular, the foam contours and provides consistent support across every part of the body. 🧍
Cool-Sleep™ airflow layer
This is the thinnest section, made up of spiky-shaped foam.
The spiky mattress foam layer allows cooler air to pass through.
A common memory foam complaint is that it sleeps hot. 🥵
Luckily, the Ergoflex's open-cell spiky mattress foam encourages airflow and keeps sleepers cooler than traditional memory foam.
High-density foam base
The base layer of the Ergoflex mattress is firm and supportive.
It is made using a high resilience and impact-resistant polyurethane foam.
High-resilience foam is more responsive and has more bounce than traditional memory foam. 🐇
It is also flexible and provides superior body weight dispersion.
The Ergoflex mattress is designed to be used on beds with a strong base. 🏋
It can also be used with slats if they are spaced less than 6.35 cm (2.5 inches) apart.
Ergoflex mattress firmness
The Ergoflex mattress is a medium-firm mattress, though it falls more towards the firmer end of the scale. 🧱
We'd place it at 7 out of 10 on the Sleep Hero firmness scale, where 1 is the softest and 10 is the firmest.
This makes it a great mattress if you sleep on your back as it is very supportive.
The Ergoflex mattress is a bit less suitable for side sleepers.
Side sleepers tend to prefer something slightly softer that lets their hips and shoulders sink into the mattress. 👍

Ergoflex states that their 5G mattress is ideal for sufferers of back pain, fibromyalgia, circulation problems or joint complaints. 👨‍⚕️
The Ergoflex mattress also remains firm over time, not softening or sagging.
Ergoflex mattress cover
The Ergoflex 5G mattress features a machine-washable outer cover made from TENCEL®.
TENCEL is a sustainable textile made from the cellulose found in wood pulp. 🌳
The Ergoflex mattress cover has moisture-wicking properties and high breathability that outperform traditional cotton.
It is also incredibly soft to the touch, with a silk-like feel. 🕸
Despite its softness, TENCEL is durable, strong, and anti-bacterial. 💪
The Ergoflex mattress cover also features mesh panels on each end to allow better airflow.
Ergoflex mattress sizes
The Ergoflex 5G mattress is available in various mattress sizes from their UK website. 🇬🇧
They also have a few EU / European sizes, which perfectly fit IKEA beds.
The Ergoflex 5G mattress comes in these sizes:
Ergoflex single mattress: 90 x 190 cm (3' x 6'3")
Ergoflex double mattress: 135 x 190 cm (4'6" x 6'3")
Ergoflex euro double mattress: 140 x 200 cm (4'6" x 6'6")
Ergoflex king-size mattress: 150 x 200 cm (5' x 6'6")
Ergoflex euro king mattress: 160 x 200 cm (5'2" x 6'6")
Ergoflex super king mattress: 180 x 200 cm (6' x 6'6")
With this range of Ergoflex mattress sizes, it will be easy finding the perfect mattress for your bed. 🌟
The Ergoflex single mattress is best suited to kids and smaller adults.
Taller adults and couples will be more comfortable on an Ergoflex double mattress or something larger.
It's important to note that the Ergoflex 5G mattress is 23 cm (9 inches) high, which is a little lower than the UK standard of 25 cm (10 inches) in height. 📏
This is a small difference, but it could slightly affect how your sheets fit the bed.
Ergoflex 5G memory foam mattress UK prices
The Ergoflex mattress is competitively priced compared to other bed-in-a-box mattresses.
The Ergoflex mattress is most frequently compared to Tempur mattresses but comes in at just a third of the price. 🤑
(Note: prices listed below are standard prices, excluding any current coupons & discounts)
Ergoflex discount codes
The Ergoflex 5G mattress is already competitively priced.
But, Ergoflex often offers significant discounts. 💸
You don't need to spend time searching for best buys or Ergoflex promo codes - we already give you the best Sleep Hero Ergoflex mattress discounts!
We've included all current Ergoflex discounts throughout this article.
50% OFF ERGOFLEX WITH SAVE50£ 385
You can also get more mattress discounts by visiting our discounts page or signing up for our newsletter.
Ergoflex sleep accessories
You need more than just the right mattress if you want to have a truly great night's sleep.
Fortunately, you can also shop for Ergoflex mattress protectors, Ergoflex pillows, and Ergoflex linen.
Let's take a closer look at the Ergoflex sleep accessory collection. 🕵️
Ergoflex mattress protectors
A mattress protector is designed to elongate the lifespan of a mattress.
They also help to protect against stains and bacteria.
Ergoflex sells two mattress protectors.
Ergoflex-LIFE mattress protector
The Ergoflex mattress protector is fully waterproof, breathable, and made with natural materials.
The super-thin Tencel protector uses nano-technology material to provide premium protection without impacting the performance of the Ergoflex memory foam mattress.
The Ergoflex mattress protector comes in 6 sizes:
Single
Double
European double
King-size
European king-size
Super-king
The Ergoflex mattress protector is easy to care for, machine-washable at 40°C, and can be put in the tumble drier at low heat.
Ergoflex-LIFE Tundra mattress protector
The Ergoflex Tundra is a next-generation mattress protector.
Featuring advanced phase change material and Tencel fabric, it delivers intelligent thermoregulation.
The Ergoflex Tundra mattress protector helps regulate temperature without affecting the performance of your mattress. 🌡️
It is ideal for hot sleepers.
Like the original Ergoflex mattress protector, the Tundra protector is machine washable at 40°C and can be tumble dried at low heat.
Ergoflex mattress protectors are best suited to people who don't want to affect the feel or quality of their mattress.
Those who want to transform the feel of their mattress should check out a mattress topper.
There's currently no Ergoflex mattress topper, but we can recommend a few others.
One of our favourites is the Panda gel-infused memory foam mattress topper.
The Panda mattress topper is made with cooling technology and memory foam orthopaedic support. ⛄
It is perfect for those who want to add body-hugging support and a cooling top to their mattress.
Ergoflex pillow
The Ergoflex pillow features a fully-moulded core.
If you like a firmer pillow, the Ergoflex pillow is a great option - though some Ergoflex pillow reviewers find the pillow a little too firm.
It is made from high-density visco-elastic memory foam and delivers excellent ergonomic posture support for your head and neck.
The Ergoflex pillow offers immediate pressure relief and instant comfort. 🥰
With a 2-year guarantee, you'll get to make sure you love your Ergoflex pillow.
Ergoflex linen
Ergoflex is partners with MagicLinen. 🪄
You can shop a range of linen bedding, including pillowcases, blankets, duvet covers, and sheets, with MagicLinen.
Ergoflex mattress delivery process
The Ergoflex mattress is only available directly from Ergoflex.
As a bed-in-a-box mattress, the Ergoflex 5G is delivered rolled-up and vacuum-packed in a compact box. 📦
Most customers will be offered next-day delivery free of charge.
Alternatively, you can choose a specific date when placing your order.
Ergoflex states that they can usually deliver within 24 hours of the time of ordering. ⏰
The mattress will be delivered to your front door but not to a specific room.
Other companies, including Nectar, offer a 2-man room-of-choice mattress delivery service.
The Ergoflex mattress is heavy, weighing 32 kg (70 lbs), and comes in a large box.
We'd recommend you have help available if you need to carry it far. 💪
Once unpacked, your Ergoflex mattress will slowly expand to its full size.
This process can take up to 48 hours.
What do I do with my old mattress?
Unfortunately, Ergoflex doesn't offer an old mattress removal service.
Check out our mattress disposal guide if you need help disposing of your old mattress.
Ergoflex trial period
Ergoflex offers a 30-night trial period.
This is lower than competitors like Simba or Nectar, which offer a 200-day and one-year trial period respectively.
But, 30 nights should be enough time for you to know if the mattress is right for you or not. 📆
Ergoflex requires you to sleep on the mattress for at least 21 days before returning it.
On the bright side, you can check out Ergoflex 5G mattress reviews to see what other customers thought of their mattresses.
Trustpilot Ergoflex mattress reviews give several different opinions from people who have actually used the mattress. 👍
Many different Ergoflex 5G mattress reviews contribute to creating the 4.7-star Trustpilot rating. ⭐
Ergoflex guarantee
The Ergoflex mattress offers excellent durability and a 10-year guarantee period.
This is similar to other mattress brands, with the exception of Nectar and Dreamcloud mattresses, which come with a lifetime guarantee. 😮
Ergoflex is currently the only bed-in-a-box company that has been in business for longer than their guarantee period.
Regardless of the guarantee period, you should consider changing your bed roughly every 10 years.
Should you buy the Ergoflex 5G mattress?
Ergoflex 5G mattress reviews are overwhelmingly positive.
Customers love the excellent comfort, temperature regulation, and body-hugging orthopaedic support of the Ergoflex mattress.
It is a high-quality, medium-firm, and sustainably manufactured mattress.🏆
Plus, Ergoflex's risk-free 30-day trial period allows you to test the mattress before you're tied in.
Contact Ergoflex UK
Customer service: To contact Ergoflex Mattresses UK directly for complaints, support, or queries, please email them at sales@ergoflex.co.uk, call them on 0800 024 1122, or complete their online web form. Ergoflex Support is available Monday - Friday from 9 am - 5:00 pm.
Registered office: Ergoflex Limited, 246 Park View, Tyne and Wear, NE26 3QX