Below you'll find a detailed comparison of the major differences between foam mattresses and spring mattresses.
Differences in composition
The biggest difference between foam mattresses and innerspring mattresses, of course, is the composition of the actual mattress.
Foam mattresses consist almost exclusively of foam layers - either one or several. Popular combinations include cold foam, Visco foam, and latex foam.
In order to refine the feeling of sleeping on a cold foam mattress, many manufacturers also like to add a thin layer of latex, Visco foam, or gel foam.
In contrast, the core of a spring mattress is only made of springs/coils. There are many different types of springs available. Spring mattresses are also combined with a foam element on the upper and lower surfaces and on the sides. This ensures a high degree of comfort. The comfort material often consists of comfort foam, polyurethane, or cold foam, all of which are quite similar. Synthetic or natural latex foam may also be used.
Differences in lying down
A rough rule of thumb: Foam mattresses are often softer and spring mattresses a little firmer.
Foam mattresses can adapt well to the contours of the body, and thus ensure a pleasant sleeping experience. Visco foam, cold foam, and latex foam are particularly popular. They're great at relieving pressure and have low motion transfer, so you won't be disturbed by your partner's movements at night. This makes foam mattresses great for couples.
While foam mattresses offer great support, heavy-weight sleepers can often sink in too deeply, especially on a softer foam mattress. If you sleep on your back, you should be especially wary of the hammock effect. This puts a lot of strain on the spine and can cause back problems.
But there are also harder foam mattresses available. In our reviews, you'll see that we rate the firmness of a mattress on our Sleep Hero firmness scale, ranging from 1 to 10. The higher the number on the scale, the firmer the mattress.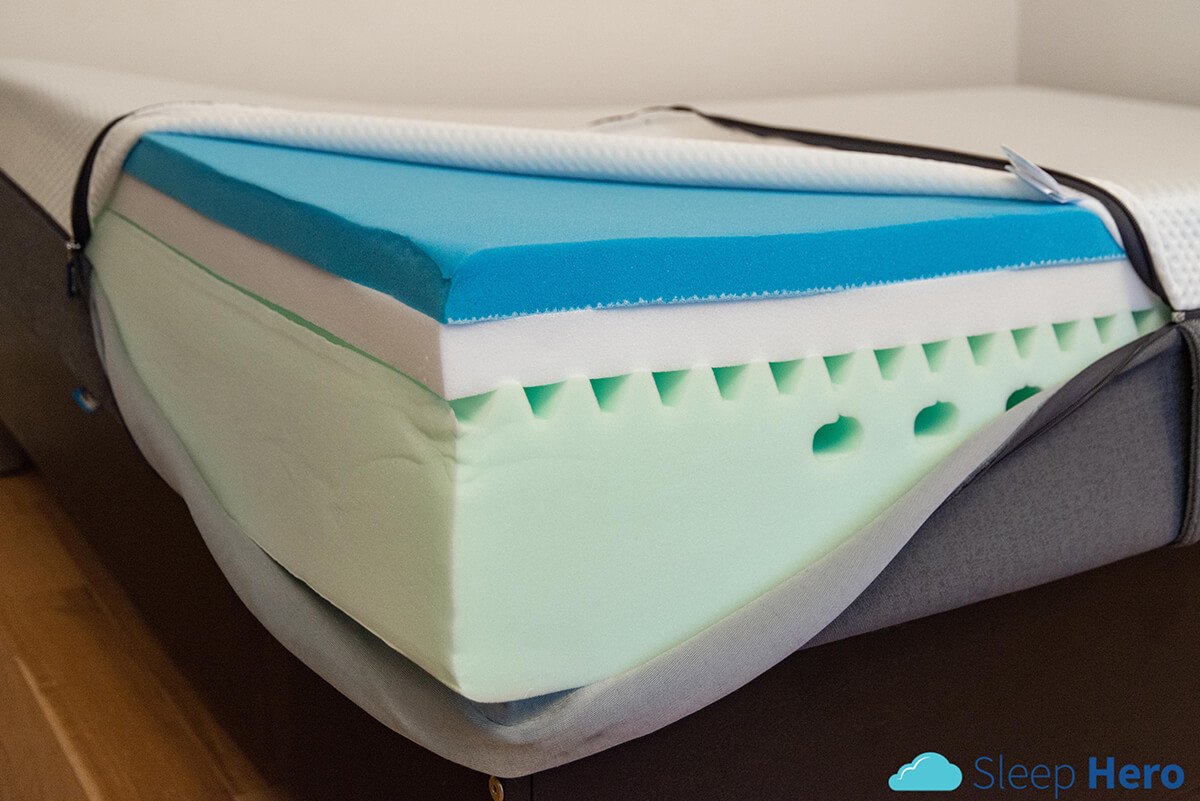 A spring mattress provides more stability and supports the sleeper well. They are well-suited for many different sleeping positions. The springs are (usually) individually loaded and only give out where they are really needed. This ensures that there are no unnecessary pressure points and the body can relax sufficiently.
Due to their inherent elasticity, innerspring mattresses have a very high point elasticity. This allows them to give people who sleep on their back or stomach the required stability while still being very comfortable.
High-quality innerspring mattresses have a long lifespan. However, you should always pay attention to the quality and density of a mattress before making a purchase. Cheaper innerspring mattresses can wear out very quickly and form dents, which is likely to cause back pain. Once this has happened, the mattress will have to be replaced.
A very light-weight person may not sink deeply enough into an innerspring mattress when lying on the side. This can lead to neck and shoulder pain. In this case, a slightly softer mattress would be preferable.
Firmness
Both foam mattresses and innerspring mattresses are available in almost every degree of firmness.
Standard degrees of firmness:
H1 (ultra-soft, very rare)
H2 (soft)
H3 (medium)
H4 (firm)
H5 (ultra-firm, very rare)
Some of these degrees of firmness are very common and some less so. The most common degrees of firmness are H2 and H3 and, more recently, H4. Most spring mattresses are available in several degrees of firmness, so everyone has a choice. H1 and H5 mattresses are very rare.
Some foam mattresses are so-called "one-for-all" mattresses. The idea behind this is that everyone should be able to sleep well on them. Of course, this is not always that easy as not every mattress will be ideal for everyone.
Mattresses designed according to the one-for-all principle don't specify a degree of firmness. As a general rule, we've discovered that such mattresses are of medium firmness, but are often perceived to be somewhat softer (for example, the Emma mattress). In our experience, there are really only very few mattresses that can be used universally.
It is very important to choose a mattress with the right degree of firmness for you. A mattress that's too soft or too hard is likely to cause back pain. You can turn to our reviews to help you with this, but also consider looking at other customer reviews. If you struggle with severe pain, you may benefit from an orthopaedic mattress.
Sleeping climate
In general, spring mattresses offer a cooler sleeping climate and foam mattresses offer a warmer sleeping climate.
This is because some foams absorb and store body heat more easily. Innerspring mattresses have ventilation channels between the integrated springs. This allows the heat to dissipate well and moisture can be wicked away. For this reason, innerspring mattresses are suitable for people who sweat heavily at night.