How we test products
Our mission is to take the guesswork out of finding the perfect sleep products.
We've dedicated hundreds of hours to testing mattresses and sleep accessories, and rely on a team of testers of differing weights, temperature preferences, and sleeping positions to evaluate each product.
Tested products are granted the Sleep Hero tested stamp of approval, a mark of our review's reliability.
If we haven't personally tested a product, please be assured that we invest significant time and energy into scouring the UK market and researching the best recommendations, and we work with a team of sleep experts who review our articles, ensuring that the insights we provide are not only relatable but also reliable.
What are foam mattresses?
There is a wide variety of foam mattresses available.
Foam mattresses are produced in a special manufacturing process.
The base material, polyurethane, is foamed and cured at high temperatures.
This results in an open, breathable structure that offers good ventilation and regulates moisture effectively.
In addition, the air pockets within the foam create a soft and comfortable material to lie on.
Foam mattresses have a high resilience.
This means that they quickly return to their original shape and are thus well suited for restless sleepers.
As a foam mattress has no metallic components, you are guaranteed a quiet, noiseless sleep.
Different types of foam mattresses
Not all foam mattresses are equal, though, and you'll find different types of foam with different properties.
While technically a material like latex foam can also be considered a foam mattress, its properties are quite different from most other foam mattresses.
The most common types of foam mattresses available are:
Polyether foam
This is a foam mattress with closed cells.
Polyether foam mattresses are among the cheapest mattresses on the market.
They don't provide much comfort or stability and are unlikely to last a long time.
We wouldn't recommend purchasing a polyether foam mattress.
Polyurethane foam
Polyurethane foam is commonly also referred to as comfort foam.
This is an open-cell, high resilient foam that's of greater density and much firmer than polyether.
The high resilience also means that it quickly returns to its initial shape.
But, it is still a very cheap foam and we wouldn't recommend investing in a pure polyurethane foam mattress.
Many IKEA mattresses are made of polyurethane foam.
Visco or memory foam
Visco foam - also commonly called memory foam - is the type of foam used for high-quality mattresses.
It is much more comfortable than other foams and offers excellent body support and pressure relief.
But, it also retains much more heat and thus results in a warmer sleeping climate.
It's also more cumbersome to move on and not recommended for very restless sleepers.
All of the foam mattresses we've recommend are predominantly memory foam mattresses.
Is a foam mattress right for you?
Most foam mattresses have numerous advantages.
For one, they all generally have very low motion transfer.
Motion transfer refers to how movement is carried through the mattress.
The lower the motion transfer, the less movement is carried through the mattress and the less likely you are to be disturbed by your partner tossing and turning at night.
This makes foam mattresses great for couples.
Foam mattresses also tend to be lighter and are easier to move and transport than other mattresses.
They also tend to be more affordable.
That said, they don't offer as much support as other mattress materials, and are often not suitable for heavier-weight people.
In general, foam mattresses are recommended for:
Lighter- and average-weight people
People who prefer warmer sleeping climates
Couples
People prone to allergies
Guest bedrooms
Criteria to consider when purchasing a foam mattress
Since foam mattresses differ so much and there are both very poor quality and very high-quality foam mattresses available, it's important to make sure that you choose the right mattress.
In order to ensure you're getting a high-quality foam mattress, pay attention to the following key criteria:
1. High density
Density is a good indicator of quality.
The higher the density of the foam, the higher the quality of the mattress - and the longer its lifespan!
You can use the below table as a guideline:
| | |
| --- | --- |
| Density in kg/m³ | Expected lifespan |
| Up to 25 | Up to 2 years |
| 30 | Up to 3 years |
| 35 | 5 - 6 years |
| 40 | 6 - 8 years |
| 50 - 60 | 10 years and more |
We'd suggest choosing a density of at least 40 kg/m³.
2. Height of the mattress
The height of the mattress is also an indicator of quality, especially when considering the core of the mattress.
Choose a mattress with a core that's at least 15 cm thick.
3. Removable covers are better
We'd also suggest choosing a mattress that has a removable cover that's machine-washable up to 60°C.
While this isn't an absolute necessity, it does make caring for the mattress easier.
It's also better for people who are prone to allergies.
Bonus?
Look for a cover that features side handles. This will make moving the mattress easier.
4. The right degree of firmness
There is no one right degree of firmness.
But it is necessary to choose a mattress with the right degree of firmness for you.
As a general rule of thumb, consider your body weight, firmness preferences, and favourite sleeping position.
Our guide on degrees of firmness will also help you.
What is off-gassing?
Foam mattresses often release an initial chemical smell when you first unpack them.
This is termed off-gassing.
Off-gassing is completely normal and it's a side effect of the production process.
The gasses are harmless and non-toxic.
The smell can be a little uncomfortable, though, so we'd always advise unpacking your new mattress in a well-ventilated room and letting it breathe until the smell has disappeared.
Cutting a foam mattress
You may want to cut a foam mattress to size or use the foam from an old mattress for something else.
Foam mattresses can be cut relatively easily but since the material tears quickly, using a sharp knife is essential.
You can also use an electric knife but stay away from a hot wire as the heat releases toxic gases in the foam.
Foam is also highly flammable.
Steps to cut a foam mattress:
Step 1: Outline the area you want to cut with a waterproof pen.
Step 2: Use the sharpest knife possible.
Step 3: Cut the foam from the centre outward, but only cut halfway through the mattress.
Step 4: Turn the mattress over and repeat from step 2.
Cleaning a foam mattress
Most foam mattresses have a mattress cover that can be machine washed.
When buying a mattress, you should make sure that it has a removable cover that can be washed up to 60°C.
But a foam mattress itself is also easy to clean.
Cleaning smaller foam mattresses
You can place small mattresses for children in a washing machine as they are usually very thin.
We recommend you place the mattress in a duvet cover and use a gentle wash cycle.
Wash at 30°C to 40°C with a little bit of laundry detergent.
After washing, air-dry the mattress horizontally on a clothes horse.
Don't hang up the mattress.
Cleaning larger foam mattresses
Larger foam mattresses can be cleaned in a bathtub.
Use warm water and make sure to cover the mattress completely.
Stains can be spot treated with gall soap, but you can also add some normal laundry detergent.
Rub lightly.
Drain the water and wring the mattress out.
Add clean water and repeat the cycle until the water runs clear.
Dry the mattress as described above.
You can also read our full guide on how to clean a foam mattress.
How to dispose of an old foam mattress
You can dispose of a foam mattress with bulky waste or take it to a recycling centre.
Donating it to people in need is another great option.
Of course, you can also make something else out of an old mattress, provided the foam is in good condition.
Some mattress manufacturers will offer to remove your old foam mattress free of charge when they deliver your new one.
Occasionally, they will even offer you a discount when replacing an old foam mattress with a new one.
You can read our full guide on mattress disposal.
Choosing the right foam mattress size
Like most mattresses, foam mattresses are available in all of the most common mattress sizes.
In the UK, the standard mattress sizes are:
If you have a conventional bed, finding the right size mattress is not a problem.
But foam mattresses have another advantage: As they do not contain springs, custom sizes can be produced quite easily.
Simply order your custom size or shape from your specialist dealer or manufacturer.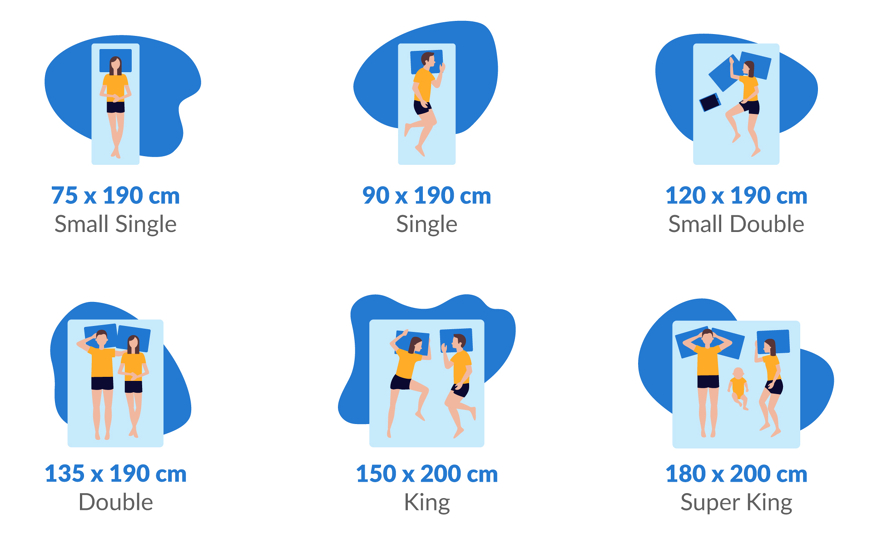 Conclusion
If you're in the market for a new mattress, then it's very likely that you'll end up choosing a foam mattress.
These are the most common types of mattresses available.
But, there are many inferior products on the market.
Make sure that you invest in a high-quality foam mattress that will last you a long time.
We'd always advise choosing a memory foam mattress of a high density.