Composition
The Bruno mattress is 24cm high and consists of two layers of foam placed on top of each other.
The top layer is 3 cm thick and made of natural latex. This layer is extra soft and aims to offer sleepers a sensation of floating when lying down. The latex improves body weight distribution, comfort, and cushioning. The layer also contains vertical perforation, which improves ventilation.
The second layer, or base foam, that makes up the rest of the mattress is made of polyurethane. It is subdivided into 7 longitudinal comfort zones. The materials and design provide good stability and support the body, keeping the spine in a healthy alignment.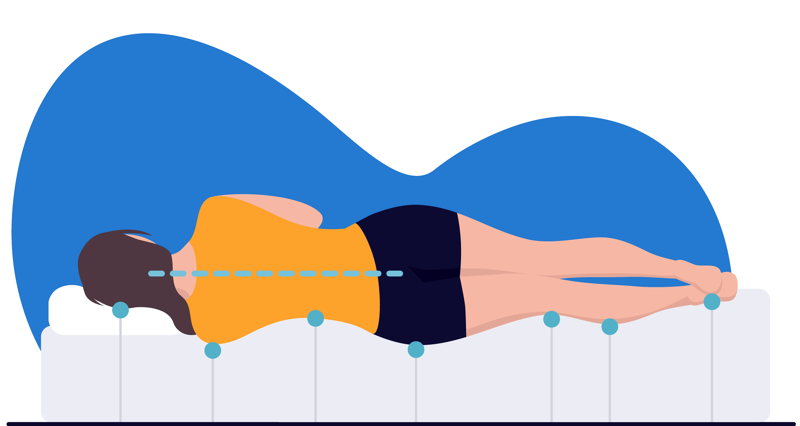 Bruno mattress cover
The soft, white cover of the Bruno mattress is made of 100% cotton. It can easily be removed due to the presence of a zipper and machine-washed at 40 degrees. This is particularly good for people with allergies, who would need to clean their mattress more frequently.
The bottom layer of the cover is made of polyester and can also be washed at 40 degrees.
Firmness
We've rated the Bruno mattress at 7.5 out of 10 points on the Sleep Hero firmness scale. This places Bruno on the firmer side of medium-firm mattresses, and it is certainly one of the best ones out there.
The Bruno mattress clearly distinguishes itself from its competitors, which is largely due to the top layer of latex that hugs the body and offers that soft, cocooning feel. The manufacturer promises that lying down on the Bruno will feel like lying down on a cloud - and that's exactly what we felt.
The mattress has a density of 45 kg / m3, which is very good. It provides excellent elasticity. This means that the mattress only sinks in/collapses where it is loaded, keeping the spine in a stable and healthy position.
The 7 contour zones also ensure that the mattress is suitable for both couples and heavier-weight people. Sleepers won't sink into the mattress too deeply, which allows body heat to be well-managed and discourages sweating. This cooling effect is further enhanced by the air-permeable material of the latex layer. This makes the Bruno mattress perfectly temperature-regulated, even on hot summer nights.
The mattress also offers a high rebound force, affirming the quality and durability of the mattress. It is comfortable and convenient, for you and your partner.
The manufacturer claims that their mattress is ideal for people weighing between 50 and 110 kg.
Delivery & customer service
The Bruno mattress is delivered within 1 - 3 business days, rolled up in a compact box. You can track your order online. When we ordered, the delivery company even called us a day in advance to inform us of the delivery date. It was such a smooth process.
Bruno offers its customers a risk-free 100-day trial period, which begins right after delivery. You can try the mattress out for 100 days, and, if you're not completely satisfied with your purchase, you can simply e-mail customer service. They will organise the return of the mattress and offer you a full refund.
Since the Bruno mattress is incredibly comfortable, this rarely happens. But it is good to know that the option is there, making your purchase completely risk-free.
We called customer services numerous times to inquire about the Bruno mattress and always received reliable information from friendly agents.
Conclusion
The Bruno mattress really stands out.
It is made of high-quality materials, offers a pleasantly comfortable lying sensation, and regulates temperature very well.
Bruno regulates temperatures very well and is suitable for heavy sweaters.
Contact Bruno Sleep
Customer service: To contact Bruno Sleep directly for complaints, support, or queries, please e-mail them at support@brunosleep.co.uk or call them on 0203 608 6500. The customer service team is available Monday to Friday from 8 am - 1 pm.
Registered office: Bruno Interior GmbH, Brunnenstr. 191, 10119 Berlin, Germany