What are Tempur pillows made of?
Tempur memory foam pillows are made from unique Tempur material.
This material is filled with micro cushions with an open-cell structure made up of billions of viscoelastic cells.
These cells respond to your body temperature, changing their shape to mould perfectly around your body.
Take a look at how Tempur material works: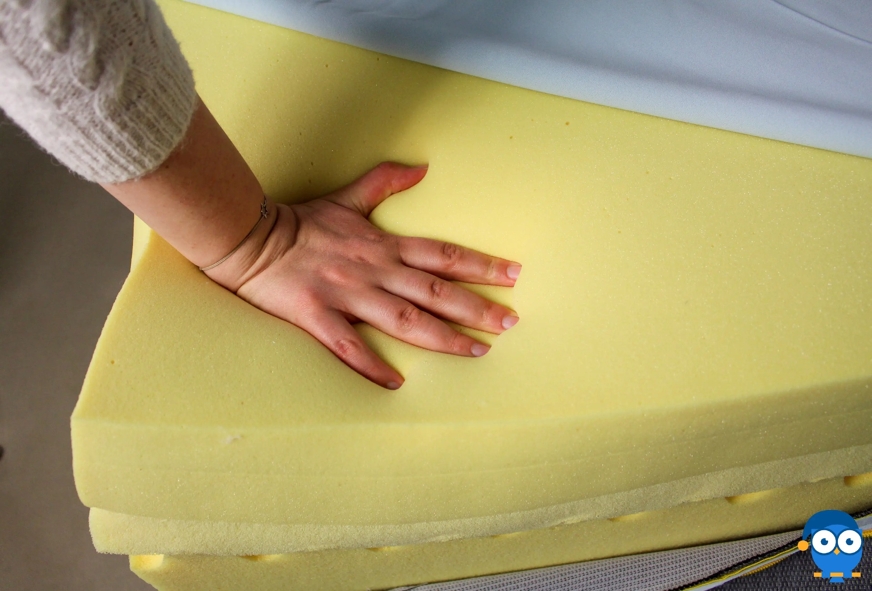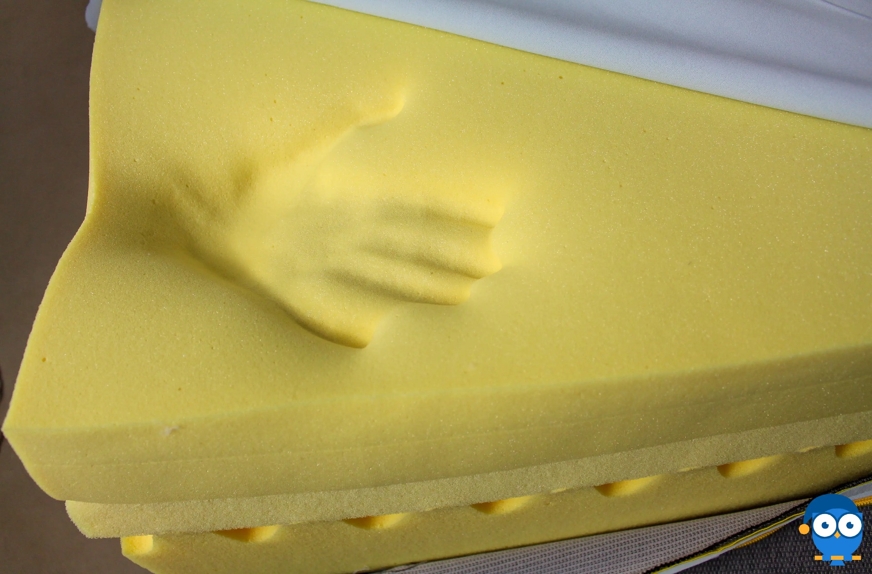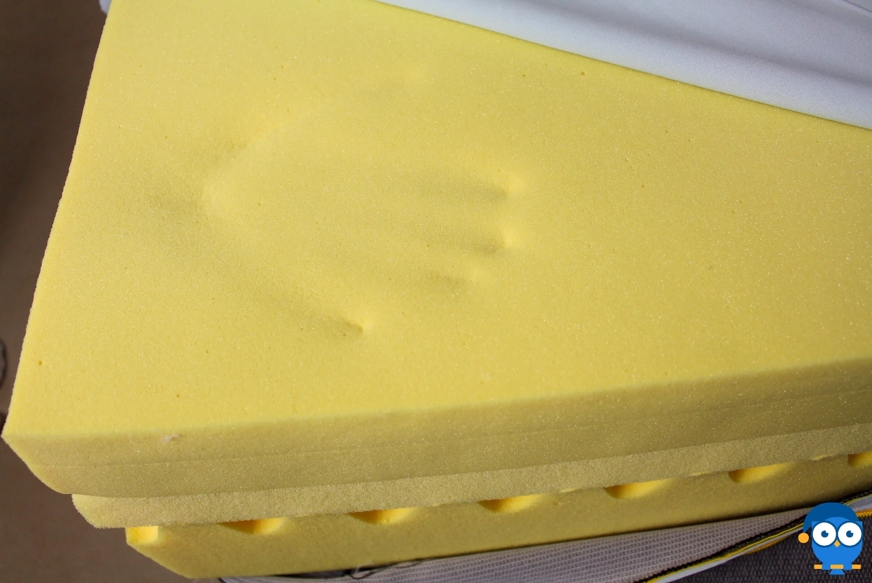 This material is ultra-sensitive, offers pressure relief, and provides a weightless feel, unlike any ordinary memory foam.
And guess what happens when you release pressure from the Tempur material?
The intelligent cells return to their original shape. 🧠
Where did Tempur originate?
The unique material originates back to NASA, where it was used in space seats to absorb g-shock.
In 1991, Tempur created the first memory foam mattress, revolutionising the bed industry with a product that is out of this world…🚀
Many memory foam products have attempted to imitate Tempur memory foam pillows and Tempur mattresses.
But so far, none are close to creating the same unique feeling as Tempur material.
Tempur pillow UK buying guide
Not sure what kind of Tempur pillow you need?
Choosing the best pillow is no easy task, and there are many factors you should consider before deciding.
All Tempur pillows are hypoallergenic and suitable for allergy sufferers. 🤧
But they're also expensive, so they may not be the best option for those on a budget.
If you're wondering "which Tempur pillow is best for me?", ask yourself the following:
Can I afford a Tempur pillow?
What don't I like about my current pillow?
Am I a restless sleeper?
Do I prefer a firmer or a softer pillow?
What is my sleeping position?
Thinking about these questions will help you decide what type of pillow you need, and luckily, Tempur has a fantastic selection to suit all sorts of sleepers
But which one is right for you? 👇
The best Tempur pillow for side sleepers
Sleeping on your side is the most popular sleeping position, with 50% of British couples admitting to sleeping on their side.
Side sleepers generally need a deeper pillow.
The best Tempur pillow for side sleepers is a firm pillow that lifts the head to align the neck and spine.
Our favourite Tempur UK side sleeper pillow is the Comfort Original.
The high loft of this pillow fills the space between the head and shoulder for optimal spinal alignment.
BUY COMFORT ORIGINAL PILLOW£ 109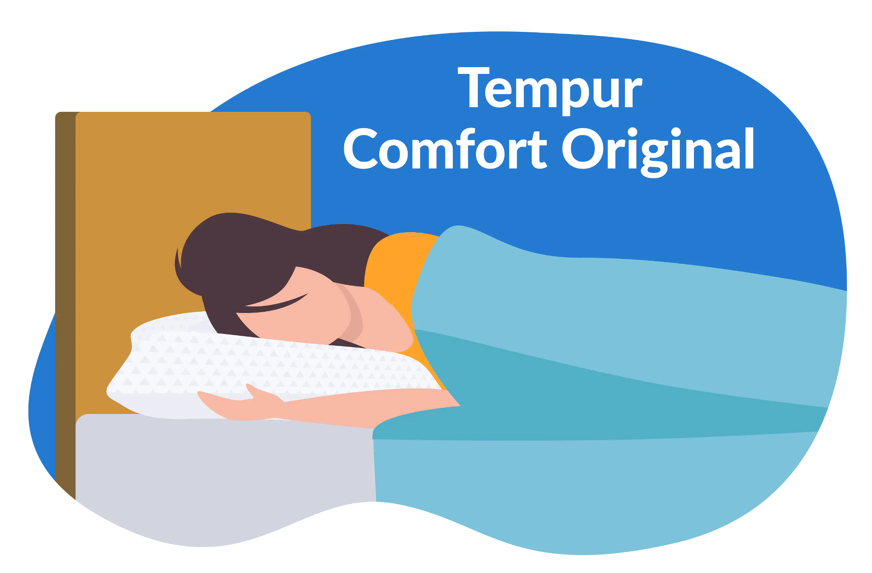 The Tempur material also provides excellent cushioning for the head, neck, and shoulders.
For side sleepers, it's even more important to sleep on a pillow that encourages pressure relief due to the added pressure on one shoulder.
The best Tempur pillow for back sleepers
Sleeping on your back is the safest sleeping position. ✅
However
,
sleeping on your back is not recommended for
pregnancy
.
Back sleeping puts the least amount of pressure on your spine.
Therefore, you need a higher loft pillow than front sleepers but not as deep as side sleepers.
A pillow with medium firmness and loft to support the head and neck works great for back sleepers.
The Tempur Comfort Cloud pillow is our favourite choice. ❤️
BUY COMFORT ORIGINAL PILLOW£ 109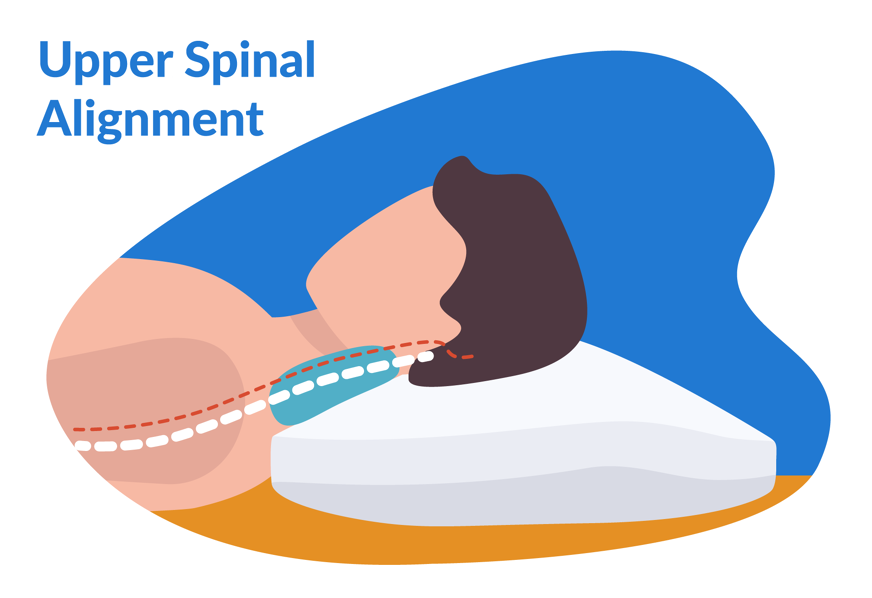 This pillow gently contours around the head and shoulders while keeping the spine in line with the neck.
The best Tempur pillow for stomach sleepers
Sleeping on your stomach puts the most pressure on your spine as the neck and spine are strained upwards when laying on a pillow.
So, stomach sleepers need to choose a pillow designed specifically for stomach sleeping.
We recommend that stomach sleepers choose a soft and low pillow.
A low pillow will help keep the head low and close to the mattress and prevent unnatural bending of the neck and spine.
The Tempur Ombracio pillow has been designed just for stomach sleepers. 👍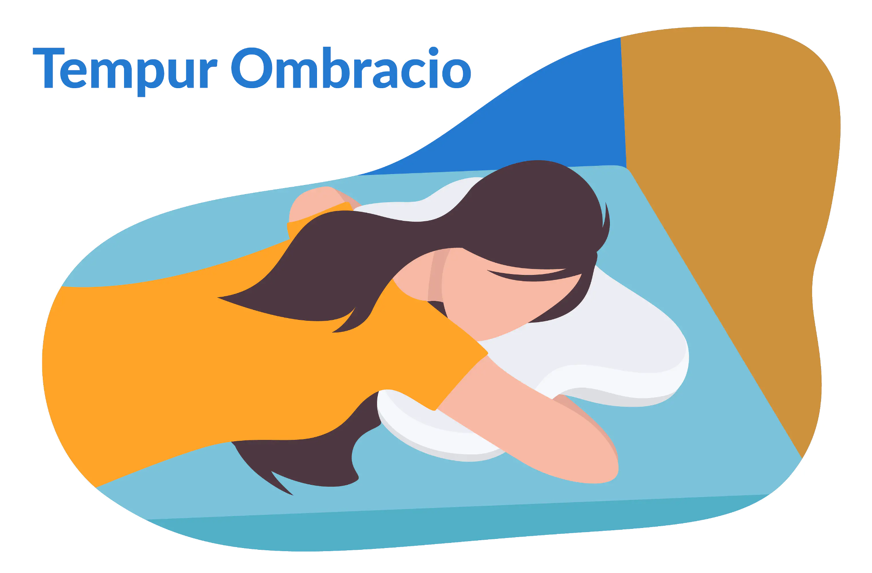 The extra-soft Tempur material allows the head and neck to sink into the pillow comfortably.
The unique butterfly shape gives stomach sleepers a place for their arms, making this pillow the perfect cuddling companion.
Alternatively, stomach sleepers could try to sleep without a pillow.
The best Tempur pillow for neck pain
Choosing a pillow at the correct height and firmness for your sleeping position should prevent neck pain.
However, an ergonomic pillow can help to keep the neck supported while aligning the neck in the perfect position.
We recommend the Tempur Original pillow for extra neck and head support. 💪
BUY TEMPUR ORIGINAL PILLOW£ 129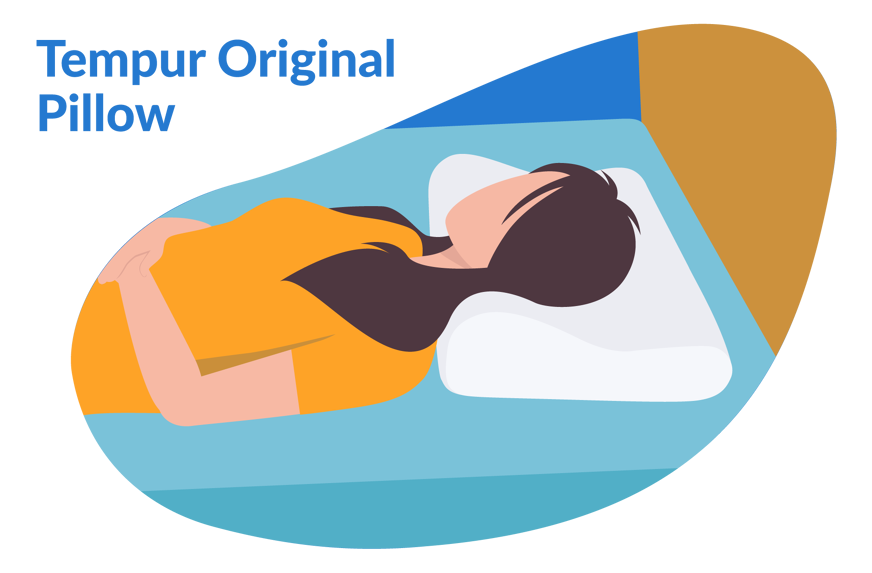 The Tempur Original Queen pillow follows the shape of the head and neck to encourage natural alignment of the body.
For a more budget-friendly ergonomic pillow option, consider the Groove pillow.
It's important to note that ergonomic pillows have a firm and supportive feel, which is not to everyone's taste.
Luckily, all Tempur pillows include a 30-night trial period. ⏳
Why should you buy a Tempur pillow?
When considering an investment in sleep comfort, Tempur often comes to mind.
But are Tempur pillows good for everyone, and are they worth the high price?
Highly adaptive
Tempur material, originally developed by NASA, stands out for its heightened sensitivity compared to other memory foam products. 🌌
The dense viscoelastic cells mould to the shape of your head and shoulders, offering an extremely adaptive feel.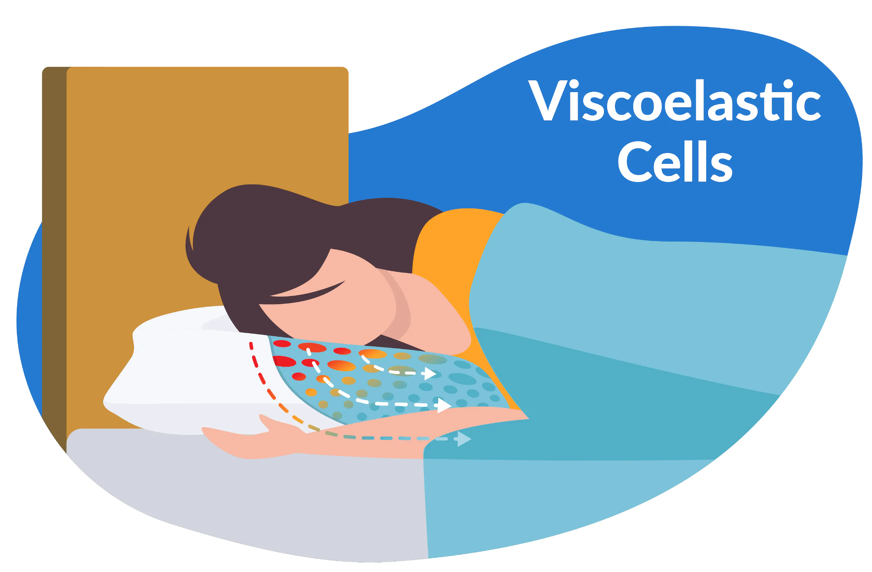 People with joint and neck pain have often turned to Tempur mattresses and pillows as a remedy for their aches and pains.
The highly sensitive Tempur material takes pressure off the joints and provides a weightless cloud-like feeling. 🎈
Suitable options for all sleeping positions
Everyone's sleep preferences are unique, and Tempur recognises this by offering pillows that suit different needs.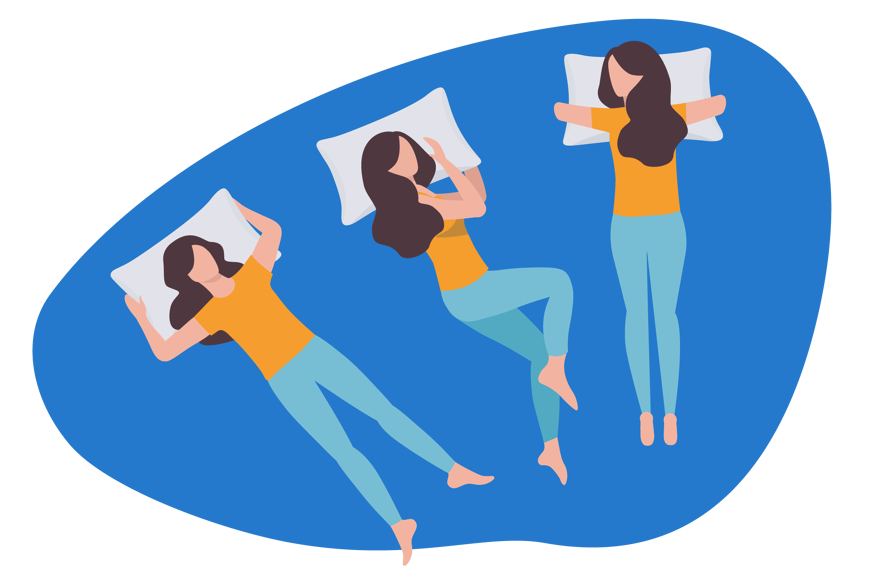 They offer a variety of designs to cater to different sleep styles – whether you favour a firmer pillow, a softer one, or an ergonomic design.
Scroll up for our Tempur pillow recommendations for each sleeping position.
30-night sleep trial
Committing to a pillow can be daunting, especially with an expensive brand like Tempur.
However, Tempur UK offers a 30-night sleep trial, allowing you to truly test the product in the comfort of your home. 🏡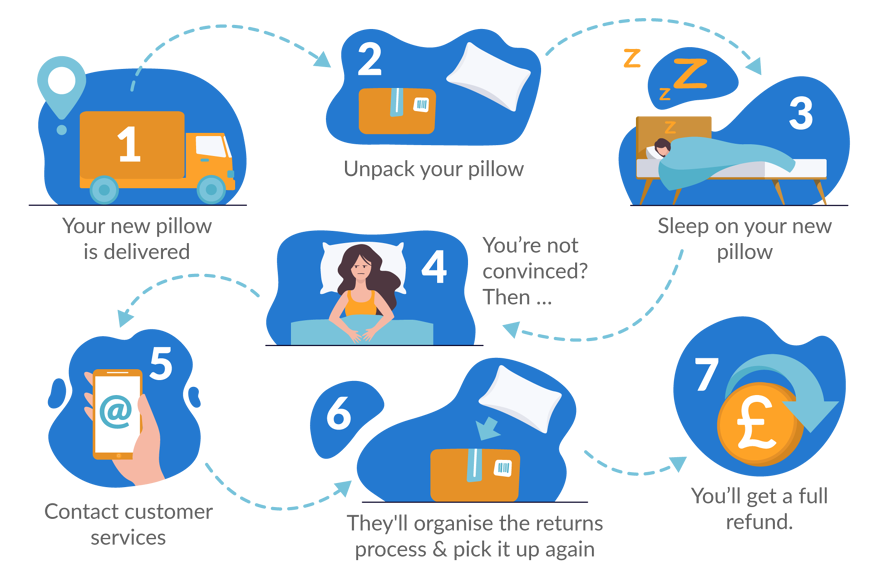 That means you've got an entire month to decide if it's a good fit.
Not every online pillow manufacturer offers a trial, so we're pleased to see that Tempur has this extra safety net for unsure shoppers.
Our FAQs unpack the 30-night pillow trial in more detail.
3-year quality guarantee
Quality and longevity are a big aspect of Tempur's philosophy.
Their pillows are built to withstand the test of time, outperforming cheaper alternatives that quickly lose shape. ⏳
All Tempur pillows include a 3-year quality guarantee, protecting you from any issues within that time.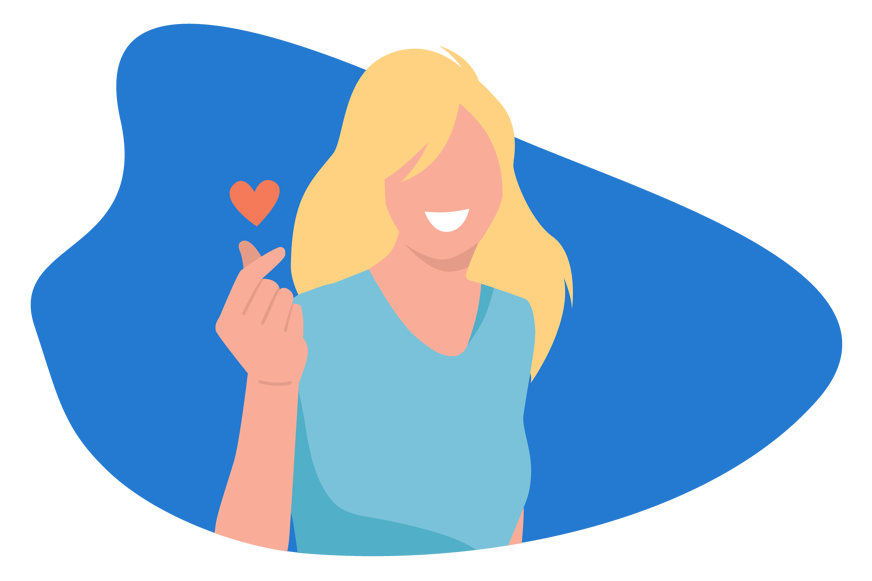 If you experience any manufacturing faults, such as dipping, you can reach out for a replacement or refund.
We list full contact details to contact Tempur further down.
Who might Tempur pillows not be suitable for?
Tempur pillows have a lot going for them, but they're not for everyone.
So, who may want to avoid Tempur pillows and why?
Budget-buyers
Tempur pillows come with a higher price tag. 💰
This isn't ideal for those trying to keep their expenses in check.
Even the cheapest Tempur pillows are going to cost more than double what you would pay for a standard hollowfibre pillow.
Tempur pillows appeal to luxury shoppers in search of the best memory foam material on the market. 👑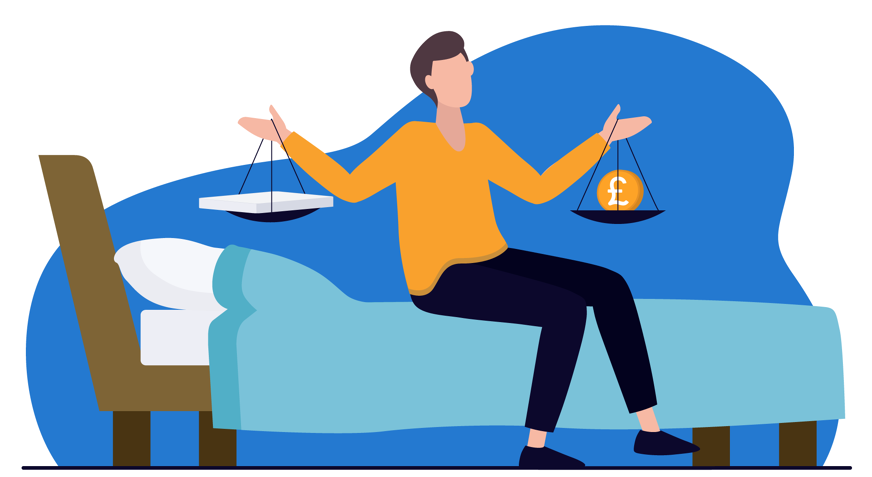 But while they're more expensive, you might spend less in the long run by choosing a product designed to last.
Tempur also offers monthly payment options with interest-free credit for those who want to stretch their budget.
But if you're seeking that sweet spot between cost and quality, perhaps the Panda pillow (which includes a 10-year guarantee) would be a more suitable choice.
Traditional pillow lovers
Tempur pillows are a class apart with a distinct, unique feel.
They're nothing like your classic hollowfibre, wool, or feather pillows.
Tempur material is much denser and firmer than these traditional options.
However, this has some additional benefits: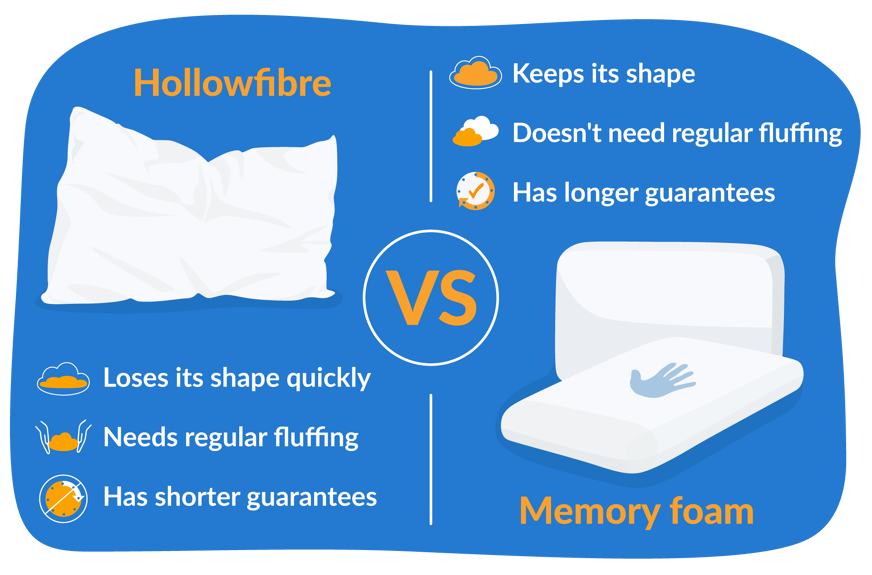 Tempur pillows have a firm but highly adaptive contouring feel.
But some people don't like this feeling. 👎
Luckily, Tempur provides a 30-day trial, giving you plenty of time to decide if it's a fit for you.
Hot sleepers
Memory foam has a reputation for retaining heat, making for a toastier slumber than traditional pillows.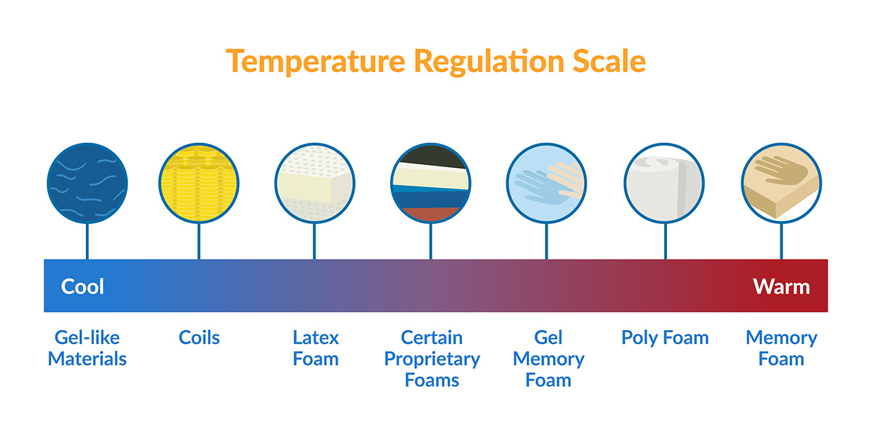 If you typically sleep hot, you might want to give memory foam products a pass. 🌡️
Opt for breathable natural materials like feather pillows, cotton or silk bedding, and a lighter tog duvet to keep the temperature in check.
Alternatively, Tempur pillows are a great option for those who feel too cold in bed.
Those looking for a washable pillow
Water and Tempur material do not go together.
While Tempur pillow covers are washable, getting your Tempur pillow wet can damage the material and nullify the warranty. 🚫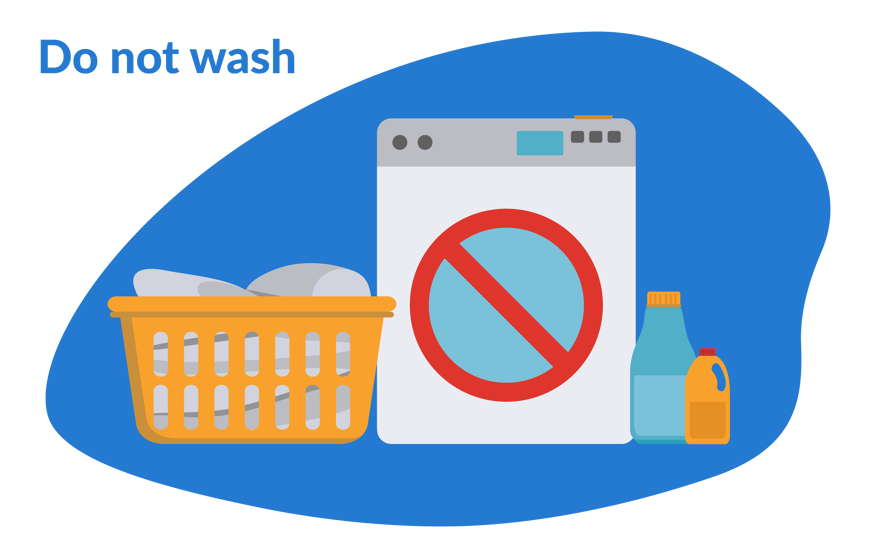 For those who sweat during sleep, suffer from eczema or have other health concerns that require frequent pillow washing, a Tempur pillow might not be the best option.
Our favourite machine-washable alternatives include the Emma Microfibre pillow and the Kally Adjustable pillow.
Why are Tempur pillows so expensive?
Tempur pillows may cost more than an ordinary pillow - but there's good reason!
Remember, they are made with high-quality viscoelastic material developed by NASA. 🚀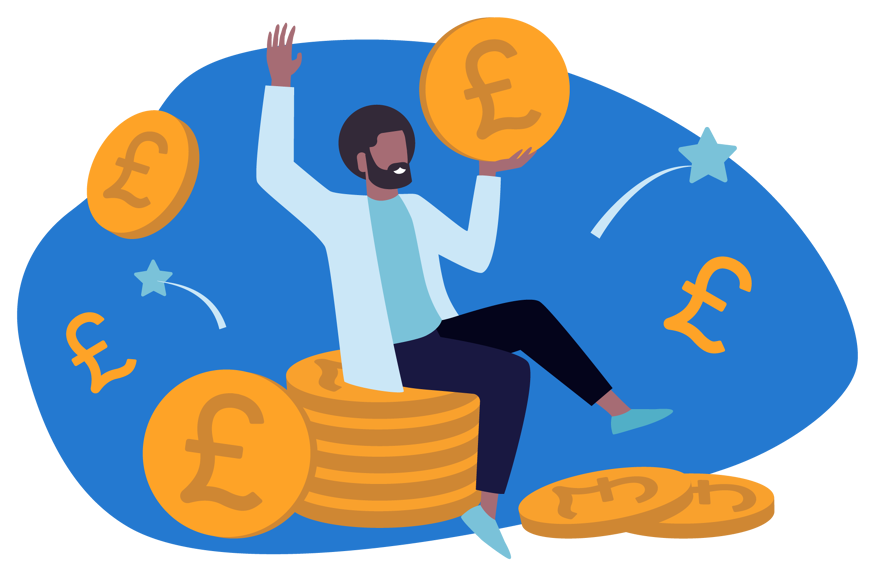 Tempur pillows also come with a 3-year guarantee, much longer than an ordinary pillow that will usually lose its shape and need replacing multiple times a year.
In fact, the average Tempur pillow has been known to last as long as 5 years!
So even though Tempur pillows may seem expensive, this only works out to £20 per year (around 5p per day!)
You'll be spending much less on a high-quality pillow than a cheap one that needs replacing every few months.
Tempur pillow discount codes
When buying online, there are often discount codes available for Tempur to give you the best deal.
You might also find a Tempur pillow sale around seasonal periods where you can get Easter or Black Friday pillow deals.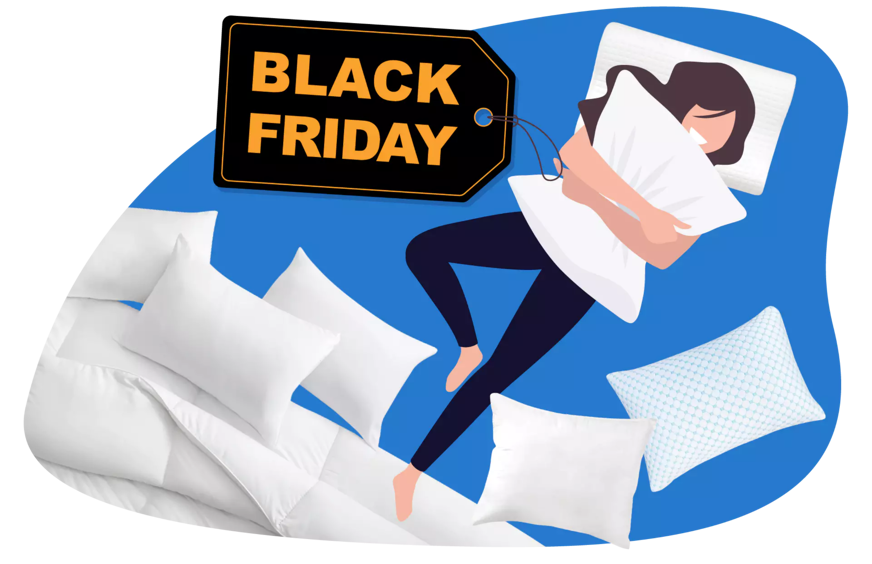 You should apply these codes at checkout to activate your discount.
Check out our discounts page for current codes and offers!💰
Or, sign up for our newsletter for the best Tempur pillow discounts straight in your inbox:
How long do Tempur pillows last?
All Tempur pillows include a 3-year quality guarantee when bought directly with Tempur or another authorised retailer. 🛠️
This is a manufacturer's warranty, which means you are covered for any material defects caused by faulty workmanship within those 3 years.
Similar to the Tempur mattress topper, the warranty includes any visible indentation of more than 2 cm (0.78 inches) to the Tempur material.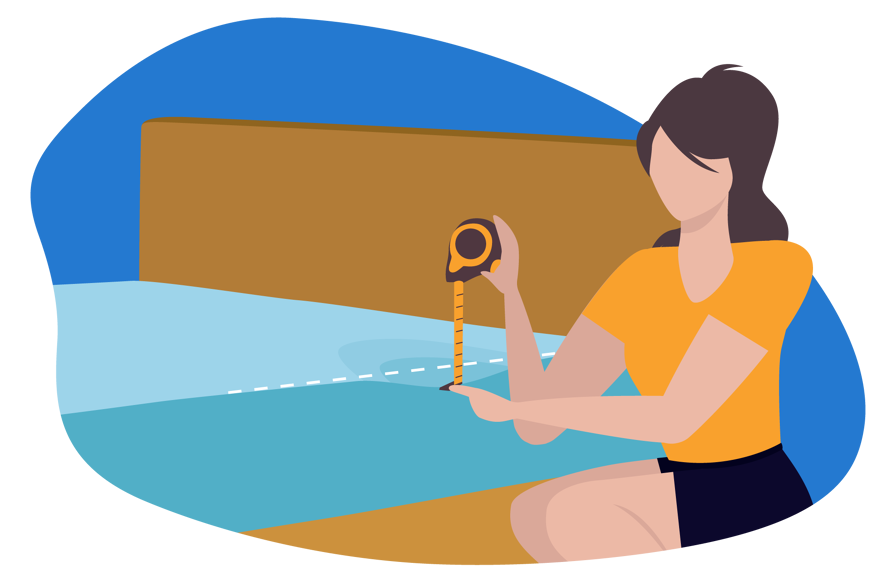 If your pillow does have a fault, then Tempur will offer to either repair or replace the product free of charge.
But how does the Tempur pillow guarantee compare to other pillow brands?
Many manufacturers and retailers don't offer any guarantee on their pillows.
Remember, the guarantee is the minimum length of time your pillow should last, but your Tempur pillow should last much longer.
Tempur pillows have actually been known to last 5 years or more.
Are Tempur pillows worth the money?
Tempur pillows may be just what you need to give you a more supported sleep! 👍
They're an excellent option for those who want to feel hugged and supported by their pillow.
But only you can decide whether you should buy a Tempur pillow.
There are many factors to consider, such as your budget, your lifestyle and whether you find them comfortable.
And don't forget you have a 30-night sleep trial for every Tempur pillow, so you can get a refund if you change your mind.
Here's a recap of the best Tempur pillows UK:
Tempur

Tempur Comfort Original pillows have a medium-firm feel and are a fantastic choice for individuals who want a mix of support and comfort.

Tempur Comfort Original pillows have a medium-firm feel and are a fantastic choice for individuals who want a mix of support and comfort.

Price from

£ 109

Tempur

The Tempur Comfort Cloud pillow is a premium memory foam pillow with excellent pressure relief capabilities.

The Tempur Comfort Cloud pillow is a premium memory foam pillow with excellent pressure relief capabilities.

Price from

£ 109

Tempur

The unique star-shaped design of the Tempur Ombracio pillow makes it the most huggable pillow on the market.

The unique star-shaped design of the Tempur Ombracio pillow makes it the most huggable pillow on the market.

Price from

£ 169

Tempur

The ergonomic shape of the Tempur Original Pillow is contoured for optimal neck support.

The ergonomic shape of the Tempur Original Pillow is contoured for optimal neck support.

Price from

£ 129