What can you expect from Black Friday 2022?
For Black Friday 2021, you could get as much as 50% off some of the best mattress toppers available in the UK. 🇬🇧
We're hoping for an equally fantastic (if not better) Black Friday 2022!
We'll link to some of our favourite Black Friday mattress topper brands further down. 👇
Best Black Friday mattress topper deals at online retailers
Black Friday may best be known for its exciting tech gadget sales, but sleeping accessories like mattress toppers also go on sale. 💻
You can expect HUGE saving on these:
Simba Sleep
Panda London
Otty Sleep
Eve Sleep
Mattress Online
Mattress Next Day
Happy Beds
Amazon
There's always tons to choose from. 🥳
We've listed all our favourite Black Friday mattress topper brands & retailers below: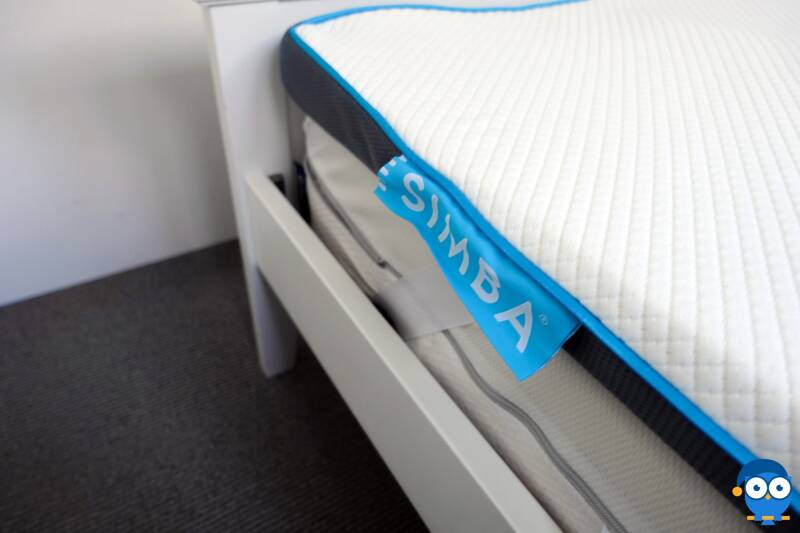 Simba Sleep
Simba Sleep offers a unique hybrid mattress topper.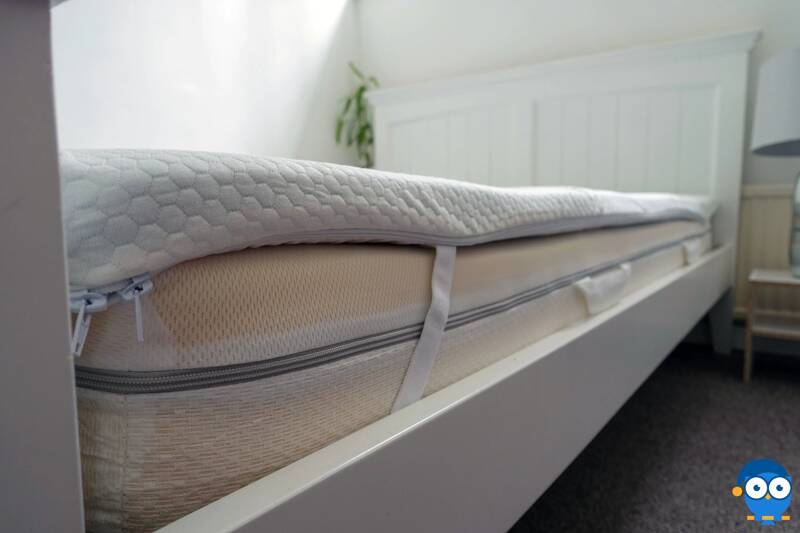 Panda London
Panda offers an affordable memory foam mattress topper.
Eve Sleep
Eve Sleep sells one of the best mattress toppers in the UK.
Otty Sleep
Otty has a unique bamboo charcoal mattress topper.
Silentnight
Silentnight offers a wide range of affordable mattress toppers.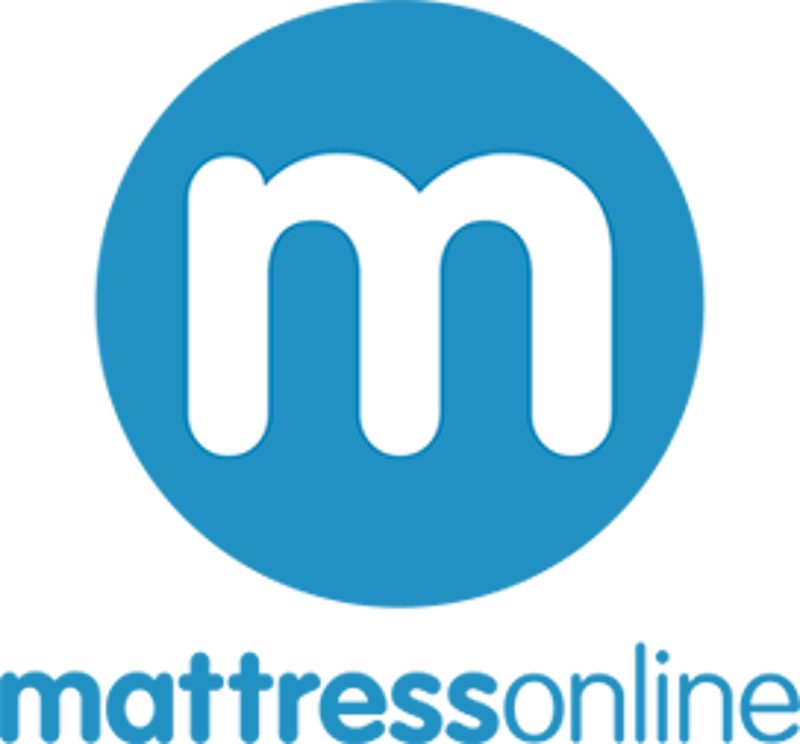 Mattress Online
Mattress Online features dozens of mattresses, beds, and more.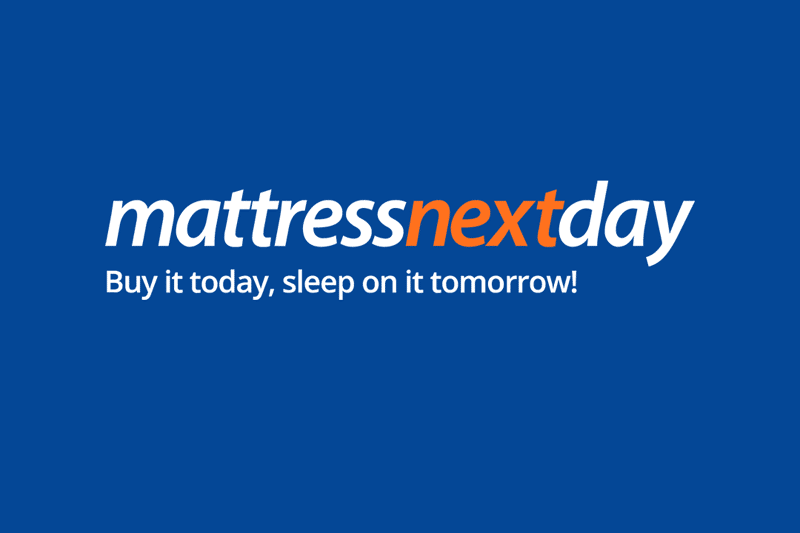 Mattress Next Day
Get dozens of mattresses and sleep accessories at Mattress Next Day.

Dreams
Dreams stocks many premium mattresses and accessories - including the Tempur range!

Amazon
Amazon UK stocks a wide range of mattresses and bedding accessories.
Can I buy mattresses and other sleep accessories for Black Friday?
Mattress toppers aren't the only sleep products that go on offer for Black Friday. 🔥🔥🔥
You'll also find the following Black Friday deals:
Regardless of what you're looking for, Black Friday is the day to get it! 🥳
What to look out for when buying a mattress topper on Black Friday
The best way to do your Black Friday shopping is to plan ahead. 🤔
It may be challenging to decide on a product during the Black Friday frenzy, so it makes sense to think about what you want and bookmark the relevant pages ahead of time.
So what do you need to consider if you want to buy a mattress topper this Black Friday?
We guide you through a few key criteria below. 👇
Do you need a mattress topper?
First off, do you even need a mattress topper?
If your mattress is just a tad too firm for you, then a mattress topper is a great idea.
Mattress toppers are thicker layers of padding that you can place on top of your mattress for greater comfort and softness. 😴
But if your mattress is old, worn, or sagging, you'll have to replace it.
Why not check out some of the best Black Friday mattress deals?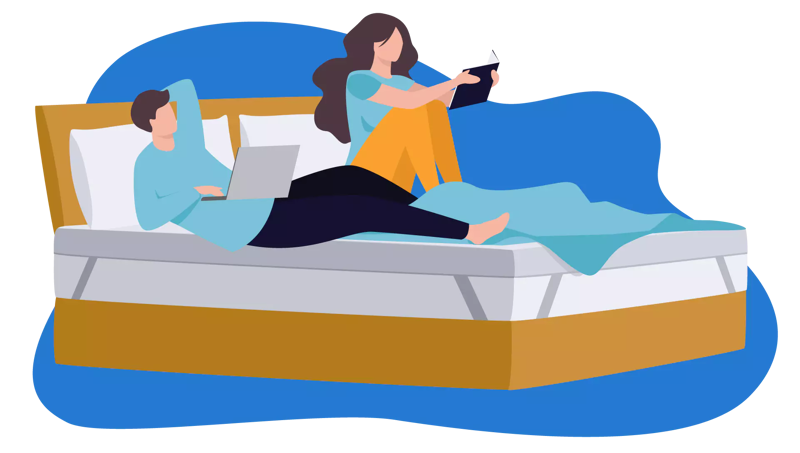 Mattress topper materials
The biggest thing to think about is the type of mattress topper you'd like. 🔑
If you're investing in a mattress topper, chances are that your current mattress is just a tad too firm and you're looking to add a little extra comfort.
The material you choose, though, will impact your experience:
There is no right or wrong when it comes to materials, but you do have to choose the one that's best for you. 👌

Our recommendation:
If you're looking for maximum contouring and orthopaedic support, go for one of the memory foam mattress topper Black Friday sales. Comfort mattress toppers like Sealy Tempur-pedic are the ultimate choice if you have the required budget.
If you're a restless sleeper or sweat quite heavily, opt for one of the other materials.
Also, make sure that your mattress topper comes with a removable and machine-washable cover. 🛀
This will make it more anti-allergy and hygienic.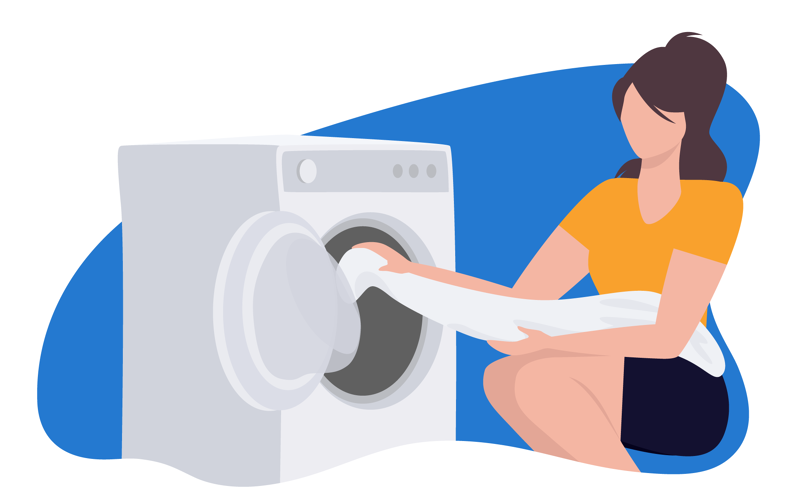 Mattress topper sizes
Your mattress topper will have to match your current mattress size.
Luckily, mattress toppers are available in all standard UK mattress sizes. 🇬🇧
These include:
Black Friday single mattress topper: 90 x 190 cm (3' x 6'3")
Black Friday small double mattress topper: 120 x 190 cm (4' x 6'3")
Black Friday double mattress topper: 135 x 190 cm (4'6" x 6'3")
Black Friday king size mattress topper: 150 x 200 cm (5' x 6'6")
Black Friday super-king-size mattress topper: 180 x 200 cm (6' x 6'6")
Some brands will also offer European sized mattress toppers, but these are rarer. 🇪🇺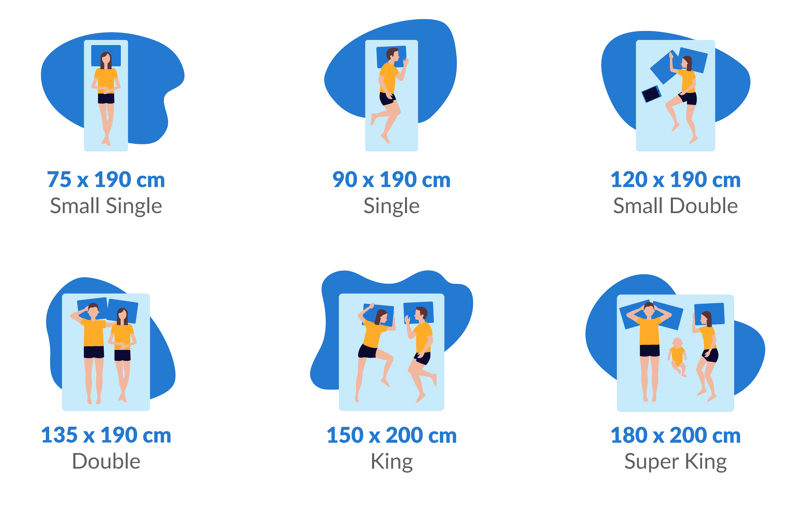 Pay attention to the trial period
If you're not 100% certain which type of mattress topper you should get, then it's a good idea to opt for a mattress topper with a reasonable trial period.
Not all brands offer trials on their toppers. 😕
But we prefer brands that do.
Like with mattresses, you won't know if a mattress topper suits you well if you can't try it first.
Trial periods give you the chance to try a topper in the comfort of your own home.
And if you find it doesn't work for you, you can send it back for a full refund. 🚛
This is GREAT for Black Friday!
Important: Make sure your Black Friday promotion is applied upon checkout! Some mattress sales are also only available to new customers - make sure this isn't the case if you're a repeat customer!
Buy the topper you want at a fantastic Black Friday price and try it out at home.
If you're not happy, return it and get a full refund!
This makes buying a mattress topper this Black Friday a risk-free option!!! 🔥
On that note, also make sure the brand you choose offers free delivery & free returns!
What exactly is Black Friday?
Black Friday is a shopping holiday that first originated in the USA. 🇺🇸
It is celebrated the Friday after Thanksgiving, which falls on the fourth Thursday in November.
Thanksgiving is a holiday of giving thanks and one of the most firmly upheld traditions in American culture.
The day after Thanksgiving traditionally marks the beginning of the Christmas shopping period. 🎄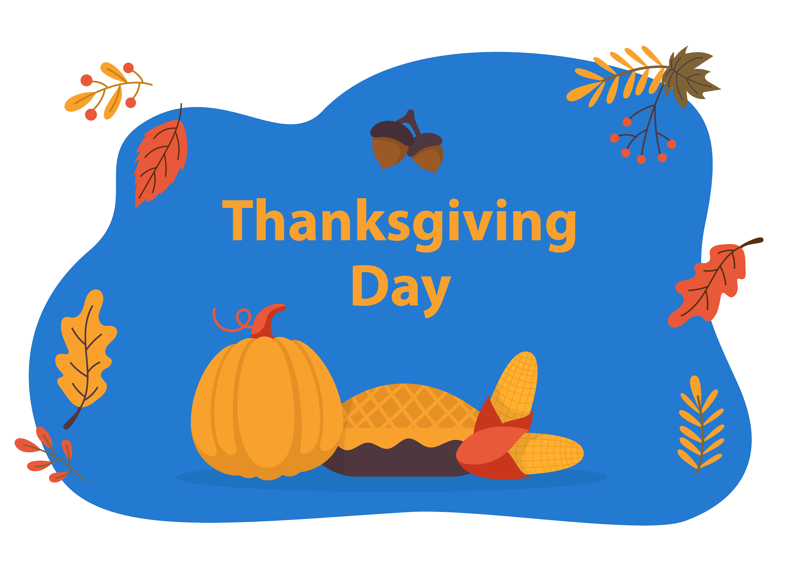 Since most Americans use this day to begin their purchases, shops have always generated massive retail sales.
Many stores started opening early in the morning and began offering special promotions. 💸
And so, Black Friday was born.
What is Cyber Monday?
As online shopping became more and more popular, sales started moving from brick-and-mortar retailers to the online sphere. 👩‍💻
The Black Friday of online shopping became known as Cyber Monday.
Traditionally, Cyber Monday falls on the Monday after the Thanksgiving weekend.
These days, most online and in-store retailers offer Black Friday weekend deals that last the entire Thanksgiving holiday period. 🛍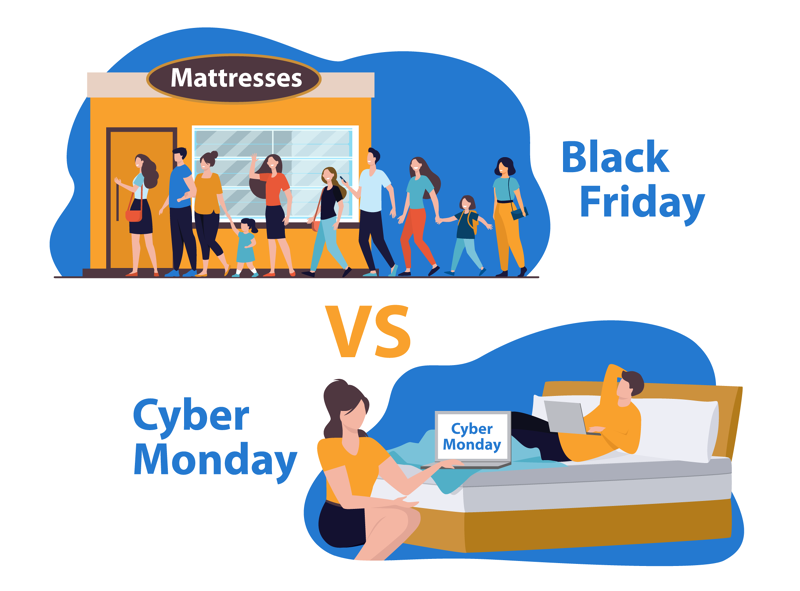 Black Friday in the UK
Even though Black Friday started in the USA, the day is now celebrated worldwide - including the UK. 🇬🇧
You're likely to find a hoard of sales for the Black Friday period in the UK.
And you definitely don't want to miss out on any of them!
Should you buy a mattress topper this Black Friday or Cyber Monday?
Buying a mattress topper on sale for Black Friday is a great idea. 🥳
Some mattress toppers can be more expensive than others, and it's always a good option to get something at a discounted price.
Don't forget that you can shop risk-free with some of the best trial periods around!!! 🔥
Happy shopping!
Also check out these other shopping holidays
Black Friday will come and go - why not bookmark some of our other favourite shopping holidays?
Check out our other discount articles:
Or browse our full discounts page.
Shop our favourites:
Simba

Price from &nbsp

£ 148.85

£ (229 )

The Simba mattress topper is a high-quality hybrid topper with mini pocket springs, synthetic latex, and high-resilience foam.

The Simba mattress topper is a high-quality hybrid topper with mini pocket springs, synthetic latex, and high-resilience foam.

Price from

£ 148.85

(£ 229 )

Panda London

Price from &nbsp

£ 89.96

£ (99.95 )

The Panda Mattress Topper is a gel-infused orthopaedic memory foam topper with a breathable bamboo cover.

The Panda Mattress Topper is a gel-infused orthopaedic memory foam topper with a breathable bamboo cover.

Price from

£ 89.96

(£ 99.95 )